If you are looking for a coast walk with wonderful, panoramic sea views that's not too much of a challenge then we can recommend a walk at Berry Head Nature Reserve near Brixham in South Devon.
We're not short of coastline to wander here in the South West of England. However finding a Devon coastal walk that's easy for kids can be a bit more tricky. There always seems to be a sheer cliff for them to career towards. Or they get bored of stomping though the dramatic scenery very quickly.
Finding a path that's safe, short and has lots of points of interest is key to a successful walk. This is why we love Berry Head.
Love Devon? Join the Devon with Kids Facebook group and subscribe to my newsletter!
Berry Head walks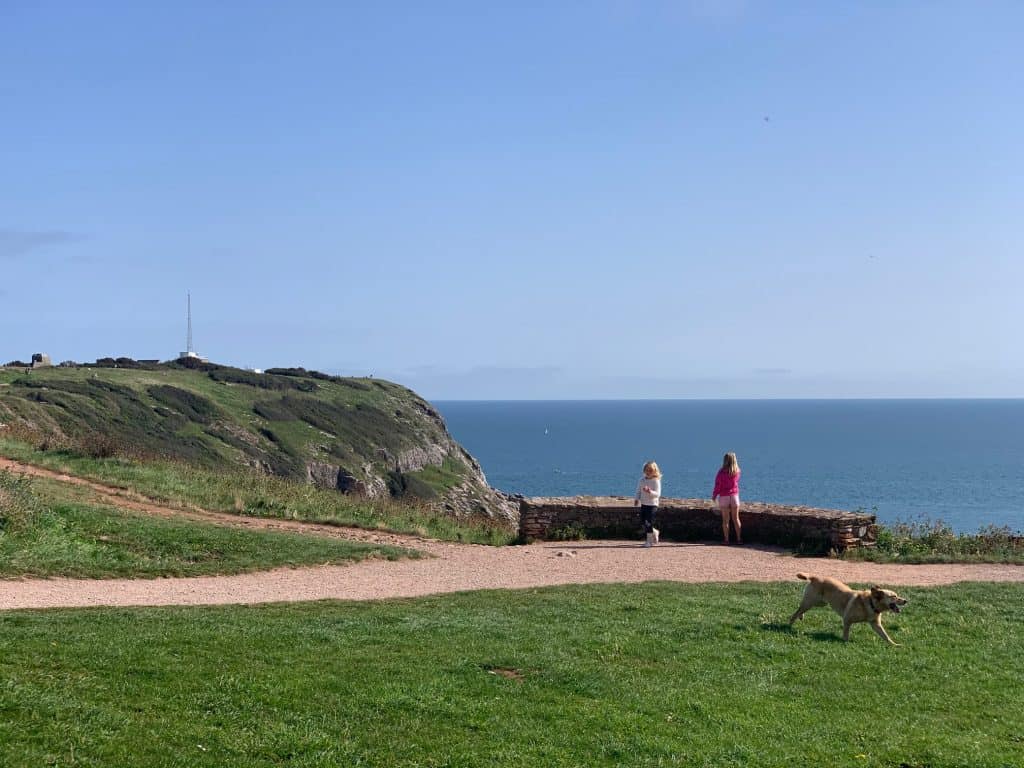 You can either take an amble between the two historic forts on the headland at Berry Head or take a circular walk through 170 acres of nature reserve incorporating the South West Coast Path. All the paths at Berry Head are either tarmac or even surfaces that are suitable for pushchairs, bikes or scooters.
If you are feeling more energetic you can walk along the South West Coast Path between Berry Head and Brixham Harbour. In Brixham there's a car park behind the high street where you can use the Park Mobile app.
Wildlife spotting
There's an abundance of wildlife to spot in the nature reserve, particularly wild birds. The cliffs are home to 1,400 guillemots during the breeding season.
It's also possible to spot seals, porpoise and even whales in the water below.
Berry Head's forts
The forts at Berry Head built between 1795 and 1805 to protect the coastline from French invasion. Conditions were bleak for the soldiers and families who lived here during the Napoleonic Wars and they were later abandoned. The forts came back into use during the Second World War as anti-aircraft gun sites.
Today Fort 1 to the south is a ruin of its former self. You can walk around the broken walls of the guardhouse and into the former gunpowder store. There's also some bricks left where there would have been a garrison closer to the cliff top. The ramparts are still very much intact but covered in moss and lichen where cannons would have once jutted out.
In Fort 2 to the north, the guardhouse has stood the test of time and is now a cafe and visitor centre. There's also a coastguard station and lighthouse at the far end of the old fort. This is where you can get panoramic views of Torbay to the North and the South Hams to the South.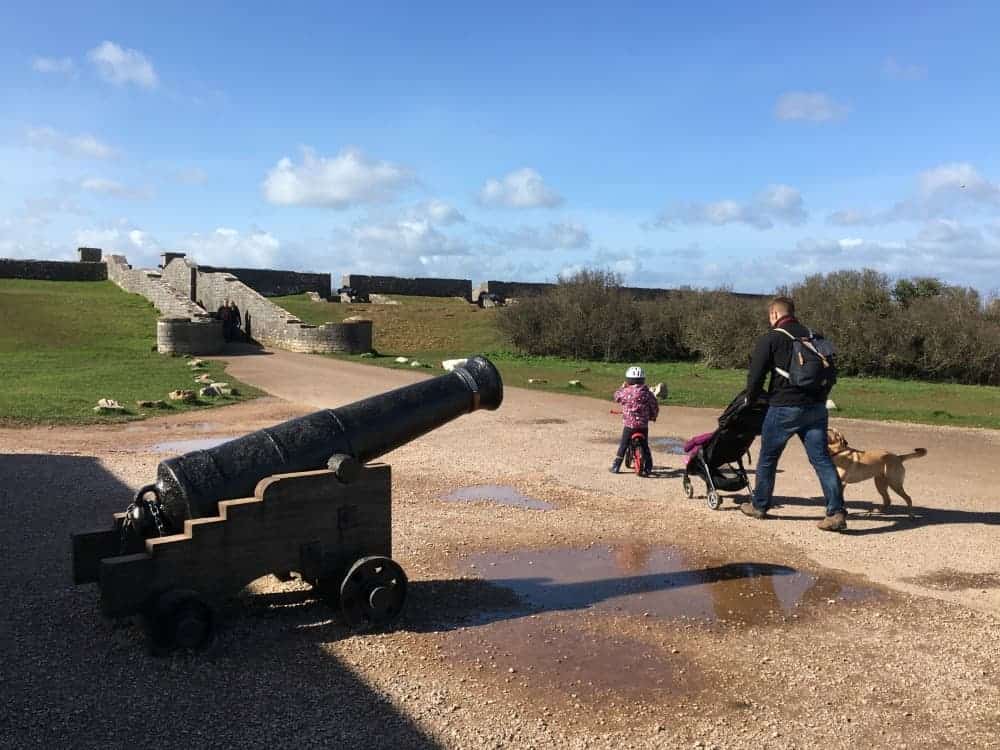 The large space inside Berry Head's Napoleonic forts is perfect for letting kids run around. There's also plenty of scope for a game of hide and seek, albeit with close supervision near those ramparts!
More recently we've also discovered the quarry at the bottom of the headland. This is a popular spot for fishing and spotting seals.
How long do you need for this walk?
We usually allow a couple of hours to explore including a stop at the cafe.
Guardhouse Cafe – the Berry Head cafe
The Guardhouse Cafe is a short 400m walk from the car park.
It is one of those wonderful places that welcomes families and four-legged friends. Even the dampest dogs can come in from the cold. Inside there's a corner reserved for children's books and toys.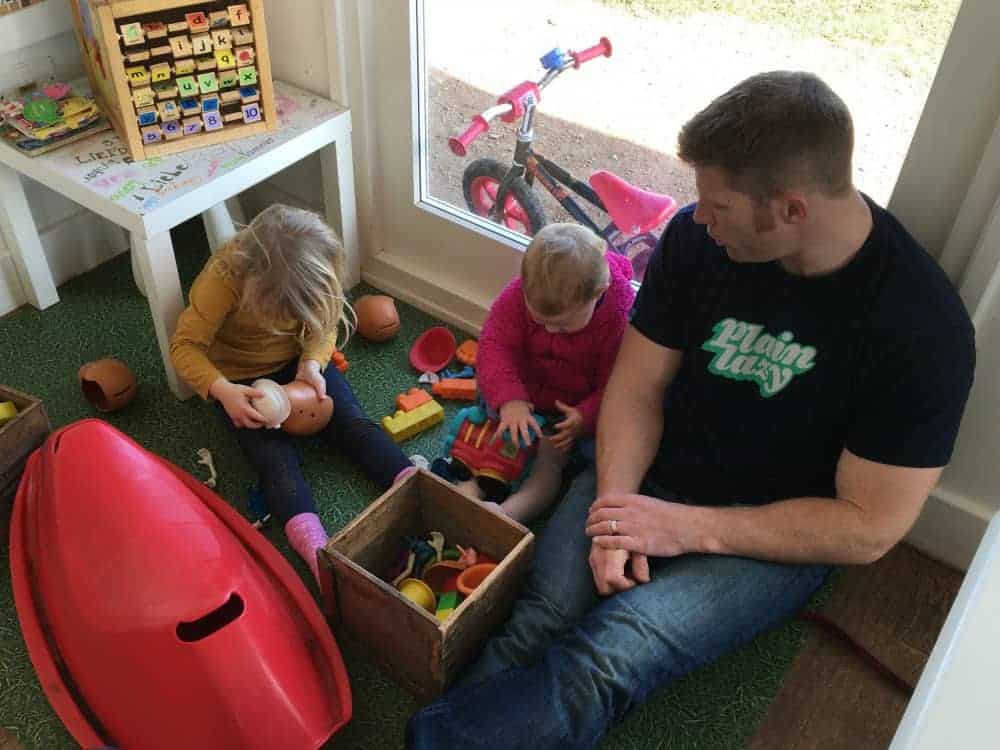 The Guardhouse Cafe is a great place for coffee and cake, brunch, lunch or dinner. Check opening times during the off season.
Finding Berry Head
I always get slightly disorientated on the approach to the headland. There are two routes in: one from Brixham town centre past Berry Head Hotel (tip:there's more great sea views here) and another through the residential estate from the road to Kingswear.
The best postcode to use is TQ5 9AW.
Berry Head parking
When you arrive there's a long carpark next to a large open fields – perfect for summer time picnics.
Be aware that there's a camera recording number plates as you enter the car park and you pay on departure. You can pay by card or cash.
There are toilets located in the car park or at the Guardhouse Cafe when this is open.
Find more things to do in Brixham with kids.
More Devon walks with kids
If you are looking for more walks to do in Devon with kids check out these posts:
Do you have a favourite walk in Devon?
Are you saving ideas for places to get some fresh air with the kids? Why not save this post about walks near Brixham and Berry Head Nature Reserve.