There's nothing like a bit of sparkle to lift your spirits during the cold winter months. That's why we were very excited to be invited to see the brand new Christmas light trail that has opened at Killerton National Trust near Exeter this year. Here's what to expect at Killerton at Christmas and, importantly, is it worth it?
*Advertorial feature*
Love Devon? Join the Devon with Kids Facebook group and subscribe to my newsletter!
What's on?
Killerton is one of 14 venues chosen for this year's UK Christmas light trails organised by Culture Creative and Sony.
They specialise in illuminated trails, featuring lighting set to a soundtrack of seasonal music. The gardens and grounds of Killerton are the backdrop for this festive event in Devon – the furthest South West this franchise has ever come.
This is what the organisers say: "Make memories as you discover sparkling tunnels of light, walk under giant baubles and beneath trees drenched in jewel-like colour. Get the festive feeling watching the flickering flames in the fire garden, gaze at the specially chosen illuminations and don't forget to look out for Father Christmas along the way."
Our favourite moments at Killerton's light trail
We visited Killerton's Christmas light trail as a multi-generational group: myself, my eight and six-year-olds and my parents.
I love illuminations and the pre-event photos (taken when the illuminations have been run elsewhere in previous years) are dazzling.
I'm pleased to say that the lights are just as stunning in real life. Thank you to my friend Lauren Heath who writes for Dining Devon who helped to capture some lovely photos included in this post alongside my own.
We spent an hour and a half walking the mile long route, stopping afterwards for a bite to eat at one of the street food stalls.
Here's some of our highlights: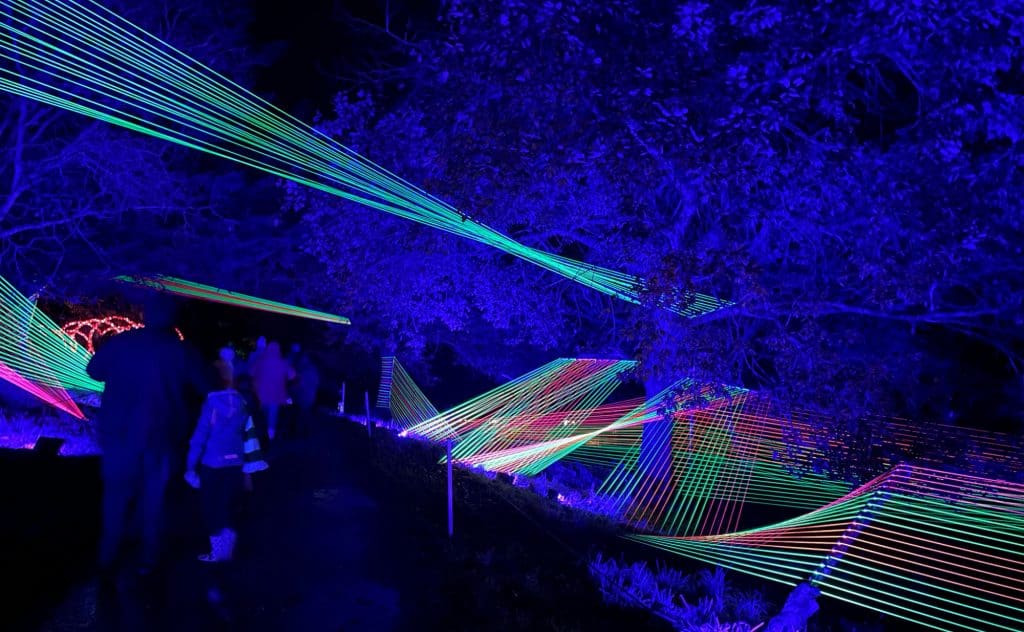 Tips for visiting Christmas at Killerton
If you are planning on going to the Christmas light trail at Killerton, I have the following tips for you:
Book in advance
This is a separate event to the National Trust's activities and trail during the day. If you are attending both you need to book your evening tickets separately.
There's timed entry for the light trail, so booking online in advance is the best way forward. You also get a discount on the gate admission price.
But if there are spaces available you can buy tickets when you arrive.
There were plenty of time slots available throughout the duration of the event when it opened at the end of November.
What to wear
Wrap up warm – this event is all outdoors so you will need coats, hats and gloves.
I'd also recommend waterproof shoes or boots. There was an icy downpour before we arrived and during our walk which created a few puddles on the path.
Parking
Travelling by car is the only practical option for getting to Killerton unless you live within walking distance.
Parking costs £8 per car for this event. This is free for National Trust members but must still be booked in advance as parking is limited. You'll need to have your membership card with you to show at the entrance.
Find Killerton at Broadclyst, Exeter. Postcode: EX5 3LE.
Toilets
There are toilets in the car park, around the side of the house and at the top of the garden before the Dairy Gate.
Accessibility
The trail path around the Killerton gardens is suitable for pushchairs and mobility scooters, but it is not all tarmac. There are a few slopes but the surface is even.
There's a relaxed session planned at 4pm on Wednesday 8 December 2021 when there will be fewer people on the trail and the music will be turned down.
Food and drink
After our walk we looped back around to the three street food stalls in front of Killerton House.
You can buy hot drinks, gourmet burgers, hot dogs and fish and chips.
We can recommend the burgers from Lemon Jelli, who come from Ivybridge. Prices ranged from £2.50 for a generous portion of chips to £5.50 for a hot dog and £7.50 for a 6oz burger.
Are dogs allowed?
No. Only guide and assistance dogs can visit the light trail at Killerton.
When is the light trail at Killerton National Trust on?
This Christmas light trail is on during selected dates from 26 November 2021 until 2 January 2022, so it is one of quite a few things you can do in Devon between Christmas and New Year.
Here's the days it's on:
Friday 26 November to Sunday 28 November 2021
Thursday 2 December to Sunday 5 December 2021
Wednesday 8 December to Thursday 23 December 2021
Monday 27 December 2021 to Sunday 2nd January 2022.
The trail is open from 4.30pm with last entry at 8pm. It closes at 10pm.
If you book and the event can't go ahead for any reason, such as the weather, you'll be contacted with details about rearranging your visit.
Tickets for Killerton's Christmas illuminations
It's advised to book light trail tickets in advance.
There are different ticket prices for National Trust members and non-members, so take a good look at the booking site before buying.
Prices for National Trust members start at £18 per adult, £13 per child aged three to 16 and £60 for a family of two adults and two children. Non-members pay for parking – an extra £8. There's free entry for carers and children aged two and under.
Find out more and book tickets on the Christmas at Killerton website.
Is the Killerton light trail worth it?
Here's the kicker. This question has been causing quite a debate on the Devon with Kids Facebook group and page.
The cost – roughly £60 for a family of four – includes the light trail, which you might spend an hour, or more or less, walking around depending on your particular family. As I mentioned above, we were at Killerton for two hours including half an hour to stop and eat food outside the house.
You also see Santa at the beginning of the trail, but it's not a grotto experience. There are lots of other events happening in Devon where you can have a private or group audience with the big man and do hands-on activities.
The lights are the main show here.
If you have young children who get bored quickly then this event is probably not for you. I've been there before; steaming around an expensive attraction and not getting good value because kids don't want to stop and admire the view.
However, if you have older children or teens, or are visiting with family members who aren't into grottos, this is more suited to you.
We really did enjoy it. My girls were excited to see the lights after going to Illuminate in Plymouth a few weeks before.
How about for National Trust members?
I know the question about whether National Trust members should be paying for this event at Killerton is a biggie.
You'd have to pin down the National Trust about their pricing decisions – they're not paying me to speak for them.
However, I am a National Trust member, so I have an opinion.
The way I've rationalised the prices in my head is that the National Trust is hiring out this venue for an event. It's a bit like a concert or festival happening in the grounds of a stately home.
The people who help you park your car, scan your tickets and line the trail are not the National Trust volunteers and staff you see during the day. It's an events company putting on the lights – they are doing 13 other carbon copy events around the country this year. This is what the ticket price is covering.
So it's not the same set up as you'll find at other National Trust properties in Devon this year. For example, Saltram's National Trust team and volunteers are putting on what looks like a beautiful and free for members Nutcracker themed house and outdoor activity trail. Booking is essential.
Even so, it would have been nice to see a discount for members at Killerton as was the case with smaller light trails at places like Coleton Fishacre a few years ago. Then again, that light trail isn't running this year, which probably says something about how viable it is for the National Trust to put on this kind of event itself.
I'm interested to hear what people think, but encourage you to feedback to the organisers, whatever your opinion.
Find more festive days out and events in my guide to Christmas in Devon.
More things to do near Killerton
You might like to read my guide to things to do in and around Exeter.
Disclosure: my family attended the press preview night for Killerton's Christmas light trail. All opinions are my own.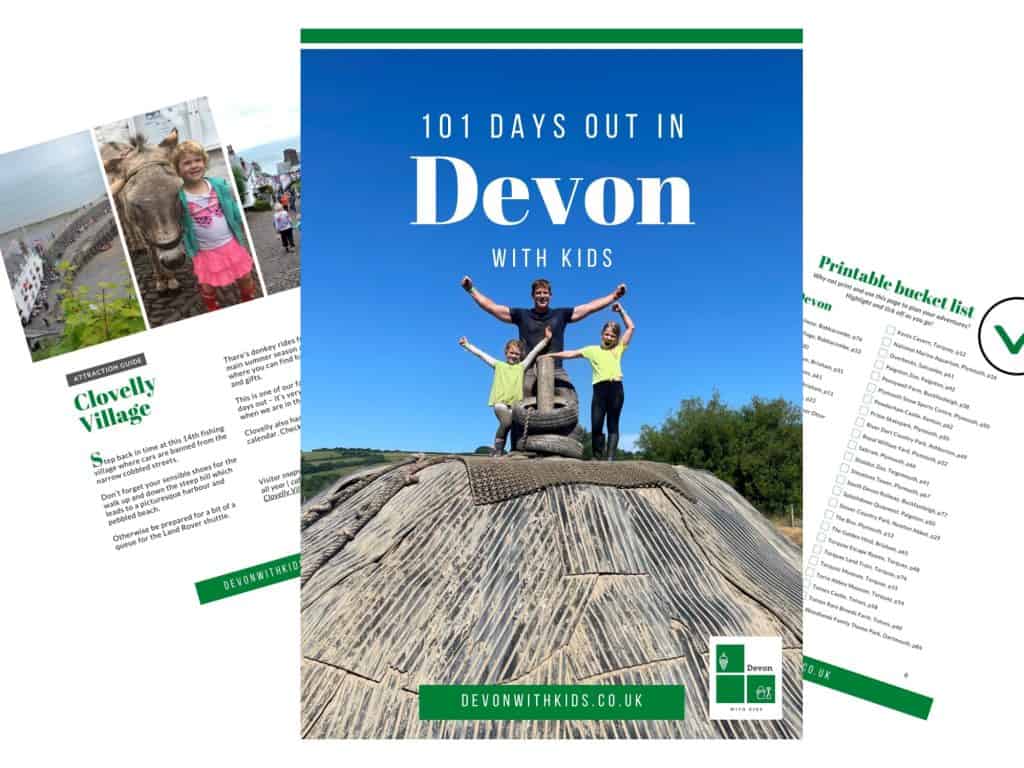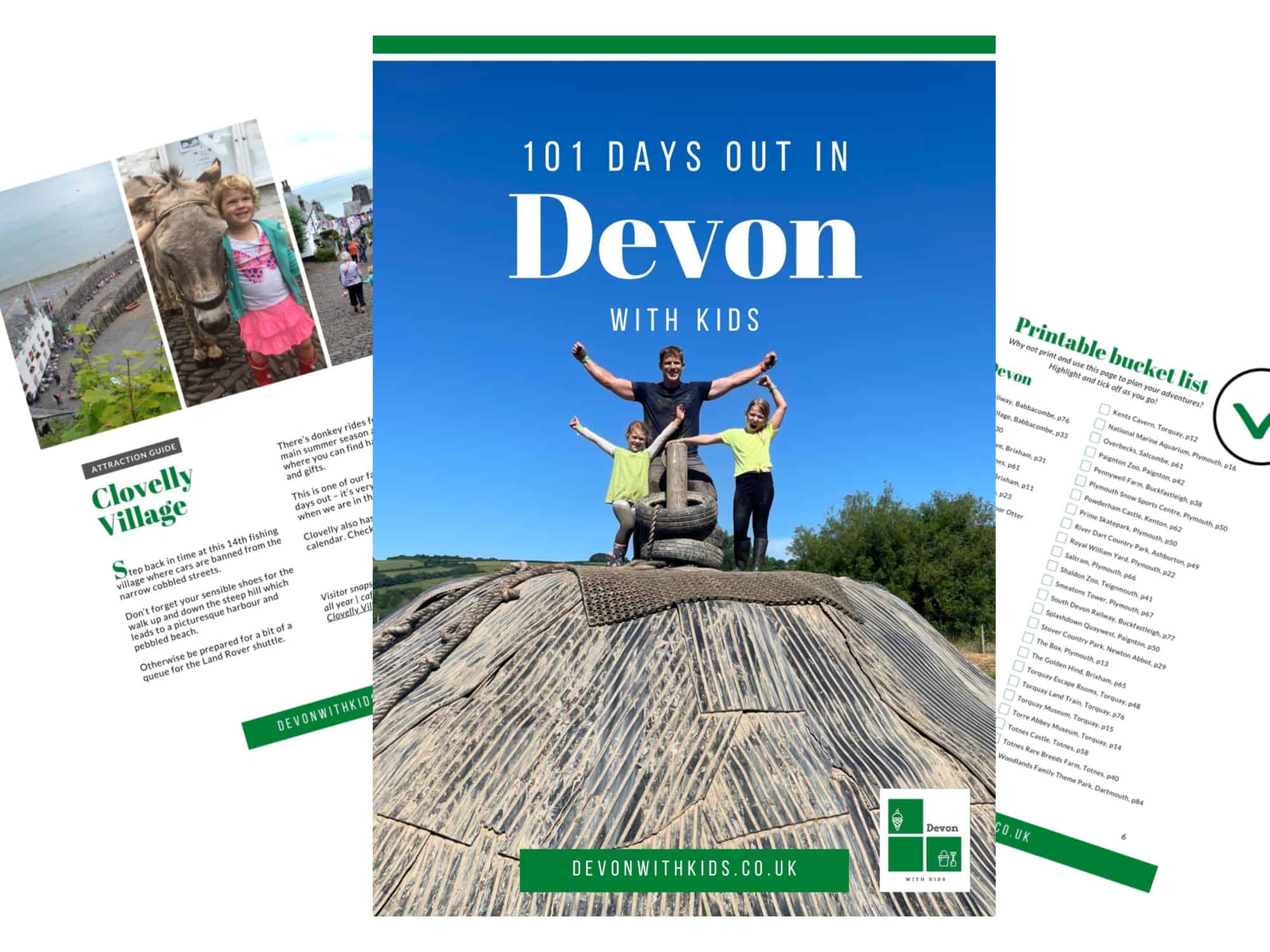 It's FREE!
Grab your copy of this guide to family-friendly things to do across the county, from coast to coast, in the cities, on the moors and whatever the weather.