With its rugged tors and outstanding scenery Dartmoor National Park in Devon is a haven for walking families. It's also a place steeped in history and it inspired Arthur Conan Doyle's The Hound of the Baskervilles, so budding story tellers will thrill at the atmosphere. But aside from myth, legend and landscapes, what's there to do in Dartmoor with kids?
Love Devon? Join the Devon with Kids Facebook group and subscribe to my newsletter!
Dartmoor with kids – Devon family days out
The simple answer is: plenty! Read on for some of our recommendations tried and tested Dartmoor days out with toddlers and children, plus some more things to do on Dartmoor with kids who are older.
Got a while to stay? Here's our BIG guide to family holidays in Devon.
1. Dartmoor Miniature Pony Centre
Equestrian fans will adore a day out at Dartmoor Miniature Pony Centre. Here you can listen to regular talks about the animals, groom the ponies, pet them in their field and go for a ride (small additional fee).
The centre is also home to goats, rabbits and ferrets. Oh, and UNICORNS!
As well as meeting the animals your kids can have a go at working a tractor, dash around the play fort or tackle the indoor soft play.
Here's our guide to everything there is to do at the Miniature Pony Centre in Dartmoor.
For more information visit the attraction website.
The Dartmoor Miniature Pony Centre is open March to October.
2. Explore a tor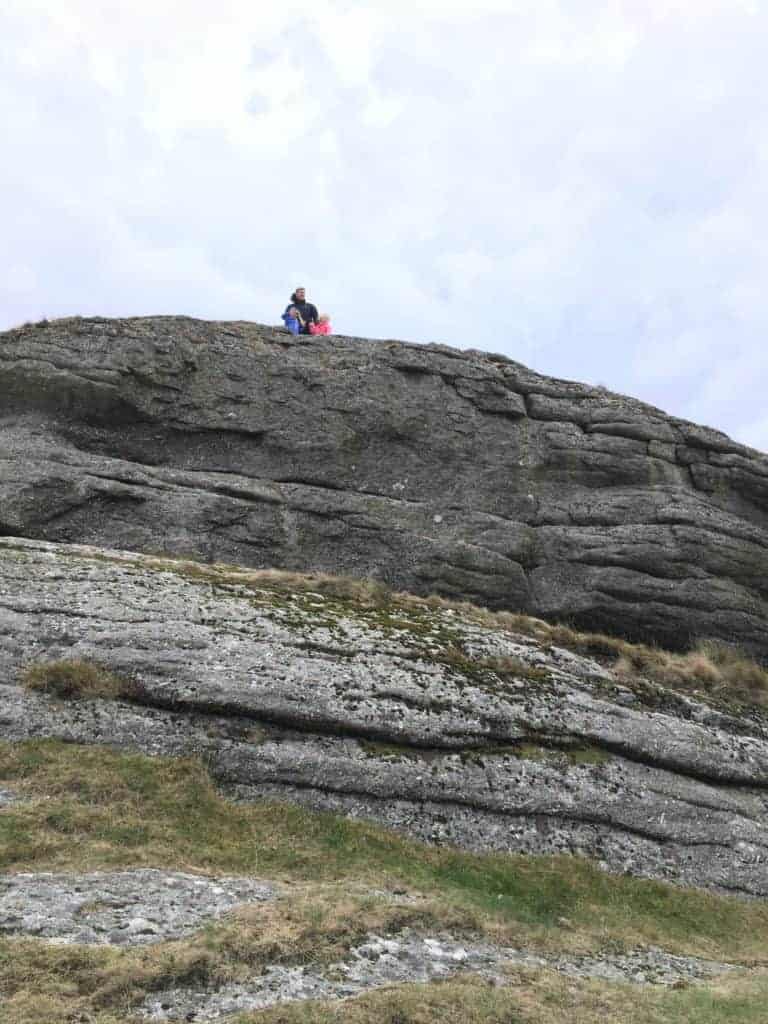 There are hundreds of tors (a pile of rocks on a hill) on Dartmoor – some more accessible than others.
We've found there's plenty close to moorland car parks so they're not too difficult to reach even with little legs. They are a great place for mini ramblers to explore, play hide and seek, and appreciate the views.
Or why not have a go at Letter Boxing – an early forerunner to geo-caching with boxes to be found across the moors. Bring a picnic and make a day of it.
Visit Dartmoor can suggest plenty of easy, circular walks to try out with kids.
3. Buckland Abbey
The home to the navy hero Sir Francis Drake is a beautiful National Trust property where children can roam the orchard, dash around the lawn and dress up in Tudor style in the attic exhibition.
It's also one of our favourite Dartmoor days out. Older kids will be enthralled by the sparkling treasure room which displays items 'collected' by Drake during his travels.
For more information or visit the attraction website.
Buckland Abbey is open all year but check the website during the winter for specific opening times.
4. River Dart Country Park
This woodland park has plenty to do for kids of all ages, from adventure playgrounds, to a manmade beach and tree top adventures.
Young children will like the play areas with toddler climbing frames, swings and mini zip line. Enjoy plenty of fresh air and maybe even a paddle in the lake on a warm day.
For more information or visit the attraction website.
River Dart Country Park is open all year but check the website during the winter for specific opening times. Entry is free between October and March but parking charges apply.
5. Buckfast Butterflies and Dartmoor Otter Sanctuary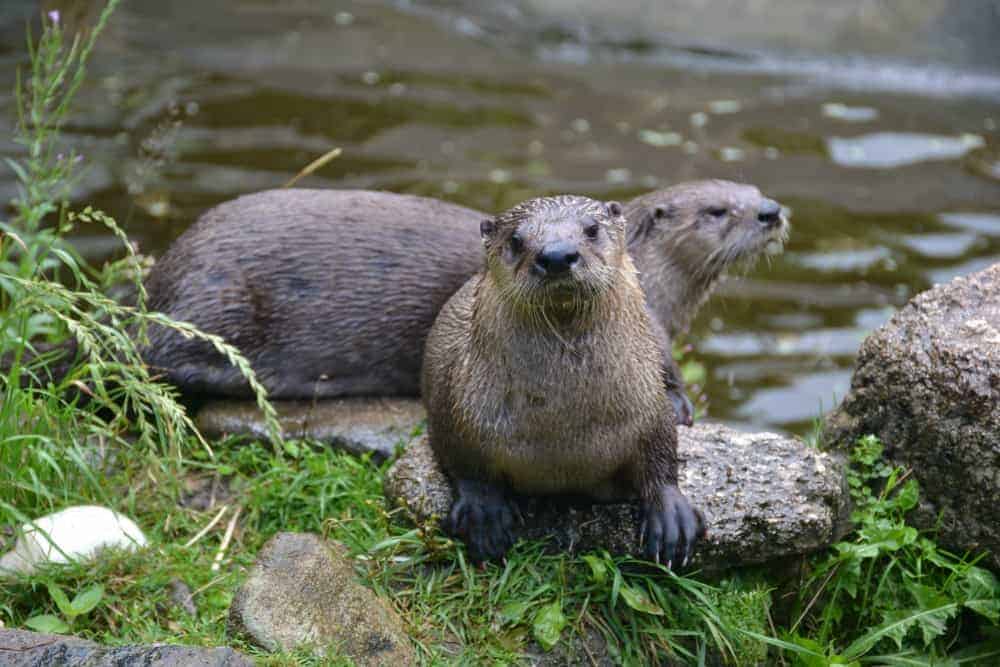 This small attraction on the edge of Dartmoor gives you a great opportunity to meet the cheeky characters native to this part of the world. Keepers give talks at each of the enclosures during the day and you can also see butterflies and reptiles in the butterfly house.
Be warned that if you visit with young kids the tours take about an hour so you may want to dip in and out of these dependant on your little ones' patience. It's easy enough to do as the centre is compact.
For more information visit the what to expect at Dartmoor Otters and Butterflies.
Check the Buckfast Butterflies and Dartmoor Otter Sanctuary website for specific opening times as it is not open all year round.
6. Tamar Trails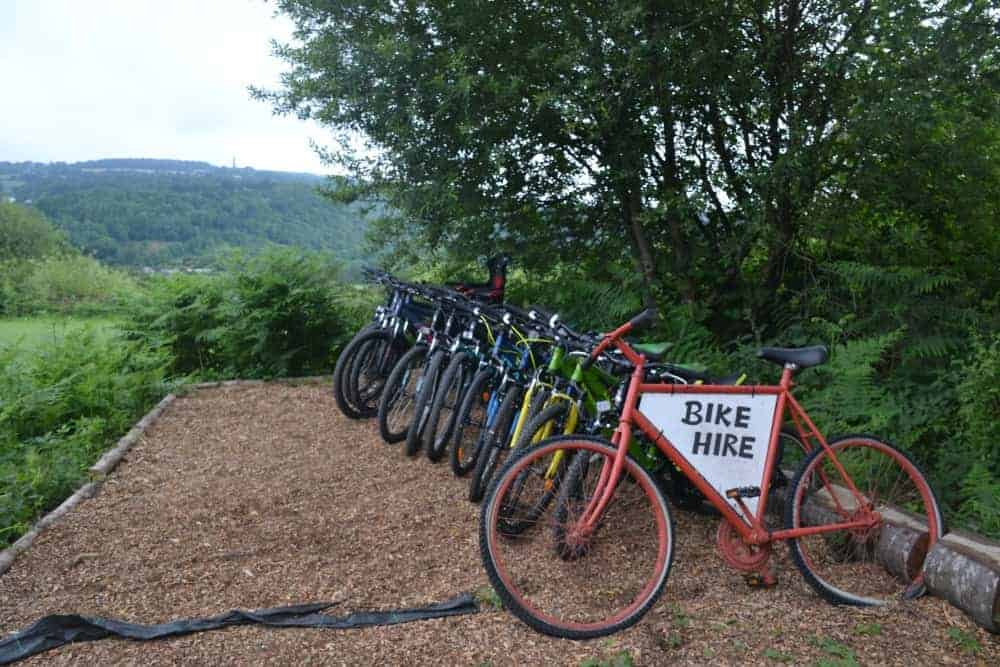 If you're the type of family that enjoys breaking a sweat then you're set for a great workout at the Tamar Trails. Take your pick from walking, cycling or swinging your way around the trails.
The best options for days out with toddlers here are popping them in a toddler carrier to explore the valley or hiring some bikes with a tag along trailer.
Older kids may like to try tree surfing or canoeing on the River Tamar.
For more information take a look at out guide to cycling the Tamar Trails.
The Tamar Trails are open from dusk to dawn all year round but check the website for activity times.
7. Castle Drogo
Castle Drogo has been undergoing major renovations for several years. When we last visited the castle was covered in scaffolding and plastic sheeting. The good news is this work has now finished. View this post on Instagram
You can go on a tour of parts of the castle but a building site is probably not that toddler friendly. Thankfully there's plenty to do in the grounds.
Visit the replica Bunty play house, grab a spotter trail sheet or go geocaching for hidden treasures in the Teign Gorge below the castle. A baby/toddler carrier is a must! We can't wait to revisit when the work is complete.
Visit the castle's website for more information. Castle Drogo's grounds and visitor centre are open all year round, but the Castle itself is closed from November to March. Check the National Trust website for full details.
8. Pennywell Farm
Introduce your little brood to the cute and cuddly animals at Pennywell Farm. Holding a miniature pig and feeding the lambs is a must if you visit at Easter.
As well as the animals you'll find plenty of toddler-friendly indoor and outdoor play areas. For older kids there's a rocket tractor ride, maze and assault course.
For more information visit the attraction website.
Pennywell Farm is open from February until the end of October. It also opens at Christmas.
9. House of Marbles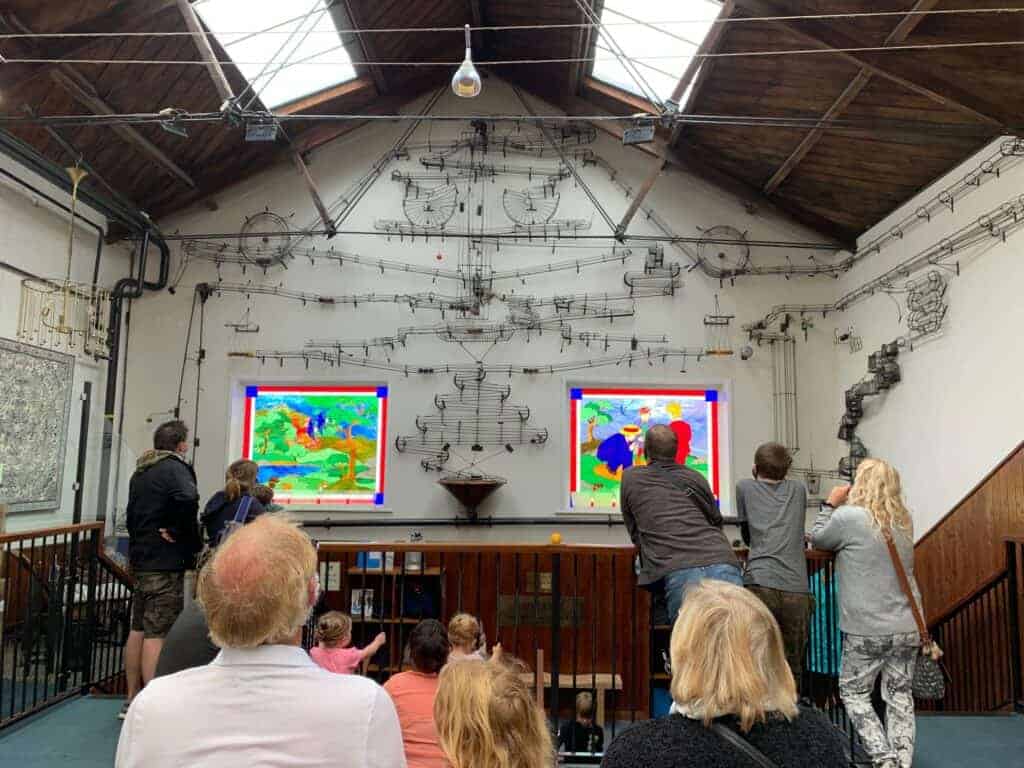 This free, small attraction is home to some fascinating marble runs that will keep kids entertained while you can browse the Devon gifts, crafts and boutique clothing. They can also press a button to get the largest run working. It covers an enormous wall and is quite an eye-opener.
You should also visit the restaurant which has all sorted of curiosities and annotated animals the walls.
Read about our visit to The House of Marbles at Bovey Tracey.
Fore more information visit the House of Marbles website. The House of Marbles is open all year round.
10. Dartmoor National Park Visitor Centre
The national park visitor centre in Princetown used to be a hotel and is where Arthur Conan Doyle stayed when he wrote some of The Hound of the Baskervilles.
Today the centre tells the story of Dartmoor's natural history with interactive exhibits that children can touch and explore. It's a great place to start planning the rest of your time on Dartmoor and pick out some of the child-friendly things to do.
The Fox Tor Cafe over the road does a great range of food, coffee and cake.
For more information see the Visit Dartmoor website or the Dartmoor National Park website.
The Visitor Centre is open all year round but check the website for opening times.
11. Canonteign Falls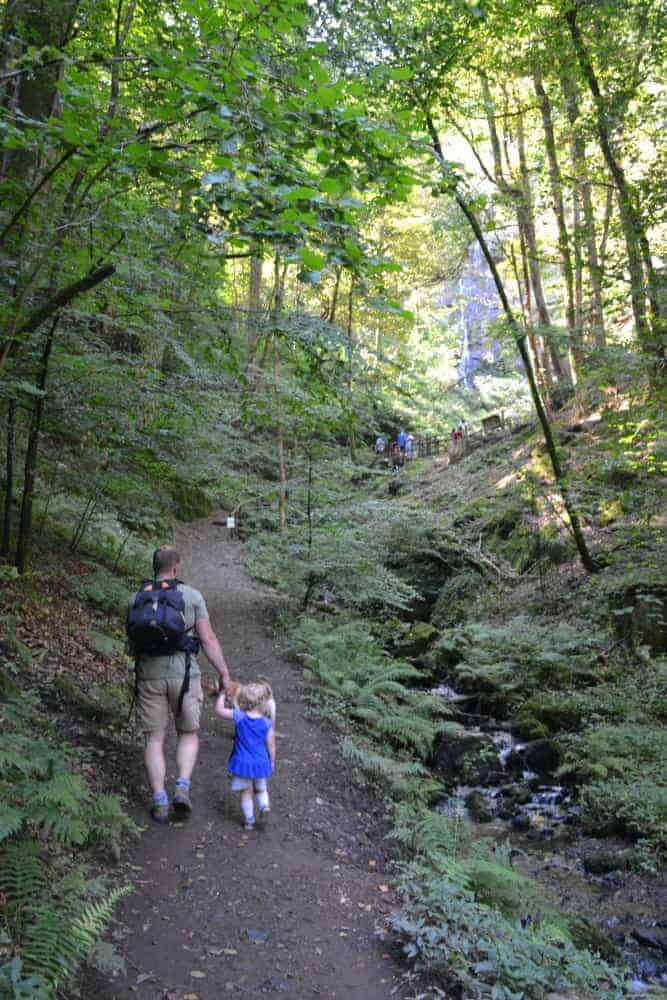 This Dartmoor day out steals you away to a magical place of fairies and woodland people that also includes a walk up to England's highest manmade waterfall.
A toddler carrier is a must if you want to appreciate the views at the top (you won't regret it), but it's not all hard slog. There's a children's trail and fern garden populated with fairies along the way. Back at the bottom you'll find an adventure playground, cafe and model boating lakes.
Read about our visit to Canonteign Falls.
For more information visit the attraction website.
Canonteign Falls are open from Spring until the end of October but check the website for opening times.
12. Haldon Forest Park
Take the 1.5 mile Discovery Trail at Haldon Forest Park to meet characters from the Julia Donaldson and Axel Scheffler books; the latest of which to hit the woodland is Superworm.
The trail is flat and sprinkled with activity stations, huge musical instruments and play equipment. Older kids might want to hop on their bikes or monkey around at Go Ape.
For more information see the Forestry Commission website.
Haldon Forest Park is open all year round.
13. Buckfast Abbey
This working Benedictine Monastery is a wonderfully peaceful place for a walk with children. They'll enjoy toddling around the lawns and meandering paths of the formal gardens.
Bring a picnic or visit the lovely restaurant for a Devon cream tea. The monastery was founded during the reign of King Cnut. 2018 was its millennium year.
For more information visit the Abbey's website. It is open all year round.
14. South Devon Railway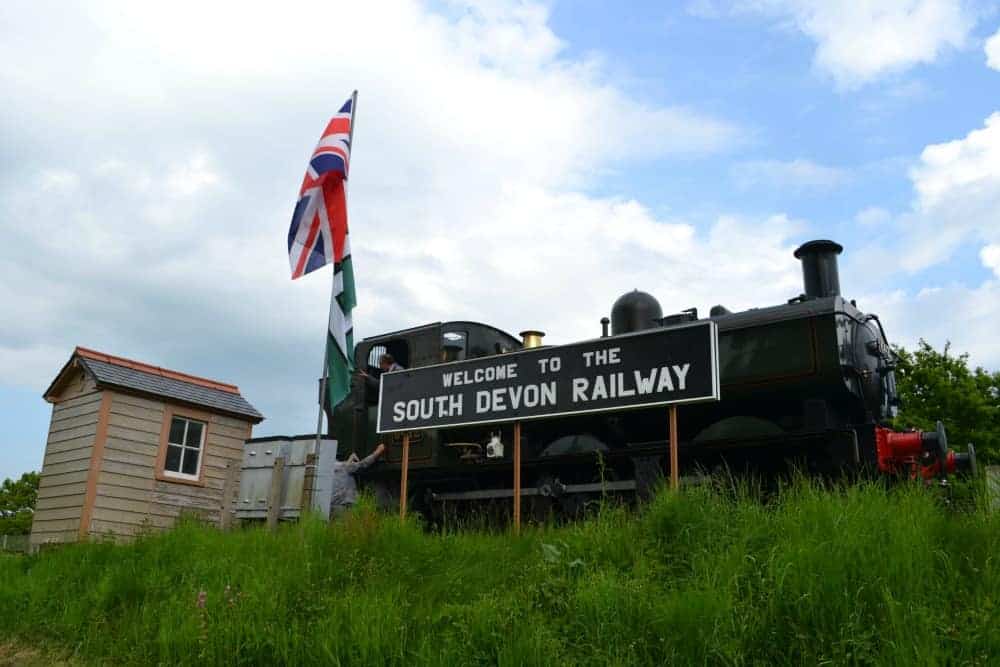 What kid doesn't love a train ride. This one through seven miles of the Dart Valley is brilliant fun and can be combined with the Buckfast Butterflies and Dartmoor Otters Sanctuary.
Don't miss the museum shed at Buckfast Station which has a colouring station and Lego to keep toddlers busy while you learn about the history of this former Great Western Railway branch line.
Find out more by visiting the attraction website.
The South Devon Railway is open from March to October with selected open days over the winter season.
15. Becky Falls
For a fun a challenging waterfall walk on Dartmoor Becky Falls is an ideal place for an adventure. Kids can clamber over boulders and spot wildlife in the ancient woodlands surrounding this privately owned valley.
As well as the waterfall walk – which you can take a few route around depending on how difficult you want it to be – there's an animal discovery centre and petting zoo.
This walk is not suitable for pushchairs. Wear sensible shoes!
Becky Falls in Devon is open from March to the end of October – check the website for full details.
16. Lydford Gorge
Head to the west side of Dartmoor to explore the South West's deepest gorge. This National Trust site has several paths along the 1.5 mile gorge which includes at 30m waterfall and a naturally formed whirlpool called the Devil's Cauldron.
The footpaths can be steep in places but they are nothing like you might find at Becky Falls and Canonteign Falls where roots and boulders are the norm. However, I'd still advise leaving the pushchair in the car and using a baby or child carrier for tots that can't walk yet.
Lydford Gorge is open daily.
17. Go for a walk
Dartmoor has walks for people of all abilities and ages like Avon Dam which is scooter and pushchair friendly.
Here are some of our tried and tested Dartmoor walks with kids from country parks with play trails to tors and woodland trails.
Even more to do on Dartmoor with kids
There's plenty more things to do on Dartmoor. Here are some that come recommended but that are still on our bucket list:
Where have we missed and what takes your fancy?
What about other Devon attractions?
If you're looking for Devon attractions to visit in other parts of the county then check out these family days out in Devon.
Plymouth, Dartmouth, Brixham, Torquay and Paignton are not far away.
If you're holidaying in North Devon take a look at these great Devon attractions around Bideford, Ilfracombe and Barnstaple. There's also plenty of places to visit in East Devon. And if the South is where you are hanging out then we have lots morre great ideas. Here's our tops things to do in South Devon too.
Would you like more Devon goodies delivered to your inbox? Sign up to the Devon with Kids newsletter.
Planning a visit to Dartmoor with kids? Why not save this post on Pinterest.