Kents Cavern is one of those places that makes you feel like a minuscule dot on the Earth's timeline. It's been around longer than Stonehenge, the Roman Baths in Bath and the Cerne Giant. It's full of history and insight into the way our ancestors lived – perfect for fact hungry families. Here's the Devon with Kids guide to visiting Kents Cavern in Torquay.
Love Devon? Join the Devon with Kids Facebook group and subscribe to my newsletter!
About Kents Cavern
Kents Cavern is Britain's oldest ancient monument and was formed 2.5 million years ago. It was first inhabited by early man in the Lower Palaeolithic to the Post-Prehistoric period. That's 500,000 years ago to you and me.
But it wasn't just Neanderthals and then later Homo Sapiens who lived in the maze of natural tunnels. Remains of animals such as bears, wolves and sabre-toothed cats have been found in the cavern.
It's known that the Romans explored the caves centuries ago because of the evidence they left behind of their visits. Coins have been found below face-like formations in the rock as if they have been left as an offering to a god.
But it wasn't until the 19th Century that recorded excavations began under the guidance of Father John MacEnery and then William Pengelly.
They uncovered ancient artefacts, human and animal remains that rewrote history and set Kents Cavern apart as one of Europe's most important prehistoric sites.
The oldest known evidence of modern humans in north west Europe – a 41,000 year old fragment of jaw bone – was uncovered here in 1927.
Visiting the caves – what to expect
We've now visited the caves three times with our children. The first time was when they were three and 18-months-old. On reflection, they were probably a bit young then, but us adults loved it.
The girls have enjoyed it much more in recent years when they have been interested in the formation of stalagmites and stalactites, and stories about the people and animals that once lived here.
You can book your tour time online in advance or turn up on the day. Booking is advised as tour numbers are limited and you also get a discount on your ticket price.
It is possible to arrive earlier and look around the exhibition inside, visit the outdoor area where there is an activity trail and sculptures, or grab a bite to eat in the cafe. It's very good and has a lovely view down the valley to the sea.
Guided tours
Tours are announced before they begin. You gather outside a gothic looking wooden door – the entrance to the caves – then step inside the Vestibule for the start of your experience.
The guides at Kents Cavern are brilliant – full of facts and funny stories as well as the serious history of the place which was rediscovered and nearly destroyed by the dynamite slinging Victorians.
They lead you through The Long Arcade – a canyon carved through the rock – switching on lights as you go. The only part of the tour where there is complete darkness is in The Bears Den. It's customary for all the lights to go off for a short period of time here so you can appreciate just how dark it is underground.
The tour ends with an exhibition about the people who lived here and the people who led the excavations.
Kents Cavern is such an interesting place and very different from other caves we've visited elsewhere in the country because of the depth of information that is known about the inhabitants – animals and humans.
If you love history, you'll find the stories of the artefacts found in Kents Cavern, and how they were discovered, fascinating.
More things to do at Kents Cavern
As well as cave tours, there's a free children's activity sheet to complete during your visit.
Inside there's a fun dig, cave painting and activities using tools cave people might have used millennia ago.
Outside there's a woodland trail. This was updated with animal sculptures in 2021.
Family facilities
Here's the facilities you can expect to find at Kents Cavern:
The cafe serves a range of hot and cold food, including children's lunch boxes and meals
Baby changing facilities are in the disabled toilet.
Tips for visiting Kents Cavern with kids
There are a few steps inside the cavern, otherwise the whole walk can be done with a narrow pushchair. Wide pushchairs will struggle in some places and double buggies would not make it. On busy days a limited number of pushchairs are allowed in the cave at any one time.
Find out more about accessibility in the caves.
If at any time you feel the need to leave the cavern during the tour your guide will arrange for you to be escorted out. You cannot leave the tour on your own.
The temperature in the cavern is a constant 14°C (58°F) whatever the season. Dress appropriately and wear comfy shoes.
Is Kents Cavern dog-friendly?
Dogs are allowed in the outdoor areas and in the cafe at Kents Cavern, but they cannot go through the caves.
Opening times and prices
Kents Cavern is open all year round. In 2022 it is open Tuesday to Sunday until February half term when it is open seven days a week. Check the website for tour times. It's recommended that you book in advance.
In 2022, the price for adults is £14 and for children aged two to 15-years-old it's £13. You can get £1 off all ticket prices by booking online in advance.
Find the latest opening information and prices on the Kents Cavern website.
Where is Kents Cavern?
You can find Kents Cavern here: 91 Ilsham Rd, Torquay TQ1 2JF.
There is a council-run carpark outside Kents Cavern. You can use the Ringo App to pay for your parking.
More things to do in Torquay
Got a while to explore? Here's some more places to visit in Torquay with kids:
Babbacombe Model Village
Babbacombe Cliff Railway
Read about more things to do in Torquay with kids. You might also like to venture a bit further to see the sights of Paignton and Brixham which also sit on the coast of the English Riviera and Geopark.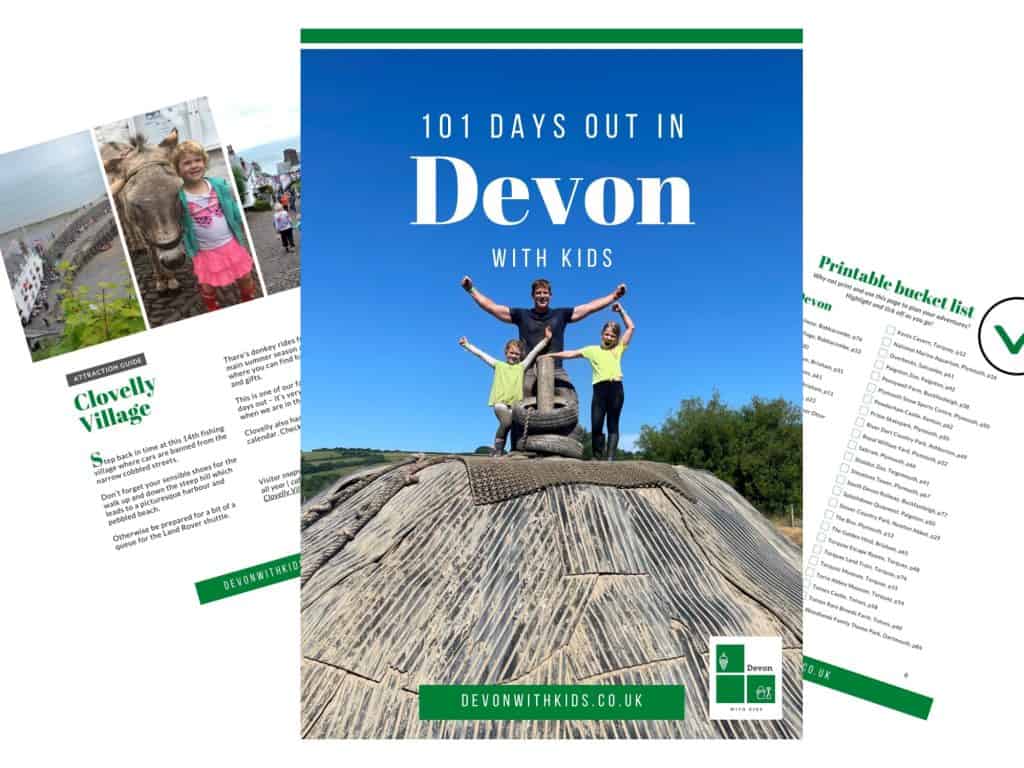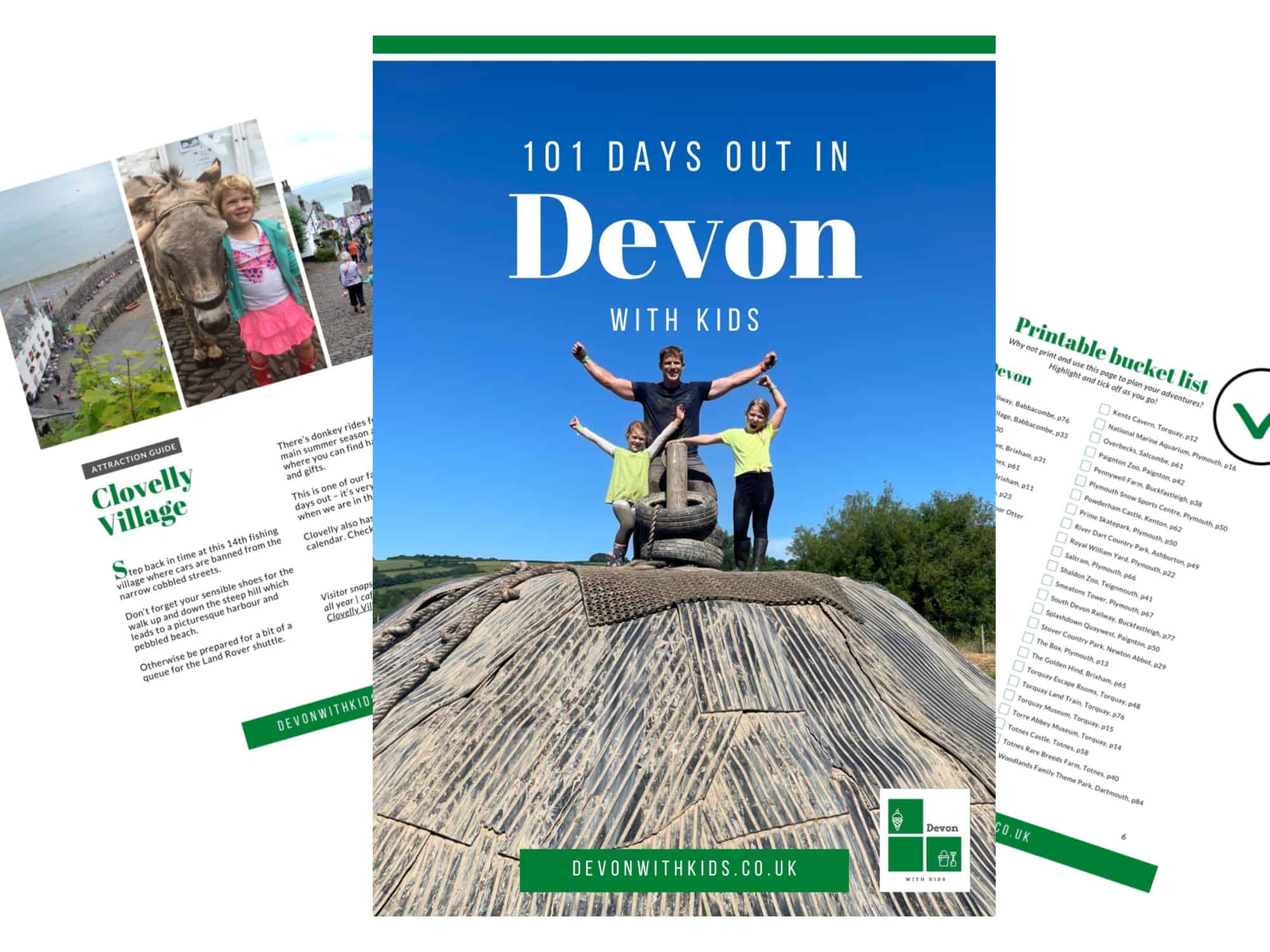 It's FREE!
Grab your copy of this guide to family-friendly things to do across the county, from coast to coast, in the cities, on the moors and whatever the weather.