What better place to go when you want to dodge the rain than under the sea? OK, not really. But the National Marine Aquarium in Plymouth is the next best thing and holds the rather impressive title of being the UK's largest aquarium.
Not only is the NMA a top place to go on a wet day in Devon, it's also open all year round giving you an easy option to entertain your family whatever the season. Oh, and visit once and you have free reentry for a whole 12 months! Jawsome!! #Sorry
So, if you fancy immersing yourself in Devon's marine world, here's my guide to visiting the National Marine Aquarium in Plymouth.
Love Devon? Join the Devon with Kids Facebook group and subscribe to my newsletter!
About Plymouth's aquarium
The National Marine Aquarium is one of those places you could keep going back to again and again. We've visited this charity-run attraction three times over the past six years.
The enormous tanks showcase species from UK waters, as well as the Atlantic Ocean and Great Barrier Reef, and are changing all the time. That's not to mention a calendar packed with events to coincide with school holidays.
The Ocean Conservation Trust team here did some amazing online events during lockdown. I'm sure they helped out a lot of families struggling with home learning by broadcasting mermaid tales and marine wildlife talks over the internet.
This content is all still available on their YouTube Channel and is fun viewing ahead of in-person visits that are now possible again.
Things to see and do at the National Marine Aquarium
Here's some of the things you can see and do at the National Marine Aquarium in Plymouth:
The UK's deepest aquarium tank
Take a seat in front of the glass of this gigantic curved window into the UK's deepest and largest aquarium tank. At times it's up for debate who was watching who.
The giant sting rays glide across the glass, while the sharks slide cooly through the water seemingly observing you with their beady eyes. You might also spot 'Friday' the Green Turtle.
Interactive exhibits
There's just the right balance of interactive exhibits to go along with the huge tanks where you observe the sea life.
There are bulbous windows that allow children to listen to the sounds of the ocean inside and interactive displays that teach you about the important role of sea grass in the underwater ecosystem.
There's plenty of steps and blocks for young children to stand on so they can see into tanks and get a good view of feeding times.
Talks
As well as wandering around the UK's largest aquarium at your own pace you can also see several daily shows and talks.
If you have older kids then I'd recommend trying to plan these into your day to get the most out of your experience. You can find out the timings for these in advance by taking a look at the aquarium's website.
Be aware that talks have been scaled back during the pandemic but there are still plenty of Ocean Discovery Rangers around who are happy to answer questions.
Find out even more about the four ocean zones and everything there is to do on the National Marine Aquarium's website.
Handy things to know
Here's some more handy things to know ahead of visiting:
How long do you need to visit the National Marine Aquarium?
We have visited a few times and spent different periods of time looking around ranging from an hour to three. It all depends on our kids' attention spans on the day and whether there are other activities happening.
During the pandemic, when there were no talks or craft workshops happening, we spent less time in the aquarium. But it was good to know we have the option to visit again for free.
Facilities at the aquarium
The aquarium has its own cafe. This is situated on the first floor of the aquarium and has panoramic views out over Sutton Harbour, the Barbican and Plymouth Sound. It's a great location. There's plenty of child-friendly snacks and meal options.
The aquarium is pushchair and wheelchair accessible. Where there's no a ramp between levels there is a lift. Find out more about accessibility at the NMA.
Where is the National Marine Aquarium?
You'll spot brown signs pointing you in the direction of the aquarium all around Plymouth. Here's where to find it:
National Marine Aquarium parking
The aquarium is right beside Sutton Harbour and does not have its own car park. The closest place to park is Harbour Car Park: 1 Lockyers Quay, Plymouth PL4 0RA. This is a short walk away. It is a pay and display car park that accepts cash or card.
The aquarium recommends that you allow up to three hours for a visit.
National Marine Aquarium prices
All visitors are required to book their tickets and time slot in advance.
There are three tickets price tiers depending on the time of year you make your initial visit. Prices start at £19.50 for adults and £9.75 for children. Under 3s are free.
Whenever you visit your ticket is then valid for revisiting for free as many times as you like within 12 months. Your return visits must also be booked.
For the most up to date ticket and booking information see the NMA website.
More things to do in Plymouth
Here's some more attractions to visit in Plymouth:
You might also like my guides to the things to do in South Devon and Dartmoor as well as the towns of Salcombe, Dartmouth, Paignton and Torquay.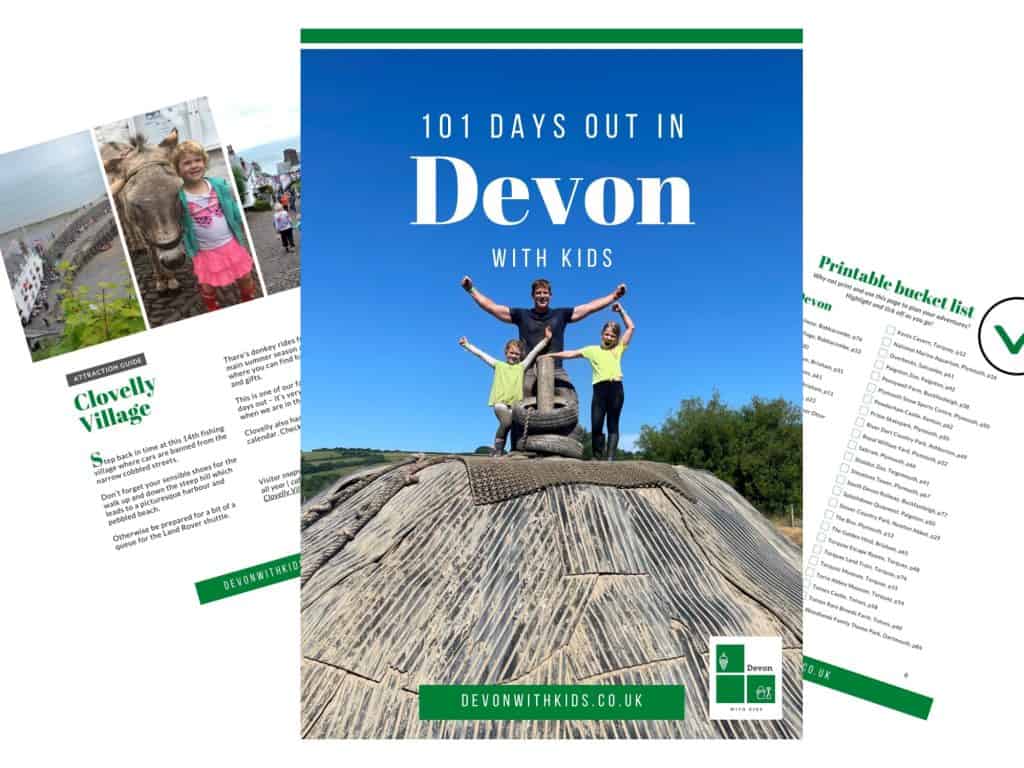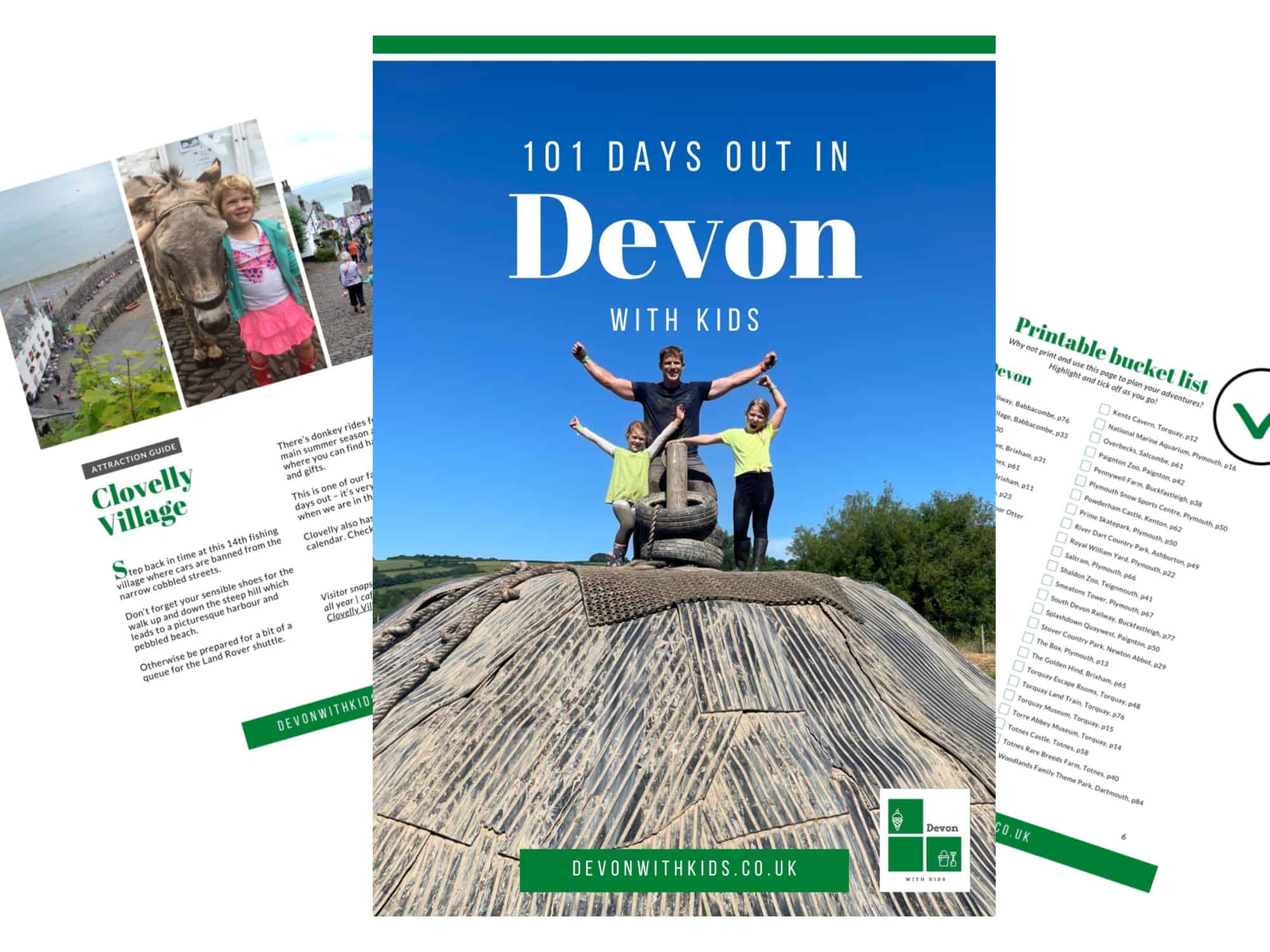 It's FREE!
Grab your copy of this guide to family-friendly things to do across the county, from coast to coast, in the cities, on the moors and whatever the weather.