As June 2022 approaches the whole country will be buzzing with anticipation for this very royal event. There's bound to be street parties happening all over the place but if you'd like to find public Platinum Jubilee events in Devon you've come to the right place.
The Platinum Jubilee weekend will take place from Thursday 2 June to Sunday 5 June 2022. However, 2022 will be full of special events to celebrate this landmark year.
I'll be adding more events to this guide as they are announced. If you know of something not listed get in touch.
Love Devon? Join the Devon with Kids Facebook group and subscribe to my newsletter!
Queen's Jubilee events happening around Devon
Here are the public events – free and bookable – happening across Devon to celebrate Queen Elizabeth II's 70-year reign:
Happy Days Platinum Jubilee Show – dates in May and June
'Happy Days' is a patriotic, uplifting show with a 'Last Night of the Proms' vibe for the whole family.
The sing-a-long show includes classics from various musical icons from the last seventy years, such as Vera Lynn, Connie Francis, Doris Day, Matt Monro, Frank Sinatra and Glen Miller to name a few. There will be a journey through the seven decades starting in the 50's with a Rock'n' Roll spectacular.
The show will be taking place at various venues in Devon. Find out more and book tickets for the show at these theatres:
Platinum Jubilee events in South Devon
Here's some special ways to celebrate the Jubilee in South Devon:
Jubilee beacons – 2 June 2022
Here's when the Queen's Jubilee Beacons will be lit at different sites in South Devon:
Corbyn Head, Torquay – 9.45pm
Daddyhole, Torquay
Sholestone Pool, Brixham – 9.15pm
Berry Head, Brixham
More locations and times are still to be confirmed.
Watch the Platinum Jubilee celebrations on Powderham Castle's outdoor cinema screen – 2 June 2022
As well as showing blockbuster films the big screen at Powderham Castle will be showing the Queen's Birthday Parade on Thursday 2 June.
You can watch as part of your entrance fee to the castle and grounds.
Find out more and book tickets on the Powderham Castle website.
Garden party at South Devon Railway – 2 – 3 June 2022
South Devon Railway is hosting a garden-party style event and a beer festival to mark the Jubilee bank holiday weekend.
Find out more about what's on at South Devon Railway.
Music on the Meadows, Torre Abbey Gardens – 3 June 2022
Music on The Meadows will be taking over Torre Abbey Meadows in Torquay with a full day of family entertainment.
Expect musical bingo, pop-up theatre and acts commemorating the decades of HM The Queen's reign. To complete the day The Bootleg Beatles will headline the main music stage,
Find out more about Music on The Meadows.
Yard Sessions at Royal William Yard – 03 June 2022
Celebrate the Jubilee by enjoying chilled tunes by the water at Firestone Bay.
Further details can be found on the Royal William Yard website.
Prawle Fair – 4 June 2022
Prawle Fair is a fabulous family event with live music, traditional rides and stalls from swingboats to greasy pole, and lots of refreshments available. This year it is being run to coincide with the Queen's Jubilee celebrations.
The fair takes place on The Green, East Prawle, near Kingsbridge. Entry on foot is free. There's a small charge for car parking.
The most up to date details are available on the Prawle Fair website.
Celebrations in Newton Abbot – 3 – 5 June 2022
A weekend of parties, live music and entertainment is being planned in Newton Abbot, including a party in the park.
Find out more about what's on as Newton Abbot Town Council announces its plans.
Good Food and Craft Market at Royal William Yard – 4 – 5 June 2022
Dozens of the regions best traders are taking to the green for weekend.
Check out further information on the Royal William Yard website.
Jubilee Flotilla and The Big Lunch, Torbay – 5 June 2022
There will be some extra Jubilee celebrations on Paignton Green and in Torbay as part of the 2022 English Riviera Airshow.
A Jubilee Flotilla will take to the waters around Torbay, with celebrated and private vessels representing all parts of the area's coastal community. Visitors are invited to watch from the shores as the water teems with maritime action.
In Paignton families can join in with the The Big Jubilee Lunch. This is an opportunity to enjoy a celebratory picnic with friends and family on Paignton Green where there will be a range of high quality food and drink outlets to grab a bite and watch the many flying displays.
Find out more about the celebrations during the airshow.
Platinum Jubilee events in East Devon
Here's where to find Platinum Jubilee celebrations in East Devon:
Jubilee Celebration at Bear Town – 26 May 2022 – 08 June 2022
Visit this multi-award winning indoor play centre between Exeter and Cullompton for its' Jubilee Celebration when it transforms into the greatest party in town. Your little ones can turn into Kings and Queens for a session of fun, hunts and more and to celebrate Her Majesty The Queen, at the end of each session, all children will receive their own royal reward.
Visit the Bear Town website for more information and to book tickets.
Exeter Jubilee Tea Party, High Street – 2 June 2022
The City of Exeter is marking the Queen's Platinum Jubilee with a street party which will take place in the High Street.
A Military and Community Village will also take place on the Cathedral Green.
During the evening the Lord Mayor and the Exeter Sea Cadets will join the Nation in lighting a beacon down on Exeter Quay.
For more information visit the Exeter City Council website.
Sidmouth Street Party – 2 June 2022
Sidmouth Chamber of Commerce is holding a special street party in Market Place.
Local residents can join the party by booking a table for six and bringing their own chairs, food and drink. There will be competitions for the best 1950s costume and table decoration.
Entertainment will be provided by Sidmouth Town Band, followed by a community singalong and a disco.
Tickets cost £36 per a table and go on sale at The Anchor Inn in Sidmouth from 23 April 2022.
Exmouth Festival – 2 – 5 June 2022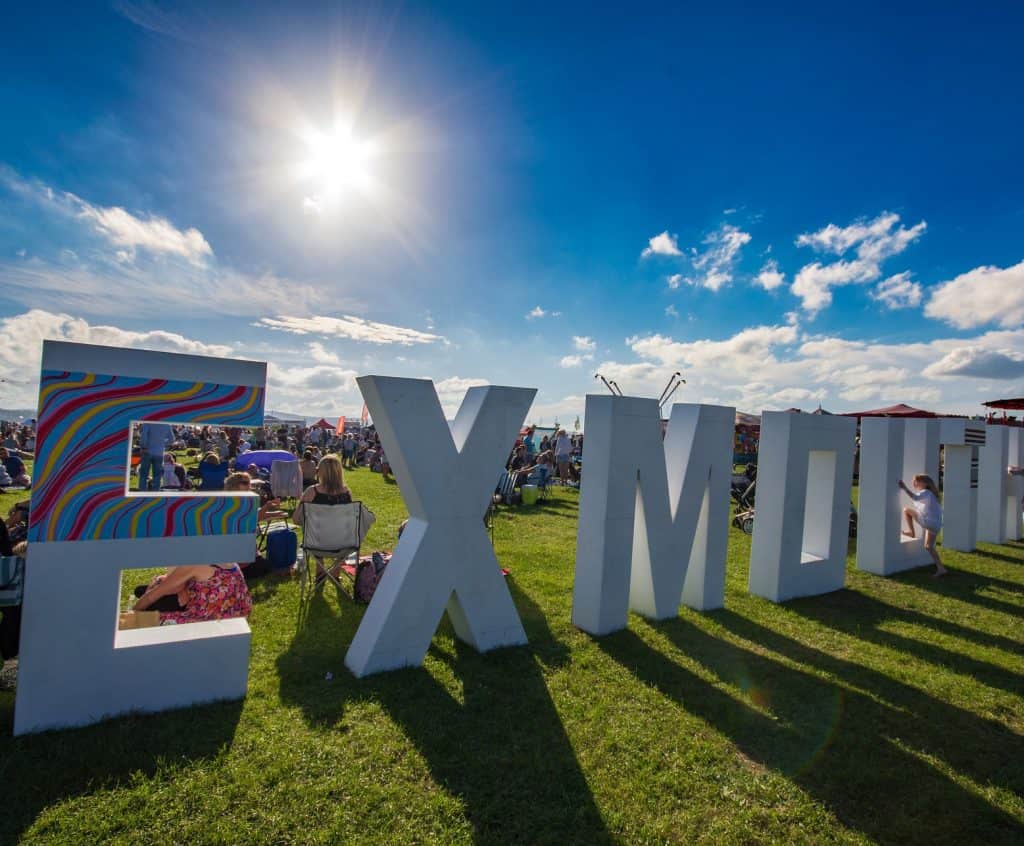 After a two year hiatus Exmouth Festival is back for 2022! Head to the Imperial Recreation Ground, you'll find free live music, theatre, circus and art, alongside the very best food and drink Devon has to offer.
This year the festival coincides with the national Jubilee Celebrations taking place over this extended bank holiday weekend. There will be a beacon lighting, the Big Jubilee Lunch and lots more celebrations.
Find out more about Exmouth Festival.
Topsham Jubilee Food Festival – 4 June 2022
Celebrate the Jubilee weekend with a Food Festival on Topsham Quay where you can meet artisan food and drink producers, taste and buy.
Watch local chef demos, enjoy some fabulous street food, and dance under the stars to local bands from 12pm to 10.30pm.
Find out more about what's on in Topsham.
Clyst St George and Ebford Big Jubilee Lunch – 5 June 2022
Clyst St George Parish Hall is hosting a Big Jubilee Lunch in the field behind the village hall for all residents of Clyst St George and Ebford. This will be a ticketed event.
There will be a BBQ, bar, bouncy castle, fancy dress competition and decorated crown competition for the adults.
Find out more about this event.
Platinum Jubilee Festival Steam Up! at Coldharbour Mill Museum – 5 June 2022
Coldharbour Mills is pairing its signature Steam Day with a Platinum Jubilee celebration including plenty of royal twists.
Go on a tour of the steam powered textile factory, make your own bunting in the Fox Gallery and plant a tree in the wildlife meadow as part off the Queen's Green Canopy initiative.
Find out more about what's on at Coldharbour Mill.
Jubilee events in North Devon
Here's some special ways to celebrate the Jubilee in North Devon:
Jubilee Party Weekend at RHS Rosemoor in Great Torrington – 2 – 5 June 2022
Celebrate at RHS Rosemoor where there will be brass bands in the garden and special catering to help mark the occasion.
Find out more about what's on at Rosemoor.
I'll be adding more events to this guide as they are announced. If you know of something not listed get in touch.
You might also like to check out my guides to what's on in Devon this May half term and in June 2022.