Are you in need of some vitamin sea? Visit Devon and you'll think you'd been transported abroad. If you're planning your beach days or a family holiday in Devon here's where you'll find the very best family-friendly South Devon beaches.
Love Devon? Join the Devon with Kids Facebook group and subscribe to my newsletter!
Would you like more Devon goodies delivered to your inbox? Sign up to the Devon with Kids newsletter.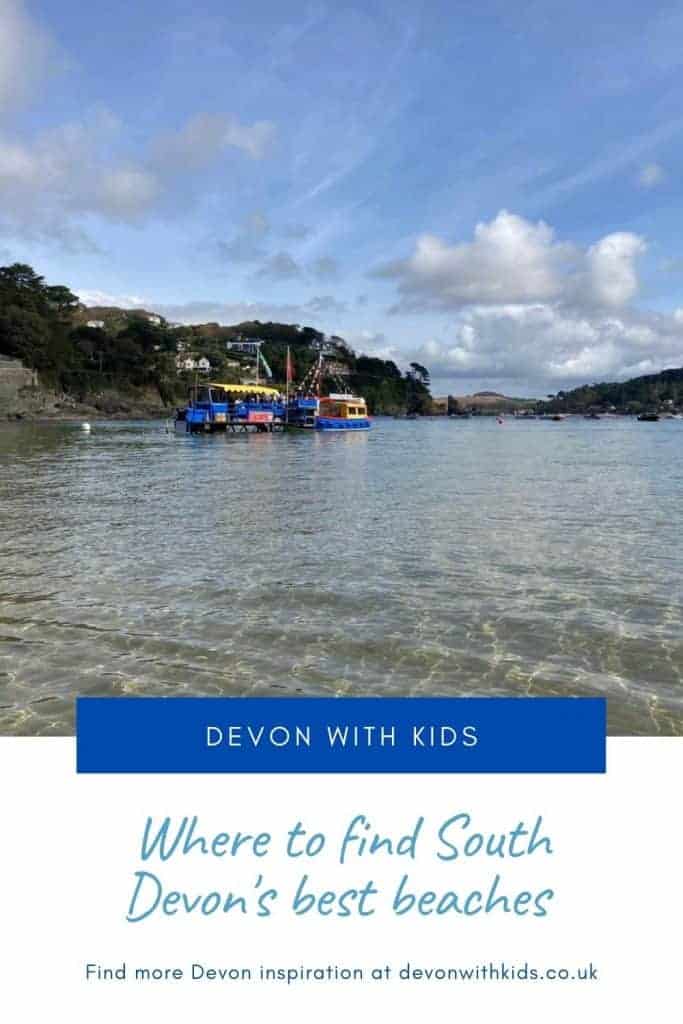 You might also like to check out my guide to more things to do in South Devon with kids.
Here's what you can expect to greet you on South Devon's beaches including what the beach is like for young children, facilities, cafes and whether they are dog-friendly:
Blackpool Sands
Not only is Blackpool Sands one of Devon's best beaches, it's always among England's best too. But be warned, it's not sandy!
The crystal clear waters of this shingle bay lap against a shelving shore line in a long cove surrounded by countryside. Can this really be England?!
In the summer months there's a lifeguard on the Blue Flag beach and you can hire water sports equipment. Dogs are allowed on the beach from November to April and the Venus Cafe is open all year round. Check the website for full details, open dates and parking charges.
Find more things to do in Dartmouth with kids.
Slapton Sands
Slapton Sands – another beach that's shingle rather than sand – sweeps across Start Bay between Strete Gate and Torcross. Not only is this two-mile shoreline ideal for water sports and beach fun, it is also steeped in history.
At the Torcross car park you can see a WWII tank that was part of the D-Day landing rehearsals here. Older children may be interested in finding out more about the history of Slapton Sands.
Dogs are allowed on the beach all year round but must be kept on a lead in the Slapton Ley Nature Reserve that backs on to the beach. Local parking charges apply in the car parks along the beach.
Please note that a barrier has been added to Slapton Memorial car park in the middle of the bay which restricts access for vehicles over 1.9m in height.
You'll find pubs and cafes at Torcross and there's often a van selling drinks, snacks and ices creams at Street Gate.
Bigbury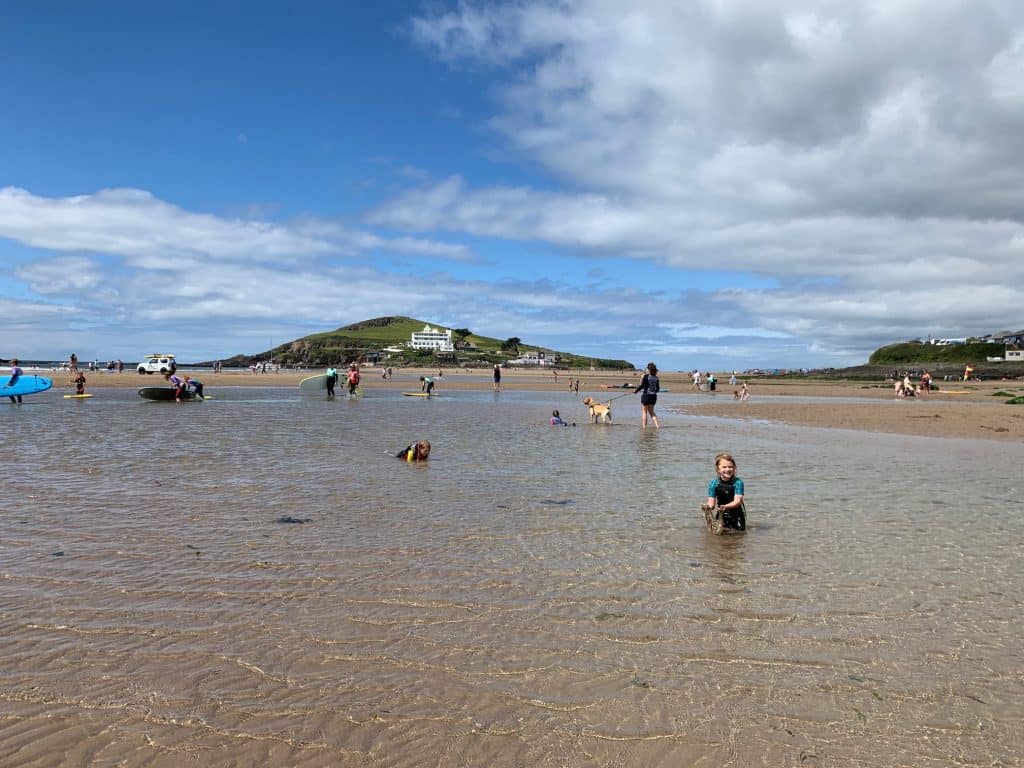 This sandy beach in South Devon is sprinkled with rock pools and shallow lagoons at low tide when it also links Burgh Island to the shore.
At high tide the beach reduces to a more modest strip that butts up against low cliffs. Arrive when the tide is on it's way out to maximise your space.
In the opposite direction you can see the sand dunes of Bantham Beach (see below), which is only separated from Bigbury by the Avon River estuary. Further along the coast you can see Thurlestone Rock which sits in front of South Milton Sands (see below).
Bigbury, along with nearby Bantham, is popular with surfers and is the home to Discovery Surf School.
Bigbury is also a great place for a family beach day with flat sand for playing games and building castles. The water is shallow but be aware of currents and don't try to wade to the island or Bantham. RNLI Lifeguards are on duty here in the summer months and put a safe swim zone in place.
There are toilets and the Venus cafe above the beach, which is serves takeaway food and drinks as well as having a restaurant. Dogs are allowed on the east end of Bigbury Beach all year round.
Top tip: download the Ringo parking app for the long stay car park at Bigbury.
Bantham
This Blue Flag surfer's paradise is eye-wateringly beautiful. Grassy dunes roll into a golden sandy beach with cliffs to the East and the River Avon estuary in the West. You can find Bantham Surfing Academy on the beach and there's a RNLI Lifeguard station here in the summer months.
The shallow water is ideal for paddling toddlers. There's also rock pools to explore.
Dogs are not allowed on the main beach between May and September but can walk around the estuary. The Gastrobus can often be found selling hot and cold takeaway food in the car park. Pay for parking by card at the car park entrance.
Be aware that the road into Bantham is very narrow with passing places. On sunny days it will be busy, so prepare to reverse a lot!
Not far from Bantham you can also find Bigbury and Thurlestone beaches, which are also excellent South Devon beaches for families.
Broadsands Beach
This shallow sandy beach on the English Riviera is a favourite for families. Not only is it a safe place for kids to paddle and bodyboard you're also in a great location to see the locomotives of Dartmouth Steam Railway chuffing between Paignton and Kingswear through to the summer season.
There's a cafe and a takeaway on the promenade above the beach. Behind this is a playing field where you can play ball games if the kids get bored of making sand castles.
Local parking charges apply. Dogs are banned from May to September.
Salcombe North Sands
If you visit Salcombe North Sands on a sunny day and you could be forgiven for thinking you were somewhere in the Mediterranean. It's set in a small cove with tree-lined cliffs rising up on either side. The view from this tidal, sandy beach stretches out into Salcombe Estuary and the sea beyond.
The beach slopes slowly in to the water making it a good place for a paddle or swim with young children.
Definitely check what the tide is doing before you visit North Sands. Even when it's not summer it can be difficult to find somewhere to sit at high tide. We often have our picnic in the car park and walk straight into the water with our paddle boards. There's also a large field next to the car park which is ideal for picnics, barbecues and ball games.
North Sands has a pay and display car park across the road. You'll need the Ringo App to pay hands-free. Download this in advance and start the payment process five minutes before you arrive as there's very little signal once you reach the beach. If you are arriving before 11am there is usually parking available.
North Sands is also where you'll find The Winking Prawn cafe. It's super family-friendly and sells beach toys should you have forgotten anything.
Dogs are allowed on North Sands all year around. There are public toilets a short walk away.
Find more things to do in Salcombe with kids.
Salcombe South Sands
South Sands is just around the corner from North Sands but tends to be the quieter of the two beaches because there's only a small private car park opposite the hotel. However you can walk from North Sands or visit it by the South Sands ferry that runs between here and Salcombe town every half an hour between 10am and 6pm (March to October).
In 2020, the ferry costs £4.50 for adults and £3.50 for children each way. We haven't done it yet but it looks like a fun ride. You board the ferry from a sea tractor that transports passengers into the water.
At the beach you can pick up drinks and snacks from the Bos Beach Cafe, which you'll find in an old life boat station that looks a little like a chapel.
The water is shallow and perfect for toddlers and young children to splash about in. If you want to try out water sports you can hire equipment here from Sea Kayak Salcombe (closed in 2020).
Fancy staying right on the beach? Book into South Sands Hotel. This small boutique hotel is one of several super family-friendly Devon hotels.
Dogs are allowed on South Sands from November to March. There are toilets in the car park opposite the hotel.
If you are parking at North Sands don't forget to download the Ringo app. You can also park at the National Trust car park at Overbecks, which is a five minute walk from South Sands.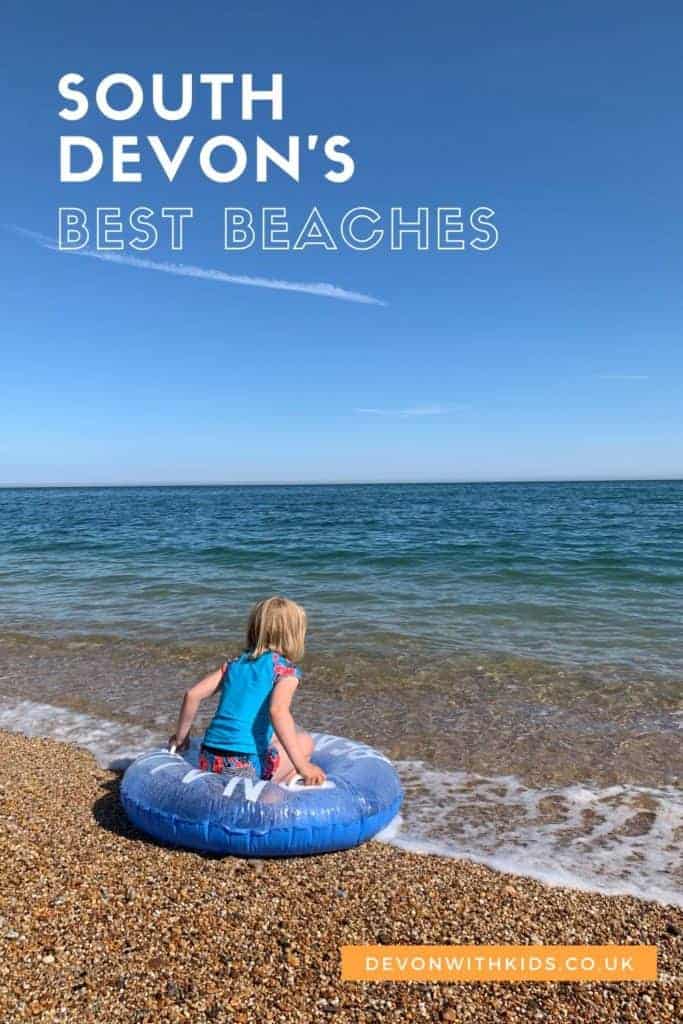 Got a while to stay? Here's our BIG guide to family holidays in Devon.
Mill Bay
Mill Bay is a hidden South Devon gem on the Kingsbridge Estuary opposite Salcombe. This sandy beach is in a small cove that you access down a long country lane, but it's worth seeking out. There's plenty of sand and rock pools for children to explore and a great view of the comings and goings on the water.
The National Trust has a small car park here. Access to the beach is a bit bumpy so leave pushchairs in your car. Your dog is allowed all year round.
We have also walked to Mill Bay from Gara Rock. However it's not advised to park at Gara Rock and hike down with your beach gear – it's a bit far for that.
Find more things to do in Salcombe with kids.
South Milton / Thurlestone Sands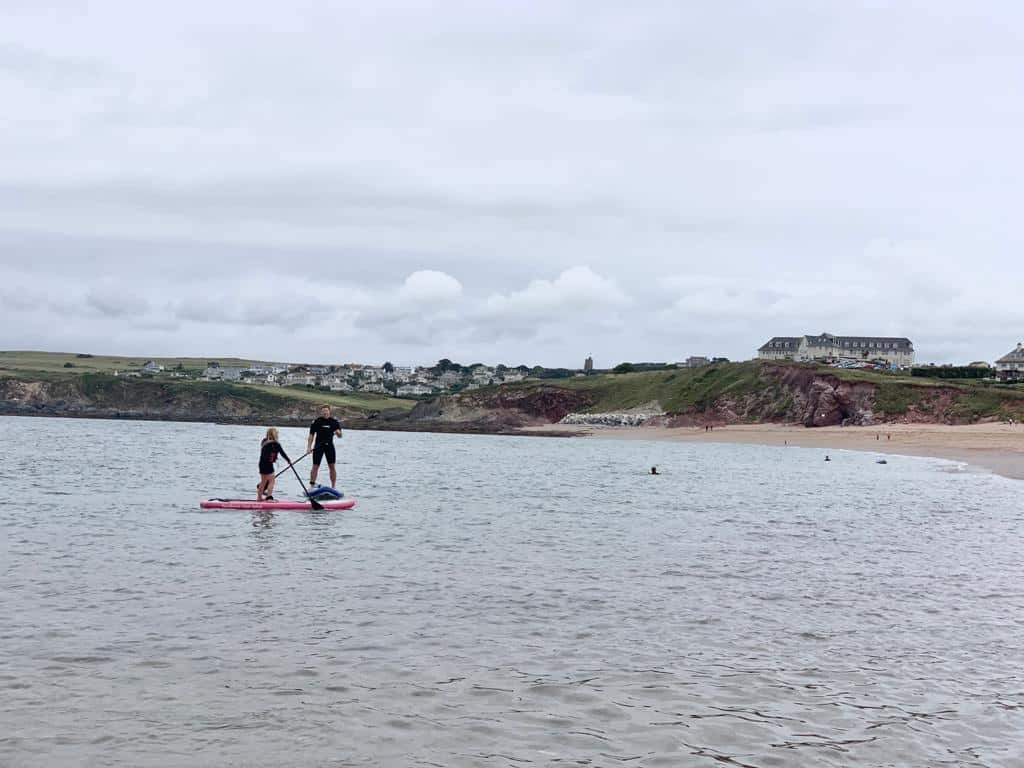 For a day beside the sea with plenty opportunity to spot wildlife South Milton and Thurlestone Sands is the ideal South Devon beach.
It's backed by wetlands in the South Devon Area of Outstanding Natural Beauty that is home to wading birds and wild fowl. It's also where you can admire the iconic arched sea stack Thurlestone Rock – an arched sea stack that you can paddle to through the rock pools at low tide.
At low tide there's also a shallow protected lagoon behind the rocks where young children are safe to splash about. It was the perfect place to practice paddle boarding.
You can hire kayaks, body boards and paddle boards from Surfin' Sam Watersports on the beach.
Parking costs £6 a day (2020 price) or is free for National Trust members. It's quite small so arrive early to get a space. There's also a cafe and toilets.
This beach is dog-friendly throughout the year.
Hope Cove
Hope Cove is a South Devon beach at the heart of this seaside village with the same name. There are plenty of cafes and shops where you can grab lunch, an ice cream and any seaside essentials you may have left at home.
You have two options for beach days here: go to the beach opposite the pay and display car park (£5 all day in 2020) or head round to the sandy harbour.
At low tide and there are lots of rock pools to explore and as the tide comes in you can body board – just we aware of the submerged rocks – this reduces the safe boarding area. There are also rip currents in this area.
Be aware that the public toilets cost 20p. Dogs aren't allowed on Hope Cove beach from 1 May until 30 September but they are allowed on the harbour beach on a lead all year round.
Looking for more seaside inspiration? Take a look at the best North Devon beaches for families or discover these hidden Devon beaches. Shhh!
Where to find the best South Devon beaches
Here's where to find these amazing South Devon beaches.
Do you have a favourite South Devon beach? Let me know.
Would you like more Devon goodies delivered to your inbox? Sign up to the Devon with Kids newsletter.
Are you on Pinterest? Why not save this post about South Devon beaches for future reference.