Things to do in Devon in August 2021
Hello summer! If you are staycationing in the glorious South West of England then you've come to the right place to find out what's on in Devon this summer and the top things to do in Devon in August 2021. I've even got ideas for things to do when it rains.
Also take a look at my round up of what's happening in Devon this weekend.
Got a while to stay? Here's our BIG guide to family holidays in Devon.
The summer of 2021 will continue to be a bit different to normal. Please make sure you plan your days out and activities in advance to avoid disappointment.
I've included information below about where you might need to book in advance as well as attraction reviews if we or others have had the chance to visit places this past year.
Face masks may be required at some attractions where transport is included, such as boats and steam trains, and in shops. Always check before you travel.
Love Devon? Join the Devon with Kids Facebook group and subscribe to my newsletter!
Events in Devon August 2021
Here's what's on in Devon for families this summer.
Sidmouth Folk Festival, Sidmouth – 30 July to 6 August, 2021
Sidmouth will be wash with music, dance and workshops for all ages during this four-day event. The dedicated children's folk festival is staged across three workshop venues with crafts, family-friendly shows and story times.
Find out more about the festival programme and children's festival activities on the website.
Dartington Music Summer School and Festival – 24 July to 20 August 2021
There's is a full programme of concerts, free events, family workshops and performances at Dartington this summer.
New for this year is a programme of family friendly and free events which will open up the world famous Summer School to an even wider audience. A series of special relaxed concerts will run, allowing for noise and movement.
Included in these is 'Revolting Rhymes & Marvellous Music' – a musical exploration of Roald Dahl's darkly clever tales and pianist Florian Mitrea playing music by Mozart, including his charming variation on 'Twinkle, twinkle little star'.
Family workshops are also running throughout the four week period, aimed at a variety of ages from babies to teenagers, including Soundscreative Lab with Tara Franks and a children's choir, which will culminate in a performance of brand new commission, JOY!
Part of this is Free Festival Fridays – every Friday while the Summer School is on, a full day of live music will take place where the whole family is welcome.
Expect a variety of musical happenings including processions, singing under trees, brass fanfares, folk sessions and much more. The full Festival Friday programme will be posted on our website the day before – or people can just turn up and be surprised – and it's completely free.
Find out more on the Dartington website.
Sheep dogs and falconry show at Borough Farm – selected dates in August 2021
For a real Devon country experience visit Borough Farm to see their sheep dog and falconry show at 6pm every Wednesday until 4 September 2021. Booking is not necessary.
Find out more on the Borough Farm website.
Sunset storytelling at Wembury Beach – 3 August, 2021
Head to Wembury Beach near Plymouth for an evening storytelling performance with Josephine's Stories!
In this interactive children's show we meet Barney the horse…but Barney is no ordinary horse – he's got feet the size of the biggest clouds you've ever seen in the sky!
Join Josephine's Stories and Wembury Marine Centre on Tuesday 3 at 5.15pm for a forty minute show filled with adventure, overcoming fears and diving in at the deep end. Tickets are £20.00 per family (max 2 adults and 3 children) or £6/individual.
Find out more and book via Eventbrite.
Naturemake workshop at The Flavel – 3 August, 2021
Head to The Flavel in Dartmouth for a unforgettable artist led nature craft workshop. Kids of all ages can make their own imaginative miniature dwelling using a gorgeous array of foraged, natural materials.
Find out more and book a workshop on The Flavel website.
All's well the ends well at Great Fulford – 3 – 4 August, 2021
Troubadour Stageworks will be preforming Shakespeare's All's Well That Ends Well at Great Fulford near Exeter.
It's a love story that just can't seem to go quite right. One-sided affection, kidnapping, disguise, this play has it all. Grab a picnic, grab a bubble and head to Great Fulford for this rollicking Shakespeare comedy.
This is an outdoor performance so prepare for the elements. There will be both matinee and evening performances, with discounted tickets for families.
Find out more and book tickets.
The Last Baguette: Arthur – The Story of a King at The Big Sheep – Thursday 5 August 2021
Head to The Big Sheep for an outdoor theatre experience that will whisk you back to the times of King Arthur.
This fun and farcical story of the old world, uses live music, physical comedy and lo-fi acrobatics to transport you into the legend of King Arthur, or at least what might have happened.
Find out more and book tickets on The Big Sheep website.
Honiton Show, Honiton – 5 August, 2021
Head to this traditional farming show to see one of the county's largest one-day celebrations of agriculture. Honiton offers a fantastic showcase of local farming, produce and rural skills that will entertain the whole family.
For the latest updates and event programme see the Honiton Show website.
Fun fair in Exeter – 6 – 30 August, 2021
Rowlands Fun Fair all be visiting Heavitree Park (6 – 15 August) and St Thomas Pleasure Grounds (18 – 30 August).
There will be themed days and character walkabouts on selected days. Tickets can be bought online for unlimited rides. Numbers are being limited and social distancing measures will be in place.
Find out more on the Rowlands Fun Fair Facebook page.
Woofstock, Dartmouth – 6 – 8 August 2021
Devon's dog and family-friendly festival brings together plenty of fun for pets and their owners including competitions, shopping and live music over the weekend.
Find out more about tickets and camping on the Woofstock UK website.
Find out more about family-friendly festivals happening in Devon in 2021.
The Little Big Festival – 7 August 2021
The Little Big Festival in Ashburton, South Devon, is a one day, family-friendly festival packed full of music, arts and workshops.
The line-up for this festival is bursting with comedy, art, literature, circus and trapeze acts, as well as horticulture, film, talks, workshops and children's entertainment. The event is run by the people behind Ashburton Food Festival so you can expect lots of scrummy Devon delicacies too.
Find out more and book tickets on The Little Big Festival website.
Newton Abbot Country Show, Newton Abbot – 7 August 2021
This fun-filled family event promises to have plenty for the whole family to enjoy including farm animals, pony rides and a children's play area, as well as more than 80 stalls. There'll be food for all tastes and a beer garden to enjoy a cool drink before continuing your visit.
Find out more about Newton Abbot Country Show.
Guildfest, Exeter – 7 – 8 August, 2021
This rooftop market festival is the first of its kind to be held in Exeter and it's free!
Guildfest will take over the top two floors of the Guildhall Shopping Centre car park with live music, food stalls and family entertainment. Dogs are welcome to come too.
Sharpham Cheese, Good Game, Devon Cove Vodka, Meraki Art School and Exeter Science Fun
are on the long list of local food and drink producers attending.

And they're staging workshops and activities for families, from football shootouts to macrame workshops.
Find out more and get tickets for Guildfest at Guildhall Shopping Centre.
Just 4 Funk Breakdancing workshops – 9 August 2021
Join Matt from Just 4 Funk for a chance to try a mix of easy and challenging moves, learn the basics of breakin' and have fun! There are age related sessions for kids aged five to 16.
For more information and to book see The Flavel website.
Salcombe Town Regatta, Salcombe – 7 – 14 August, 2021 – CANCELLED
This event has been cancelled in 2021 but will be back in 2022.
Dozens of craft will take take part in sailing competitions during this week long event. Alongside the regatta locals and visitors will be able to try their hands at sandcastle building, crab catching and climbing the greasy pole (!).
For updates about this year's event as they become available see the Salcombe Information website.
Clovelly Maritime Festival – 8 August 2021
NB: This event has moved from 10 July 2021.
Visit Clovelly for its Maritime Festival in aid of Bideford & District Sea Cadets. There will be live music, family-friendly entertainment and children's activities. The Clovelly Cup yacht rally will also take place during the day.
Entry is free for under 16's who come in maritime-themed fancy dress costumes! Standard admission charges include all entertainment.
Find out more on the Clovelly website.
Southleigh Country Fayre – 11 August, 2021
Head to Lee Fram in Southleigh, East Devon, for the return of the country fair.
There will be duck herding, a tractor show, welly wanging, farm animals and other country entertainment, and as well as stalls selling crafts, local produce and bric a brac.
Please note that the fayre will be operating on a cash only basis.
Find out more on Facebook.
Wonder with Grimm at RHS Garden Rosemoor – 11 August 2021
Visit RHS Rosemoor in Torrington, North Devon, for a family-friendly drama based on the Grimm fairy tales and brought up to date for a contemporary audience.
Find out more and book tickets.
RHS Garden Rosemoor Flower Show – 13 – 15 August 2021
The only RHS Garden Flower Show in the South West returns with floral displays, plants and sundries to buy, delicious food and drink, flower-arranging demonstrations, specialist talks and live music.
Find out more and book tickets.
The Hatchling, outdoor theatre, Plymouth – 14 – 15 August, 2021
Over two days in August a dragon taller than a double-decker bus will hatch and roam through the city of Plymouth.
Created in collaboration with a world class team of immersive theatre makers, puppetry specialists and champion kite flyers, The Hatchling aims to bring people together to celebrate freedom following a year of isolation.
The world premiere of largest ever puppet to be solely human operated, will invite the public to take to the streets and accompany the dragon on her epic two-day journey.
At sunset on Sunday 15 August, she will undertake a miraculous metamorphosis into a kite, unfolding her wings spanning over 20m. Flying from a cliff top, she will soar into the sky and across the sea in a once-in-a-lifetime spectacle featuring lighting design by Mat Daw and a choral score by Ruth Chan.
Find out more about this free outdoor performance.
Creative X arts workshops at The Flavel – 17 August, 2021
Thee workshops at The Flavel in Dartmouth will help children explore the wider world through the Creative Arts.
Creative X strives to increase self-confidence, broaden horizons and inspire inquisitive minds through using a mix of drama, art and music and try and be as child led as possible creating opportunities for improvisation, creativity and imaginative play.
Find out more and book via The Flaval website.
Plymouth Firework Championships, Plymouth – 18-19 August 2021
The Championships are a spectacle not to be missed and take place overlooking Plymouth Harbour and Sound for extra sea view drama. This is the premier firework display in the country, attracting tens of thousands of people each year.
The 2021 competition will see six firework companies battle it out over two nights, all competing to be crowned the nation's best.
The fireworks will start from around 9.30pm, with three ten-minute displays each evening. There's entertainment, including a funfair, and food and drink stalls to enjoy on Plymouth Hoe before the spectacle begins.
For the latest event news and information see the Plymouth Firework Championships.
Beautiful Days, Escot Park – 20-22 August, 2021
Beautiful Days is an family music festival organised by The Levellers. There are several stages, art installations, a wild spa, walkabout theatre and folk sessions as well as food and craft stalls.
Find out more and how to get tickets on the festival website.
Torbay Royal Regatta, Torquay – 20 – 22 August, 2021
This sailing event takes place between Torquay and Paignton on the English Riviera in South Devon.
For more information see the Regatta website.
Alice in Wonderland Pantomime, Paignton – 21 – 22 August, 2021
A pantomime in summer? It's a very Devon tradition! Join the Hot Rock Productions team for this fun-filled family pantomime Alice in Wonderland, featuring stunning scenery, colourful costumes, toe-tapping songs and bucket loads of laughter.
Find out more on the Palace Theatre website.
Dartmouth Royal Regatta, Dartmouth – 26 – 28 August, 2021
Devon's royal regatta hosts sports, sailing and family events throughout the three days, plus a ball and live music festival.
You can also see impressive visiting ships moored on the River Dart throughout the festivities. Families will love the children's fancy dress competition, scavenger hunt and a shopping village showcasing local companies.
To see the full regatta programme visit the Dartmouth Royal Regatta website.
Gone Wild Festival – 26 – 29 August 2021
TV adventurer Bear Grylls is holding his new Gone Wild Festival at Powderham Castle over the Bank Holiday weekend. There will be a program of exciting outdoor activities for families as well as some top headline music acts. Find out more about Gone Wild Festival 2021.
Find all ticket and camping pass prices on the Gone Wild Festival website.
Read my round up of all the family-friendly festivals in Devon in 2021.
Sidmouth Airshow – 27 August 2021
The Red Arrows will be along the aircraft taking part in this year's Sidmouth Airshow on the seafront. They will be joined by an RAF Dakota of the Battle of Britain Memorial Flight.
Find out more about Sidmouth Airshow.
The Great British Sausage and Cider Festival, Plymouth – 29 August, 2021
The Great British Sausage and Cider Festival will take place in Hoe Park, Plymouth, on the Sunday of the Bank Holiday weekend as a finale to a three day music festival.
Sunday is billed to be the family-friendly day with entertainment, live music and competitions throughout the day as well as an array of craft cider, sausage flavours and street food.
Find out more about the Great British Sausage and Cider Festival and 1 Big Summer event.
The Three Musketeers at RHS Garden Rosemoor – 31 August 2021
Immersion Theatre invite you on a swashbuckling adventure of epic proportions as they proudly present an action-packed adaptation of The Three Musketeers!
This outdoor performance takes place at RHS Rosemoor in Torrington.
Find out more and book tickets.
Family attractions open in Devon this August
Lots of Devon attractions reopened to visitors in July. They all have social distancing measures in place and some require booking in advance to control visitor numbers.
Here's your guide to great days out to be had in Devon in August 2020:
Theme Parks in Devon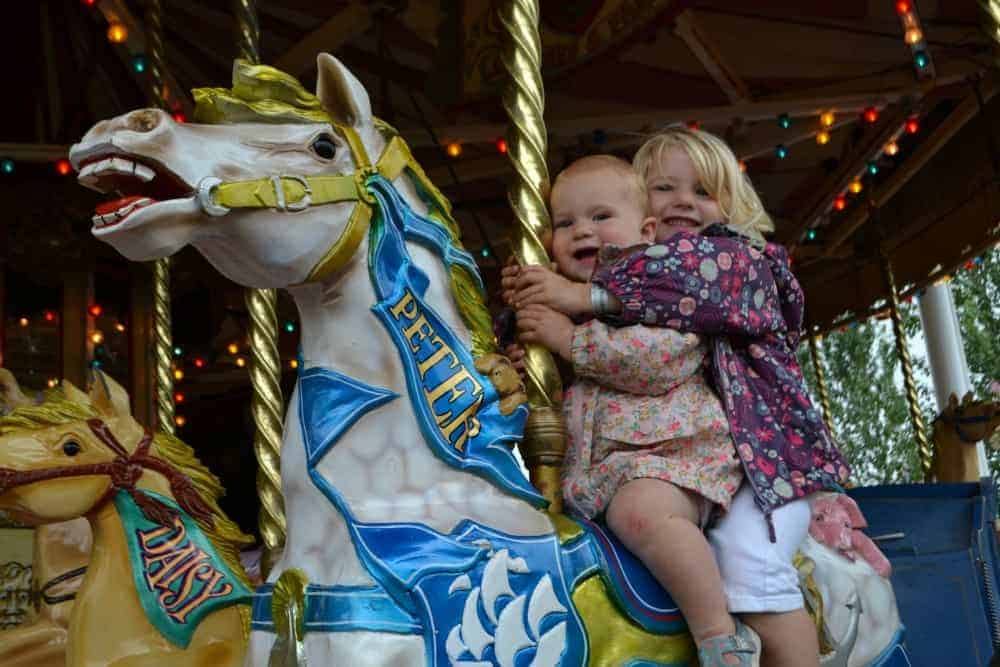 Find out more about Devon's theme parks.
Maize mazes in Devon
Maize maze days are here again. Here's where to find them in Devon:
Devon zoos and animal days out
Find out more about Devon's zoos.
Outdoor activities in Devon
Trams and steam trains in Devon
Here are the Devon steam trains and trams running during August. Please note that these are public transport and therefor masks will be required for anyone aged 11 and older.
Action-packed Devon days out with teens
If you are looking for high ropes, water sports and outdoor adventures to try with teenagers check out my post about things to do in Devon with teens.
Find street art and installations around Devon
Go on a walk around Devon's cities and towns to find street art and short term art installations this summer.
'Putting Things In Perspective' (above) is a new sculpture commissioned by The Box in Plymouth and can be found in Tavistock Place until 5 September 2021.
The Moor Otters art trail continues around Dartmoor National Park, Plymouth and the surrounding areas.
You'll also not have to look far to find street art in Exeter, Brixham and Plymouth.
Best days out with toddlers
Looking for the best things to do with toddlers? Here's the Devon days out where you'll find easy pushchair access, baby changing and that all important cafe.
Dog-friendly Devon days out
If you are after places to visit with a pooch, here's my guide to dog-friendly Devon days out.
Free things to do in Devon this summer
Days out can be soooo expensive. If you are looking for ideas I have a list of free things to do in Devon. Be aware that some attractions may not have reopened. Always check before you travel.
What to do when it rains in Devon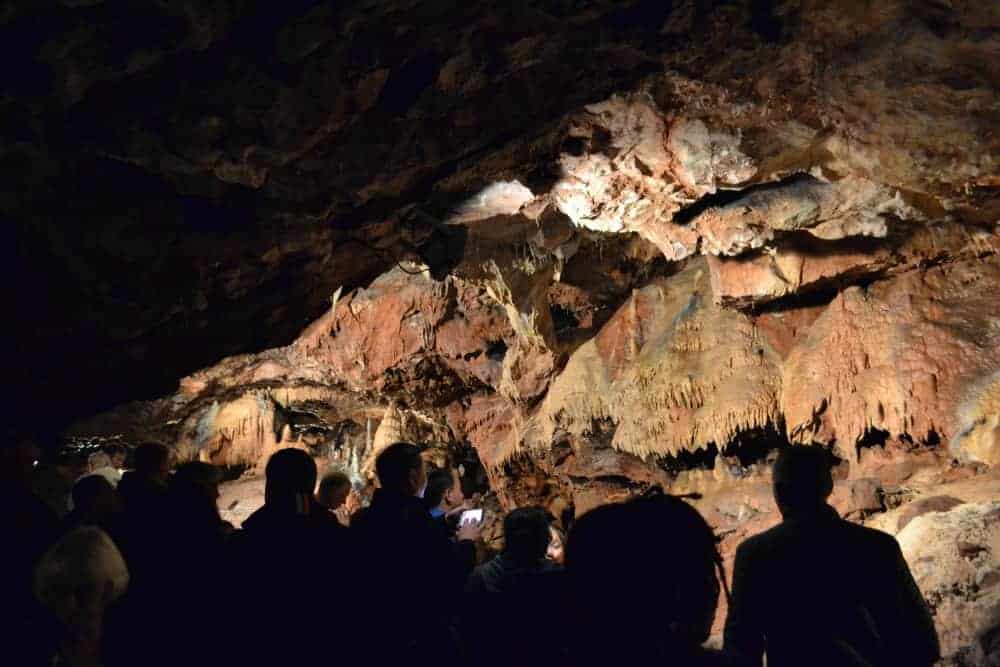 Sadly it's not always sunny in Devon. Here's a few things to do in Devon on wet days this summer:
You can also go pottery painting at various places around Devon:
Here's more ideas for things to do in Devon in the rain.
Visit a Devon beach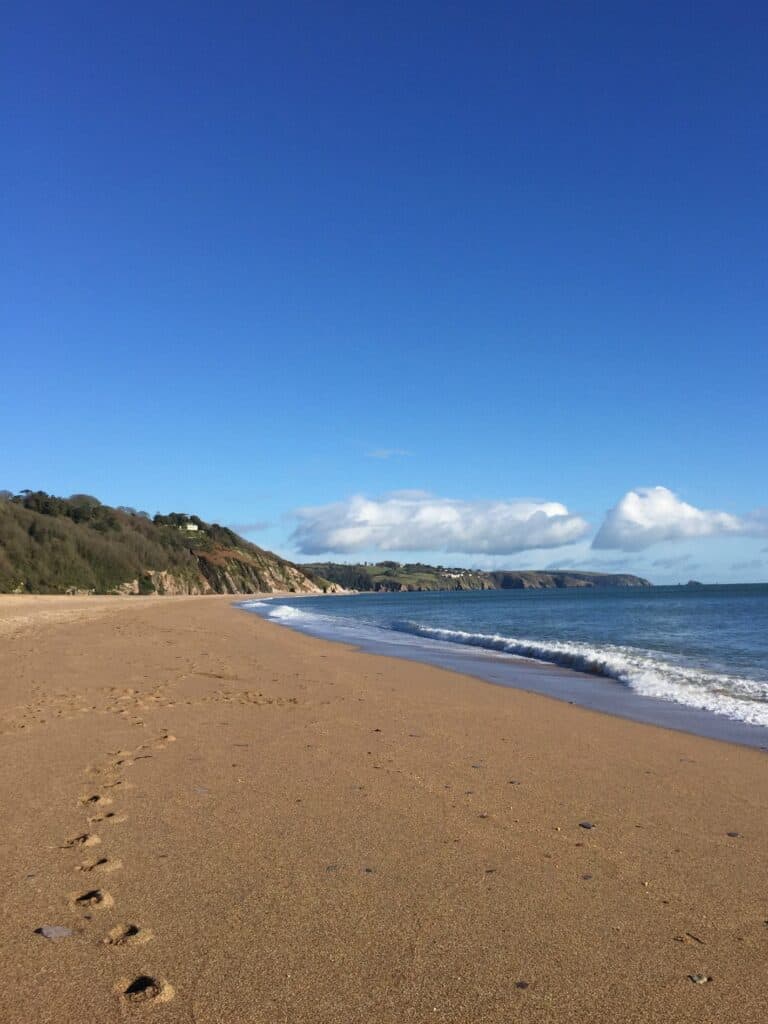 You can't visit Devon with kids and not go to the seaside.
Here are the best beaches in South Devon for families and the best North Devon beaches.
And if you are looking for something a bit more off the beaten track check out these hidden beaches in Devon.
Outdoor pools and splash parks
Outdoor swimming pools are open now! Here's a list of where to find them as well as splash pads and water parks in Devon.
Devon walks with kids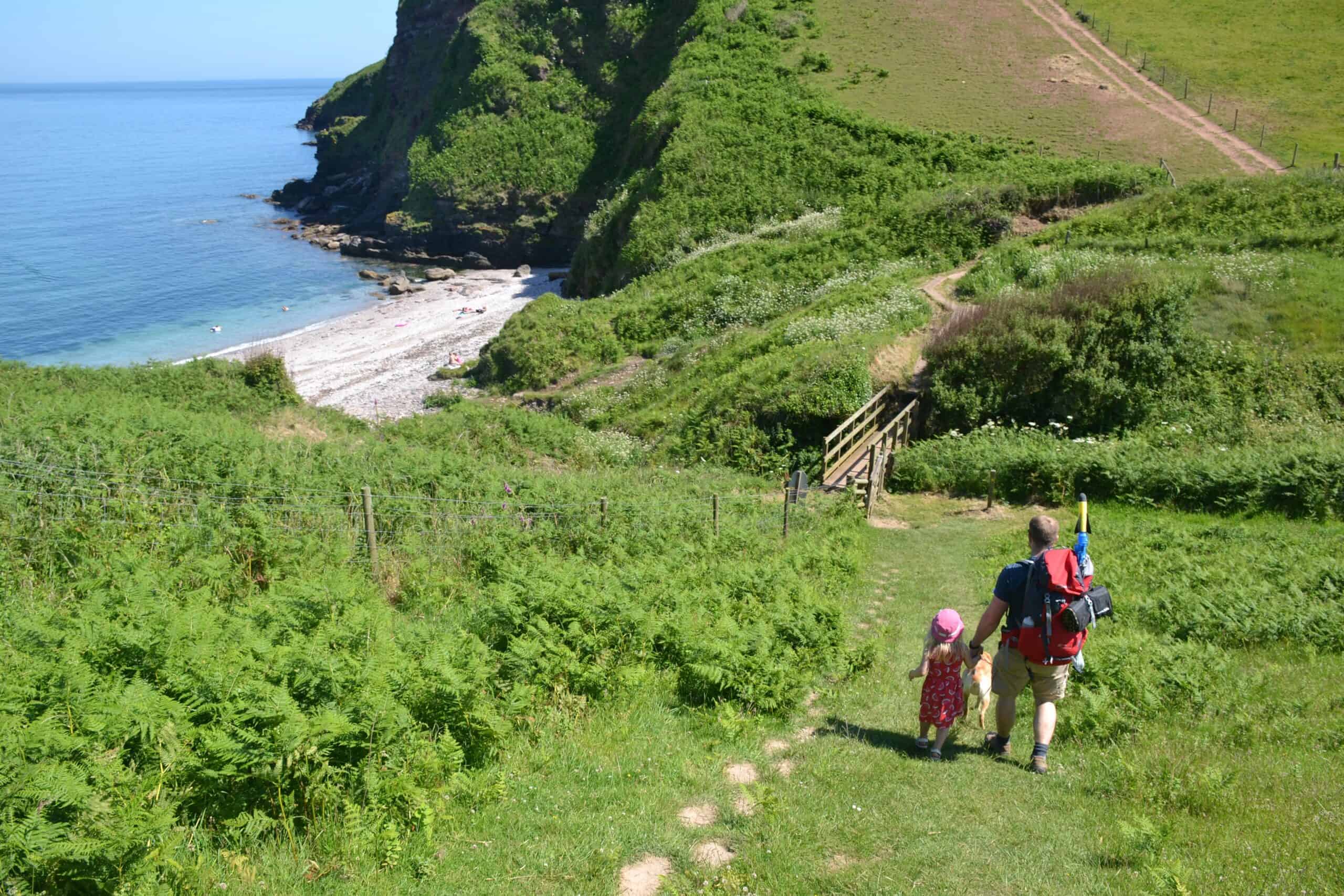 Who's up for some fresh air? Countryside and coast walks abound in Devon making lots of socially distanced days out possible in August.
Dartmoor and Exmoor National Parks have plenty of routes where you can get away from the crowds and enjoy a quiet ramble.
Here's some short walks on Exmoor to try with your family and seven of our favourite Dartmoor walks to do with kids, including a few that are suitable for toddlers and pushchairs.
Devon country parks also offer level paths for walking and cycling with kids. Car parks and some facilities are open to visitors too:
National Trust in Devon
There's plenty of amazing National Trust places and properties to explore in Devon.
Booking is no longer required for most properties but there are a few where you need to buy/reserve tickets in advance. These include Greenway, Compton Castle, A La Ronde and Overbecks. In general, tickets go on sale at 00:01 on Fridays for the following week and weekend.
Find out what's open and how to book in advance by visiting the National Trust website.
Are you planning your days out in Devon this summer? Why not save this post about what's on and things to do in Devon in August on Pinterest. If you've spotted I've missed something let me know! Comment below or email me.
Would you like more Devon goodies delivered to your inbox? Sign up to the Devon with Kids newsletter.