Torquay is the heart of the English Riviera in South Devon – we're so lucky to have this seaside town just a few miles up the coast from where we live in Dartmouth. As you would expect, it's bustling with things to do come rain or shine. Below are our recommended things to do in Torquay with kids with ideas for all seasons, interests and weather.
*This post contains affiliate links*
If you're based in Torbay then you'll also want to check my post on things to do in Paignton with the kids.
Love Devon? Join the Devon with Kids Facebook group and subscribe to my newsletter!
Got a while to stay? Here's our BIG guide to family holidays in Devon.
Don't forget to plan your days out in advance during 2021. Some attractions may be closed or need booking in advance, particularly things to do indoors in Torquay.
Things to do in Torquay for families
Torquay is a top destination for a family holiday in Devon. Come for a long weekend, a week or two; you'll find there's plenty going on. If you want to explore further afield, or are looking for advice on places to stay or eat then check out my complete guide to holidays in Devon.
Wet days: things to do on Torquay when it's raining
Don't let rain stop your fun. Here's my go-to family activities for wet days in Torquay:
Torquay Dinosaur World
Do you have a dino fan in your house? Dinosaur World is small indoor attraction is bursting sign facts, models and interactive displays. It's also a top destination for an hour or so of wet day fun.
Highlights for us are sitting on loads of the models, playing on the touch screen games and the 30 question (yep, 30!!) quiz. It was quite challenging and I wasn't the only parent scouring displays. But the kids were pleased with their Dinosaur Expert Certificates at the end.
Find out more about our visit to Torquay Dinosaur World.
Open all year round. Check the website for open days and times as these vary.
Waves Leisure Pool
Jump the waves, zip down the flume and play in the children's splash area – the English Riviera Centre has it all. Follow up your fun swim with a visit to the Aqua Lounge where you'll find soft play and family-friendly dining. Buy Dip 'n' Dine passes for the family to take advantage of money off your post-swim meals.
Open all year round. Find out more about opening hours and admission charges on the English Riviera Centre website.
Princess Theatre
Book tickets to see music, West End and family shows at South Devon's largest theatre.
Open all year round. Find out what's on.
Kents Cavern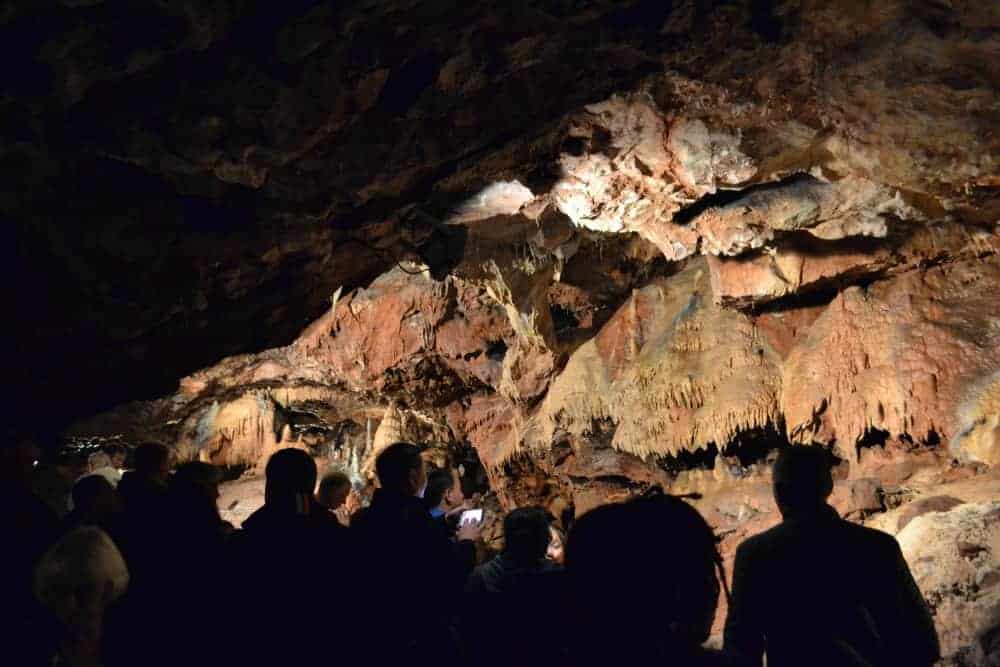 This naturally formed cave dating back 2.5 million years is an ideal place to visit on a wet day, or a really hot one come to think of it. It is Britain's oldest ancient monument and evidence has been found that it was once home to Neanderthals, Homo Sapiens and pre-historic beasts.
Read the Devon with Kids guide to Kents Cavern.
Open all year round. Find out more about opening hours and admission charges on the Kents Cavern website.
Babbacombe Theatre
This boutique theatre has been entertaining audiences for more than 80 years and is ranked as Torquay'a number 1 theatre on Trip Advisor. Expect a good balance of comedy, drama and musicals for all ages.
Open all year round. Find out more on the Babbacombe Theatre website.
Torquay Museum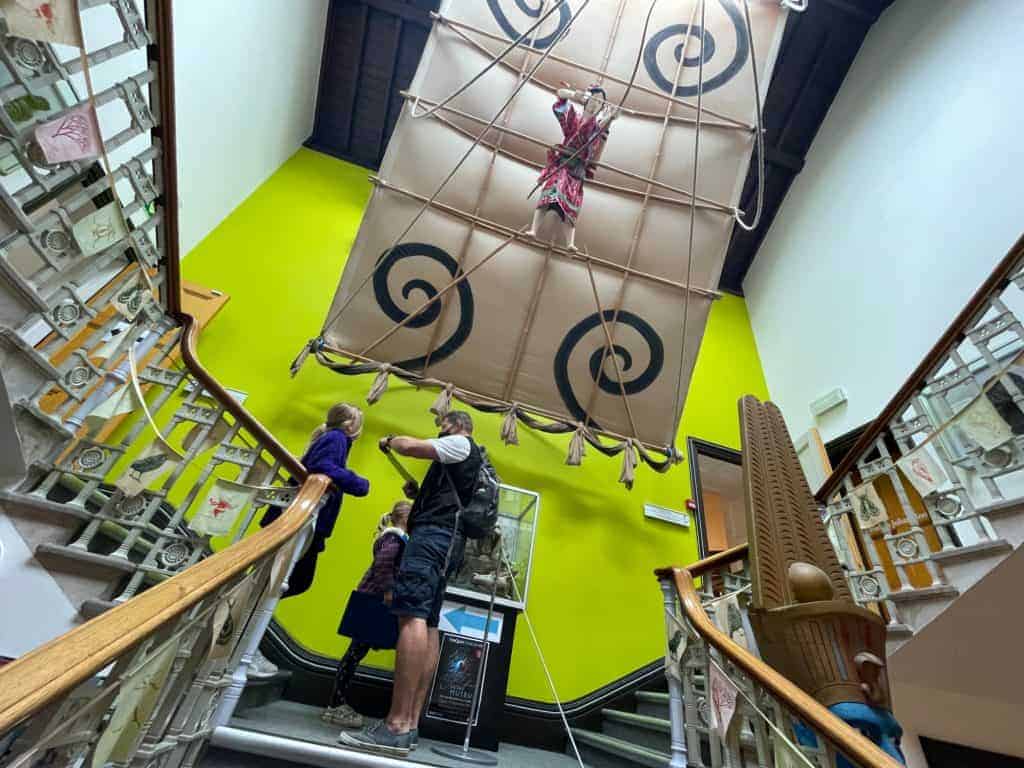 Discover the history of Devon and some of its most famous characters in exhibitions at Torquay Museum. There's a reconstruction of a 1860s Devon farm house and you can step inside the study of Agatha Christie's fictional detective Hercule Poirot.
Add to that stories and treasures brought back to Torquay by its famous explorers and the Museum is the idea place to feed young minds for a few hours on a wet day.
Read my guide to Torquay Museum.
Open all year round. Find out more about opening hours and admission charges on the Torquay Museum website.
Bygones Torquay
Immerse yourself in the sights and smells of Victorian life at Bygones where you'll find a Post Office, iron mongers, apothecary and sweet shop among 15 shops that have been recreated on a period street.
For families there's a quiz, dressing up and toys for the kids to handle. If you're looking for things to do in Torquay with dogs your four-legged friends are welcome at Bygones too.
Find out more about visiting Bygones in Torquay.
Open all year round. Find out more about opening hours and admission charges on the Bygones website.
Sunny days: things to do in Torquay in the sun
Torquay comes into its own when the sun shines! Here's where to go to make the most of it:
Relax on a Torquay beach
Torquay's main beach is called Torre Abbey Sands and sits in front of modern seafront bars and restaurants. There's plenty of on-street parking close by. If you're visiting in the busy summer season check the tide times as space on the sand can get sparse at high tide.
To the south of Torquay there's Preston Sands, Paignton Sands and Goodrington Sands which, as their names suggest, are sandy beaches with plenty of English Riviera seaside charm and facilities. The north of Goodrington Sands (opposite Youngs Park) is a dog-friendly beach all year round. Look out for the signs.
A fun beach to visit with kids, not only for its sheltered cove and clear waters, is Oddicombe beach north of Torquay. It's at the bottom of a 300ft cliff and can be accessed using the Babbacombe Cliff Railway or on foot if you're feeling energetic.
Connected to Oddicombe by a wooden walkway is Babbicombe Beach, another stony beach with perfect waters for swimming. You'll find a larger beach with rock pools, beach huts for hire and a cafe at Meadfoot. Beach hopping around Torquay is a great way to see the South West coast.
Here's a map of where you can find these beaches:
Here are some more South Devon beaches that we love.
English Riviera Wheel
For the very best views of Torquay soar 100ft above Princess Gardens in the English Riviera Wheel. This observation wheel comes to South Devon every summer. Each gondola takes 12 minutes to go 360 degrees.
Open from Spring to Autumn. Check the English Riviera Wheel website for exact dates and ticket prices.
The English Riviera Wheel is one of the illustrations to colour in the Devon Colouring Book for Kids. A donation from every copy sold goes to Devon Air Ambulance.
Babbacombe Cliff Railway
Ride this scenic cliff railway from Babbacombe down 300ft to the sheltered cove and clear waters, of Oddicombe beach north of Torquay. Connected to Oddicombe by a wooden walkway is Babbicombe Beach, another stony beach with perfect waters for swimming.
Check the Babbacombe Cliff Railway website for opening times as these can vary.
Walk around the pier and marina
If you're looking for free things to do in Torquay it has an attractive and varied seafront which is worth walking along to appreciate the views and soak up it's classic seaside vibe. Take a stroll down the pier, explore the pretty Princess Gardens and cross the Millennium bridge to have a nose at the yachts moored around the harbour.
Boat trips
Catch the Western Lady Ferry Service to cross the Bay from Torquay to Brixham for £2 each way or £3 return. The crossing takes 35 minutes and runs from April to September. If you fancy seeing some of the coastal wildlife and historic sights then Paignton Pleasure Cruises operate tours and fishing trips from April to September.
Ride an open top bus
The Golden Hop 122 open top bus service is not only a great way to get around the English Riviera, it also gives you some beautiful views of the coast.
This Stagecoach service runs from Hoburne Devon Bay holiday park to Babbacombe, every half hour, seven days a week. It stops at Paignton Seafront, Torquay Seafront, the harbour and Babbacombe Cliffs.
It's also your chauffeur service to attractions like Splashdown Quay West, Paignton Pier, the English Riviera Wheel, Bygones, Babbacombe Model Village, Babbacombe Theatre, Babbacombe Cliff Railway and Kents Cavern.
That's not to mention the beaches at Goodrington, Paignton and Torquay – some of the top beaches in South Devon. Hop on and off any time you want. Group day rider tickets for up to five people cost £10 in 2021.
Full details are on the Stagecoach website.
Fun things to do in Torbay whether its wet or dry
Get a huge dose of fresh air at these brilliant Torquay attractions with indoor and outdoor areas:
Torre Abbey Museum
This 12th Century Abbey turned family home has hosted the likes of Nelson and holds 600 works of art dating from the 18th Century. The museum telling the story of the abbey, its characters and the area is fascinating for children and adults with interactive displays, videos and talking portraits.
There's also an extensive garden which is fabulous to walk around in all seasons. The Abbey hosts many family events over the year.
Open all year round. Find out more about opening hours and admission charges on the Torre Abbey Museum website.
Cockington Village and Country Park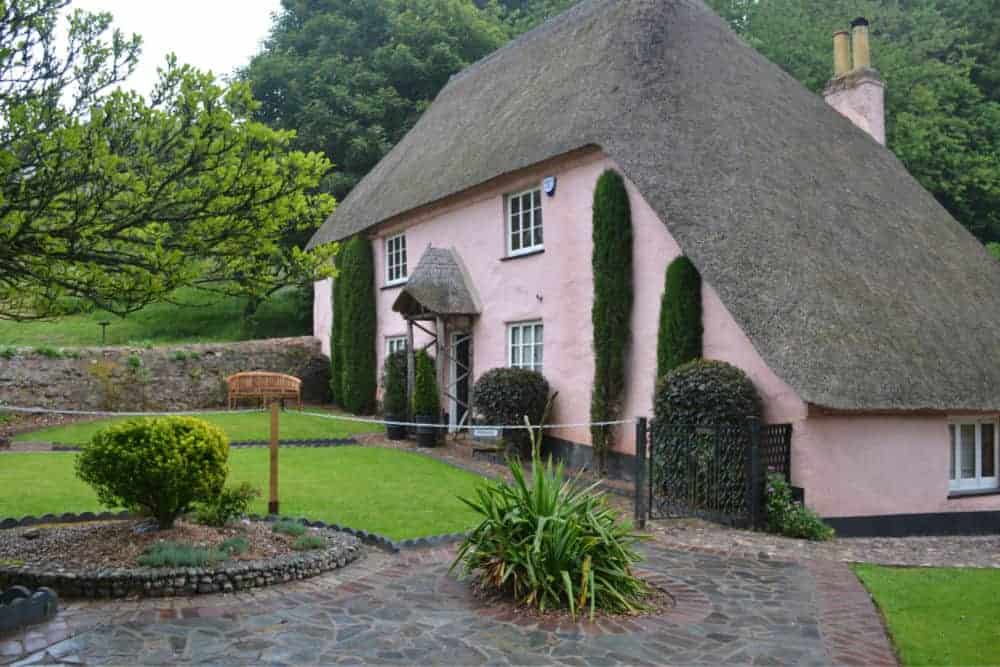 Cockington Village is a hidden gem of the English Riviera. Entering the village is like stepping through the Wardrobe in one of CS Lewis' stories. A short drive from urban Torquay you find thatched roof cottages, a forge and windmill surrounded by a extensive country park.
There's also craft studios, a tea room and gardens at Cockington Court, the old manor house. It's free to visit Cockington. Parking charges apply.
Open all year round. Find out more on the Cockington Country Park web pages.
Torquay Land Train
Board the land train for a tour of Torquay lasting 45 minutes. If you see somewhere you fancy getting off you can do some exploring and then catch a later train with a return ticket.
Open all year round. Find out more about running times and charges on the Torquay Land Train website.
Babbacombe Model Village
For more than half century Babbacombe Model Village has been wowing visitors with its scaled down scenes of English life and culture. As well as its miniature world, Babacombe Model Village has award-wining gardens to wander and a 4D Cinema.
Buy your entry ticket and return for free within seven days, even at night to see the village illuminated.
Open all year round on selected dates. Find out more about opening hours and admission charges on the Babbacombe Model Village website.
Soft play in Torquay
Parents of babies and toddlers have these options for soft play close to Torquay:
Family events in Torquay
Here's a hint at what's on in Torquay.
If you're looking for other events I have a full listing of what's on in Devon.
English Riviera Air Show
This spectacular two day event takes place in June. The centre of the action is Paignton Green in neighbouring Paignton but the air display is viable all along Torbay. Attending the show is free but parking must be booked in advance at a fee.
In Torquay Daddyhole Plain, Beacon Quay, Meadfoot Beach and Thatcher Point are popular view points for the show.
Find out more on the English Riviera Airshow website.
These are our recommended things to do in Torquay with kids if you are visiting the English Riviera. Do you know of any others we should add to the list?
Where to eat in Torquay
Eating out is one of my weaknesses – I've never been a fan of cooking. Here's one of our favourite places to treat ourselves eating out in Torquay:
I've also seen recommendations in the Devon with Kids Facebook group for:
Where to stay in Torquay
Torquay is one of Devon's top holiday destination so there's no shortage of family-friendly places to stay. Here's a few to check out:
Holiday parks
Torquay Parkdean will put in there perfect location to enjoy Torquay. It also has onsite swimming pools and entertainment. There are even more holiday parks to pick from in neighbouring Paignton.
Or you have thrown your net wider in Devon? Here's my guide to campsites and holiday parks in Devon.
Hotels in Torquay
THL Leisure Resort is one of my top recommendations for a family-friendly Devon hotel. It is a complex of modern hotels with a central leisure facilities including indoor and outdoor pools, a kids club, bowling and entertainment.
If prefer something more traditional and on the seafront then The Grand Hotel is family and dog-friendly. Here's a review from our stay at The Grand Hotel on Torquay seafront. Find prices and availability at The Grand Hotel*.
Here's some more options on Booking.com.
Give yourself more options by looking at places to stay in Paignton too – it's also in Torbay.
Day trips from Torquay
If you're based in Torquay then Paignton is just down the road too. Check out my post about things to do in Paignton with kids.
Brixham, Dartmouth, Salcombe and the city of Plymouth are also not far away in South Devon.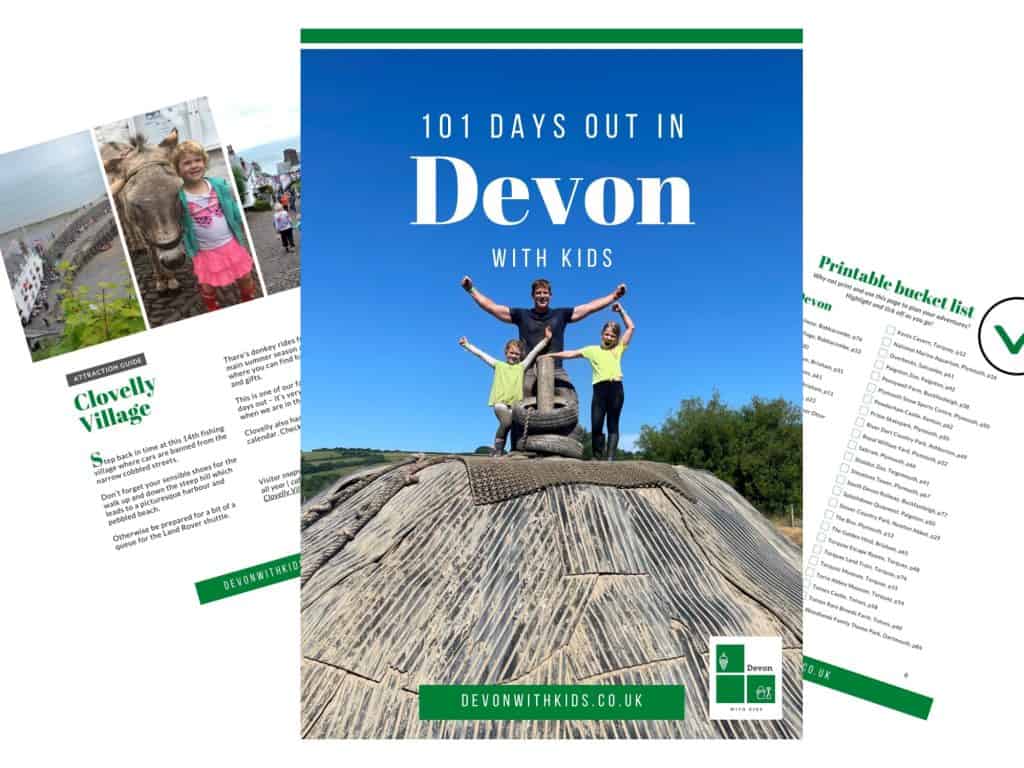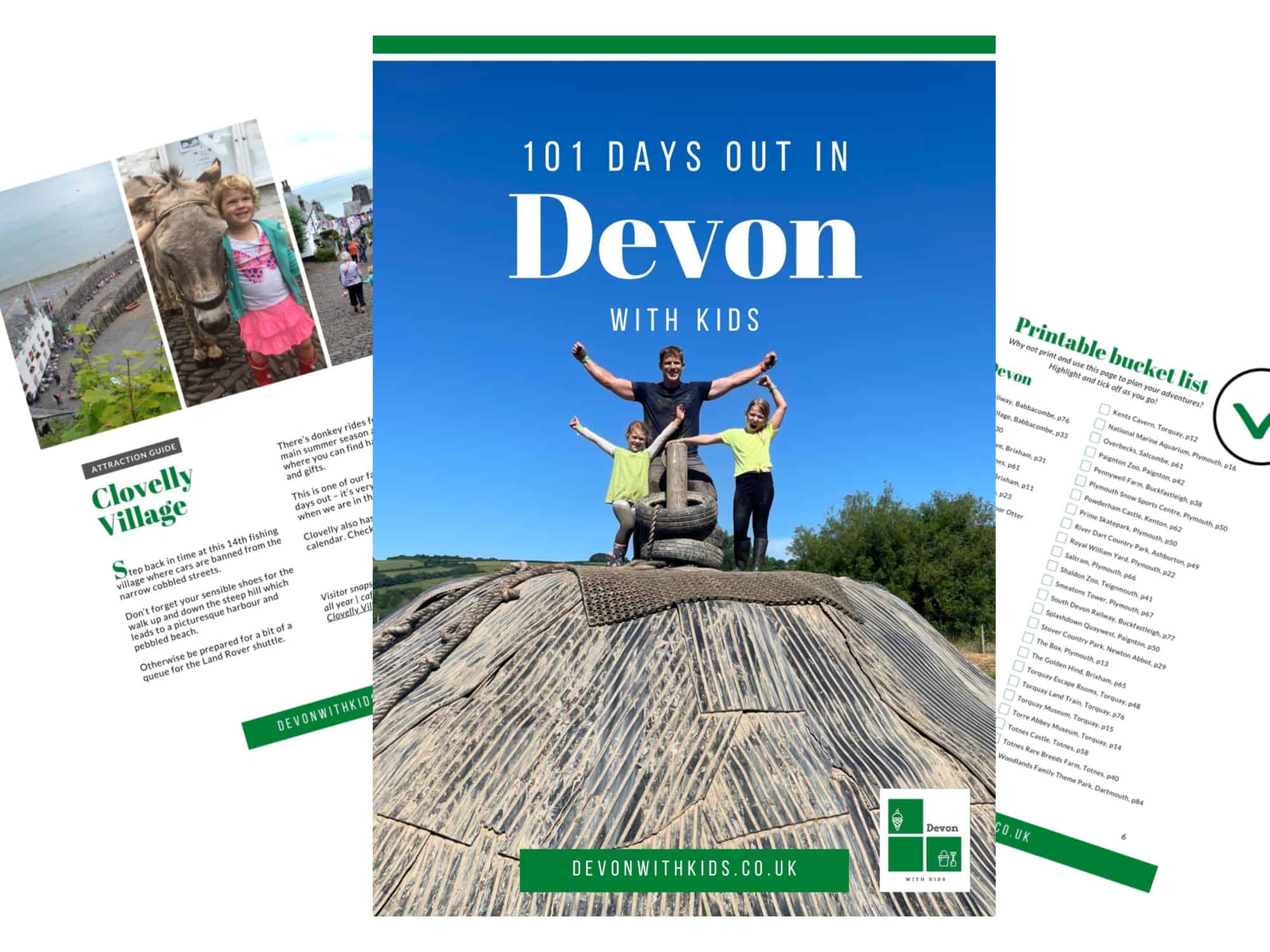 It's FREE!
Grab your copy of this guide to family-friendly things to do across the county, from coast to coast, in the cities, on the moors and whatever the weather.
If you're holidaying in North Devon take a look at these great Devon attractions around Bideford, Ilfracombe and Barnstaple. And there's plenty of places to visit in East Devon and fun things to do in Dartmoor.
I can also recommend you visit some of Devon's lesser known beaches and particularly the beaches in South Devon which are great for families.
And if you're unlucky to visit Devon on a damp day don't despair! I can point you in the direction of things to do on wet days in Devon.
Would you like more Devon goodies delivered to your inbox? Sign up to the Devon with Kids newsletter.
Disclosure: this post contains affiliate links marked with *. This means that if you click on one and make a purchase I may earn some commission. This is at no additional cost to you.
Planning a trip to the English Riviera? Why not pin this post about things to do in Torquay with kids for future reference.