What a treat it is to see Devon's regular winter events returning in 2021. One of our favourites that was sadly postponed twice due to 'you know what' is the Illuminate Festival in Plymouth.
The awesome news is that it is back this November in a remodelled format to help manage numbers, reduce its environmental impact and take advantage of the new, state-of-the-art immersive exhibition space at Market Hall.
We visited some of the installations on the third evening of the event, which runs until Sunday 28 November, 2021.
Love Devon? Join the Devon with Kids Facebook group and subscribe to my newsletter!
What is Illuminate?
The Illuminate festival is run by Real Ideas, the team behind Plymouth's Ocean Studios and Market Hall, who bring in artists specialising in interactive and thought-provoking light installations.
They say: "Illuminate light festival is a powerful immersive experience, offering audiences beautiful projection mapping; playful light art installations; joyous performances and myriad opportunities to engage, participate and make. With light art created by artists, technologists, designers, architects, performers and children alike."
This year the festival of light is smaller than you might have experienced pre-pandemic, but there are fringe events such as workshops, music performances, comedy and immersive films. Each can be booked individually.
We went along to the general admission festival at Ocean Studios in Royal William Yard. So this guide is most useful to you if you are thinking of doing the same. Scroll to the bottom of this post for more information about the other events.
Our favourite installations at Ocean Studios
Here's the art installations at Ocean Studios that captured my kids' attention the most:
Illumaphonium
This dynamic and interactive, multi-sensory music making installation that is the first-of-its-kind by musician and inventor Michael Davis. The was a hit with my kids who loved being able to create their own music on this huge illuminated instrument.
SOLA
This a monumental wall of artificial sunlight with bursts of smoke which together create an atmosphere that's quite surreal and reminiscent of something out of science fiction. We went round twice for this one. My girls loved playing with the smoke as it filled the space and then dissipated.
Projection mapping on Factory Cooperage
Visual 3D artist and musician Florian Guibert has turned the Factory Cooperage into an alternative future. The building appears to crumble and is rewilded before your eyes. I found this mesmerising. It's a lot more dramatic than my picture above!
Pedal Power
Remember Cold Play's performance during Earth Shot that was powered by bicycles? Well this installation allows you to have a go at bringing this piece of art to life. Three bikes are rigged up to the colourful cubes and as you pedal harder to make them glow.
Move Yourself
This is an interactive light and audio installation where you dance in front of the LED screen and see yourself in the artwork. I had to bribe my girls away with the promise of churros from one of the neighbouring food stalls!
Bioluminescent squid
Finally, I didn't spot the name of this installation, but it is a great one for families. You're told the story of the Bobtail Squid that has bioluminescent bacteria living in its light organ – the bit that looks like its body.
You're then invited to pop your finger in some luminous paint and add more friendly 'bacteria' to the squid's body.
All in all we spent just under an hour in the Courtyard. You could whip round in less but my kids didn't want to move on from some of the artworks. They were having too much fun throwing shapes and seeing how their actions could change the artworks in front of their eyes.
Tips for visiting Illuminate in Plymouth
If you are planning on going to Illuminate Plymouth at Royal William Yard, I have the following tips for you:
Book in advance
Every day and event is ticketed this year. However most are free or very low cost. Book in advance to get the entrance time you want, particularly if you're visiting with children who barely make it past 7pm without going a bit loopy (I'm looking at my children).
There are bookable time slots from 5.30pm to 9pm for the installations at Ocean Studios.
What to wear
Wrap up warm – the event at Ocean Studios is predominantly outdoors so you will need coats, hats and gloves.
Parking
There's no event parking at Royal William Yard, so take public transport if you can.
We live outside Plymouth so drove to the Milehouse Park & Ride outside Plymouth Argyle and hopped on the special 34A service that has been set up for the duration of Illuminate. It also calls at Royal Parade and Union Street in the city centre.
Here's more travel information.
Toilets
There are a few event toilets in the Festival.
There are no other public toilets in Royal William Yard so you'll have to visit a cafe or restaurant if you're caught short before or after visiting. The nearest public toilets are on Durnford Street.
Accessibility
There is cobbled paving around the Yard but it is all on the flat so is wheelchair and pushchair accessible.
Food and drink
Royal William Yard has plenty of places to eat. We love Wild Wood at the entrance to Royal William Yard as the kids are always happy with pizza and pasta. If you plan to eat at the weekend, book a table in advance as everywhere will be busy.
Alternatively, there were a small selection of local stalls/vans serving wraps, churros and hot and cold drinks in the Festival. One of the cafes/bars in the courtyard also looked open.
Are dogs allowed?
Yes. Dogs are welcome in the Ocean Studios courtyard on a lead.
Tickets for Illuminate Plymouth
There were lots of free general admission tickets still available to see Illuminate Festival in the Ocean Studios courtyard at Royal William Yard when I looked on our way home.
However, spaces were extremely limited for the shows and experiences at Market Hall. There were lots of slots available for workshops and music events. Take a look through the full programme to see where there's gaps.
Got more time to explore? Check out my guide to things to do in Plymouth with kids.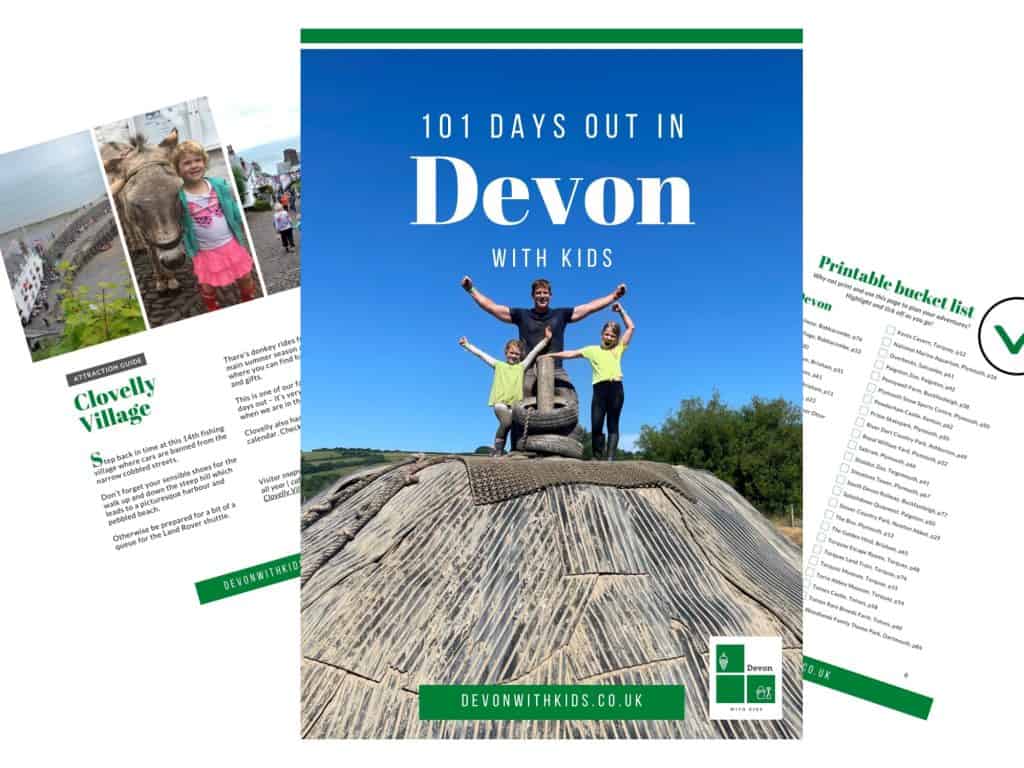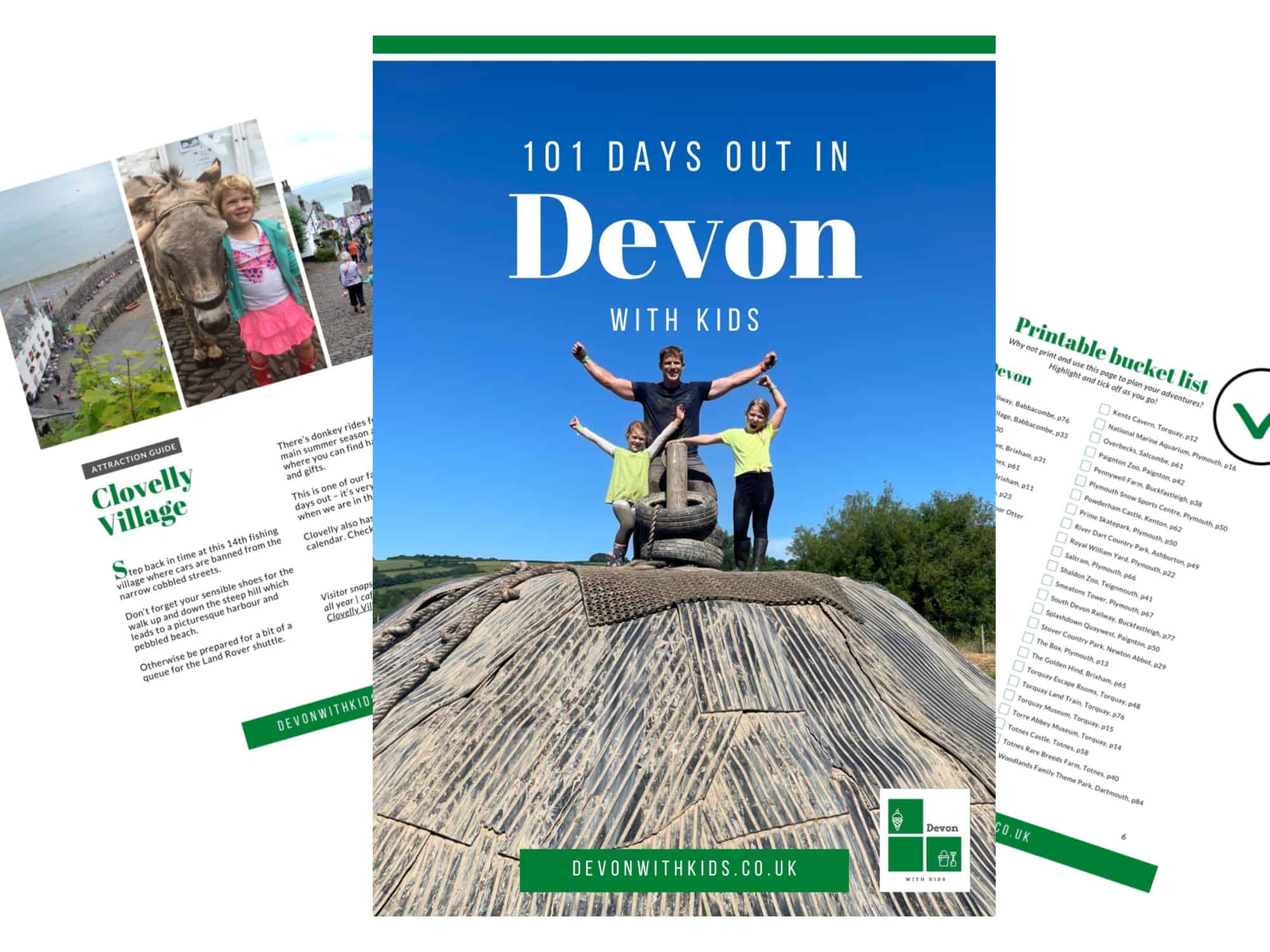 It's FREE!
Grab your copy of this guide to family-friendly things to do across the county, from coast to coast, in the cities, on the moors and whatever the weather.