Things to do in Devon in May and half term 2021
If you are planning your Devon days out in May 2021 and are wondering what's on and, even more importantly, what Devon attractions are open, you've come to the right place. Here's my guide to things to do in Devon in May and over the half term holiday.
May half term in Devon is from 29 May to 6 June 2021.
Love Devon? Join the Devon with Kids Facebook group and subscribe to my newsletter!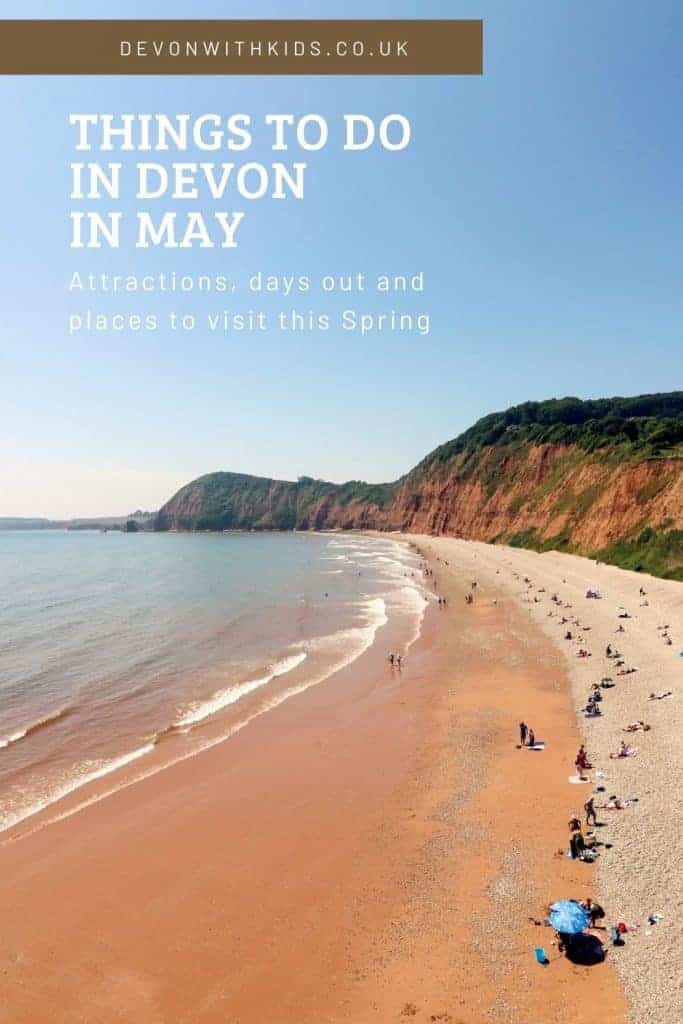 What's on in Devon in May 2021
Here's the family-friendly events and activities happening in Devon this May:
Rowlands Fun Fair
Rowlands Fun Fair will be at Cranbrook in Exeter from 7 to 23 May 2021.
Find out more on the Rowlands Fun Fair Facebook page.
Chasing Rainbows exhibition at Torre Abbey
Get your fill of colour at this new exhibition inspired by the wave of rainbows that covered the country in 2020.
The Spring Open Art Exhibition: Chasing Rainbows at Torre Abbey in Torquay runs from 19 May to 27 June 2021. Artists have worked in all mediums to create a celebration of this beautiful natural phenomenon that means to much during the pandemic.
Find out more on the Torre Abbey website.
Horrible Histories – Barmy Britain at Exeter Northcott
Horrible History fans will again be able to enjoy an indoor performance at Northcott Theatre in Exeter this May.
The whole family will be entertained by stories of noble, notorious and most definitely dead figures from Britain's past.
Can you beat battling Boudicca? Would you be a martyr for the Magna Carta? Will you lose your heart or head to horrible Henry VIII? Will Parliament survive gunpowder Guy? Dare you stand and deliver to dastardly Dick Turpin? Escape the clutches of Burke and Hare and move to the groove with party Queen Victoria!
Book tickets for performances from 21 to 23 May.
Spellbound Fairy & Goblin Festival at Stiltskin's Soapbox Theatre
Get your wings at the ready for this year's enchanting Spellbound Fairy and Goblin Arts Festival at Stiltskin's award winning Soapbox Children's Theatre in Devonport Park, Plymouth. This event takes place on 22 and 23 May 2021.
There will be storytelling performances, theatre, arts and crafts. Come dressed to impress in your best fairy and goblin outfits, adults and children alike!
The majority of activities will take place under cover either in the theatre or in one of the many tents dotted around the site.
Find out more and book tickets from the Box Office.
Moor Otters trail in 2021
If you are looking for a way to motive the kids on a Dartmoor walk in 2021 seek out the Moor Otters art trail.
It launches on 28 May 2021. Find out more about where to find these unique pieces of art work all over the National Park and surrounding area in my post about the 2021 Dartmoor Otters trail.
The Gingerbread Man at Theatre Royal, Plymouth
Run as fast as you can because The Gingerbread Man is back in Plymouth for socially-distanced performances.
This family-friendly show tells the classic tale of this delicious fellow with a mix of puppetry, live-action, great music, humour.
Book tickets for performances from 29 to 30 May 2021.
Get up and Grow at RHS Rosemoor
From 29 May families visiting RHS Rosemoor near Torrington can explore the gardens with a new trail designed to help them discover all the different kinds of pollinators that contribute to a healthy garden ecosystem.
It's not just bees and butterflies but beetles and other insects including night-flying moths that all help pollinate plants. The trail will show how plants have evolved to attract different kinds of pollinators with their scent, colour and shape, and visitors can learn which plants in their own gardens are beneficial to various insect groups.
The Get Up and Grow trail is available to download from the Rosemoor website (see below) where you can also find out more information and book tickets. On completion of the trail, each family can pick up some wildflower seeds and a booklet to help people grow for pollinators at home.
The trail runs form 29 May until 13 June 2021.
Find out more and book tickets on the RHS Rosemoor website.
Half term activities at The Box, Plymouth
Fun family activities will be happening at The Box in Plymouth daily between 1 and 4 June.
Each session will be inspired by the museum's 'Mayflower 400: Legend and Legacy' and 'Wampum: Stories from the Shells of Native America' exhibitions.
Activities include a game played by the Wampanoag called 'hubbub'. It used a wooden bowl, and a number of flat, marked playing pieces that players bounce by bumping the bowl on the ground. It's very noisy – perfect for kids!
Entry to the museum is free but tickets must be booked in advance.
Find out more about half term activities at The Box.
Half term activities at Kingsbridge Cookworthy Museum
Over half term there will be a knitted children's trail around the museum. Visit Kingsbridge Cookworthy Museum at the top of Fore Street, a short walk from the Fore Street Car park.
Opening times are from 10.30am to 3:30pm Monday to Friday. Admission charges are £3 for an adult, £2.50 for seniors/students and free entry for children. There is a small charge for the children's trail.
Find out more on the Kingsbridge Cookworthy Museum website.
Do you know of an activity not on this list? Drop me a line or comment below.
Devon attractions open and reopening in May 2021
A lot of outdoor attractions in Devon reopened in April. With COVID-19 restrictions due to ease again from 17 May 2021 many more Devon attractions will be able to welcome back visitors.
Make sure you plan ahead as booking will be necessary.
Here's the Devon attractions opening in May (see below for what's already open in Devon):
Know of others not listed here? Drop me a line so I can add them.
Places open now in Devon
Many outdoor attractions and activity places have already reopened:
Outdoor pools and splash parks
Devon's outdoor pools and splash parks usually reopen from May. However, due to the pandemic some did not open last year, so check ahead before you visit them.
Check which have confirmed they will open in May 2021 in my post about outdoor pools in Devon.
Things to do on wet days in Devon
From 17 May many indoor activities and attractions in Devon can reopen. Find them in my post about things to do when it rains.
More things to do in Devon in May
If you're looking for more ideas for things to do in May then here's some ideas for entertaining the kids:
Thinking ahead to June? Here's my guide to what's on in Devon next month.
Got a while to stay? Here's our BIG guide to family holidays in Devon.
Planning your days out in Devon this Spring? Use Pinterest to save this post about things to do in Devon in May 2021.