If you are planning your Devon days out in May 2022 and are wondering what's on and which Devon attractions you might visit, you've come to the right place. Here's my guide to things to do in Devon in May and over the half term holiday.
Half term in Devon takes place from 30 May until 3 June 2022.
Love Devon? Join the Devon with Kids Facebook group and subscribe to my newsletter!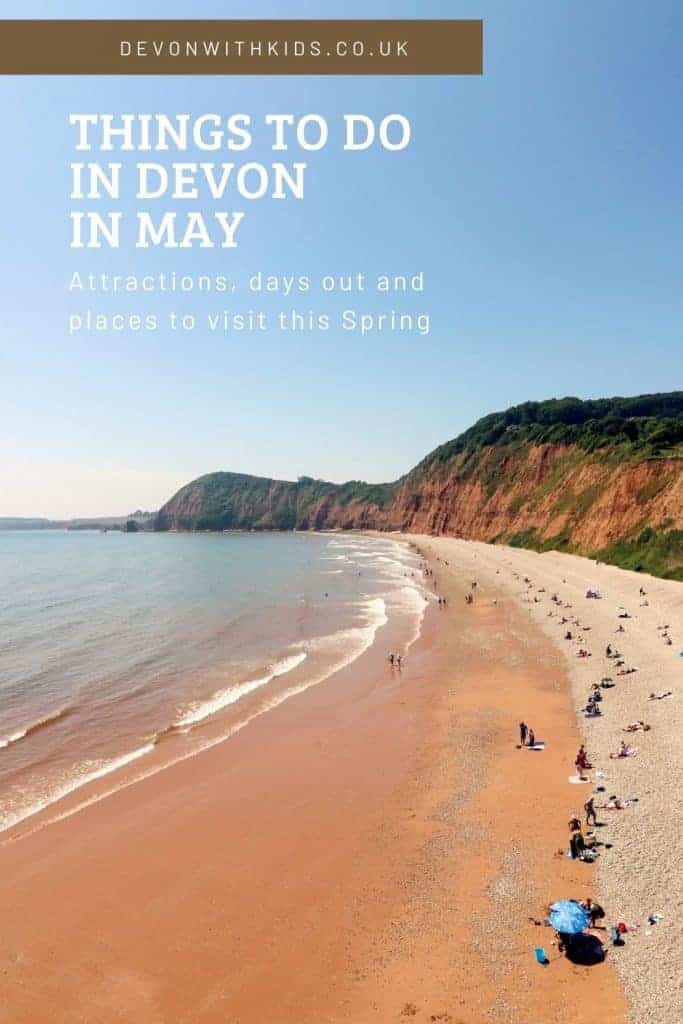 What's on in Devon in May 2022
Here's the family-friendly events and activities happening in Devon this May:
Thrive Festival at Dartington Estate, 29 April – 2 May, 2022
Billed as a joyful spring festival of Indian music, birdsong and hope, Thrive is back this year with an expanded programme of free and ticketed events for all the family.
From music and singing workshops to building a tiny treehouse, cloud-watching or even nature beatboxing, there's bound to be something that tickles your fancy.
Plus food and free concerts with the return of the hugely successful Great Lawn Sessions.
For more information, see the Thrive Festival website.
150th Anniversary Celebrations at South Devon Railway – 30 April – 2 May 2022
South Devon Railway is celebrating the 150th anniversary of the first train running along its line with a special gala weekend. There will be visiting steam engines including the 1901 built former Port Talbot Railway 0-6-0 saddle tank locomotive No.813.
Find out more and buy tickets for this special gala weekend.
Good Food and Craft Market – 01 May 2022
This leading local market at Royal William Yard boasts dozens of the best food, drink, crafts and creations from the region's finest traders.
Visit the Royal William Yard website for more information.
Dart Music Festival – 6 – 8 May 2022
Exeter's Balloons and Tunes at Powderham Castle – 7 – 8 May 2022
Find out more and book tickets on the Powderham Castle website.
Native Makers at Royal William Yard – 7 – 8 May 2022
Based on the iconic Grade I listed Melville building for the first time, this will be a weekend of over 50 stalls, creative workshops, andchidren's activities – all courtesy of local artists and makers.
Check out the Royal William Yard website for details.
Pirates Weekend in Plymouth – 7 – 8 May 2022
A swashbuckling weekend of family fun returns to Plymouth in 2022.
The event offers an impressive line-up of free entertainment including pirate puppet shows and storytelling, demonstrations of canon and musket firing, mermaid encounters, stilt walkers, arts and crafts activities, face painting and appearances from lovable rogue, Captain Jack Sparrow.
Two tall ships, the three-masted Grayhound and the topsail schooner Johanna Lucretia, will also be docked alongside Quay Square and visitors are welcome to hop aboard and explore the ships for free.
Find out more about what's planned and where to find all the action on the Visit Plymouth website.
Family Mindfulness Day at Sharpham Woodland Campsite Kitchen – 8 May 2022
Sharpham Estate is hosting a morning of mindfulness for children ages 6-11 years old and adults. Through meditation, play and other activities we'll explore how mindfulness can help us be more present and joyful to our lives. Whether you and your family have a long term meditation practice or you are curious to develop one, join in to learn and practice mindfulness together.
Find more information and book tickets online at the Sharpham Trust website.
Fantastically Great Women Who Changed the World at Exeter Northcott Theatre – 10 – 15 May 2022
Fantastically Great Women Who Changed the World is an empowering new stage show which will be celebrated by anyone who is prepared to move and be moved, with characters and songs that pack a popstar punch!
Join Jade as she breaks away from her class to take a peek behind the scenes at the not yet open Gallery of Greatness in the local museum. Along her journey she is surprised to meet the original and incredible wonder women: Frida Kahlo, Rosa Parks, Amelia Earhart, Marie Curie, Emmeline Pankhurst to name just a few.
Find out more and book tickets on the Northcott Theatre website.
60th Anniversary of the Commando Gunners Military Parade – 14 May 2022
Plymouth will be celebrating the 60th anniversary of the Commando Gunners with a military parade in the city centre. Serving troops and veterans will march along the iconic Royal Parade, exercising their Freedom of the City. Led by the Regiments' colours, their towed guns; the parade will also include a marching band, vehicles and equipment used by the Regiment.
Check out the Visit Plymouth website for more details.
Lord Mayor's Day in Plymouth – 21 May 2022
The new Lord Mayor of Plymouth will be throwing a celebration as they take office for the year. The free family-friendly event celebrates Plymouth's blue and green spaces and there's lots to learn and explore!
The programme includes interactive activities, street performers, a fun trail through the city centre with amazing prizes to be won, stage performances, workshops and much more. Enjoy more than 40 stalls showcasing local food and crafts, as well as amazing charity and community organisations.
Keep an eye on the Visit Plymouth website for full details.
The Goblin and Fairy Festival at Soapbox Children's Theatre, Devonport – 21 – 22 May 2022
Dress up as magical creatures and enjoy storytelling, theatre, arts and crafts at this year's Goblin and Fairy Festival.
This family event is based in and around The Soapbox Children's Theatre in the beautiful Devonport Park, Plymouth. The majority of activities take place under cover, either in the theatre or in one of the many tents dotted around the site. So, come rain or shine we'll make sure you have a brilliant time.
The festival is on from 1pm until 4pm each day with tickets available from £12.
Find out more and buy your tickets on the Soapbox Children's Theatre website.
Dinosaurs In The Park at Northernhay Gardens – 26 May – 12 June 2022
Roarsome family fun is making its debut at Exeter's Northernhay Gardens! Dinosaurs in the Park is an interactive experience that promises to be a hit with dino fans of all ages.
Dinosaurs in the Park is a whole day of fun for all the family. Featuring 35 life-sized animatronic models, the attraction boasts a feeding zone, dinosaur trail, as well as fairground rides and trampolines.
Walk the trail to discover well-known favourites such as the Stegosaurus, Triceratops and Velociraptor, as well as the lesser-known Dilophosaurus, Kentrosaurus and Hyparosaurus. These dinosaurs (and many more!) will eventually take visitors to a huge, hungry T-Rex, poised and ready to attack!
For more information and took book tickets, visit the Dinosaurs In The Park website.
Flavour Fest – 27 – 29 May 2022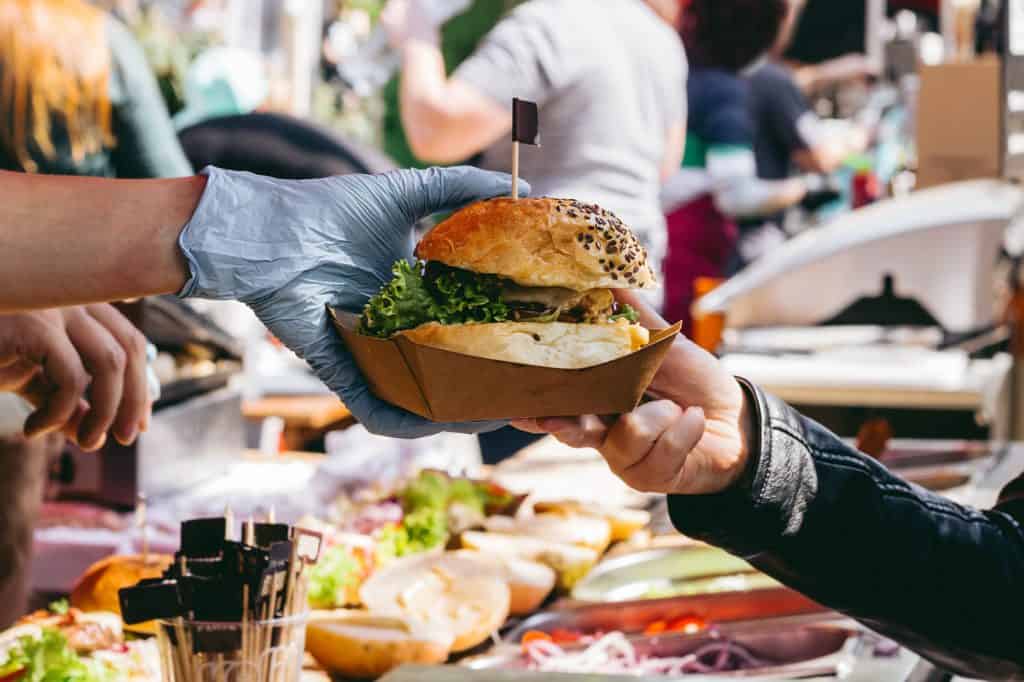 Calling all foodies! The South West's largest free food and drink festival is returning to Plymouth city centre in 2022.
There's going to be hundreds of local producers selling tasty treats and a chef stage with regional cookery stars showcasing their skills. And the best bit? It's free to attend.
More details will be announced on the Visit Plymouth website.
Kingsbridge Food and Music Festival, Kingsbridge – 27 – 29 May 2022
Kingsbridge will come alive with three days of top-notch music, local food and drink, and family fun.
The dedicated Kids Zone behind the main stage offers young festival-goers the chance to learn bush craft, as well as take part in a fancy dress disco.
Find out more about festival activities on the Kingsbridge Food and Music Festival website.
Sooty Land opens at Crealy Theme Park & Resort – 28 May 2022
The award-winning Crealy theme park has partnered with the world's longest running children's television programme, The Sooty Show, to open a magical new world devoted entirely to the nation's favourite yellow magic bear.
Sooty Land opens to visitors this half term with daily live performances of 'The Sooty Show' in a new outdoor theatre, four new rides and 10 new indoor attractions. You'll also be able to see a Sooty's Hall of fame with memorabilia and props from the past 70 years of The Sooty Show.
Find out more and book tickets to visit Crealy.
Jubilee Bunting and Flags at The Box, Plymouth – 28 – 31 May 2022
Pop into The Box for this free family activity. Cut, colour, stitch and decorate triangles to add to bunting ribbon and return over the Jubilee weekend to see it on display. Alternately, you can make a flag to wave on the day as the nation celebrates the Queen's Platinum Jubilee.
Visit The Box's website to find out more information and session times.
Powderham Outdoor Cinema – 31 May – 5 June 2022
All of your cinematic favourites are joining you this May for the ultimate outdoor cinema experience! Family films will be screened each day and are included in your day ticket when visiting Powderham Castle. Each evening there will be a programme of film favourites. Ticket price and booking fee applies.
On Thursday 2 June there will also be screening The Queen's Birthday Parade, as a part of the Platinum Jubilee celebrations.
Find out more and book tickets on the Powderham Castle website.
Platinum Jubilee events in Devon – 2 – 5 June 2022
Want to celebrate the Queen's 70 year reign? The last weekend go May half term is a big one with and extra bank holiday to help us all get in the mood for a party.
Here's my guide to Platinum Jubilee events in Devon including public street parties, shows and beacon lighting events.
Do you know of an activity not on this list? Drop me a line or comment below.
More things to do in Devon in May
If you're looking for more ideas for things to do in May then here's some ideas for entertaining the kids:
Outdoor pools and splash parks
Devon's outdoor pools and splash parks are usually open from May.
Check which have confirmed they will open in May 2022 in my post about outdoor pools in Devon.
Things to do on wet days in Devon
From 17 May many indoor activities and attractions in Devon can reopen. Find them in my post about things to do when it rains.
Thinking ahead to June? Here's my guide to what's on in Devon next month.
Got a while to stay? Here's our BIG guide to family holidays in Devon.
Planning your days out in Devon this Spring? Use Pinterest to save this post about things to do in Devon in May 2022.