Hooray for Friday! If you're looking for family-friendly things to do in Devon this weekend you have come to the right place for events and special activities to entertain you and the kids. Read on to find out what's on in Devon this weekend!
Know of an event I can add to this guide? Submit a listing!
Love Devon? Join the Devon with Kids Facebook group and subscribe to my newsletter!
Things to do in Devon this weekend
Here's the family-friendly events and activities happening near you this weekend:
Immersive family shows at Market Hall, Plymouth – 19 -20 August 2022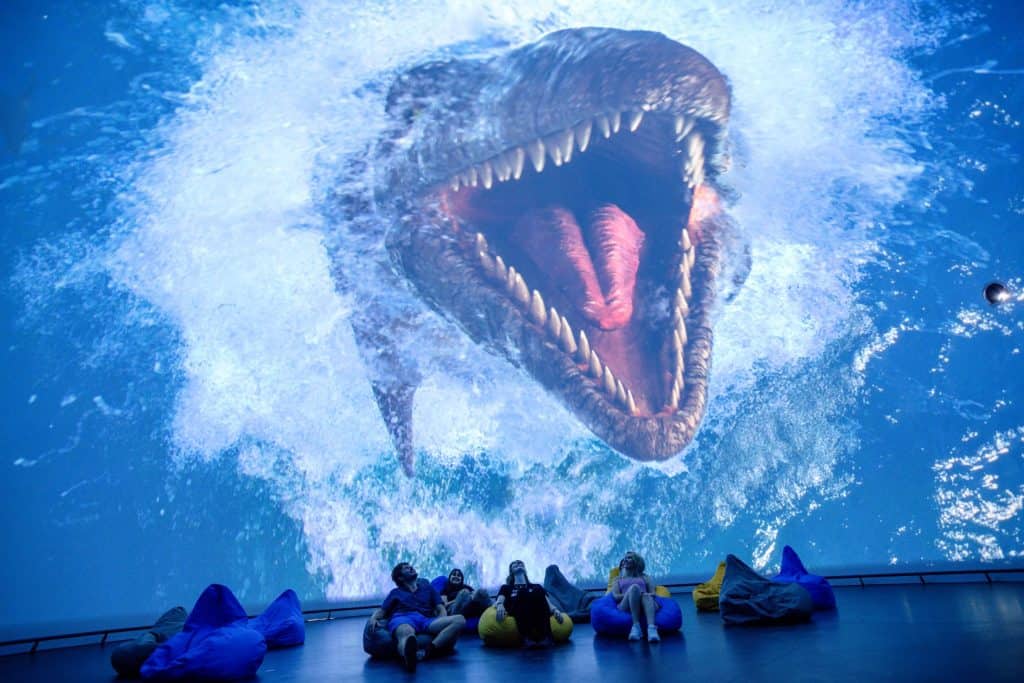 Enter the immersive dome at Market Hall in Devonport for a series of family-friendly 360 degree shows this month.
The dome here is the largest in Europe and gives visitors a full-scale virtual reality experience without having to don a headset.
This month you can book tickets for:
Sea Monsters – travel back in time to when dinosaurs roamed the seas and meet Dolly – a curious and adventurous dolichorhynchops – 20 August 2022
Legend of the Enchanted Reef – The clumsy and energetic reef fish Shorty, his smart sister Indigo and Jake, a daring sawfish, live in a colourful coral reef. When an enormous trawl devastates their reef, the three friends have no choice but to set out on an adventurous journey to find a new home. Full of humour and imagination, this film for the whole family raises awareness for the acuteness of marine conservation. – 19 – 20 August 2022
We Are Aliens – Earth. It's now a small world. The human race is connected better and faster than ever before but what about elsewhere? Could we one day be part of a galactic community sharing our knowledge and ideas? Or is Earth the only planet with life? We Are Aliens! takes you on an epic ride in the hunt for the evidence of alien life. – 19 August 2022
Find out more about what's on at Market Hall.
Dear Zoo Experience at Dartmoor Zoo – 19 -21 August 2022
Your favourite children's book is being brought to life at Dartmoor Zoo! Kids of all ages are invited to step into the story and embark on a trail around the zoo. Interact with a giant storybook, listen to the story being told, have fun with your special activity book and of course say hello to some of the animals from the story in real life!
The Dear Zoo experience is included in your Zoo ticket at no extra cost with the option of purchasing an activity pack at the gate on arrival or online.
Book your visit on the Dartmoor Zoo website.
Who wants to Be a Donkey Guardian, The Donkey Sanctuary, Sidmouth – 19 -21 August 2022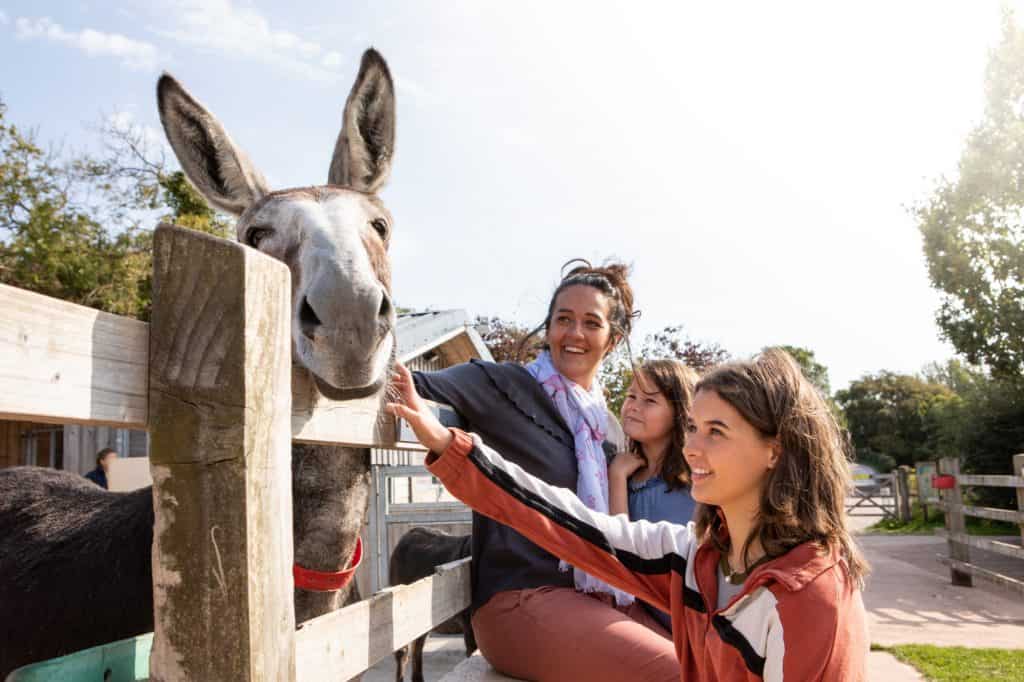 Do you know what it takes to be a Donkey Guardian? Follow the trail to find the quiz boards located around the sanctuary and see if you can answer the questions about what is required to rehome donkeys and keep them happy and healthy.
Then reveal the answers complete your quiz sheet to earn your reward. This entertaining activity combines family fun, exercise and brainpower and is just £5 per trail, including a reward on completion.
Plus with a new play area, daily talks, scenic walks, engaging exhibits, award-winning gardens and, of course, hundreds of adorable donkeys to meet, there's so much to explore with your own herd, whatever the weather. Friendly dogs on leads are welcome too!
Visit The Donkey Sanctuary website for more information.
The Garden House Fairy Tale Adventure Trail, Yelverton – 19 -21 August 2022
The Garden House gardens will be home to all manner of beautiful woodland fairies and friendly dragons this summer, enticing children and adults alike on a fairy trail adventure!
The fairies might be hiding in the woodland dell, or dancing around the magic circle or even letting their hair down from the top of the tower in the medieval walled garden. However, where there are fairies there must be dragons – but friendly ones of course!
The woodland fairies are shy creatures, and they are not always easy to find, so visitors will need to look up as well as down, in order to catch a glimpse of these elusive creatures – the guide map available from visitor reception will help!
The circular walk around the garden takes approximately two hours, winding through the various 'gardens within a garden', that The Garden House is famous for – culminating in a visit to the wishing tree.
Check out The Garden House website for more details.
Family Fun: Magical Marine Park at The Box, Plymouth – 20 August 2022
Plymouth is home to the UK's first National Marine Park – a unique project designed to celebrate and promote the history, habitats and industries of the important and visually stunning Plymouth Sound.
Visit The Box each Tuesday, Thursday and Saturday throughout the summer holidays to discover more about it and how special it is.
Find out more at The Box Plymouth website.
Recycled Art Workshop at Paignton Zoo – 19 -21 August 2022
As part of a #SustainableSummer campaign, Paignton Zoo has teamed up with TRAIL, a local artist-led, voluntary organisation focusing on raising awareness of environmental issues through recycled art.
Join in this free activity to help create a piece of sustainable art using recycled materials. The final sculpture will be displayed at Paignton Zoo for visitors to enjoy, to highlight that every action matters and that we can all make small changes that can make a big difference to our planet.
There will also be daily animal talks and interactive activities with zoo rangers.
Visit the Paignton Zoo website for further information and to book zoo entry tickets.
Continental Circus Berlin, Paignton – 19- 21 August 2022
A brand new show specially created for a exclusive UK tour is visiting Paignton. Continental Circus Berlin is an amalgamation of brilliant Circus acts, music, real youthful energy and promises to be an evening of exceptional entertainment!
With jaw dropping acts, scintillating costumes, world class crossbow stunts & the funniest clowns – you will be sitting on the edge of your seat when not falling off them with laughter.
Find more information and book tickets on The Circus Berlin website.
Torbay Royal Regatta, Torquay – 19 – 21 August, 2022
This sailing event takes place between Torquay and Paignton on the English Riviera in South Devon.
For more information see the Regatta website.
RHS Garden Rosemoor Flower Show – 19 – 21 August 2022
The only RHS Garden Flower Show in the South West returns with floral displays, plants and sundries to buy, delicious food and drink, flower-arranging demonstrations, specialist talks and live music.
Find out more and book tickets.
Beautiful Days, Escot Park – 19 – 21 August, 2022
Beautiful Days is an family music festival organised by The Levellers. There are several stages, art installations, a wild spa, walkabout theatre and folk sessions as well as food and craft stalls.
Find out more and how to get tickets on the festival website.
Next Steps Fest, Bideford – 20 – 21 August 2022
The first ever Next Steps Fest – there will be plenty for all to enjoy: Local bands and DJs, a performance from Yazzy, face painting, craft stalls, hog roast, visits from the public services, and local food and drink.
For those looking for a little more adventure, there is also the world's very first portable mechanical assault course which is great fun for all.
All profits will go to The Next Steps Development Charity, which showcases ability, instead of focusing on disability in order to offer support to young adults with additional needs and to gain independence in a working environment.
Visit the Next Steps Fest Facebook page for further information and updates.
Meet…Gus Honeybun at The Box, Plymouth – 21 August 2022
Augustus Jeremiah Honeybun was the station mascot for Westward Television and Television South West from 1961 until 1992 and was hugely popular with young and old alike.
Come and meet at the Media Lab to discover more about the cheeky bunny whose winks, hops and magic buttons have become the stuff of Westcountry legend.
Find out more at The Box Plymouth website.
Superhero School at BearTown, Cullompton – 21 August 2022
Batman and Wonder Woman will be hosting Superhero School, for an exclusive class of aspiring Superheroes. Visitors will learn all the best Superhero moves, and undertake a special mission within the Town.
There will be a Superhero meet and greet, Superhero lessons, graduation from Superhero School, a super feast, and lots of great photo opportunities. Not to mention, a few special surprises thrown in!
All children are asked to arrive in their favourite Superhero costume, ready for a super time! Tickets are really limited, so early booking is strongly recommended!
Visit the Bear Town website for more information and to book tickets.
What's on in Devon next weekend?
Here's what's coming up in the weekend beginning 26 Aug 2022:
Dartmouth Royal Regatta, Dartmouth – 24 – 27 August, 2022
Devon's royal regatta hosts sports, sailing and family events throughout the three days, plus a ball and live music festival.
You can also see impressive visiting ships moored on the River Dart throughout the festivities. Families will love the children's fancy dress competition, scavenger hunt and a shopping village showcasing local companies.
To see the full regatta programme visit the Dartmouth Royal Regatta website.
Gone Wild Festival – 25 – 28 August 2022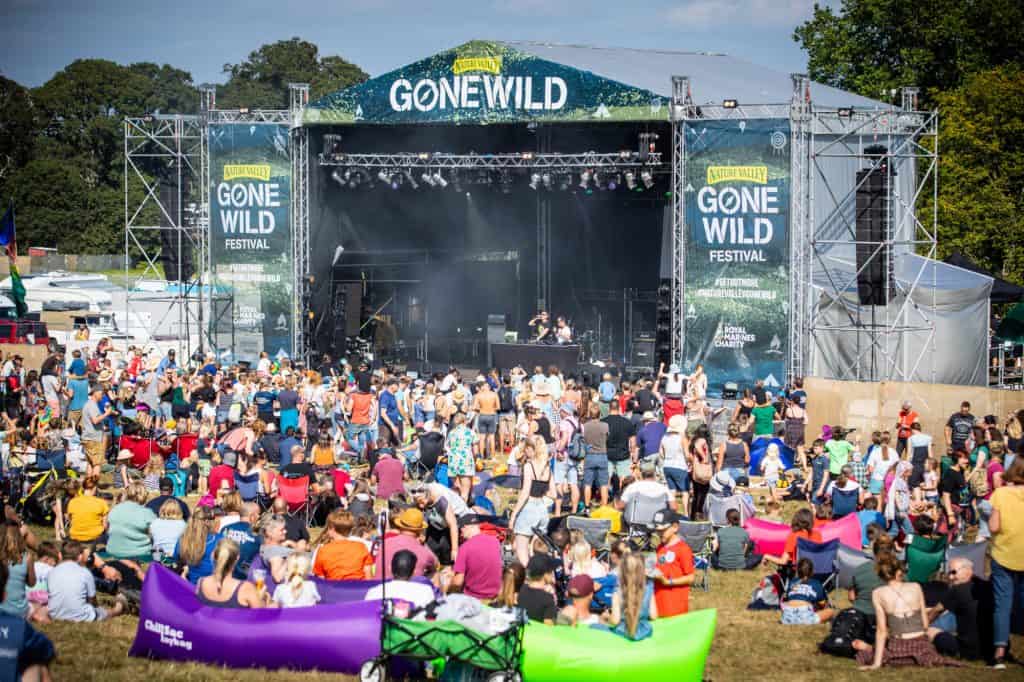 TV adventurer Bear Grylls is returning to Powderham Castle with his Gone Wild Festival over the Bank Holiday weekend.
There will be a program of exciting outdoor activities for families as well as some top headline music acts including The Script, All Saints, Sophie Ellis-Bexter and Reef.
Find all ticket and camping pass prices on the Gone Wild Festival website
Sidmouth Airshow – 26 August 2022
The Airshow returns to Sidmouth in 2022. Headlining the line-up will be the world famous RAF Aerobatic Team, The Red Arrows who will return to the town's skies to display at one of their favourite locations over the bay at Sidmouth.
They will be joined by two Supermarine Spitfires of the Battle of Britain Memorial Flight and Rich Goodwin in his amazingly aerobatic Pitts Biplane. A first for the Sidmouth Airshow will be an appearance by Team Raven, a civilian aerobatic team flying a five plane formation of the ultra-manoeuvrable Van's RV-8 aircraft.
Find out more about Sidmouth Airshow.
Meet…The Figureheads at The Box, Plymouth – 28 August 2022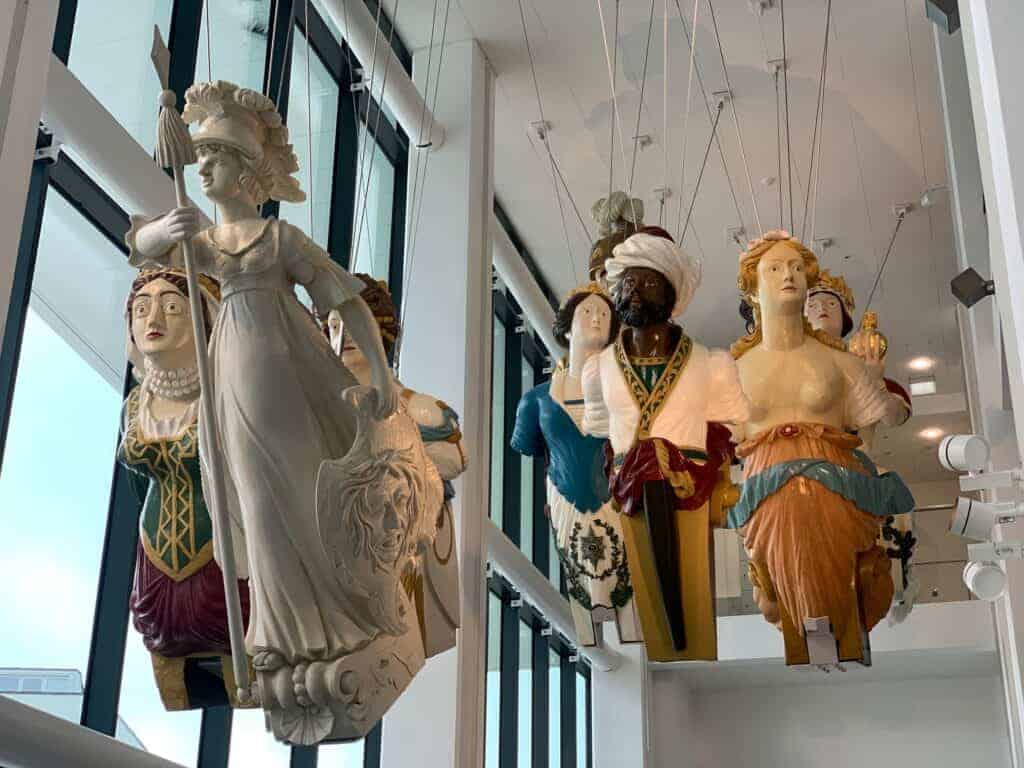 You can't miss the fourteen Royal Naval figureheads that sail above you when you arrive at The Box. Dating from the 1800s, they're amazing pieces of craftsmanship that have travelled the world.
Pop into the Active Archives gallery to learn more about them and the ambitious conservation project th
at has saved them for the future.
Find out more at The Box Plymouth website.
If you would like to see your event listed submit a listing!
What's on at the theatre?
Here's where to find the latest listings and what's on at Devon's theatres:
Looking for a children's guide to some of Devon's loveliest places? Order your kids this Devon colouring book, which is full of facts too! A donation from every sale goes to Devon Air Ambulance.
---
Find out what's on during the rest of the month in my guide to places to visit in Devon in August.
And if you want to find out what's on at other times of the year take a look at my full Devon events guide.
More things to do in Devon this weekend
Here's some more places you might like to visit:
Why not visit one of Devon's theme parks, indoor attractions or go on a walk on Dartmoor.
Devon what's on guides
If you're after more reading to inspire your future Devon weekends, check out these posts:
Would you like more Devon goodies delivered to your inbox? Sign up to the Devon with Kids newsletter.
Planning your days out in Devon this Saturday and Sunday? Why not download my guide to Devon days out to inspire your planning.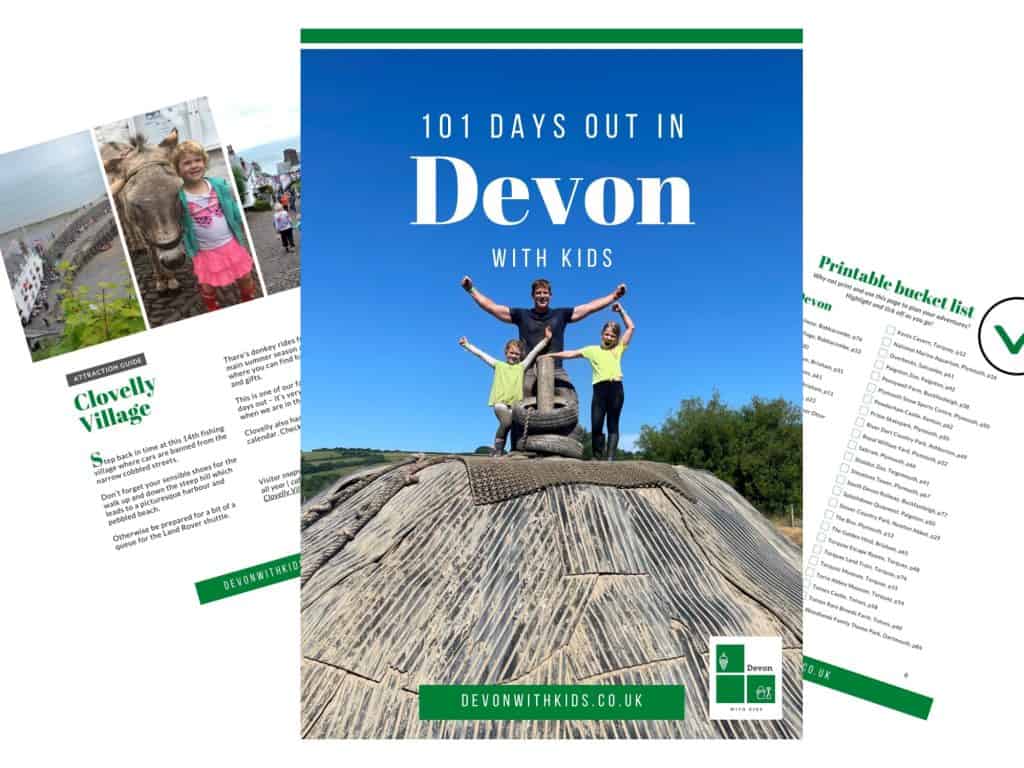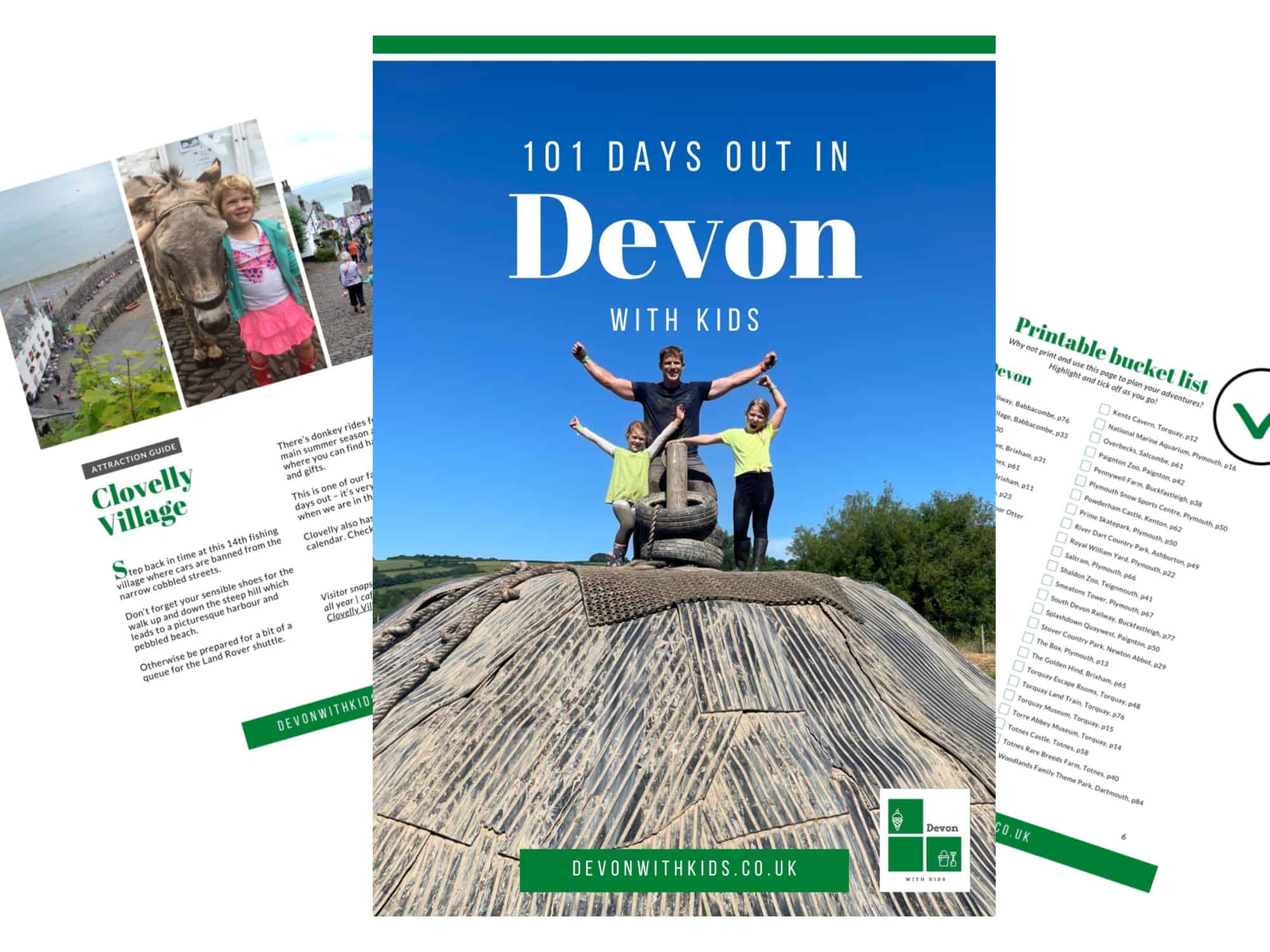 It's FREE!
Grab your copy of this guide to family-friendly things to do across the county, from coast to coast, in the cities, on the moors and whatever the weather.