Family guide to what's on in Devon June 2021
Looking for things to do in Devon in June 2021? Here's your guide to family-friendly events, places to visit and what's on in Devon.
Please note: all events and activities in 2021 are subject to change. Please follow the latest Government guidelines on travel and social distancing. Track and trace QR codes will be in operation at venues so have your app ready to avoid queues.
What's on in Devon this June
Here's what's on this month for families:
Sidmouth Donkey Sanctuary fun trail – open daily
Feed your curiosity and discover all things adorable with a donkey adventure like no other at Sidmouth Donkey Sanctuary. It's new children's trail contains an A to Z of fun donkey facts around the sanctuary. Complete the trail activities as you go to claim a prize and sticker on completion.
The adventure is split into two parts – one short trail and one a little longer. For the first part, locate eight donkey facts around the main sanctuary and find the hidden letters to complete the missing word.
The Donkey Sanctuary is free to visit and booking is not required.
Find out more on The Donkey Sanctuary website.
Chasing Rainbows exhibition at Torre Abbey
Get your fill of colour at this new exhibition inspired by the wave of rainbows that covered the country in 2020.
The Spring Open Art Exhibition: Chasing Rainbows at Torre Abbey in Torquay runs from 19 May to 27 June 2021. Artists have worked in all mediums to create a celebration of this beautiful natural phenomenon that means to much during the pandemic.
Find out more on the Torre Abbey website.
Moor Otters trail in 2021
If you are looking for a way to motive the kids on a Dartmoor walk in 2021 seek out the Moor Otters art trail.
From the Whitsun weekend. you can find more than 80 unique sculptures at businesses and family attractions around the National Park, including Canonteign Falls where you can meet the otter and pup above painted by Sarah Smith The Dartmoor Artist.
The trail launches on 28 May 2021.
Find out more about visiting Canonteign Falls in the Teign Valley.
Find out more about where else to find these unique pieces of art work all over the National Park and surrounding area in my post about the 2021 Dartmoor Otters trail.
Get up and Grow at RHS Rosemoor
From 29 May families visiting RHS Rosemoor near Torrington can explore the gardens with a new trail designed to help them discover all the different kinds of pollinators that contribute to a healthy garden ecosystem.
It's not just bees and butterflies but beetles and other insects including night-flying moths that all help pollinate plants. The trail will show how plants have evolved to attract different kinds of pollinators with their scent, colour and shape, and visitors can learn which plants in their own gardens are beneficial to various insect groups.
The Get Up and Grow trail is available to download from the Rosemoor website (see below) where you can also find out more information and book tickets. On completion of the trail, each family can pick up some wildflower seeds and a booklet to help people grow for pollinators at home.
The trail runs form 29 May until 13 June 2021
Find out more and book tickets on the RHS Rosemoor website.
Half term activities at The Box, Plymouth
Fun family activities will be happening at The Box in Plymouth daily between 1 and 4 June.
Each session will be inspired by the museum's 'Mayflower 400: Legend and Legacy' and 'Wampum: Stories from the Shells of Native America' exhibitions.
Activities include a game played by the Wampanoag called 'hubbub'. It used a wooden bowl, and a number of flat, marked playing pieces that players bounce by bumping the bowl on the ground. It's very noisy – perfect for kids!
Entry to the museum is free but tickets must be booked in advance.
Find out more about half term activities at The Box.
Half term activities at Kingsbridge Cookworthy Museum
Over half term there will be a knitted children's trail around the museum. Visit Kingsbridge Cookworthy Museum at the top of Fore Street, a short walk from the Fore Street Car park.
Opening times are from 10.30am to 3:30pm Monday to Friday. Admission charges are £3 for an adult, £2.50 for seniors/students and free entry for children. There is a small charge for the children's trail.
Find out more on the Kingsbridge Cookworthy Museum website.
Torquay Museum 175th anniversary event – 12 June 2021
There will be a packed day of events at Torquay Museum to celebrate its 175th anniversary. Come along from 9.30am on Saturday 12 June.
Activities include willow bee lantern workshops with willow artist Vik Westaway, amazing storytelling from Isabella's Story Bicycle, a virtual performance from Elfic – Juggler & Jester and beautiful creations made by local schools and community groups.
Entry to the Museum is FREE but time slots must be booked in advance.
Find out more and book your timed entry on try Torquay Museum website.
Bicton College Open day – 26 June 2021
Visit the beautiful grounds at Bicton College at Budleigh Salterton for an open day packed with different activities and displays to entertain the whole family.
From outdoor activities such as canoeing, kayaking, climbing and clay pigeon shooting, to historic tours, fairground rides, traditional fete games and a variety of vintage vehicles.
There will also be plenty of different catering options, craft and other stands to purchase goods. Enjoy a cream tea in the garden with views over the lake while the children enjoy an Alice in Wonderland themed tea party complete with characters.
Find out more and book tickets.
Topsham's Big Afternoon Tea – 27 June 2021
There's going to be a street party atmosphere in Topsham on 27 June as people gather for the Love Topsham Big Afternoon Tea from 3pm until 6pm.
Find out more on the Love Topsham website.
Do you know of an event happening in June that's not on this list? Drop me a line or comment below.
Family theatre in June
Here's where to find family theatre happening in Devon this June – book your tickets now!
Circus of Horrors – Addams Family Friendly Matinee at Palace Theatre Paignton – 4 June 2021
Whether you're a rock fan or theatre goer The Circus of Horrors has something for everyone. And now you can enjoy it with the whole family at the Palace Theatre in Paignton, South Devon.
The show includes an amazing amalgamation of acts, driven by a rock n roll sound scape, that will have you sat on the edge of your seat when not falling off it with laughter. Perfect for your little monsters.
Find out more and book tickets through Palace Theatre.
The Three Musketeers at Theatre Royal, Plymouth – 9 – 10 June, 2021
Head to the Theatre Royal for a swashbuckling comedy adventure. Armed with only a baguette and his questionable steed, join hot-headed d'Artagnan as he travels to Paris to become a musketeer. Will things go to plan? It's unlikely!
This 200 show includes hilarious heroics, raucous romances and some bonkers fun with BMX bikes.
Find out more and book tickets on the Theatre Royal website.
The Further Adventures of Dr Dolittle at The Big Sheep – 11 June, 2021
Head to The Big Sheep in North Devon for this really wild outdoor performance.
Following the phenomenal success of 2018's tour of The Adventures of Doctor Dolittle, Illyria is delving back into Hugh Lofting's amazing stories to bring you a brand-new musical adaptation of the Doctor's FURTHER adventures with Jip the Dog, Dab Dab the Duck, Gub Gub the Pig and Polynesia the Parrot.
Find out more and book tickets through The Big Sheep.
Cobweb's Magical Garden at The Soapbox Theatre, Plymouth – 10 – 26 June, 2021
Come and find out who lives at the bottom of the garden in this live, outdoor performance for under eight-year-olds. The Soapbox Theatre is located in Central Park, Plymouth.
Find out more and book tickets on the Stiltskin Soapbox Theatre website.
Do you know of a show happening in June that's not on this list? Drop me a line or comment below.
More things to do in Devon this June
There's never a dull moment here in the West Country and with the vast majority of Devon attractions now open – hurrah – it won't be hard to fill your days with fun.
Here's some of my top picks for the best days out in Devon for families this month:
Crabbing in Devon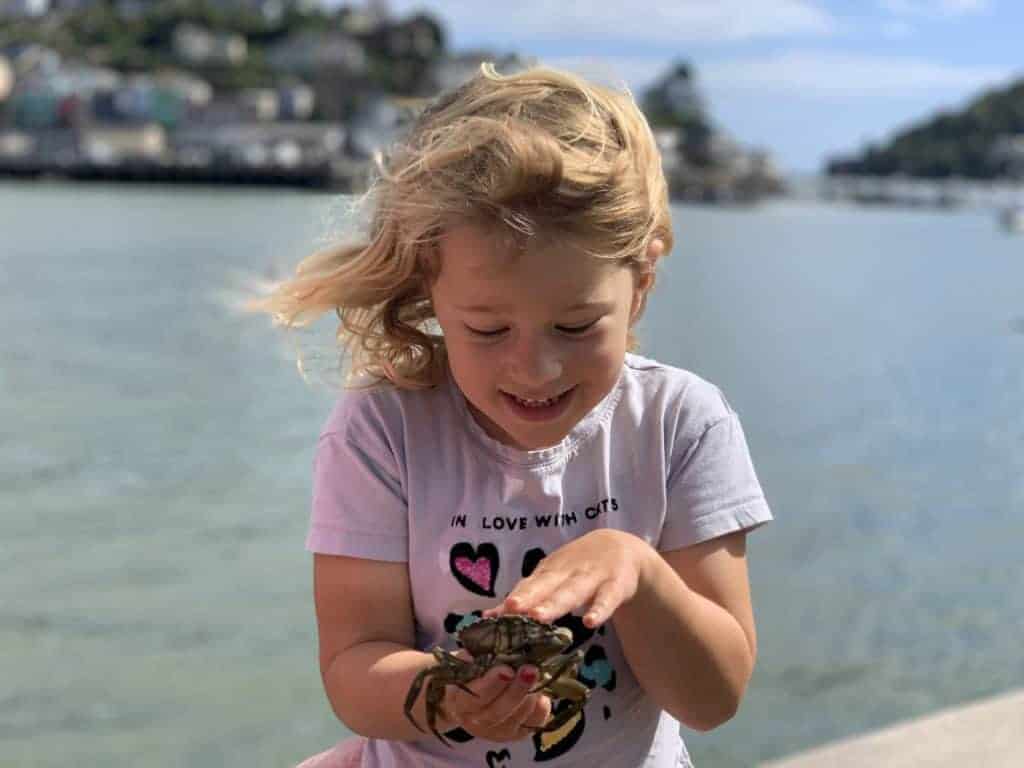 Summer is nearly here and the crabs are biting. Find all the top spots to drop a line in my guide to crabbing in Devon.
Visit an outdoor pool or splash park in Devon
Fingers crossed we'll be enjoying some glorious sunshine in Devon in June – perfect for visiting an outdoor pool or splash park.
Find out where they are in my guide to outdoor pools in Devon.
Things to do on wet days in Devon
Let's get real, some times we experience a touch of 'liquid sunshine' here in Devon. When the clouds gather check out my post to things to do when it rains.
Planning your days out in Devon this Summer? Use Pinterest to save this post about things to do in Devon in June 2021.