Looking for things to do in Devon in June 2022? Here's your guide to family-friendly events, places to visit and what's on in Devon.
Love Devon? Join the Devon with Kids Facebook group and subscribe to my newsletter!
Platinum Jubilee celebrations in Devon
You can't have helped but noticed that June starts with an extra long weekend to celebrate the Queen's 70 year reign. So, what's on to help celebrate this occasion?
Check out my guide to Platinum Jubilee events in Devon.
What's on in Devon this June
But what about the rest of the month? Here's what's on in June for families:
Awful Auntie at Dartington Estate, 1-2 June 2022
Awful Auntie by UK's bestselling children's author, David Walliams, is coming to Dartington's Great Lawn this June with an open-air theatre show staged by Heartbreak Productions.
The play tells the story of Stella Saxby, the sole heir to Saxby Hall, who is tormented by her awful Aunt Alberta and her giant owl. The dastardly duo will stop at nothing to take her inheritance from her.
Make sure you bring a chair, blanket and some weather-dependent gear, and you'll be in for a gripping, heart-warming yet hilarious adventure!
The running time of this event is two hours, with an interval in between, where you can grab a beverage and a snack from the White Hart.
The play is aimed at ages 7 plus but younger children will enjoy it too – and there's lots of room on the lawn if they get restless!
Find out more and book tickets for Awful Auntie.
Exmouth Festival – 2 – 5 June 2022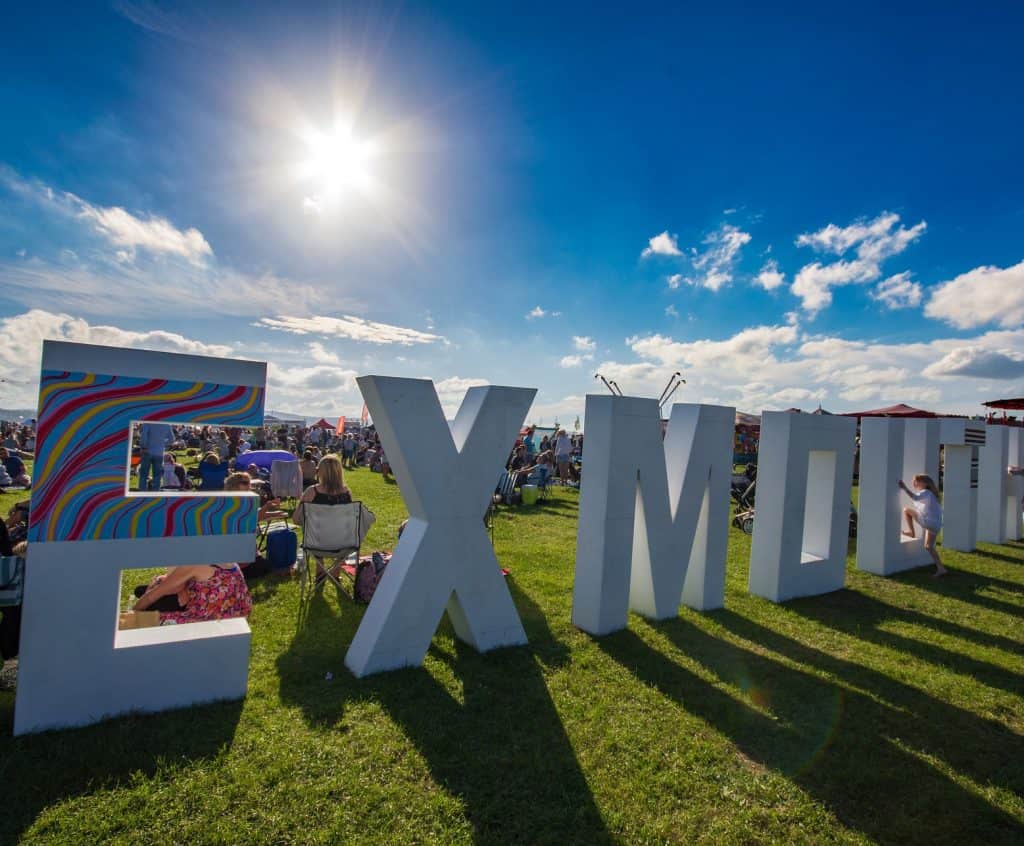 After a two year hiatus Exmouth Festival is back for 2022! Head to the Imperial Recreation Ground, you'll find free live music, theatre, circus and art, alongside the very best food and drink Devon has to offer.
This year the festival coincides with the national Jubilee Celebrations taking place over this extended bank holiday weekend. There will be a beacon lighting, the Big Jubilee Lunch and lots more celebrations.
Find out more about Exmouth Festival.
Prawle Fair – 4 June 2022
Prawle Fair is a fabulous family event with live music, traditional rides and stalls from swingboats to greasy pole, and lots of refreshments available. This year it is being run to coincide with the Queen's Jubilee celebrations.
The fair takes place on The Green, East Prawle, near Kingsbridge. Entry on foot is free. There's a small charge for car parking.
The most up to date details are available on the Prawle Fair website.
English Riviera Airshow, Torbay – 4 – 5 June 2022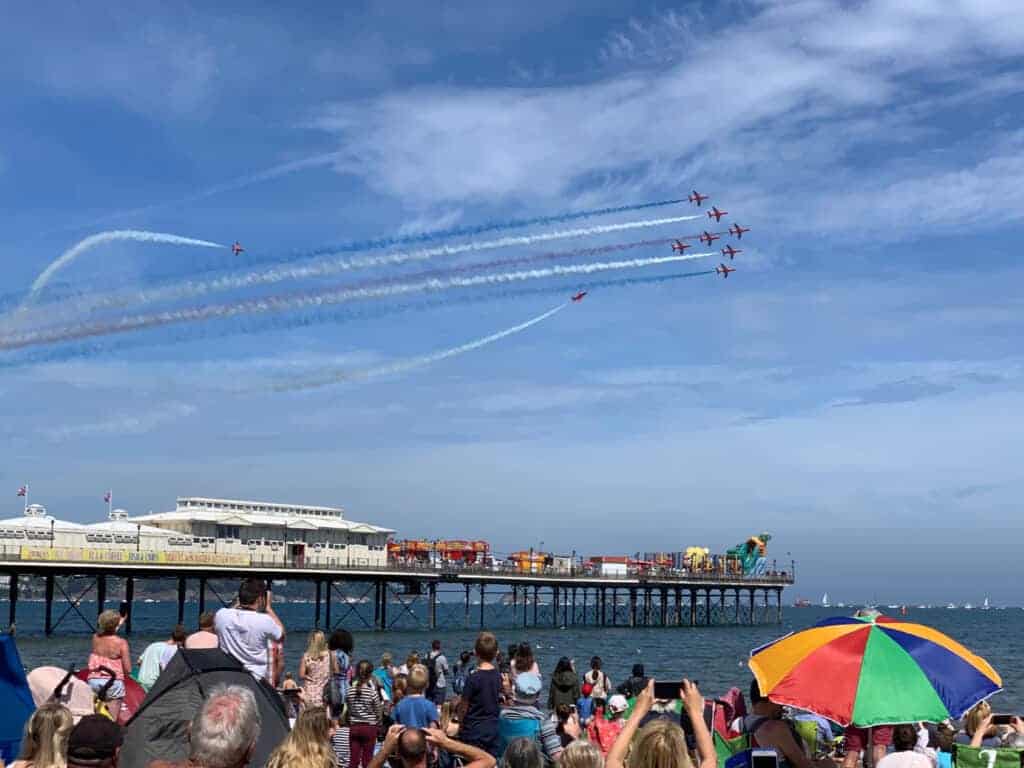 This free two-day airshow takes place in the natural amphitheatre provided by Torbay. There will be family favourites including The Red Arrows and The Blades.
As well as plenty of action in the skies there's stalls, entertainment and children's activities on Paignton Green.
For the complete air display line up see the English Riviera Airshow website.
Good Food and Craft Market at Royal William Yard – 4 – 5 June 2022
Dozens of the regions best traders are taking to the green for weekend.
Check out further information on the Royal William Yard website.
Poetry Picnic at Exeter Phoenix Theatre – 5 June 2022
Poet Simon Mole and musician Gecko's snack-heavy celebration of music and poetry, The Big Spork! Poetry Picnic, is coming to Exeter Phoenix.
There will be fun (and quite silly) games to build kids' confidence and skill with words to help them unlock their poetry powers.
Audience members will be supported to pen a poem from their picnic blanket and hear some Beatles-meets-the-Beastie-Boys style bangers from the duo themselves. Participants will also have the chance to share the stage and perform their poems with the show's professional performers for the grand finale.
Poetry Picnics are ideal for ages 6yrs and over.
Find out more and buy tickets on the Exeter Phoenix website.
BioBlitz at Sharpham Estate – 10 – 11 June 2022
Become a citizen scientist and help record the wildlife on the Sharpham Estate as part of its rewilding project.
Participants in the BioBlitz will be bat-detecting, moth-trapping, searching for and recording birds, wildflowers, insects and invertebrates, and seeking out mammal tracks and signs.
There will also be expert naturalists and conservationists to assist and enlighten you when you find fascinating flora and fauna on the Sharpham Estate.
Attending the BioBlitz is free but places must be booked in advance.
Find out more and book online.
The Queen's Knickers at The Palace Theatre Paignton – 12 June 2022
It's a busy year for the Queen – she has lots of important events to attend. But disaster has struck the palace as Her Majesty's knickers have been nicked- call the royal guard!
Meanwhile, a little girl is wondering what knickers Her Majesty will choose to wear on a school visit! Will they be her 'at home' knickers – adorned with corgis – or her 'garden party' knickers, or perhaps her woolly Balmoral ones…?
There will be two showings of this fun musical production full of songs, silliness and a corgi or two.
Check out The Palace Theatre's website to book tickets and find out more details.
Mamma Mia at outdoor cinema in Torquay – 17 June 2022
Celebrate 50 years of ABBA by seeing Mamma Mia on the big outdoor screen at Torquay Recreation Ground.
This event is being held in support of Torquay Cricket Club and includes on onsite bar serving drinks, hot food and snacks. You can also bring your own picnic, but all alcohol must be purchased at the bar.
Gates open at 8.30pm and the film starts at sunset. Bring our own picnic blanket or seats.
Find out more and book tickets on Eventbrite.
Craft Festival Bovey Tracey – 17 – 19 June 2022
Craft Festival Bovey Tracey returns for its 18th annual event featuring more than 200 designer makers, plus more live craft demonstrations and activities than ever before.
There will a master class and live audience with TV judge and potter
Keith Brymer-Jones, while Jim Parkyn, Aardman Animation Ambassador and clay model maker, will host workshops for families across the weekend.
There will also be a free children's activities tent on the Saturday and Sunday.
The festival takes place in Mill Marsh Park, Bovey Tracey. Tickets cost £10 in advance and £12 on the door.
For more information and to buy tickets visit the Craft Festival website.
Teignmouth Folk Festival, Teignmouth – 17 -19 June, 2022
This lively folk festival takes place across five venues in Teignmouth.
Throughout the three-day festival there's a heady mix of music performances and morris dancing performed by more than 20 clubs from across the country.
Tickets are available for camping and night time concerts.
Check the festival website for announcements about acts, the event programme and to book tickets.
Family Fun: Tell Me A Story at The Box, Plymouth – 17 -24 June 2022
Pop in every Friday morning for half an hour of storytelling underneath our figureheads. These free story time sessions are perfect for under 5s and their grown ups, and don't worry: you'll still have time to go and say 'hello' to Mildred the Mammoth afterwards!
Find out more at The Box Plymouth website.
Brick by Brick: A LEGO® brick history of Exeter, RAMM – from 18 June 2022
Revisit Devon's prehistoric past and dreams of a greener future, all recreated with LEGO® bricks. Each mini brick model explores a different point in Exeter's vibrant history, from its origins in the days of the Roman Empire to the glorious heights of its famous woollen trade, and from the tragedy of the Second World War to its transformation into a 'garden city' of the near-future.
Filled with fun and humour, and accompanied by objects from RAMM's collection, children's playzones, trails and more, this LEGO brick story of Exeter will delight children of all ages.
Visit the RAMM website for more information and to book tickets.
Bideford Soap Box Derby – 19 June 2022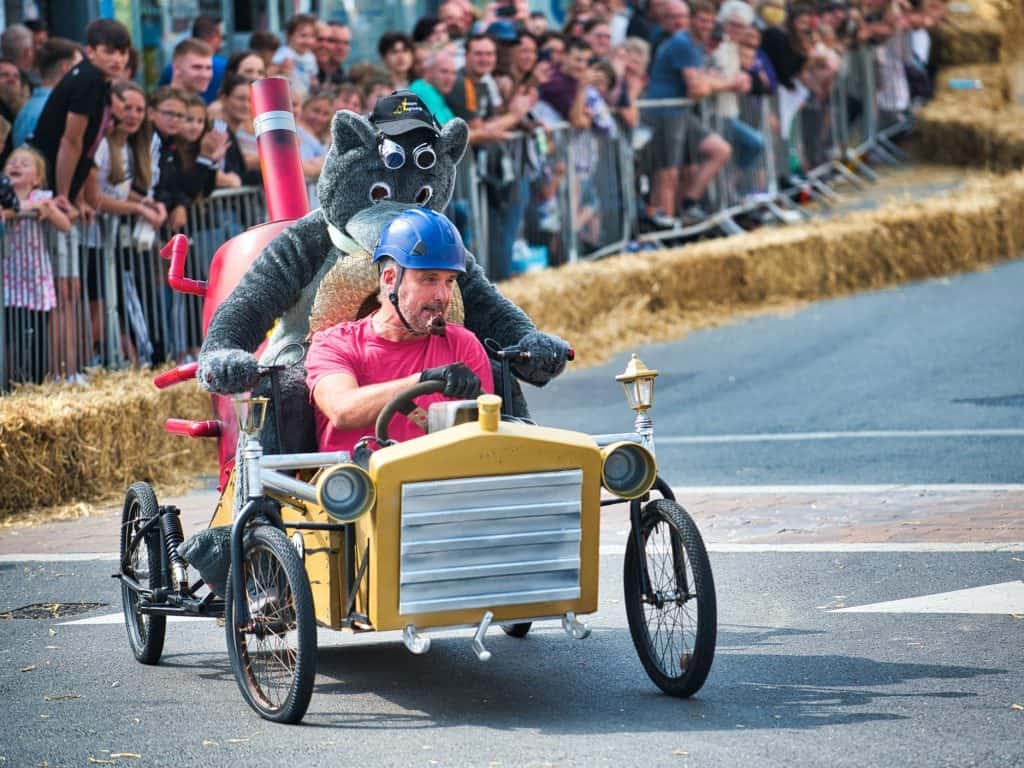 The Bideford Soapbox Derby is a community event held to raise funds for the charity Chemohero. Last year more than 5,000 people attended, helping to rise £10,000.
The event starts at midday on 19 June and is free to attend.
Find out more on the event's Facebook page.
Britain's Ocean City Half Marathon, Plymouth – 19 June, 2022
Britain's Ocean City Half Marathon offers a challenging and scenic 13.1 mile course taking in Plymouth's famous landmarks.
For full details and to book your spot visit the Run Plymouth website.
Meet…..Colin The Crab at The Box, Plymouth – 19 June 2022
Colin stole our hearts with its giant toothy grin when it was acquired for the collection at The Box in early 2020. Meet by the Welcome Desk to hear more about the popular Martinware crab and to learn why it's one-of-a-kind.
Find out more at The Box Plymouth website.
Immersive family shows at Market Hall, Plymouth – 17 – 26 June 2022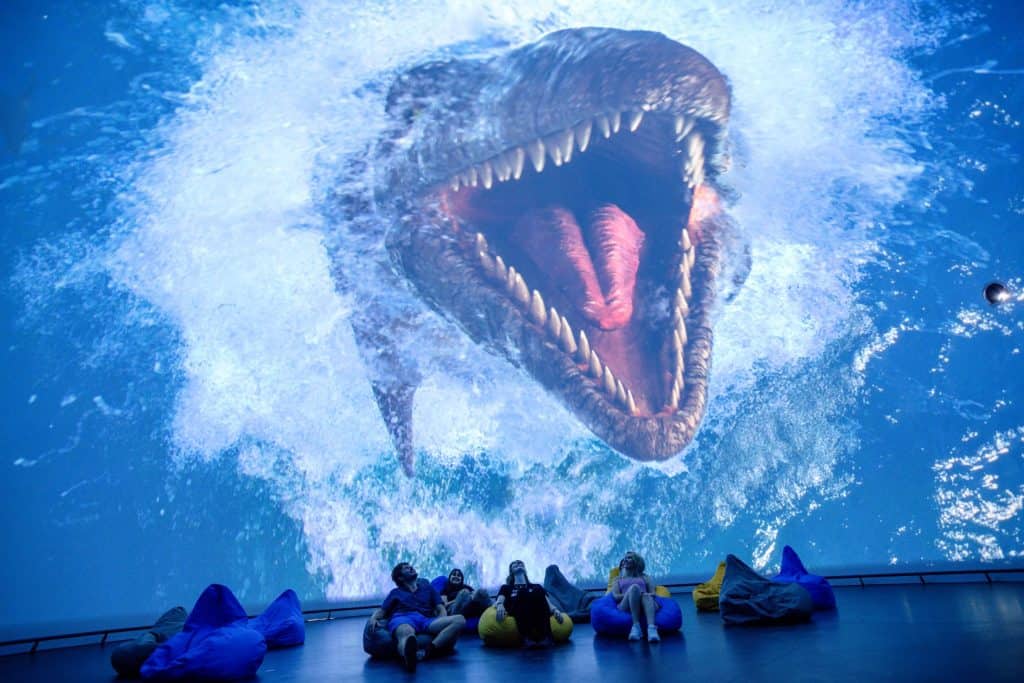 Enter the immersive dome at Market Hall in Devonport for a series of family-friendly 360 degree shows this month.
The dome here is the largest in Europe and gives visitors a full-scale virtual reality experience without having to don a headset.
This month you can book tickets for:
Astronaut – Experience a rocket launch from inside the body of an astronaut. Explore the amazing worlds of inner and outer space, from floating around the International Space Station to manoeuvring through microscopic regions of the human body – 17 June 2022 and 25 June 2022
CAPCOM GO! The Apollo Story – On July 20 1969, 600 million people around the world gathered to witness a historic moment of human achievement broadcast live from the Moon. These Apollo 11 astronauts were just two of nearly 400,000 people who had worked over ten years towards this goal.nBut how did they do it? What did it take to put humans on the Moon? – 17 June 2022 and 24 June 2022
We Are Stars – Explore the secrets of our cosmic chemistry and our explosive origins. Connect life on Earth to the evolution of the Universe by following the formation of Hydrogen atoms to the synthesis of Carbon, and the molecules for life narrated by Andy Serkis – 18 June 2022
The Search for Extraterrestrial Intelligence – Explores all sides of this topic, from the planets we are finding around other stars, to the feasibility of travelling to these stars. – 18 June 2022 and 26 June 2022
Sea Monsters – travel back in time to when dinosaurs roamed the seas and meet Dolly – a curious and adventurous dolichorhynchops – 19 June 2022 and 25 June 2022
Market Hall has introduced a flexible payment system where you can 'pay as you feel' making its events accessible to all.
Find out more about what's on at Market Hall.
I Wonder at The Box, Plymouth – 21 – 28 June 2022
Visit The Box, Plymouth in order view it through your childs eyes! Pop in and visit these fun sessions with your one to four year olds.
Visit The Box Plymouth website to get more details and to book tickets.
Dinosaur World Live at Northcott Theatre, Exeter – 24 – 26 June, 2022
Dare to experience the dangers and delights of Dinosaur World Live in this roarsome interactive show for all the family.
Grab your compass and join the show's intrepid explorer across uncharted territories to discover a pre-historic world of astonishing (and remarkably life-like) dinosaurs.
Find out more and book tickets on the Northcott Theatre website.
Coldridge Village Fete, Vintage Rally, Flower Festival and Dog Show – 25 June 2022
This biennial charity event in Mid-Devon aims to offer a great day out for families of all ages, with the 2022 fete seeking to celebrate the best of Mid-Devon community & spirit that got our local communities through COVID-19. Kids 16 and under will get in for free.
Visit the Coldridge Parish Website for more information.
Water Wipeout Weekend at The Bear Trail – 25 -26 June 2022
For this weekend only, The Bear Trail will transfer into the ultimate Water Wipeout, perfect for all ages! With limited edition water activities and obstacles to slip and slide around, it will be a weekend that you won't want to misspend no one is getting out dry!
To book tickets, visit The Bear Trail website.
Meet…Gus Honeybun at The Box, Plymouth – 26 June 2022
Augustus Jeremiah Honeybun was the station mascot for Westward Television and Television South West from 1961 until 1992 and was hugely popular with young and old alike.
Come and meet at the Media Lab to discover more about the cheeky bunny whose winks, hops and magic buttons have become the stuff of Westcountry legend.
Find out more at The Box Plymouth website.
Devon County Show, West Point, Exeter – 30 June – 2 July, 2022
This is Devon's largest agricultural show with a full programme of activities and entertainment throughout the weekend. Marvel at monster trucks, sample local ales, and cheer on sheep dog displays.
Families with young children will enjoy the petting farm, fairground and countryside activities, like making bees wax candles.
To check out the full weekend programme on the County Show website.
Do you know of an event happening in June that's not on this list? Drop me a line or comment below.
More things to do in Devon this June
There's never a dull moment here in the West Country and with the vast majority of Devon attractions now open – hurrah – it won't be hard to fill your days with fun.
Here's some of my top picks for the best days out in Devon for families this month:
Crabbing in Devon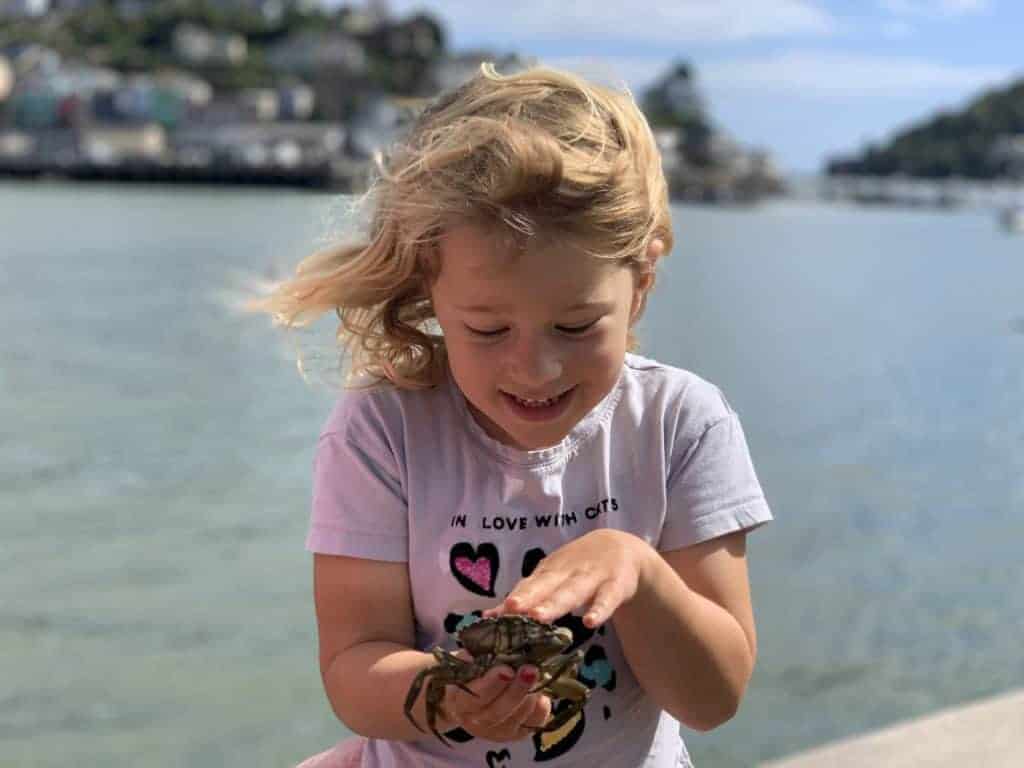 Summer is nearly here and the crabs are biting. Find all the top spots to drop a line in my guide to crabbing in Devon.
Visit an outdoor pool or splash park in Devon
Fingers crossed we'll be enjoying some glorious sunshine in Devon in June – perfect for visiting an outdoor pool or splash park.
Find out where they are in my guide to outdoor pools in Devon.
Things to do on wet days in Devon
Let's get real, some times we experience a touch of 'liquid sunshine' here in Devon. When the clouds gather check out my post to things to do when it rains.
Planning your days out in Devon this Summer? Use Pinterest to save this post about things to do in Devon in June 2022.