If you have Dino fans in your house then a visit to Torquay Dinosaur World is a must. It's a small indoor attraction in South Devon that's ideal for fact hungry kids and wet day fun.
Love Devon? Join the Devon with Kids Facebook group and subscribe to my newsletter!
About Dinosaur World in Torquay
Dinosaur World is an interactive exhibition with full-size and scaled dinosaur models, fossils, hands on activities and an eye-watering number of pre-historic facts to be absorbed.
Things to do
There's a lot of detail and information in every display making this a brilliant Devon attraction for dino enthusiasts.
For younger kids there's plenty to touch like dinosaur skin prints, interactive games and buttons that illuminate displays, well as sand pits where they can dig for fossils. There's also a small craft room where you can colour pictures and look through dinosaur books.
You are allowed to sit on some of the dinosaurs, put your head inside the jaws of a T Rex and measure yourself against a Brachiosaurus thigh bone. Signs tell you when it's OK to climb on.
Each family gets a quiz sheet when you arrive. It is a bit challenging with nearly 30 questions and some answers buried in display information. It's not one that young children can complete on their own and is best suited to kids aged eight and up. I wasn't the only parent scouring displays for facts so their children didn't miss out on a Dinosaur Expert Certificate at the end.
During the school holidays there are extra activities laid on.
There's something here for all ages but your time spent at this Torquay attraction will depend on the age and interests of your children.
My girls were six and eight-years-old when we visited this time. We spent 1.5 hours completing our quiz sheet and immersing ourselves in the world of pre-historic beasts. However I do remember whizzing around in half the time when the kids were aged five and three.
Handy things to know
There's low lighting and dinosaur noises around the exhibition. Young children may find parts a little scary.
You can bypass the T Rex area where there's life-sized skulls and a scene from Jurassic Park. But brave it if you can as you have to walk through this space to reach the best fossil digs and sand pit on the mezzanine level.
Nearly all the exhibition is on one level and pushchair accessible, except for that mezzanine.
Facilities
There are toilets, but these are only accessible down a set of stairs.
Dinosaur World doesn't have its own cafe but there are plenty of cafes and restaurants to choose from outside on Victoria Parade.
If you want to continue your dinosaur-themed adventure then the Dino Land diner is next door. It is separately owned but has dinosaurs and atmospheric music. We went a few months before our visit to Dinosaur World. The kids meals are a good price but we thought the adult meals were expensive for basic pub food.
Parking for Torquay Dinosaur World
Dinosaur World doesn't have its own parking. We used Beacon Quay Car Park, which is a five minute walk away. You can pay using cash or the Ringo parking app.
Alternatively there's a multi-storey car park at Fleet Walk Shopping Centre (I'd recommend not parking here if you have a large car as the ramps are very narrow), Harbour Car Park off Museum Road, and there's on street parking on Torbay Road.
Here's some more information about Torbay car parks.
Where is Devon's Dinosaur World?
It's easy to spot Dinosaur World – there's a couple of fearsome beasts guarding the entrance. Here's the postal address: 3 Victoria Parade, Torquay, Devon, TQ1 2BB
Got a while to stay? Here's our BIG guide to family holidays in Devon.
Dinosaur World prices
When we visited in November 2021 entry cost £6.95 for adults and children. Under twos go free. There are discounts for disabled visitors and their carers as well as military and NHS staff with ID
Check the website for the most up to date prices.
Opening times
Dinosaur World is open from 11am Saturday to Wednesday in the winter. Last entry is 3.30pm.
It's opening hours extend in the spring and summer. Check its website for the latest opening hours.
More things to do in Torquay
For more fun in the English Riviera check out my guide to things to do in Torquay including some of these other attractions we think are great for families:
You might also like to look at my guides to what to do in Paignton and things to do in Brixham which are also part of Torbay and the English Riviera.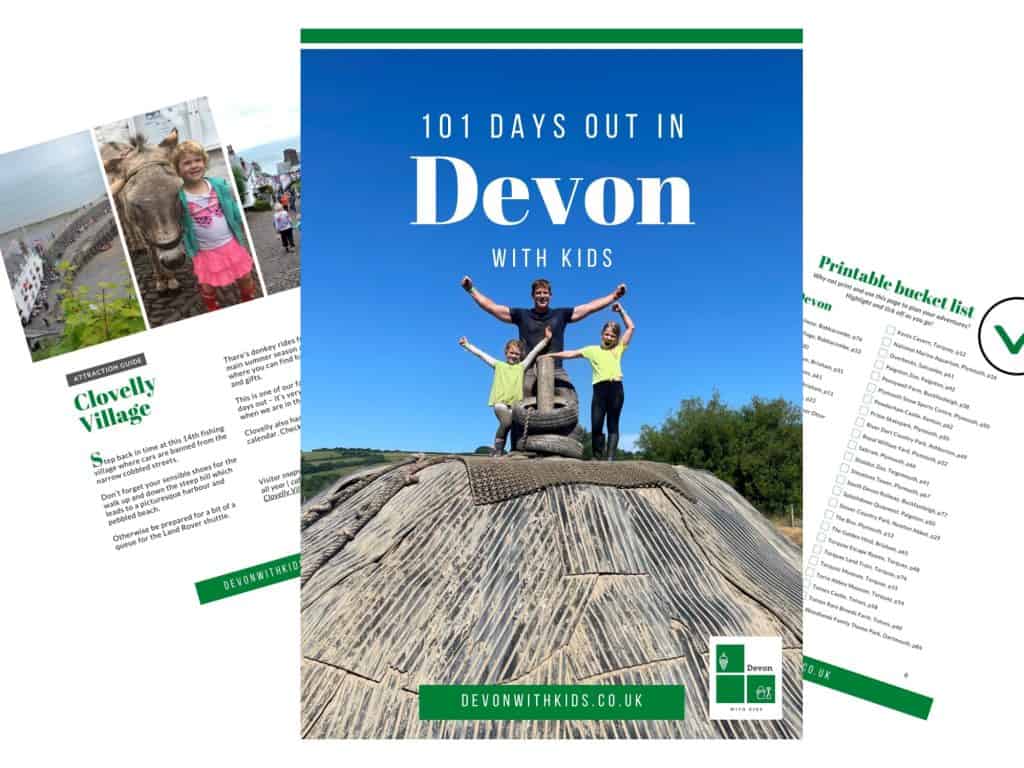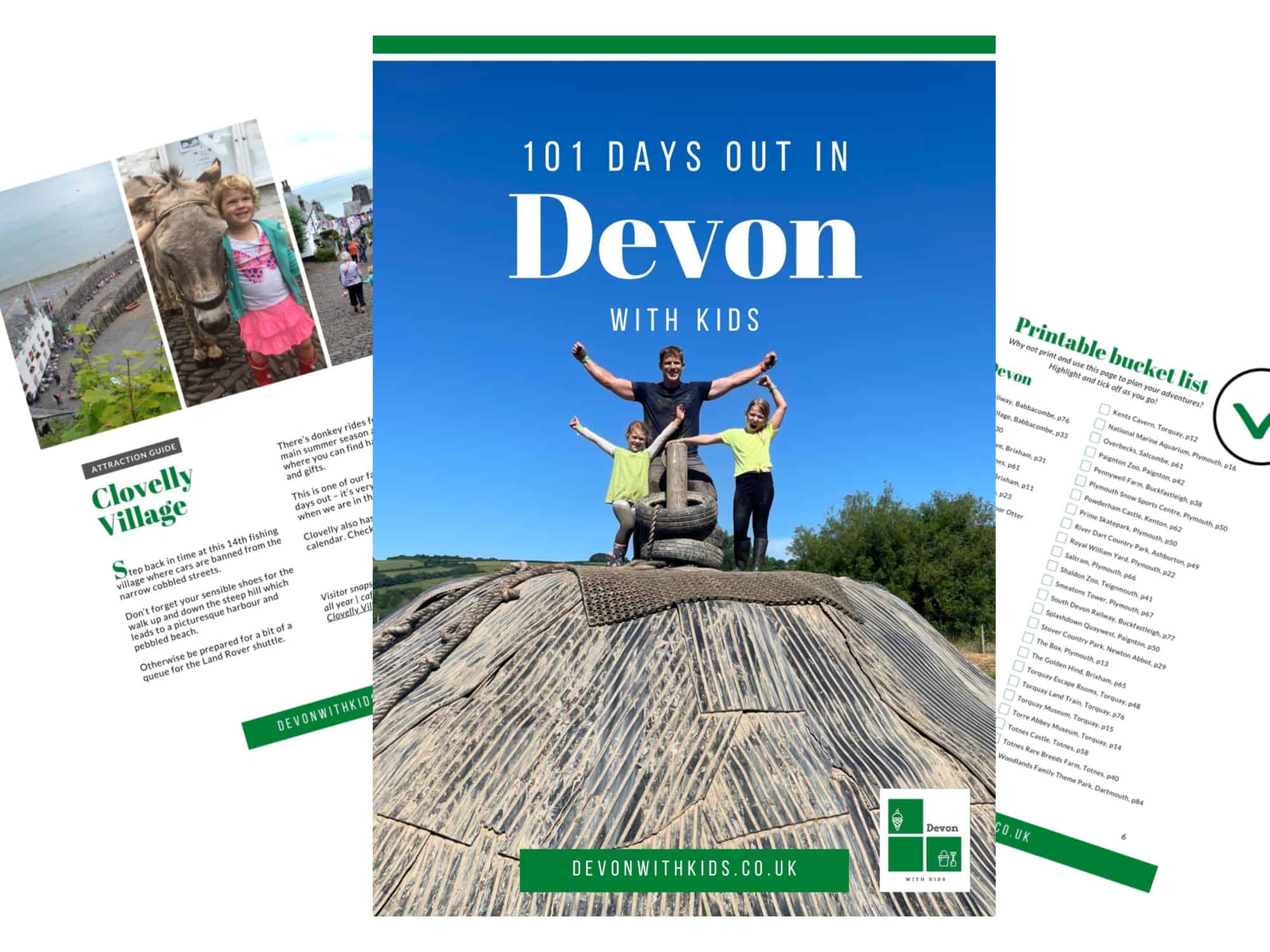 It's FREE!
Grab your copy of this guide to family-friendly things to do across the county, from coast to coast, in the cities, on the moors and whatever the weather.