Devon-themed printable activities for kids
If you live in Devon or are planning a trip here in the future you are going to love these Devon-themed printable activities for kids.
Keep your young people entertained at home or on the road with these word searches, puzzles, colouring pages and Devon quizzes.
Love Devon? Join the Devon with Kids Facebook group and subscribe to my newsletter!
Devon quiz
Find out more than 20 facts about Devon and take our quiz online or by downloading our quiz sheet to share with your family.
The insect-friendly folks at Quince Honey Farm have put together an educational quiz.
Maze puzzle sheets
Can you help our Devon characters find their way through our maze puzzle sheets?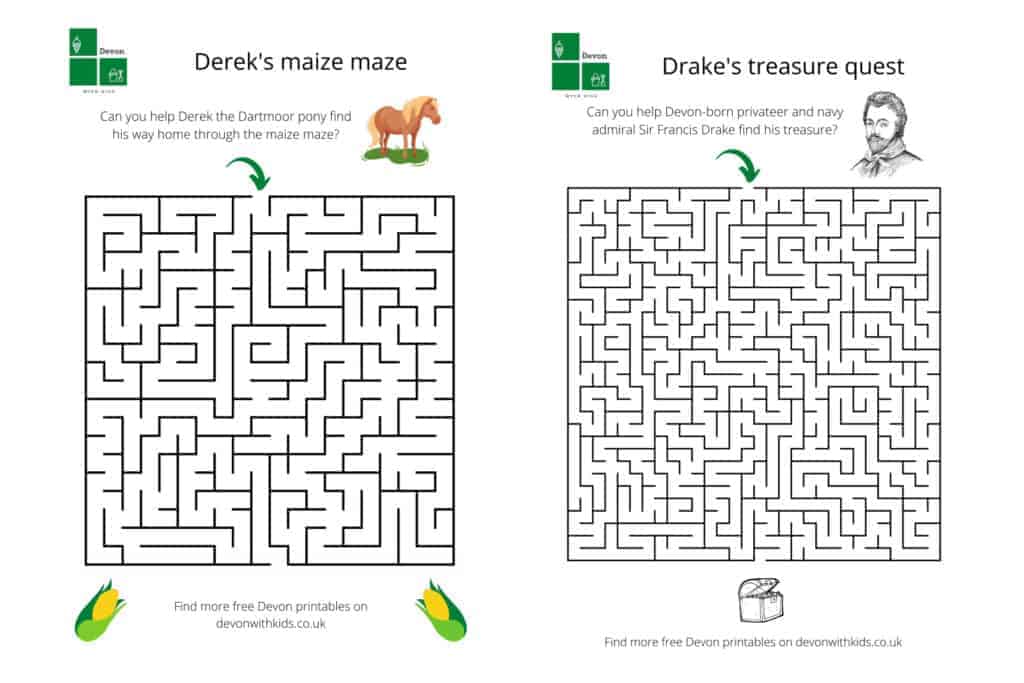 Download them here:
Word searches
My seven-year-old loves word searches so I've made some that are all about our home county to keep her entertained.
Download them here:
You'll find more Devon word searches and other downloadable activities on Love Topsham.
Devon crossword
Here's another one for you word fans. Download our Devon crossword for kids.
Colouring sheets
You can print countryside-themed colouring sheets from the Devon County Show website.
Arlington Court and the National Carriage Museum have spring time, carriage and postcard colouring sheets for you to print and colour.
Devon and Cornwall Police have lots of colouring sheets to download.
Zoo-themed printable activities for kids
Paignton Zoo has lots of educational activity sheets available for families to use at home so they can learn about different species and zoo life.
Stuck indoors? Take a look at our posts about things to do at home with kids and virtual ways to explore Devon.
Would you like more Devon goodies delivered to your inbox? Sign up to the Devon with Kids newsletter.
Why not save this post about Devon-themed printable activities for kids on Pinterest?