Plymouth – Devon's second city – famous for its gin, the Royal Navy and being the last stop for the Mayflower before the Pilgrim Fathers crossed the Atlantic. It's got history, heritage and culinary prowess in spades. But what is there to do here for families? Here's my guide to things to do in Plymouth with kids, including family attractions and places to visit in the city centre, on the waterfront and beyond.
Love Devon? Why not follow me on Instagram, join the Devon with Kids Facebook group and subscribe to my newsletter!
Planning a visit to Devon? Check out my big guide to family holidays in Devon.
Contents - jump to what you'd like to know
Visit The Box Plymouth
The Box is one of the free things to do in Plymouth. But what is it? The Box is an interactive arts and heritage centre that explores natural history, contemporary art and the city's maritime history.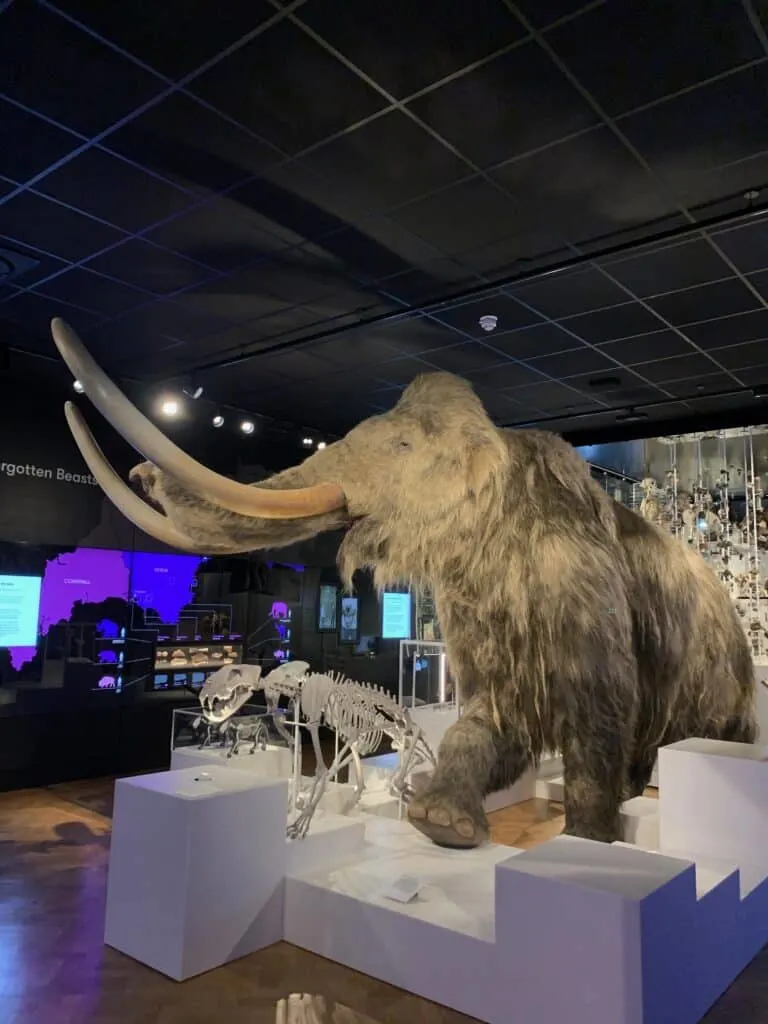 Far from being a stuffy museum, there's plenty to intrigue and inspire young visitors including a fleet of floating Royal Navy figureheads, a life-sized recreation of a wooly mammoth, cases of insects that you can step inside, and a TV studio where you can create your own film.
There's permanent and visiting exhibitions too.
Read my post about visiting The Box Plymouth and the best bits for kids.
Find out more about visiting The Box.
Go under the sea at the National Marine Aquarium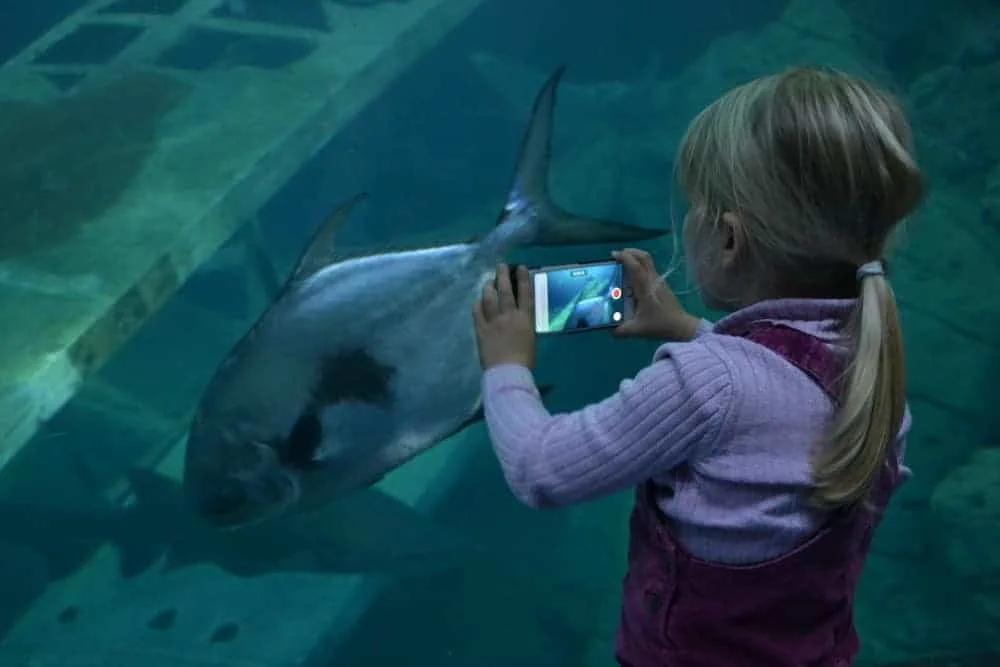 Did you know Plymouth boasts the UK's largest aquarium? The National Marine Aquarium is one of those places you could visit again and again. And with tickets being valid for 12 months from your first visit you can do just that.
The enormous tanks showcase species from UK waters, as well as the Atlantic Ocean and Great Barrier Reef.
As well as wandering around the aquarium at your own pace you can also see several daily shows and talks at the different tanks.
If you have older kids then I'd recommend trying to plan these into your day to get the most out of your experience. Please check what's currently possible with the Aquarium.
The NMA is a great day out with kids of all ages and one of the top things to do in Plymouth on a rainy day. It's also one of our top recommendations for things to do in Devon with toddlers as it's accessible and easy for little ones to peer into the enormous tanks.
Read my full guide to visiting the National Marine Aquarium Plymouth.
Find out more about visiting the National Marine Aquarium.
Have a immersive experience at Market Hall
New in 2021, Market Hall in Devonport now boasts the largest immersive dome in Europe and the second largest in the whole wide world, second only to SAT in Montreal, Canada.
So, what can you expect? Entering the dome and experiencing one of its epic shows is a little like having a full-scale virtual reality experience without having to don a headset.
There's a wide range of events and experiences for all the family, from arts and culture to outer space and sea monster experiences.
Shows last for up to 45 minutes and there's a 'pay as you feel' policy making this an accessible experience for all.
Find out what's on at the Market Hall immersive dome.
Find more indoor attractions in Devon for wet and wintery days.
Take a tour of the Royal Citadel
It's impossible to miss the fortifications on The Hoe that have stood here for 350 years.
The Royal Citadel was originally built to defend the city from Dutch invasion and keep an eye on restless locals. If only the walls could talk!
The Royal Citadel is still a working military base today, so access is by guided tours only. This might not be one to do with toddlers who want to explore for themselves, but it would be interesting for children curious about military history.
Find out more about visiting the Royal Citadel in Plymouth.
Climb Smeatons Tower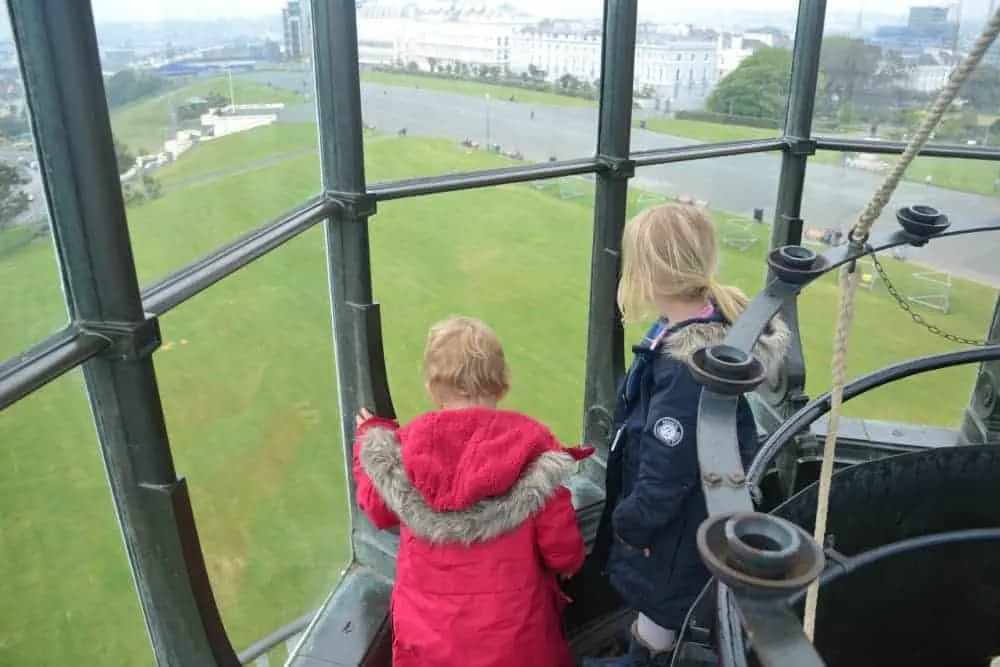 This iconic lighthouse is an unmissable landmark on Plymouth's seafront.
The Tower was completed in 1759 but not in its current location. It used to stand 14 miles away on Eddystone Rocks.
In 1882 Smeaton's Tower was replaced with The James Douglass Light, which still stands on the rocks today. But rather than demolish and lose the iconic tower built, it was relocated brick by brick to The Hoe.
It is possible to climb the steep stair cases and ladders of the lighthouse for an incredible view from the top.
Smeaton's Tower is open weekends and school holidays.
Take a look at my full guide to visiting Smeaton's Tower with kids.
Find out more about visiting Smeaton's Tower.
Enjoy some outdoor theatre
Experience an interactive theatre show by Stiltskin's Soapbox Children's Theatre in Devonport Park. This independent arts group puts on family-friendly shows all year round.
See the latest programme of shows and buy tickets for the Stiltskin's Soapbox Children's Theatre productions.
Hang out at Royal William Yard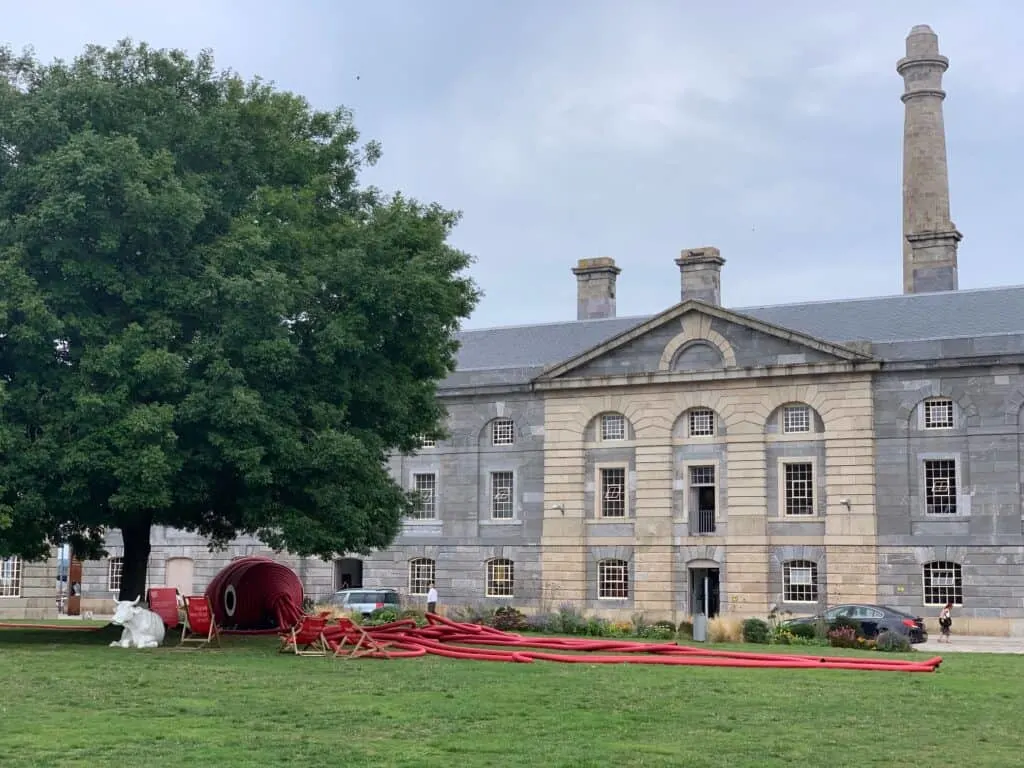 This former Naval victualling yard in Plymouth is a fantastic place to eat, see art, shop and play. Events are also held here throughout the year. Our favourite is Illuminate (see events below).
You can also take a dip in the tidal pool next to the yard, spot all kinds of ships from the harbour wall, take a history tour, book a boat trip or have a paddle boarding lesson with South West SUP who are based here.
Find out more about visiting Royal William Yard.
Walk a free city trail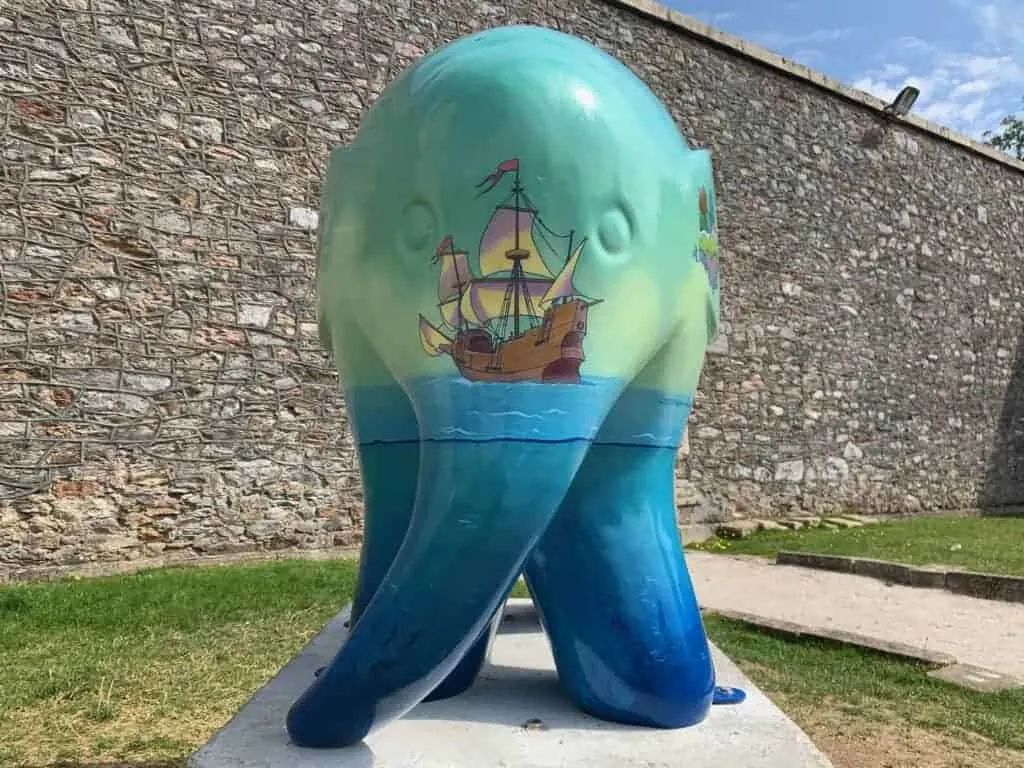 One of my kids' favourite things to do in Plymouth are the free city trails that take place regularly. In recent years we have searched for polar bears and Elmer the elephant.
The latest is the Royal William Yard Geo Trail which takes you back through time to learn what Plymouth was like 380 million years ago. Pick up a free printed Geo Trail guide from the welcome suite at Royal William Yard's Gatehouse.
Keep an eye on the Visit Plymouth website for information about more trails.
Play at Central Park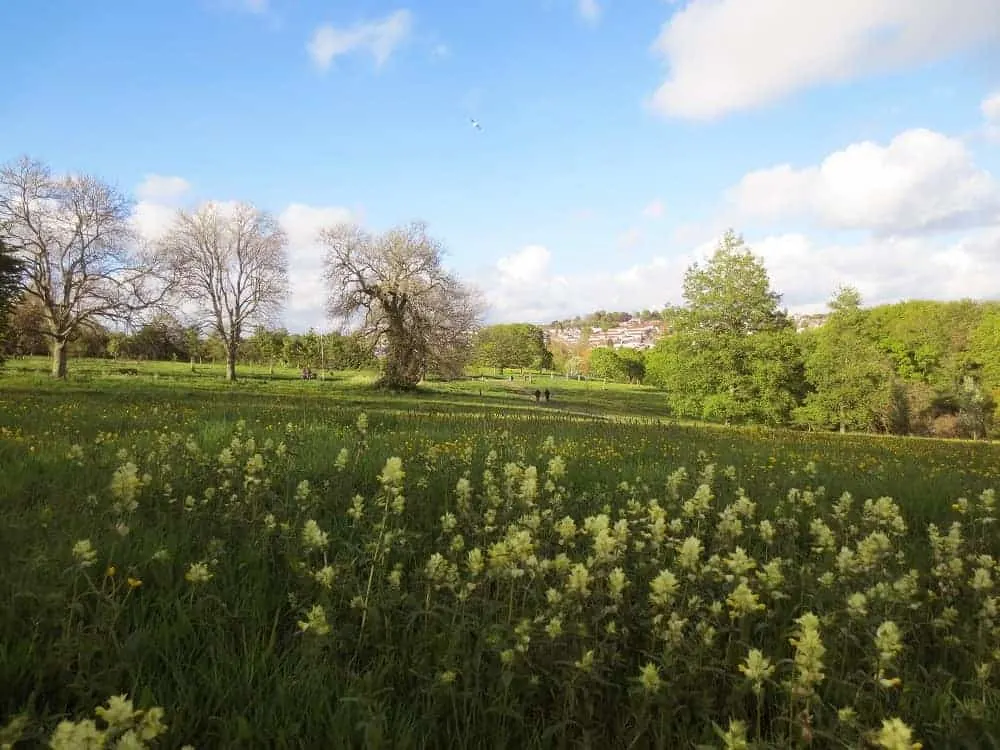 Central Park isn't just one of Plymouth's green lungs of open space. There's also lots of fun activities to do here; from the Play Space adventure playground and a golf centre where you can pitch n putt or book foot golf, to the sports courts and skate park.
The park also has a cafe and toilets.
Find Central Park: PL3 4HQ
Find more parks with adventure playgrounds in Devon.
Grab some fresh air at Devonport Park
This is a fun place to head if you're looking for an outdoor space in Plymouth. There's a children's play area, football fields, tennis courts and wildflower meadows. Hang out, play a ball game and have a picnic with your family.
There's also a cafe and toilets in the Pavilion.
Find Devonport Park: PL1 4BU.
Picnic and play on The Hoe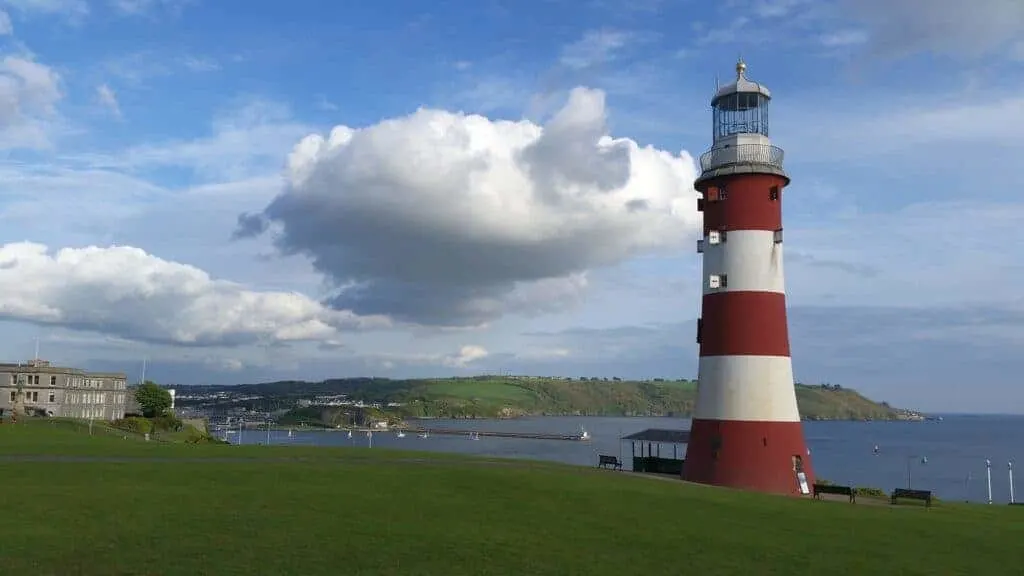 Another great place to enjoy a picnic is Plymouth Hoe. There's plenty of space to roll out a blanket and enjoy a prime view of Plymouth Sound.
Also here is the Putters on the Hoe mini golf course, a sensory garden and many memorials to past conflicts that have impacted the people of this maritime city.
Find The Hoe: PL1 2PU
Play at West Hoe Park
For a fun diversion off Plymouth Hoe visit West Hoe Park where you'll find an adventure playground open all year round, miniature train, amusements and a crazy golf course.
Find West Hoe Park: PL1 3BT
Here's even more outdoor spaces in Plymouth to enjoy with your kids.
Play a round at Paradise Island Golf
This indoor adventure golf attraction at Drakes Circus is an ideal activity for those wet days in Devon. Paradise Island Golf has two 18 hole adventure golf courses across 16,000 sq/ft of tropical themed space.
Find out more about Paradise Island Golf.
Heres more ideas for things to do in Devon when it rains.
Take a dip at Tinside Lido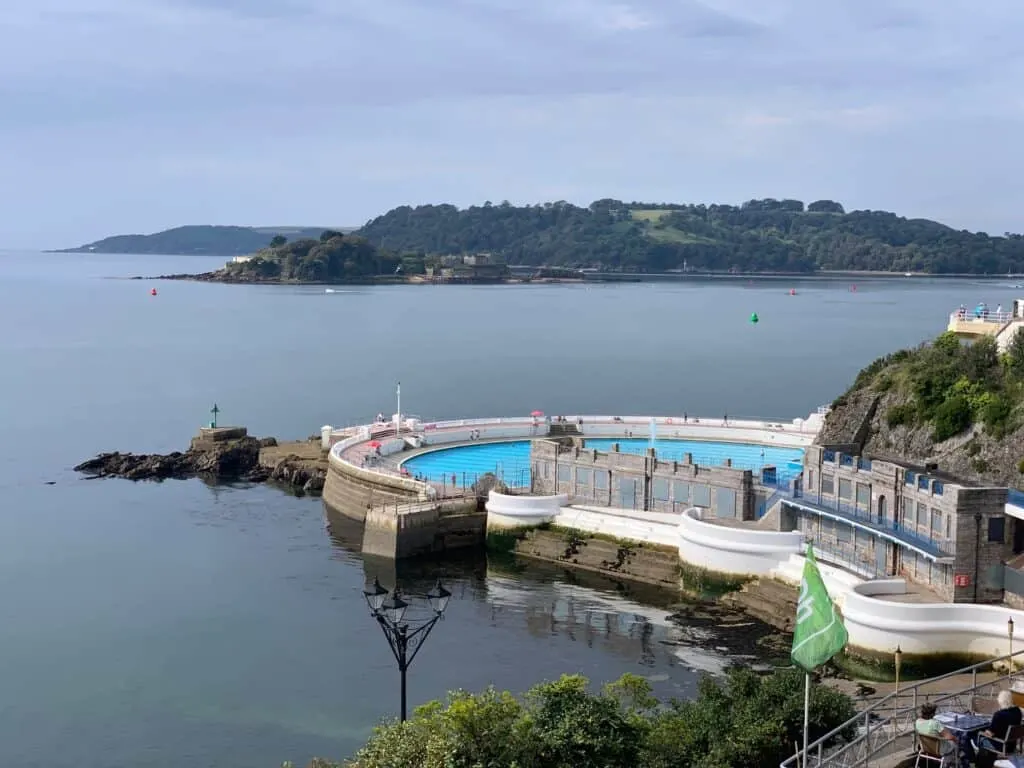 Outdoor pools don't get much more inviting than Tinside Lido on Plymouth Hoe. This Art Deco lido has been voted in Europe's top 10 of outdoor pools. And with view like this it's no surprise.
This salt water pool and sun deck are open during the summer months.
Find out more about taking a dip at Tinside Lido on The Hoe.
Find more outdoor pools and splash parks in Devon.
Go on a boat trip
Take a boat trip from Stonehouse or the Barbican to see Plymouth, the Tamar and Cornish coast from the water.
Find out more about boat trips in Plymouth.
Clip 'n Climb Plymouth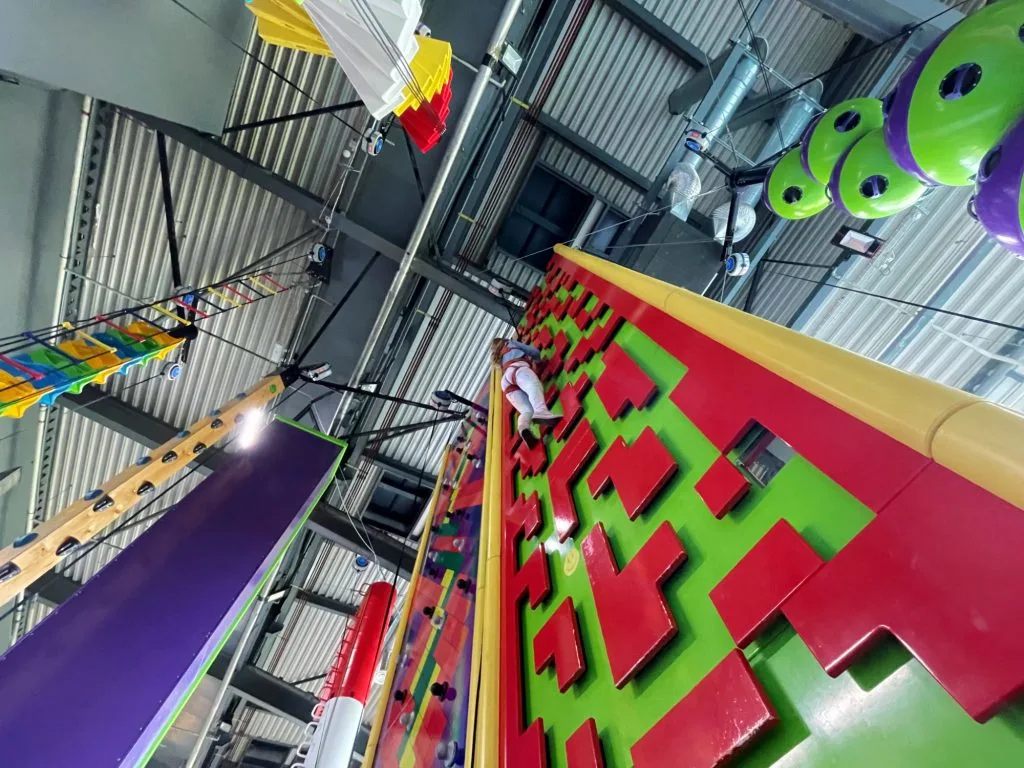 Clip 'n Climb has climbing walls, obstacles and challenges for children as young as two. There's soft play for tots under four-years-old and an onsite cafe. Oh course, this is also a great activity to do with teens.
This climbing centre is just outside Plymouth in Derriford.
Find out more about visiting Plymouth Clip 'n Climb.
Looking for more ways to entertain teenagers? Here's some suggested days out with teens in Devon.
See a film at a cinema in Plymouth
If you run out of things to do in Plymouth on a rainy day then head to the cinema:
Go bowling in Plymouth
Another boredom buster on a wet day is bowling. You'll find an alley at Tenpin Plymouth.
Take to the water at Mount Batten Water Sports
Have a go at family kayaking, stand up paddle boarding and Giant SUP at the Mount Batten Water Sports Centre.
Find out about all the activities available and book your session.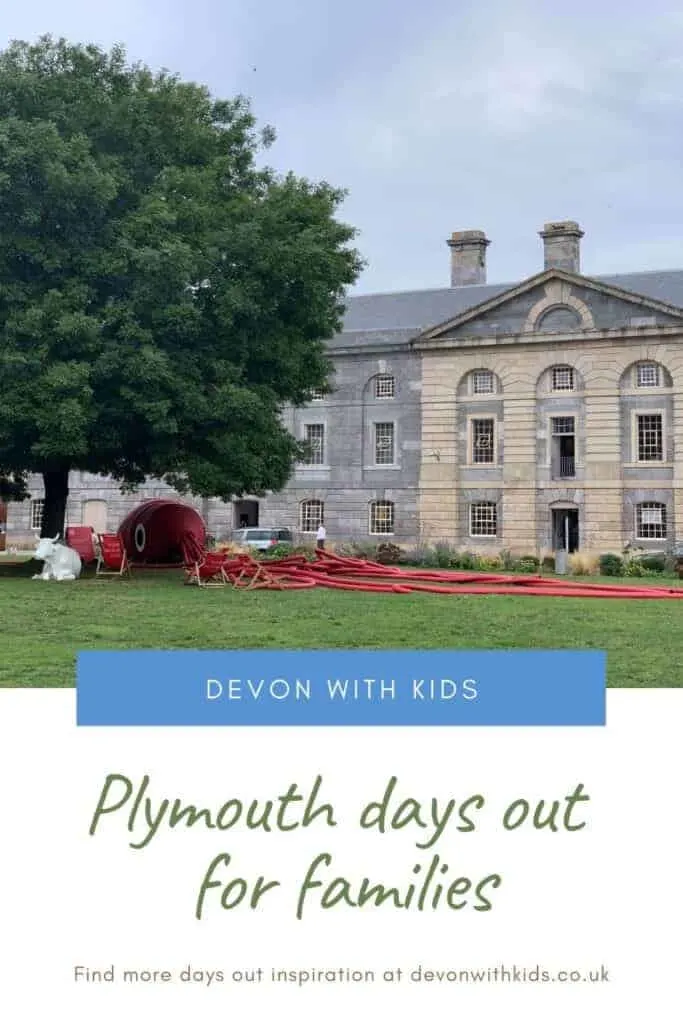 Dive into soft play in Plymouth
Here's your go-to soft play centres in Plymouth to entertain young children:
Try indoor skateboarding in Plymouth
Prime skatepark is an indoor skating facility made up of a series of bespoke wooden ramps and a street section set in three warehouses.
The first room features a 33ft long mini ramp which is 4.5ft high with 6ft extensions at the far end, a 10.5ft roll-in to a foam pit and a sound proof hut for chilling.
The skatepark has been undergoing a refurbishment so check opening times before you visit.
Here's all you need to know about Prime skatepark.
Have an indoor adventure at Adrenalin
If your kids love trampolines, inflatables and soft play then Adrenalin in Derriford is a great option for rainy days.
Find out more about Adrenalin.
Bounce at Super Tramp
For pure indoor trampling heaven then check out Super Tramp in Plymouth. Sessions are available for tots as well as tweens and teens.
Find out more about Super Tramp in Plymouth.
Explore Saltram National Trust in Plymouth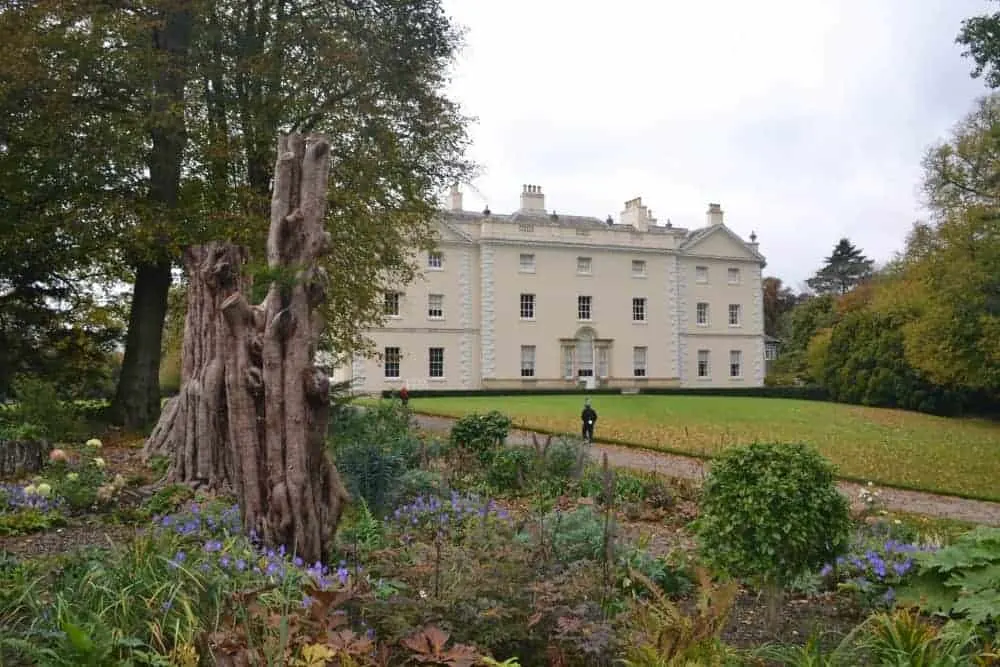 Saltram is a great National Trust property on the edge of Plymouth with a beautiful house to explore, a den building area, woodland walks, a pump track and children's trails.
If you and your family enjoy looking around historic places Saltram is one of Britain's best preserved Georgian houses. Before the current stately home was built there stood a Tudor Manor on the site.
Find out more about visiting Saltram.
Discover Buckland Abbey near Plymouth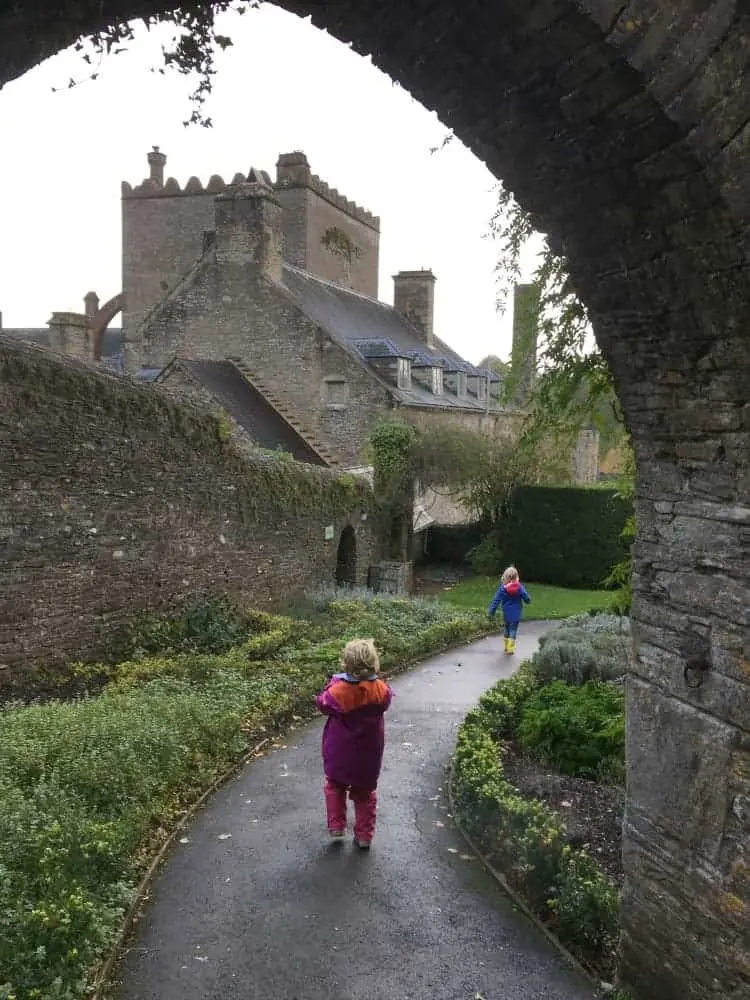 Another National Trust property that oozes Plymouth history is Buckland Abbey in the edge of Dartmoor. It was once the home of Sir Francis Drake and has plenty of maritime treasures on display.
There's also an orchard, regular exhibitions in the Great Barn and a display in the attic about life onboard ship in Tudor times. Kids can dress up in Tudar garb too.
Outside the Abbey there's woodland paths which are among some of our favourite easy walks on Dartmoor.
Find out more about visiting Buckland Abbey.
Ski in Plymouth
If your kids love winter sports then they can do them all year round at Plymouth Snow Sports Centre. There's skiing, snowboarding, tubing and tabboganning down this dry ski slope on the outskirts of the city.
Plan your ski centre adventure.
Cycle or hike the Plym Valley Trail
This gentle cycle and walking route from Plymouth to Dartmoor is an easy one to do with kids. It takes you from Plym Bridge Woods, past the disused sites of Cann and Bickleigh Vale quarries and on to Dartmoor National Park.
Find the start of the trail at Plym Bridge Woods National Trust car park: PL7 4SR.
Go wild at Dartmoor Zoo
This zoo was made famous world-wide by the American film 'We bought a zoo' and offers animal talks, encounters and displays across its 33 acre woodland park in Dartmoor National Park.
Find out more about visiting Dartmoor Zoo.
Play crazy golf at China Fleet Club
Not far into Cornwall and very close to Plymouth is the China Fleet Club at Saltash. Here there's 18 holes of crazy golf fun in a new woodland themed course.
Once you've played a round we can also recommend popping into the Brasserie for breakfast, lunch or dinner.
Find out more about Woodland Adventure Golf.
Explore Mount Edgcumbe House and Country Park
Also just across the border in Cornwall is Mount Edgcumbe. This has an abundance of things to do near Plymouth including segway, archery, water sports and a miniature railway, as well as woodland trails and 7km of coast to explore.
That's not to mention the house which is the ancestral home of the Earls of Mount Edgcumbe in which you can discover the family's treasures and dress up in Tudor costumes.
Find out more about activities and visiting Mount Edgcumbe.
Here's some more places to visit in Cornwall.
Find the best beaches near Plymouth
One of our very favourite things to do in Devon is visit the beach. There isn't a beach as such in Plymouth but you can get into the water around The Hoe.
If you want a proper beach drive 20 minutes outside the Plymouth and there are plenty of wonderful South Devon beaches. Wembury and Bovisands are the closest.
Alternatively get the ferry from Stonehouse and visit Barn Pool at Mount Edgcumbe.
You'll find more beaches and things to do with kids in the South Hams.
Events in Plymouth 2023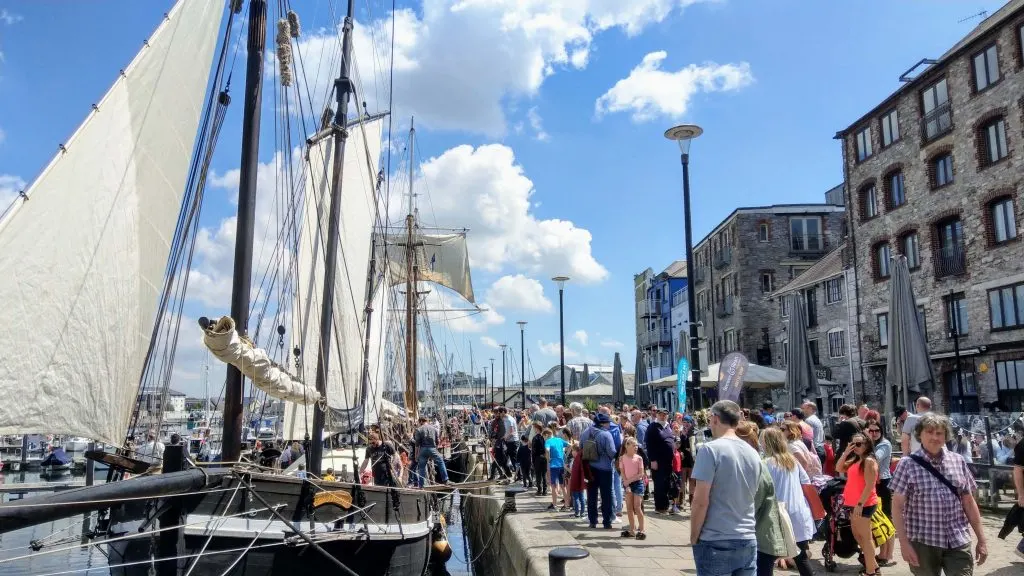 There's a vibrant programme of events in Plymouth each year.
Here's taster of what you can expect:
Where to eat
Looking for family-friendly places to eat in Plymouth? Here are some cafes and restaurants that come highly recommended by the members of the Devon with Kids Facebook group:
Do you have a favourite place to visit or know of other things to do in Plymouth that aren't mentioned here? Let me know.
Would you like more Devon goodies delivered to your inbox? Sign up to the Devon with Kids newsletter.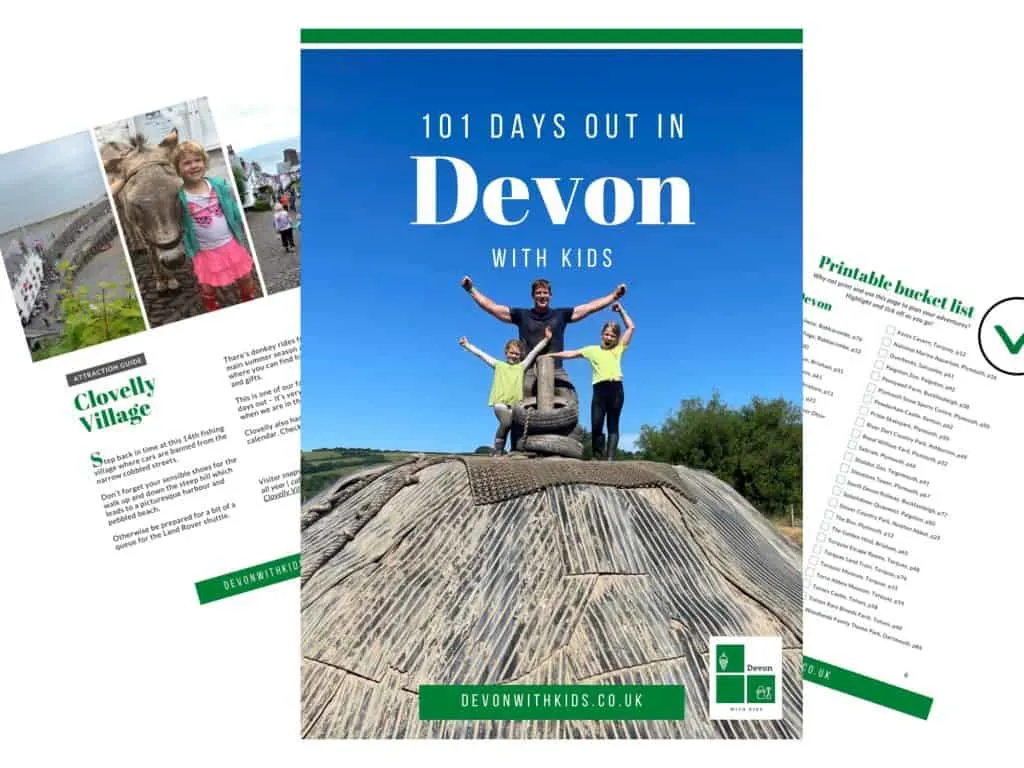 It's FREE!
Grab your copy of this guide to family-friendly things to do across the county, from coast to coast, in the cities, on the moors and whatever the weather.
Planning your family days out in Plymouth? Why not hop over to Pinterest and save this post about things to do in Plymouth with kids.