July is a blooming great month to get out to Devon family attractions, beaches and country walks. This post rounds up places to visit in Devon in July 2021 as well as what's on for families. So, if you're looking for things to do this summer, start here!
Staying a while in Devon this summer? Check out what's coming up in August.
Also take a look at my round up of what's happening in Devon this weekend.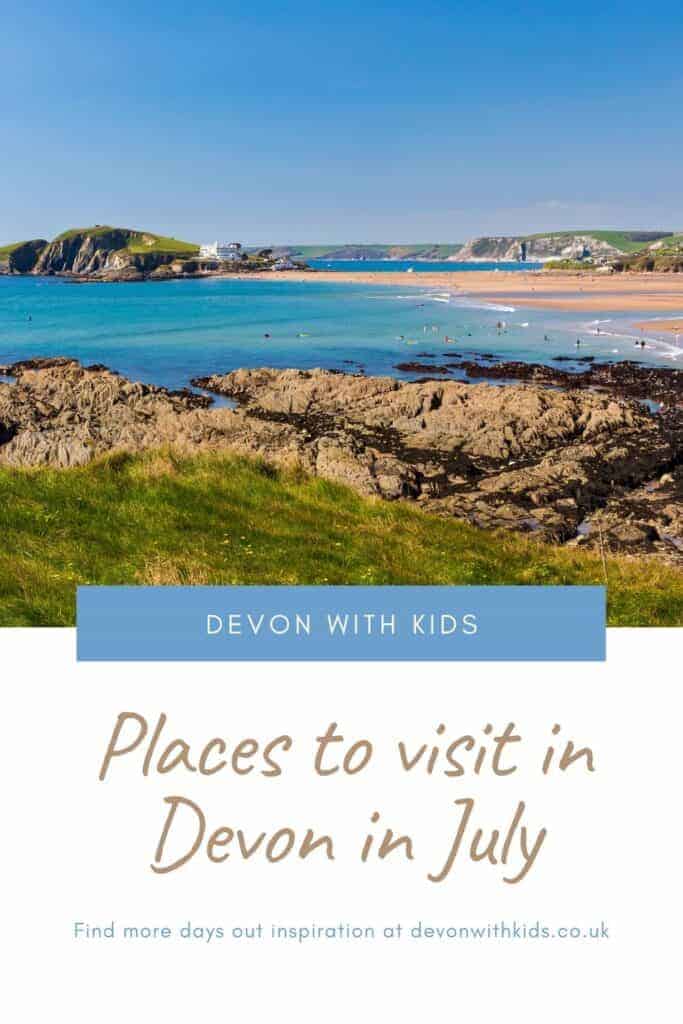 Love Devon? Join the Devon with Kids Facebook group and subscribe to my newsletter!
What's on in Devon this July?
Here's the brilliant Devon events and activities being laid on for families this month:
Rose Festival, RHS Garden Rosemoor 25 June – 18 July 2021
Celebrate England's iconic flower in the largest rose gardens in the Southwest.
Follow the rose trail through the garden to discover over 200 varieties.
Find out more and book tickets.
Day out with Thomas at South Devon Railway – 2 – 4 July 2021
Join Thomas & Friends for a day of family fun at the South Devon Railway. Take a train ride with Thomas, meet The Fat Controller and join Sodor Station Sweepers Rusty & Dusty for a trainload of excitement.
If you can't make it to South Devon this weekend, Thomas returns from 24 to 26 September 2021.
Find out more and book a Day out with Thomas.
Devon County Show – 2 – 4 July 2021
The 125th Devon County takes places at Westpoint Exeter with livestock competitions, Devon's biggest food fair, arena shows, vintage vehicles, arts and crafts and plenty of exhibits about farming life.
Kids go free on Saturday and Sunday!
Find out more and book tickets.
Falconry Weekend at Buckland Abbey – 3 – 4 July 2021
Step back in time with the Tudors at the National Trust's Buckland Abbey in Dartmoor this weekend.
The Tudors were passionate about the sport of English Falconry, but none more so than King Henry VIII who was often absent from Court because he had gone hawking.
Throughout the weekend, Raphael Historic Falconry will delight audiences with period falconry displays on the Abbey lawn. There are three displays on both days of this socially-distanced outdoor event.
Learn about the sport and passion of Henry VIII and Renaissance Kings and Queens who used the power of falconry for personal gain.
Booking is essential to attend this event. Usual admission applies and National Trust members get free entry.
Find out more and book your visit.
Music in the Meadows – 3 July 2021
There's going to be a bumper weekend of music fun and footy at Goren Farm in Stockland, Honiton.
Expect delicious local food, guided farm walks, nature trails and plenty of chilling out in the meadows. The music will start at 12pm and finish at 8pm.
Camping pitches are available with hot showers and compost loos in the meadows.
Find out more and buy tickets for Music in the Meadows at Goren Farm.
Outdoor cabaret at Goren Farm – 4 July 2021
The Bluebird Theatre Company will be staging a family-friendly music and cabaret show at Goren Farm in Stockland, Honiton.
Come and experience the magic of The Popera House with a unique and crazy mix of music in a beautiful setting. Music starts at 2pm and the performance gets underway at 5pm.
Find out more and buy tickets.
Robin Hood at Stone Lane Gardens – 8 July 2021
Visit Stone Lane Gardens in Chagford, Dartmoor, for an outdoor performance by travelling theatre company The Three Inch Fools.
This family-friendly show on Thursday 8n July will be a light-hearted and fun-packed production, ideal for children and adults of all ages.
Doors open at 6pm. Bring a picnic, chair, rug and suitable clothing for the day's weather conditions.
Find out more and book tickets.
Paulos Circus at Darts Farm 8 – 25 July
The circus is coming to Darts Farm at Topsham this summer. The Paulos team promise acrobatics, stunts and comedy under the big top.
Find out more about the show and how to get tickets.
Robin Hood at RHS Garden Rosemoor – 10 July 2021
The Three Inch Fools are bring a calamitous new production of Robin Hood into RHS Rosemoor with the garden's very own woodland as the backdrop.
Find out more and get tickets.
Colourscape at Budleigh Music Festival – 10 – 11 July 2021
Colourscape is a unique, walk through experience of colour, light and music perfect for all ages (and especially popular with little ones) that will be popping up on Budleigh Green this weekend
There is limited availability, so book your tickets in advance.
SailGP in Plymouth, 17-18 July 2021
One of the world's most impressive sailing events, SailGP will stop in Plymouth in 2021, following events in San Francisco and New York.
Plymouth has been selected to host SailGP's Season 2 European debut when the global league's events restart in 2021.
SailGP is an annual, global sports championship featuring bold, cutting-edge technology and awe-inspiring athleticism. It attracts some of the best sailors in the world, including Sir Ben Ainslie, the most successful Olympic sailor of all time, who will lead the British team.
All of this will be available for spectators to watch live from Plymouth Hoe and the waterfront. You can expect to see capsizes, extreme sail racing speeds and high adrenaline competition between each nation as they race close to the shore in Plymouth Sound.
For more information about SailGP coming to Plymouth check the Visit Plymouth website.
Horrible Histories: Gorgeous Georgians & Vile Victorians at The Big Sheep – 18 July 2021
Are you ready to swing with a Georgian king? Can you see eye to eye with Admiral Nelson? Does the Duke the Wellington get the boot? Dare you dance the Tyburn gig? Head to see Horrible Histories at The Big Sheep!
This family-favourite TV show is brought to life on stage with actors and amazing 3D special effects.
Find out more and book tickets on The Big Sheep website.
Mid-Devon Show, Knightshayes, Tiverton – 24 July 2021
In 2021 the show will be in its 26th year and offers an award-winning combination of ringside entertainment, countryside history and livestock competitions. There's also plenty of local traders selling Devon delicacies, crafts and gifts in the grounds of this beautiful National Trust estate.
Parking is free and dogs are welcome on a lead.
All the latest event information is available on the show website.
South Devon Maize Maze – 24 July onwards
Discover a sea creature lurking in the maize fields near Palegate roundabout between Chruchstow and Kingsbridge from Saturday 24 July.
This creature from the deep is the outline of the route through a maize maze. Navigate your way through the pathways and spot clues along the way to help you find your way out!
The maze will be open every Friday, Saturday, Sunday and Monday throughout the summer. If you feel peckish during your adventure, Proper Moorish will be providing breakfasts, lunches, cream teas and ice creams on site.
Find out more on the South Devon Maize Maze Facebook page.
Chagstock, Dartmoor – 24-25 July, 2021
Chagstock is a family-friendly festival in one of Devon's most stunning locations – Dartmoor. It also attracts top acts like Seasick Steve and Scouting for Girls who are headlining in 2021.
For more information and tickets visit the festival website.
Dartington Music Summer School and Festival – 24 July to 20 August 2021
There's is a full programme of concerts, free events, family workshops and performances at Dartington this summer.
New for this year is a programme of family friendly and free events which will open up the world famous Summer School to an even wider audience. A series of special relaxed concerts will run, allowing for noise and movement.
Included in these is 'Revolting Rhymes & Marvellous Music' – a musical exploration of Roald Dahl's darkly clever tales and pianist Florian Mitrea playing music by Mozart, including his charming variation on 'Twinkle, twinkle little star'.
Family workshops are also running throughout the four week period, aimed at a variety of ages from babies to teenagers, including Soundscreative Lab with Tara Franks and a children's choir, which will culminate in a performance of brand new commission, JOY!
Part of this is Free Festival Fridays – every Friday while the Summer School is on, a full day of live music will take place where the whole family is welcome.
Expect a variety of musical happenings including processions, singing under trees, brass fanfares, folk sessions and much more. The full Festival Friday programme will be posted on our website the day before – or people can just turn up and be surprised – and it's completely free.
Find out more on the Dartington website.
Wonderland event at RHS Rosemoor – 24 July – 5 September, 2021
This summer, families will be transported to Alice's Wonderland at RHS Rosemoor Gardens in Torrington this summer.
The RHS has partnered with Macmillan Publishers to celebrate 150 years of the iconic and classic stories Alice's Adventures in Wonderland and Through the Looking Glass and What Alice Found There.
Wonderland will be brought to life throughout the summer holidays. Visitors will be able to view the gardens through the eyes of Alice, encountering topsy-turvy installations along the way. Sneak through the rabbit hole, peek through the door in the tree and transform into a Queen (or King) of Hearts.
On 24 July itself there will be a fantastical, family musical retelling of the classic tale by Boxtree Productions, featuring original songs, puppets and innovative story-telling.
Find out more about the Wonderland Trail at RHS Rosemoor.
Circus Skills workshop – 26 July 2021
Connect with your inner primal movement and learn how to dance like a circus artist in the air at workshops being held at The Flavel Arts Centre in Dartmouth, South Devon.
These two-hour circus skills workshops are designed for eight to 11-year-olds and 12 to 16-year-olds.
Find out more and book on The Flavel Arts Centre website.
Altitude Night Festival, Blackborough – 30-31 July, 2021 – SOLD OUT!
Altitude Nights follows in the footsteps of Altitude but will be on a slightly smaller and more intimate scale in 2021. Music will dominate the nighttime schedule with food, family activities and entertainment in the afternoons.
Find out more and buy tickets on the festival website.
Find out more about family-friendly festivals happening in Devon in 2021.
Vintage Weekend at RHS Rosemoor – 30 July to 1 August, 2021
Rosemoor are welcoming visitors back to one of their most popular events: Vintage Weekend.
This year, more than 150 vintage and classic cars, motorbikes, tractors and other agricultural machinery will be there, making it Rosemoor's largest ever display, elegantly presented on the gently sloping lawn in the Arboretum.

It's not just about vehicles, there is fun for all the family including a 1940's re-enactment with Second World War living history re-enactors, displays of machinery, artillery and field hospital tents. 1940s dress code is encouraged too as you enjoy the music and Lindy Hop dancing of a bygone era.
There will also be a classic Punch and Judy show and cream teas.
Entry to Vintage Weekend in included with tickets for RHS Rosemoor.
Sidmouth Folk Festival, Sidmouth – 30 July to 6 August, 2021
Sidmouth will be wash with music, dance and workshops for all ages during this four-day event. The dedicated children's folk festival is staged across three workshop venues with crafts, family-friendly shows and story times.
Find out more about the festival programme and children's festival activities on the website.
If you want to find out what's on at other times of the year take a look at my full Devon events guide.
Which Devon attractions are open in July?
Devon is packed full of great days out with kids and the great news now is that the vast majority are now open.
Please be aware many places will require booking in advance. Please check the latest information about each of these Devon attractions by visiting their websites before you travel.
Got a while to stay? Here's our BIG guide to family holidays in Devon.
Here's where to read more about family attractions in Devon:
If you are looking for family attractions in a specific part of Devon take a look at the destination guides in the main menu of this websites or in the side bar to the right.
More things to do in Devon in July 2021
Here's some more things to do around Devon this month:
Things to do on rainy days in Devon
We are due a heatwave in Devon this July, but if there is the odd wet days check out my post about things to do on rainy days in Devon.
Free things to do in Devon this summer
Days out can be soooo expensive. If you are looking for ideas I have a list of free things to do in Devon. Be aware that some attractions may not have reopened. Always check before you travel.
Moor Otters trail in 2021
If you are looking for a way to motive the kids on a Dartmoor walk in 2021 seek out the Moor Otters art trail.
From the Whitsun weekend. you can find more than 80 unique sculptures at businesses and family attractions around the National Park, including Canonteign Falls where you can meet the otter and pup above painted by Sarah Smith The Dartmoor Artist.
Find out more about visiting Canonteign Falls in the Teign Valley.
Find out more about where else to find these unique pieces of art work all over the National Park and surrounding area in my post about the 2021 Dartmoor Otters trail.
Visit a beach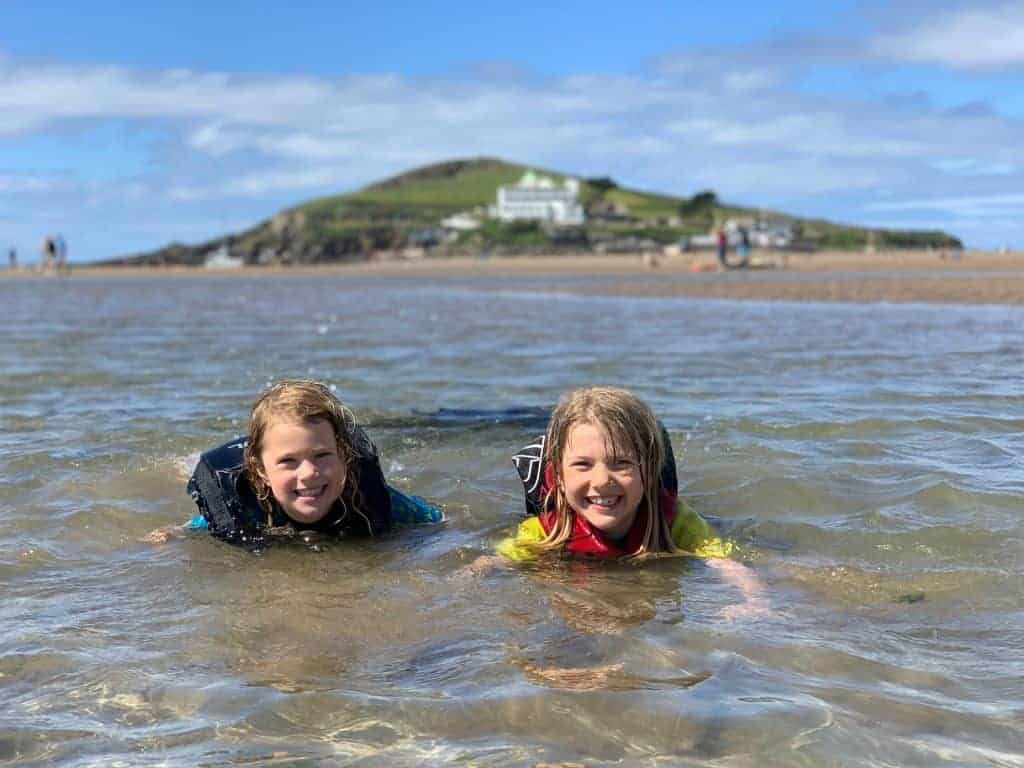 You can't visit Devon with kids and not go to the seaside. However, while Devon beaches are open for business, things are inevitably a bit different at the moment. Check whether car parks, toilet and cafe facilities are open before you travel.
Here are the best beaches in South Devon for families and the best North Devon beaches.
Devon walks with kids
Who's up for some fresh air? Countryside and coast walks abound in Devon.
Dartmoor and Exmoor National Parks have plenty of routes where you can get away from the crowds and enjoy a quiet ramble.
Here's some short walks on Exmoor to try with your family and seven of our favourite Dartmoor walks to do with kids, including a few that are suitable for toddlers and pushchairs.
You might also want to check out these routes:
Visit a country park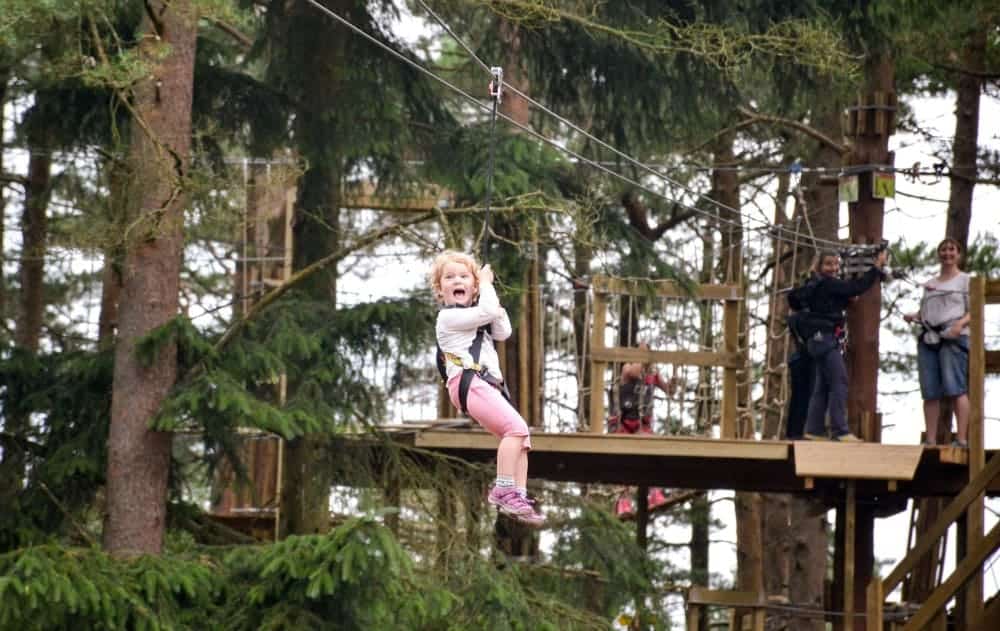 Devon country parks also offer level paths for walking and cycling with kids. Some have additional activities like high ropes.
National Trust in Devon
The National Trust has several properties in Devon. Advance booking is essential.
Find out which National Trust properties were formerly owned by Devon's rich and famous.
Spending a bit more time in Devon this summer? Here's what's coming up in August.
What do you enjoy doing in Devon in the summer? Is there something I've missed from this list of places to visit in Devon in July?
Would you like more Devon goodies delivered to your inbox? Sign up to the Devon with Kids newsletter.
Planning your days out in Devon With Kids this July? Why not pin save this post about places to visit in Devon in July on Pinterest.