July is a blooming great month to get out to Devon family attractions, beaches and country walks. This post rounds up places to visit in Devon in July 2022 as well as what's on for families. So, if you're looking for things to do this summer, start here!
Staying a while in Devon this summer? Check out what's coming up in August.
Also take a look at my round up of what's happening in Devon this weekend.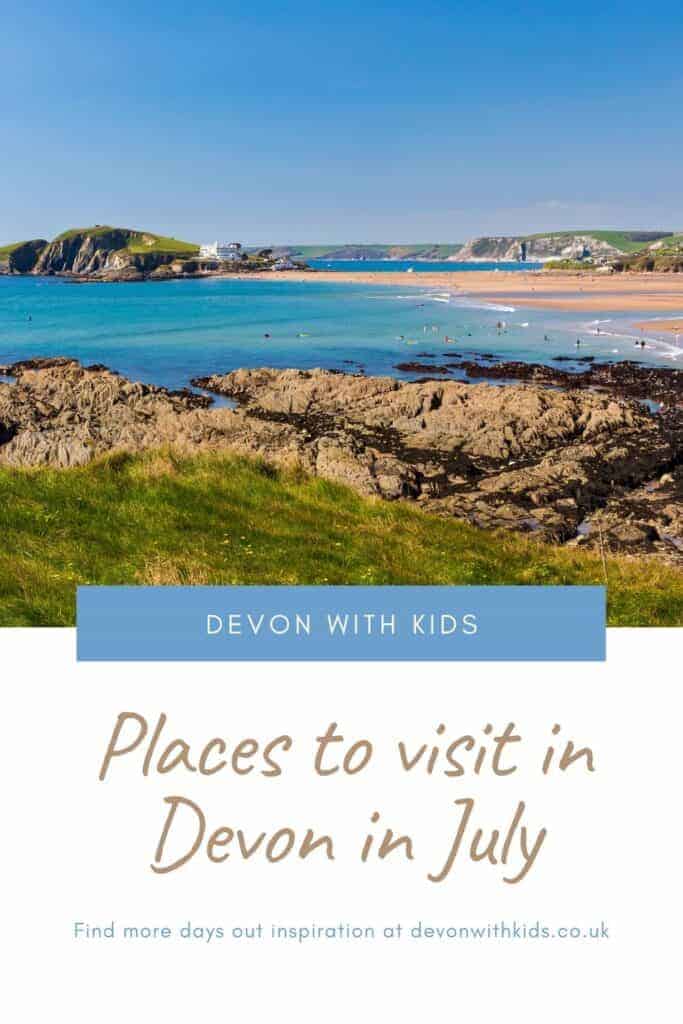 Love Devon? Join the Devon with Kids Facebook group and subscribe to my newsletter!
What's on in Devon this July?
Here's the brilliant Devon events and activities being laid on for families this month:
Devon County Show – 30 June – 2 July 2022
The 126th Devon County takes places at Westpoint Exeter with livestock competitions, Devon's biggest food fair, arena shows, vintage vehicles, arts and crafts and plenty of exhibits about farming life.
Kids go free on Saturday and Sunday!
Find out more and book tickets.
Immersive family shows at Market Hall, Plymouth – 1 – 31 July 2022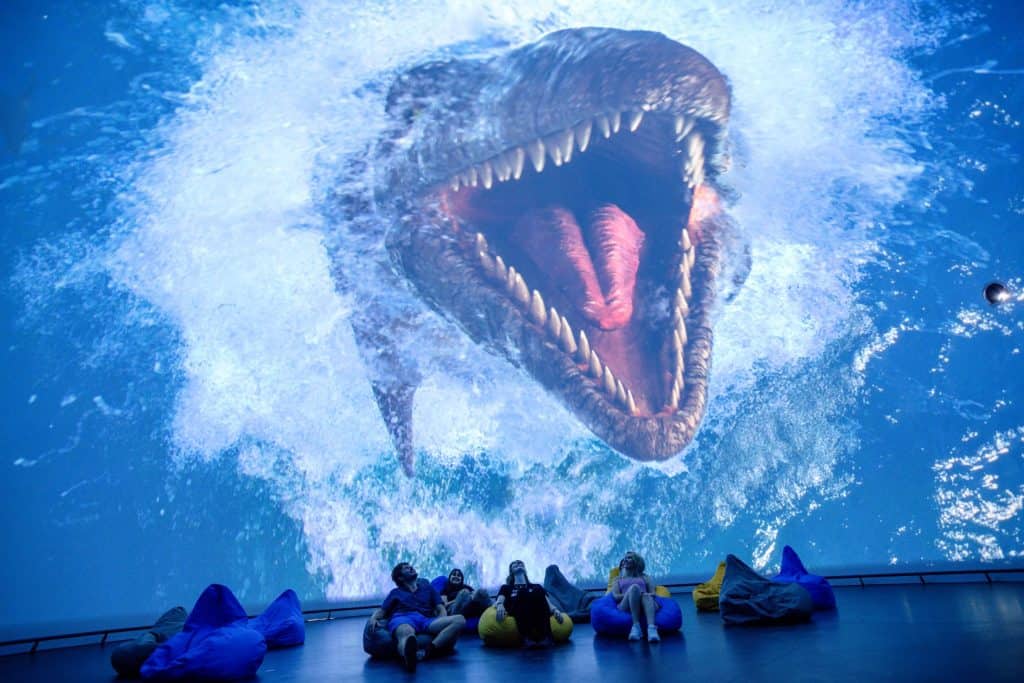 Enter the immersive dome at Market Hall in Devonport for a series of family-friendly 360 degree shows this month.
The dome here is the largest in Europe and gives visitors a full-scale virtual reality experience without having to don a headset.
This month you can book tickets for:
Astronaut – Experience a rocket launch from inside the body of an astronaut. Explore the amazing worlds of inner and outer space, from floating around the International Space Station to manoeuvring through microscopic regions of the human body – 1 July 2022
CAPCOM GO! The Apollo Story – On July 20 1969, 600 million people around the world gathered to witness a historic moment of human achievement broadcast live from the Moon. These Apollo 11 astronauts were just two of nearly 400,000 people who had worked over ten years towards this goal.nBut how did they do it? What did it take to put humans on the Moon? – 1 July 2022
Sea Monsters – travel back in time to when dinosaurs roamed the seas and meet Dolly – a curious and adventurous dolichorhynchops – 2 – 31 July 2022
Legend of the Enchanted Reef – The clumsy and energetic reef fish Shorty, his smart sister Indigo and Jake, a daring sawfish, live in a colourful coral reef. When an enormous trawl devastates their reef, the three friends have no choice but to set out on an adventurous journey to find a new home. Full of humour and imagination, this film for the whole family raises awareness for the acuteness of marine conservation. – 16 – 31 July 2022
We Are Aliens – Earth. It's now a small world. The human race is connected better and faster than ever before but what about elsewhere? Could we one day be part of a galactic community sharing our knowledge and ideas? Or is Earth the only planet with life? We Are Aliens! takes you on an epic ride in the hunt for the evidence of alien life. – 16 – 30 July 2022
Market Hall has introduced a flexible payment system where you can 'pay as you feel' making its events accessible to all.
Find out more about what's on at Market Hall.
Zog and the Flying Doctors at Northcott Theatre, Exeter – 1 – 3 July 2022
Join Freckle Productions for this truly modern take on the classic fairy tale that it's an absolute hit with kids.
Zog, together with his Flying Doctor crew, Princess Pearl and Sir Gadabout, tend to a sunburnt mermaid, a unicorn with one too many horns and a lion with the flu.
Find out more and book tickets on the Northcott Theatre website.
Goren Festival – 1 – 3 July 2022
2022 is the come back year for Goren festival, so get set for some long sunny evenings in the wildflower meadows filled with the sounds of music, laughing and playing.
This is a nature oriented family festival with a heavy bias for young children between five and 15. The area is quite safe to let your children explore the meadows, hedgerows and streams.
There's music planned from Friday evening through to Sunday afternoon. Keep an eye on the Goren Festival website to find out the bands playing.
For tickets and more information see the Goren Festival website.
Family Fun: Tell Me A Story at The Box, Plymouth – 1 -22 July 2022
Pop in every Friday morning for half an hour of storytelling underneath our figureheads. These free story time sessions are perfect for under 5s and their grown ups, and don't worry: you'll still have time to go and say 'hello' to Mildred the Mammoth afterwards!
Find out more at The Box Plymouth website.
Who wants to Be a Donkey Guardian, The Donkey Sanctuary, Sidmouth – 1 – 31 July 2022
Do you know what it takes to be a Donkey Guardian? Follow the trail to find the quiz boards located around the sanctuary and see if you can answer the questions about what is required to rehome donkeys and keep them happy and healthy. Then reveal the answers complete your quiz sheet to earn your reward.
This entertaining activity combines family fun, exercise and brainpower and is just £5 per trail, including a reward on completion.
Plus with a new play area, daily talks, scenic walks, engaging exhibits, award-winning gardens and, of course, hundreds of adorable donkeys to meet, there's so much to explore with your own herd, whatever the weather.
Friendly dogs on leads are welcome too!
Visit The Donkey Sanctuary website for more information.
Saturday market at Dartington – 2 July 2022
Why not pop up to the new Saturday Market on the Dartington Estate near Totnes, followed perhaps by coffee and cake and a walk around the Deer Park?
Showcasing the best in local food, crafts, music and more, the market takes place in the Shippon, opposite the Green Table cafe, and will this week feature singer-songwriter Jaime Leigh.
A great chance to pick up some incredible locally grown and made products direct from the producer and soak up the atmosphere at this 14th century estate. And don't forget the adventure playground!
Find out more about what's on at Dartington.
Dunsford Village Show, Dunsford – 2 July 2022
A quintessential country show at its very best and is the perfect way to spend a fun packed family afternoon in the country. Nestled in the Dartmoor National Park with a woodland backdrop this show is in a terrific location.
Entertainment includes M.A.D Team – Mountain Bike Aerial Display Team, Street Motion Parkour Workshops, Kryton Archers, Dartmoor Hawking display on horseback, Bouncy Castle, vintage games, artisan stalls as well as a Dog and Horse Show.
Refreshment includes BBQ, cream teas, local ales, cider, Pimm's and strawberries, ice cream and lots more!
Find more information at the Dunsford Show website.
Magical Meander & Make, Sharpham Estate, Totnes – 3 July 2022
Spend an inspiring morning on a creative adventure of craft and making in the beautiful, natural surroundings of the Sharpham Estate's woods and meadows. For people aged 6 to 90+!
You'll be on a guided meander as nature-explorers, being led through a secret portal to the magical natural world. On the way you'll gather interesting plants and other natural treasures for our creations that are 'fallen or freely-given' by the woods (it's important that no plants or other woodland denizens are hurt or exterminated on our adventure!)
Over herb tea and a snack, you'll have the opportunity to create unique woodland beings inspired by the place and what you have discovered.
Visit The Sharpham Trust website for more details and to book tickets.
Family Rewilding Tours, Sharpham Estate, Totnes – 3 July 2022
A fantastic opportunity to explore fields that have been rewilding since April 2020. Learn all about the riverside rewilding project Wild for People, which has turned 50 acres of conventional farmland back to nature. Spot wildlife and grazers as you are led through the fields alongside the Totnes-to-Sharpham foot/cycle path.
Cover approximately 2.5 km, the walking will be at a gentle pace, with stopping points, but there will be uphill sections and some uneven ground.
Visit The Sharpham Trust website for more information and to book tickets.
Meet…The Figureheads at The Box, Plymouth – 3 – 31 July 2022
You can't miss the fourteen Royal Naval figureheads that sail above you when you arrive at The Box. Dating from the 1800s, they're amazing pieces of craftsmanship that have travelled the world. Pop into the Active Archives gallery to learn more about them and the ambitious conservation project that has saved them for the future.
Find out more at The Box Plymouth website.
I Wonder at The Box, Plymouth – 5 – 12 July 2022
Visit The Box, Plymouth in order view it through your childs eyes! Pop in and visit these fun sessions with your one to four year olds.
Visit The Box Plymouth website to get more details and to book tickets.
The Paulos Circus One Clown's Dream, Exeter – 7 – 24 July 2022
Let's go inside "One Clown's Dream" this summer with Paul's Circus. Rocket, Isabelle & Teddy's journey comes alive in a world only a circus boy could imagine, vision & dream.
Visit Paulos Circus website for more information and to book tickets. Information also available on The Paulos Circus Facebook page.
Tunes on the Sands – 8 – 10 July, 2022
This small seaside music festival takes place right on the beach at Blackpool Sands in the South Hams, giving families the chance to enjoy great music while enjoying this picturesque cove.
Be aware that the festival site is sectioned off on one part of the beach. The rest of the beach remains open to the general public. If you come for the day there will be an allocated car park for festival ticket holders.
Find out more and buy tickets to Tunes on the Sands.
Shipwreck Sam: Return To Dead Ghost Island Show, Torquay Museum – 9 July 2022
Join in for an exciting, highly interactive and multi-sensory show with puppetry, singing, dancing and games presented by award-winning Boo to a Goose Theatre created for children aged 4 – 10 years and their families. Only a very limited number of tickets available!
Visit The Torquay Museum website for more information and to book tickets.
Clovelly Maritime Weekend, Clovelly – 10 July 2022
See the village's Clovelly Cup Race as well as other waterborne competitions. Back on land there will be lots of family entertainment including building your own model boat, arts and crafts, story-telling, and Punch & Judy.
See what else is happening during the maritime festival on the the Clovelly website.
Meet…..Mildred The Mammoth at The Box, Plymouth – 10 July 2022
She was made in America, has fur like Chewbacca and her ancestors lived here 35,000 years ago. Join a member of the team in the natural history gallery for more fun facts about this much-loved woolly mammoth.
Find out more at The Box Plymouth website.
Glas-Denbury Festival, Denbury – 15 – 17 July, 2022
Glas-Denbury is a friendly music and arts festival for all ages. You can get day or weekend camping tickets to this great family-friendly festival in rural Denbury.
We experienced the Glas-Denbury Festival in 2018 and had a brilliant weekend. It brings together a family-friendly atmosphere with lots of kids activities and some great music from the South West.
Throughout the days there's storytelling, crafts, street performers and music by top regional acts who continue into the evening.
For more information about weekend, day and camping tickets see the Glas-Denbury festival website.
Read my round up of all the family-friendly festivals in Devon in 2022.
Meet…Colin The Crab at The Box, Plymouth – 17 July 2022
Colin stole our hearts with its giant toothy grin when it was acquired for the collection at The Box in early 2020. Meet by the Welcome Desk to hear more about the popular Martinware crab and to learn why it's one-of-a-kind.
Find out more at The Box Plymouth website.
Pure Queen Live, Sheldon Open Air Theatre, Doddiscombleigh – 22 July 2022
This family-friendly tribute show returns to the Sheldon Open Air Theatre for the third time this summer. Featuring Queen and Freddie Mercury classic hits, this explosive performance will make you rock!
Visit the Sheldon Open Air Theatre website for more information and to book tickets.
Mid-Devon Show, Knightshayes, Tiverton – 23 July 2022
In 2022 the show will be in its 27th year and offers an award-winning combination of ringside entertainment, countryside history and livestock competitions.
There's also plenty of local traders selling Devon delicacies, crafts and gifts in the grounds of this beautiful National Trust estate.
Parking is free and dogs are welcome on a lead.
All the latest event information is available on the show website.
Counterfeit Beatles Live, Sheldon Open Air Theatre, Doddiscombleigh – 23 July 2022
A new show for this year, the Beatles Tribute act will bring all the joyous energy that goes with the classic repertoire. Bring the whole family and ready to let your hair down and dance!
To get more information and book tickets, visit the Sheldon Open Air Theatre website.
Chagstock, Dartmoor – 22 – 23 July, 2022
Chagstock is a family-friendly festival in one of Devon's most stunning locations – Dartmoor. It also attracts top acts like Seasick Steve and Scouting for Girls who headlined in 2021.
For more information and tickets visit the festival website.
South Devon Maize Maze – from 23 July 2022
The Jubilee theme of this year continues at the South Devon Maize Maze. The shape of the maze for 2022 is a crown so there will be lots of twists and turns to get lost in.
Visit the maze again near Palegate roundabout between Churchstow and Kingsbridge at the end of the season as they have added a 'pick you own' event for this year.
Find out more on the South Devon Maize Maze Facebook page.
The Great Cullompton Festival – 23 – 24 July, 2022
Come on down to Cullompton for a free family-friendly festival with food, drinks and entertainment.
As well foodie stalls there will be a craft zone where you can buy gifts, treats and unique products from artisan producers.
The children's zone will have entertainment laid on Princesses and Super Hero's as well as a funfair. Throughout the day there will be local bands and music continuing into the evening.

The event is free and onsite parking available for £4 per car.
Find out more about the Great Cullompton Festival.
Meet…Gus Honeybun at The Box, Plymouth – 24 July 2022
Augustus Jeremiah Honeybun was the station mascot for Westward Television and Television South West from 1961 until 1992 and was hugely popular with young and old alike. Come and meet at the Media Lab to discover more about the cheeky bunny whose winks, hops and magic buttons have become the stuff of Westcountry legend.
Find out more at The Box Plymouth website.
Yealmpton Agricultural Show, Yealmpton – 27 July 2022
See vintage tractors, a motorcycle display team and the live stock parade. There's also a countryside marquee where you can get up close with farm animals. Don't miss the parade of hounds!
For more information about the show, tickets and parking see the Show website.
Ensemble Meridiana: Family Concert at Dartington – 27 July 2022
Hear members of this vibrant ensemble play music from the Renaissance and early Baroque and learn about their instruments in this first of four family concerts, aimed at introducing your little ones to a variety of classical music.
Enemble Meridiana is part of the annual Dartington Music Summer School and Festival running this year between 23 July and 19 August.
Tickets: Standard £8 | Under 12s £5 | Family Ticket £20
Find the full line-up and more information about what's on at Dartington.
Joey The Lips Live, Sheldon Open Air Theatre, Doddiscombleigh – 27 July 2022
Get out and see one of the nation's funkiest 10 piece bands with 3 great vocalists, a driving rhythm section and a kicking horn section that won't stay still for a second. This 'Funky Soul, Blues & Disco Revue' promises a fast, fun and furious night – a great night out for the whole family.
Find out more on the Sheldon Open Air Theatre website and to book tickets.
Family Song at Dartington – 28 July, 2022
Join brilliant workshop-leader and multi-instrumentalist Tara Franks of SoundsCreative for an invigorating sing-along for ages eight and above, featuring folksongs and harmonies from around the world.
Tickets cost £5.
Find out more and book Family Song at Dartington.
Family Garden Sessions at Dartington – 28 – 29 July 2022
Gather in the beautiful community gardens on Dartington Estate for a series of gardening and craft workshops this month.
Each morning session will explore a different garden based activity to take part in together as a family, from foraging to flower crowns. You can book for individual sessions or more than one to try something new.
On Thursday 28 July you can explore flowers by making bunting and flags using flower and plant dyes, and on Friday 29 July and Tuesday 2 August gather and forage for a cooking lesson.
These activities are perfect for families of any age to make the most of the opportunity to connect with nature and learn on the land.
Sessions will take place at Foxhole Community Gardens, just across from the Dartington Campsite, and include a refreshment break.
Tickets: £8.50. Members' discount available.
Find out more and book Dartington's family garden sessions.
Altitude Festival, Blackborough – 28 – 30 July, 2022
Altitude is back in 2022. Plans are coming together for a full on festival experience after a lighter event in 2021.
Find out more and buy tickets on the festival website.
Tots Tunes at Dartington – 29 July, 2022
Join Tara Franks of SoundsCreative Projects for her celebrated music workshop at Dartington aimed at 0-5 year-olds and their parents/carers.
Featuring folk songs from around the world, this is a chance to sing, dance and shake in a class that is as fun and interactive for the adults as it is for the children!
Tickets cost £5.
Find out more and book Tots Tunes.
Pups with Pups Day, Anrán Music and Food Fest, nr Ashburton – 30 July 2022
A family and dog friendly event being held during the Anrán Music and Food Fest.
Bring the whole family for a fun day by the lake and enter many of the fun activities such as face painting, dog racing, doggie gymkhana and Cartoon Jazz (music from some of your favourite animated movies)!
The Anrán Music and Food Fest runs from 29 – 31 July 2022 and has many other events to check out including 'An Evening at The Lake with Julian Lloyd Webber'.
See The Anrán Music and Food Fest Booking page for more details and ticketing information.
Round The World Play Experience in Exeter – 30 July 2022
If you want to teach your children about the wider world book your spot for a 75 minute child-led play experience at Newcourt Community Centre.
There will be more than 100 child-friendly craft items to touch, content created by designers from 12 different countries and child-size exhibition backdrops showcasing different cultures.
Find out more and book your family's place on the Tiny Travels website.
SailGP in Plymouth, 30 – 31 July 2022
One of the world's most impressive sailing events, SailGP returns to Plymouth in 2022.
SailGP is an annual, global sports championship featuring bold, cutting-edge technology and awe-inspiring athleticism. It attracts some of the best sailors in the world.
All of the action will be available for spectators to watch live from Plymouth Hoe and the waterfront. You can expect to see capsizes, extreme sail racing speeds and high adrenaline competition between each nation as they race close to the shore in Plymouth Sound.
For more information about SailGP coming to Plymouth check the Visit Plymouth website.
Totnes & District Show, Totnes – 31 July 2022
The Totnes & District Show is more than 100-years-old. Popular features of the event are seeing the livestock in the main ring, the lamb sheering competition, horse events and live music.
For all the latest show information see the Totnes Show website.
Find out more about family-friendly festivals happening in Devon in 2022.
Cinderella at Powderham Castle – 31 July 2022
See Chapterhouse Theatre Company's production of Cinderella at Powderham Castle in July.
In an enchanted kingdom in a faraway land, magical creatures and fairy godmothers come together to tell the best loved of all fairytales. Full of song, mirth, and joy for the summer ahead, join in Cinderella's journey of a lifetime to a magical ball where nearly anything is possible especially if it's before midnight.
Children old and young alike are invited to dress in their favourite fairy tale characters and join the midsummer ball dance. There's also an opportunity to bring your own picnic, so make an evening in the delightful setting of Powderham Castle and experience magical theatre in magical surroundings.
Find out more and book tickets.
If you want to find out what's on at other times of the year take a look at my full Devon events guide.
Which Devon attractions to visit in July?
Devon is packed full of great days out with kids. Here's where to read more about family attractions in Devon:
Got a while to stay? Here's our BIG guide to family holidays in Devon.
More things to do in Devon in July 2022
Here's some more things to do around Devon this month:
Things to do on rainy days in Devon
We are due a heatwave in Devon this July, but if there is the odd wet days check out my post about things to do on rainy days in Devon.
Free things to do in Devon this summer
Days out can be soooo expensive. If you are looking for ideas I have a list of free things to do in Devon.
Visit a beach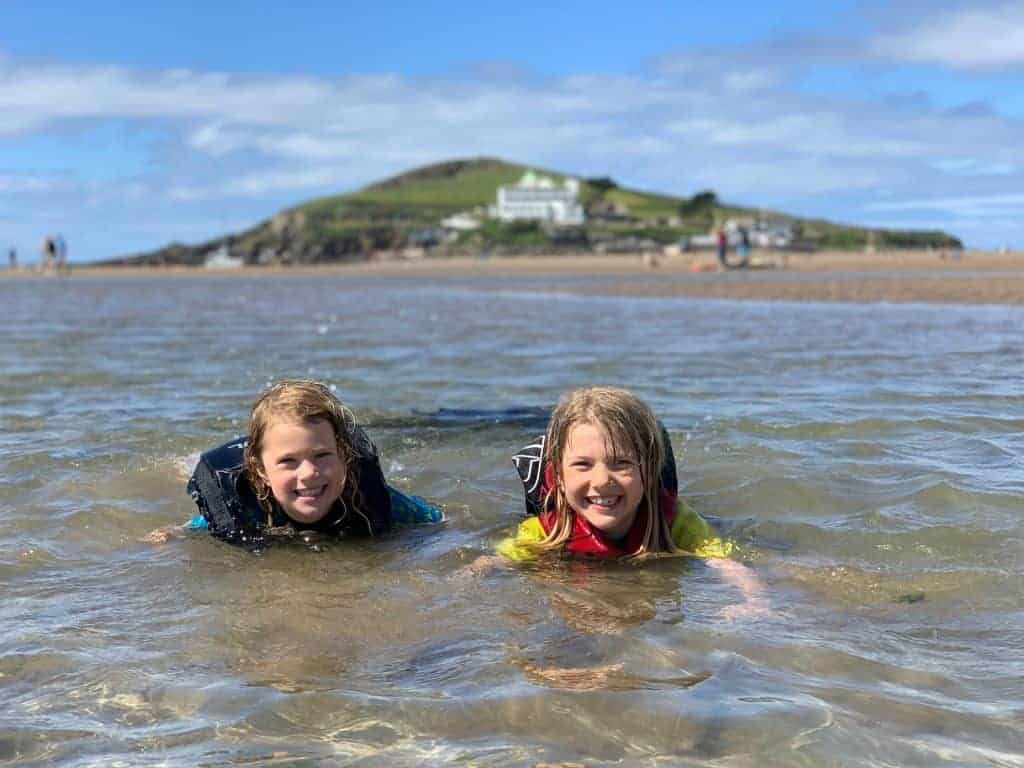 You can't visit Devon with kids and not go to the seaside. However, while Devon beaches are open for business, things are inevitably a bit different at the moment. Check whether car parks, toilet and cafe facilities are open before you travel.
Here are the best beaches in South Devon for families and the best North Devon beaches.
Devon walks with kids
Who's up for some fresh air? Countryside and coast walks abound in Devon.
Dartmoor and Exmoor National Parks have plenty of routes where you can get away from the crowds and enjoy a quiet ramble.
Here's some short walks on Exmoor to try with your family and seven of our favourite Dartmoor walks to do with kids, including a few that are suitable for toddlers and pushchairs.
You might also want to check out these routes:
Visit a country park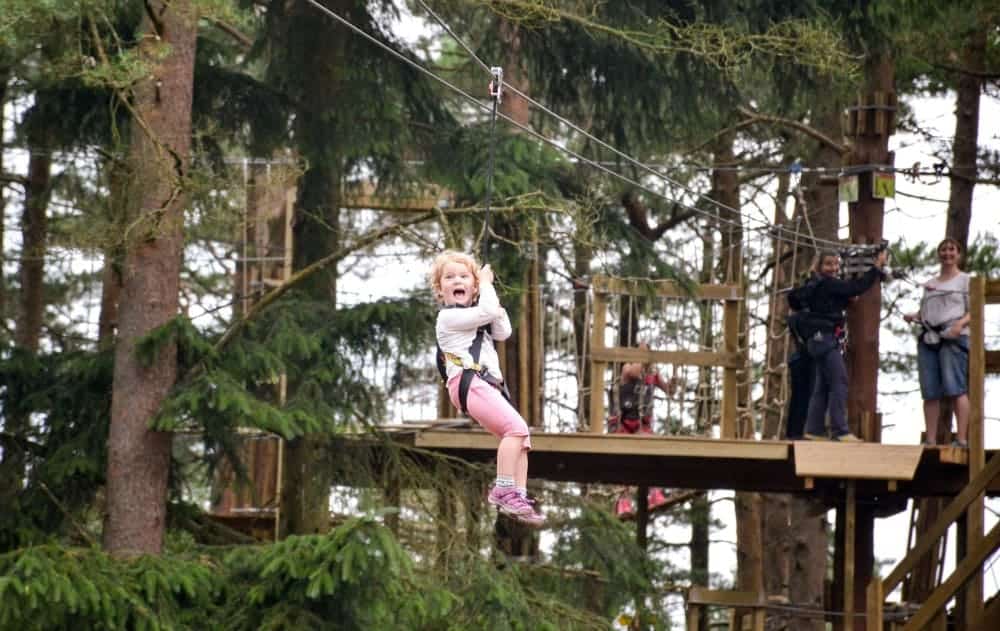 Devon country parks also offer level paths for walking and cycling with kids. Some have additional activities like high ropes.
National Trust in Devon
The National Trust has several properties in Devon. Advance booking is essential.
Find out which National Trust properties were formerly owned by Devon's rich and famous.
Spending a bit more time in Devon this summer? Here's what's coming up in August.
What do you enjoy doing in Devon in the summer? Is there something I've missed from this list of places to visit in Devon in July?
Would you like more Devon goodies delivered to your inbox? Sign up to the Devon with Kids newsletter.
Planning your days out in Devon With Kids this July? Why not pin save this post about places to visit in Devon in July on Pinterest.