Last weekend we experienced Christmas at Pennywell Farm for the first time.
I'd heard great things about the nativity at this popular South Devon attraction, so decided to book tickets as soon as they went on sale in 2021. In this post I'm sharing what we thought about what's included in the experience and what my kids aged six and eight made of it.
We also took along Grandma and Grandpa, who've never visited Pennywell before, so this was a multi-generational Christmas outing.
Love Devon? Join the Devon with Kids Facebook group and subscribe to my newsletter!
What to expect from Christmas at Pennywell Farm
We've visited Pennywell a few times over the past five years and it was great to see how the site and activities have been adapted to make this Christmas experience flow.
There's special signage, decorations and trees twinkling with light in each area of the farm you visit.
When you arrive your names are checked at a special elf desk just to the side of the usual reception. You're then directed to the start of the experience in what would usually be the farm's Henny Penny cafe.
Another elf issues each child with a passport for their journey ro the North Pole and shows them they have five stamps to collect. Get all five, revisit in 2022 and your child receives a special soft toy.
Each child is also given a freshly prepared cuddle blanket and their grotto ticket before being invited to dress up in nativity costumes. There's a photo opportunity in a sleigh while you wait for your whole group to arrive.
Our 12.30pm tour included about six family groups.
We were among the first families to arrive and didn't realise that the kids could keep their costumes on for the duration of the nativity. So don't feel like you need to take them off in a hurry. Kings, angels and shepherds are all required.
The nativity at Pennywell Farm
The nativity starts in the open barn outside. You are greeted by another elf who tells you the story of the nativity. Stealing the show is Fern the donkey who continues to chomp on her straw during the traditional retelling of the bible's most famous tale.
Children can volunteer to take some of the Kings' gifts on the '90 mile' journey to Bethlehem (the farm's courtyard) where the story continues.
It was lovely to see the return of interactive, yet carefully choreographed, activities. The kids were invited to knock on the inn doors, there were carols with musical instruments for the kids, and photos with the nativity scene in the main barn.
Treats and tractor rides
Next up was a visit to the Elf's sweet shop in Noah's Barn and unlimited hot drinks, mince pies and short bread for all while our group took turns spotting gingerbread men on the tractor ride.
The kids were delighted with their bags of sugary sweets.
The usual large inflatables are available for a bounce and we had fun posing with the photo props in front of a wintery scene.
Meeting animals at Pennywell Farm at Christmas
Our Christmas experience continued in true Pennywell style with a meet and greet with some of its cutest residents.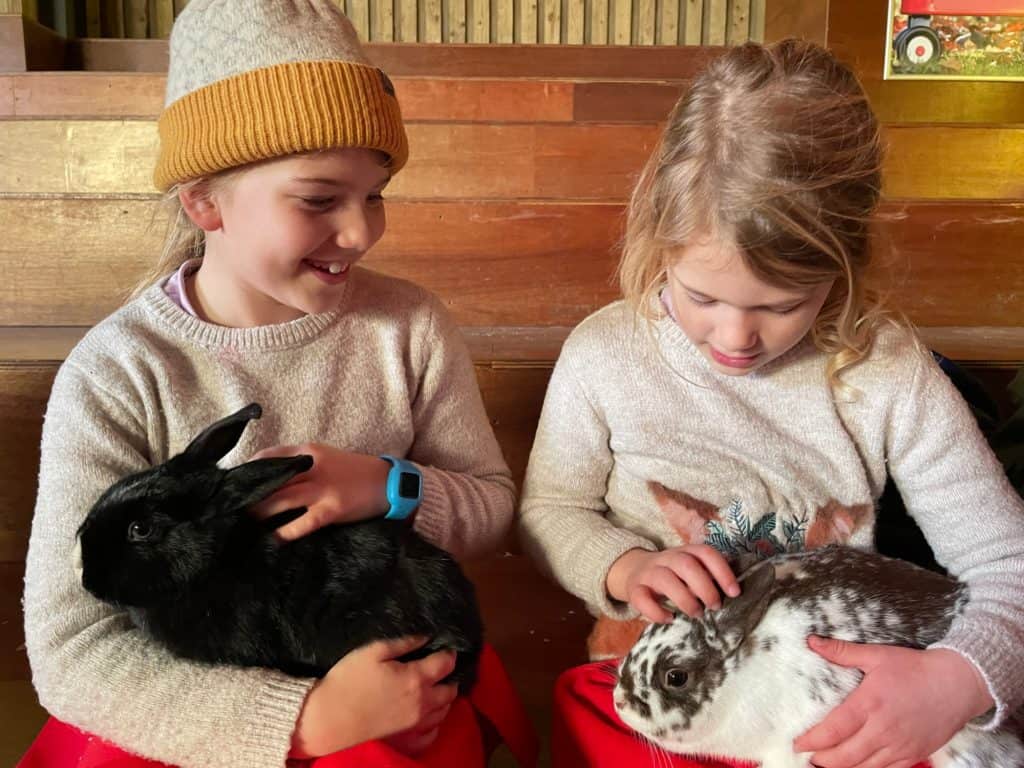 I do love cuddles with the piglets and super soft rabbits. This happened in the theatre rather than the usual small piggy cuddles room next to the main barn, so there was plenty of space for everyone.
Santa's Grotto at Pennywell Farm
After a generous amount of time with the animals, we were invited to visit the Grotto to meet Santa.
This was the only time when we were queuing with the rest of our group. There was an indoor Christmas tree-lined approach to the grotto (the small pets space) and a sleigh where you could grab another picture opportunity.
The line moved steadily and we were at the front of the queue within 15 minutes. We were about in the middle of our group so there was a longer wait for some.
You meet Santa in his library and have a lovely chat in a non-rushed fashion. He asked the girls questions and they felt totally at ease to tell him about their favourite parts of the day and what they wanted for Christmas. The sign of a good Santa!
You can take your own photos.
My girls received a non-age specific gift. Spoiler alert/for parents' eyes only: these were vintage style gifts that can probably be bought for about a fiver each. My girls received a skipping rope and Tiddlywinks game.
What ages is this Devon Christmas day out aimed at?
My six-year-old was well in zone for the magic of this event and really loved it.
My eight-year-old came away saying she loved cuddling the animals and the inflatable slides. I think (but have everything crossed that it's not the case) that the magic may be waning for her. But that's just us – don't let that put you off!
There were families with children aged 0 to 12 in our group and everyone looked to be having fun.
What makes this kind of event special for adults is seeing the excitement in your children's eyes. However, who can resist the cute animals? We lost Grandpa at one point because he had hung back to photograph lambs.
It's also great to have unlimited adult refreshments included at Noah's Barn where you do spend a while sitting down.
Tips for visiting Pennywell Farm at Christmas
If you are planning on going to Pennywell Farm this Christmas, I have the following tips for you:
Arrival times
We received an email the day before our visit saying we should arrive at least 15 minutes before the start time we'd booked. This is so you can be checked in and start the experience with your allocated group.

The Christmas experience is guided and follows a set route around the farm. You have to stay with your group at all times.
Timings and activities
Our Christmas tour at Pennywell took three hours including meeting Santa at the end.
Included were:
a guided tour of the nativity around the farm
indoor play on the inflatables in Noah's Barn
a bag of sweets for the kids
food and drink (see below)
a tractor and trailer ride
petting rabbits and piglets
meeting Santa in his grotto and receiving a gift.
If you are Pennywell regulars, usual activities like the Red Rocket ride, assault course and outdoor play, the miniature train ride, pig racing and the maze aren't available.
Food and drink
Unlimited drinks and festive snacks in Noah's Barn are included in your ticket price. This means squash and shortbread for the kids and a hot drink, including mulled wine, and a mince pie for adults. I'm not ashamed to say I went round twice for mulled wine followed by a coffee.
If you want to buy extra food, pasties are on sale in Noah's Barn while you are waiting for your tractor ride. You can also bring your own food and drink to have here.
What to wear
Chritmas at Pennywell is perdonimently an outdoor experience with activities happening in barns.
So wear coats, scarves, hats and gloves. Waterproof shoes or boots would be a good idea if the weather is damp.
Accessibility
This day out, like Pennywell itself, is pushchair and mostly wheelchair accessible. The only activity not accessible is the tractor ride.
There's no loud music or strobe lighting.
Ticket prices
Christmas at Pennywell Farm has sold out in 2021. Tickets go on sale after the summer and are rarely still available beyond the start of November. Get on their mailing list for the latest updates and offers.
As a guide for 2022, we paid £16.75 per person to visit during last weekend in November.
The price goes up incrementally in the lead up to Christmas. In 2021 the price was £22.95 in the week before Christmas. One to two year-olds cost £12.95 throughout November and December 2021 and babies who do not require a gift from Santa are free.
Our review of Christmas at Pennywell
The Christmas experience at Pennywell Farm is so well organised. Groups are moved around the farm in turn, so that it doesn't feel rushed or crowded.
The nativity story is well told and there's huge attention to detail in the signage around the farm. You also get value for money from the activities and refreshments included in the ticket price. I can't remember the last time I was offered unlimited mulled wine!
Importantly in the expensive run up to Christmas, there's no up-selling during your visit. You don't need to spend more on photos with Santa, the refreshments are included and you can bring your own picnic if you like.
If there's anything I think could have been improved it would have been that the elves could have been a bit more 'elfish'. However, it's clear they're not actors and they did a great job of getting us where we needed to be during the experience.
If you have little ones who love animals and the nativity story then this is a brilliant Christmas experience in Devon.
Find out more about visiting Pennywell Farm on its website.
For more ideas for days out in Devon take a look at my guides to Christmas days out, what's on between Christmas and New Year, and things to do this winter into 2022.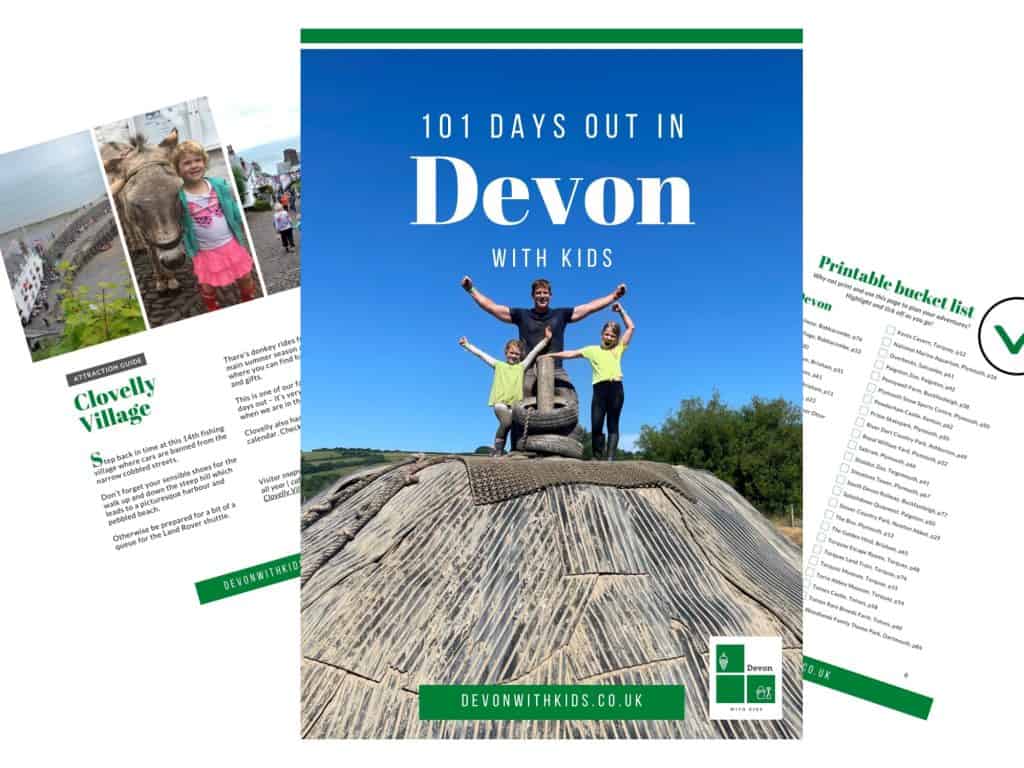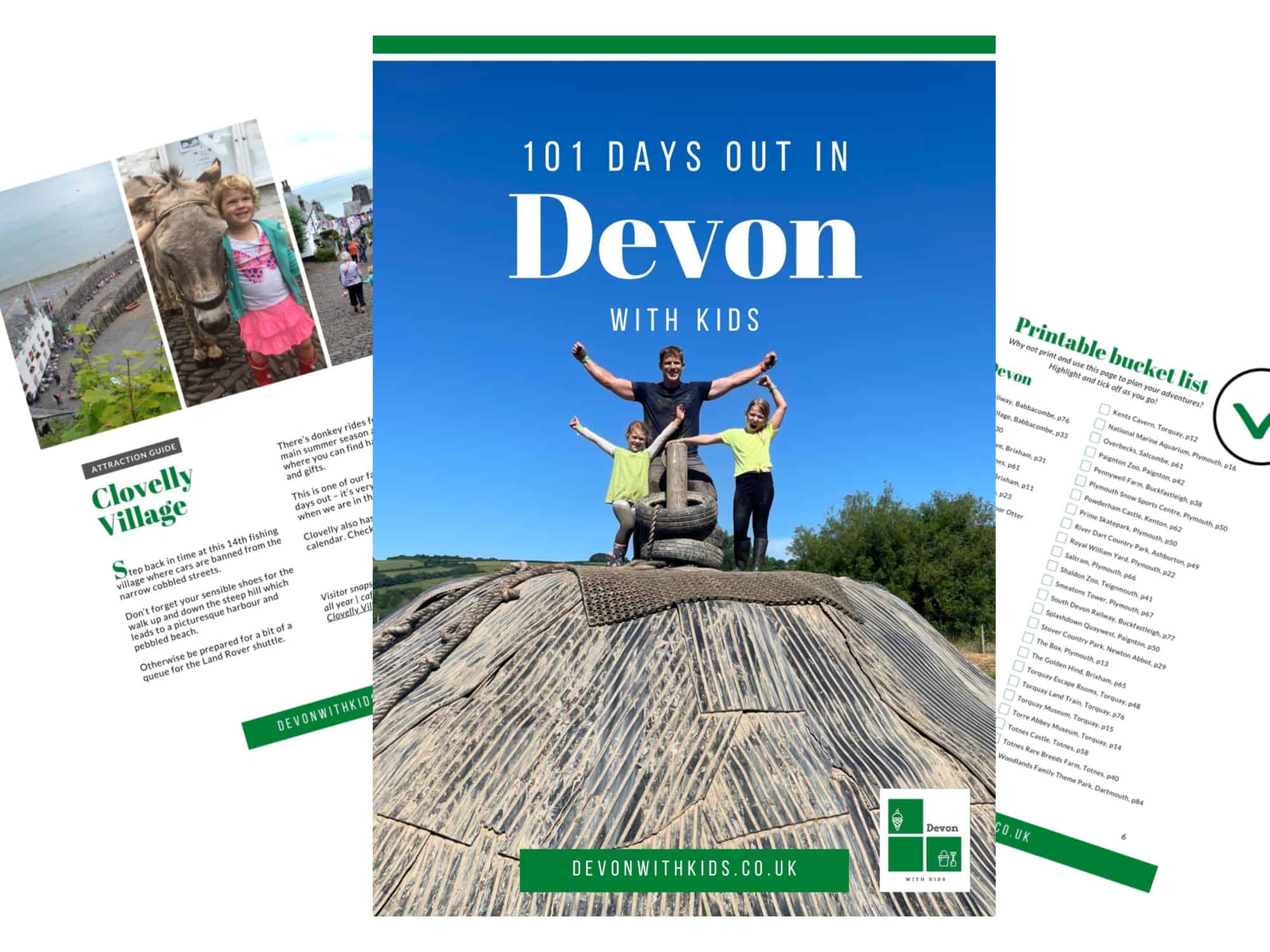 It's FREE!
Grab your copy of this guide to family-friendly things to do across the county, from coast to coast, in the cities, on the moors and whatever the weather.