If you are looking for a fun and sometimes challenging walk with kids in one of the most beautiful places in Dartmoor National Park we can recommend a visit to Becky Falls in Devon.
These falls in Dartmoor National Park cascade through a gully full of boulders and ancient moss covered trees – perfect for an adventure. Add to that farm animals, meerkats, exotic creatures and woodland spotter trails and you have a great outdoor attraction for the whole family.
Love Devon? Join the Devon with Kids Facebook group and subscribe to my newsletter!
COVID-19 measures at Becky Falls in Devon
Visiting Becky Falls during the pandemic is a little different to usual. However, as an outdoor attraction in Devon it feels a lot less restricted than some.
Check the Becky Falls website for the latest restrictions in place.
About visiting this waterfall in Dartmoor National Park
Becky Falls is part of private estate in Dartmoor National Park that had been open to the public since 1903. The waterfall's highest drop is 70ft but there are plenty more small falls and swirling pools as the river winds downwards through the landscape.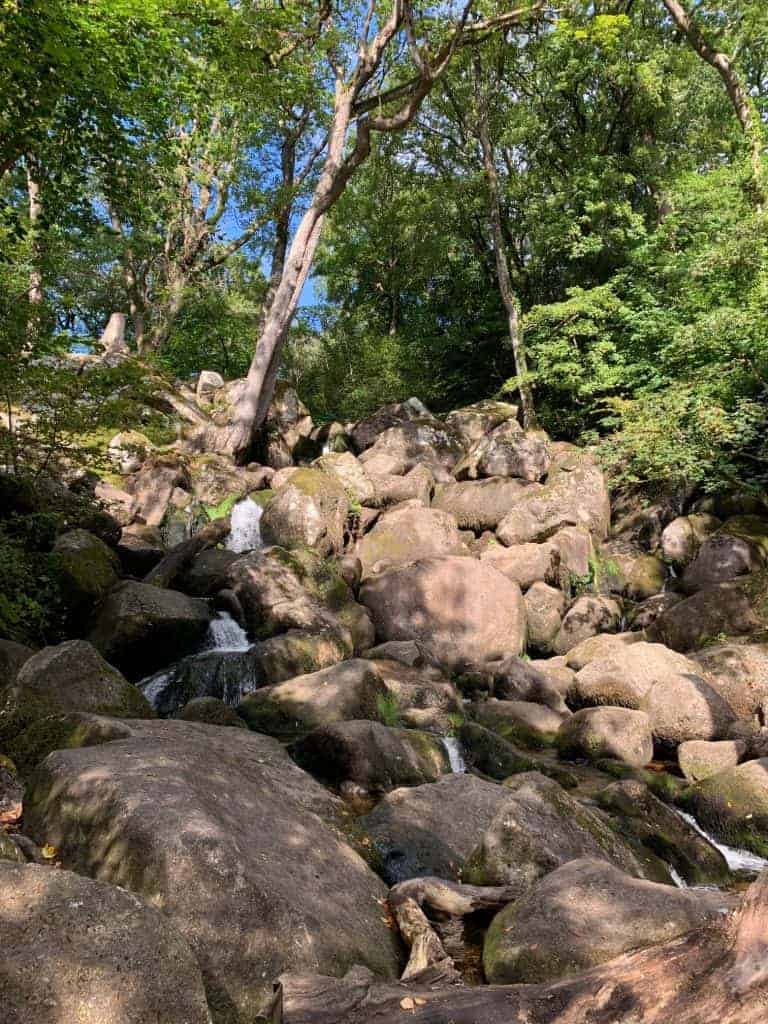 The woodland surrounding the falls is also a Site of Special Scientific Interest (SSSI) because of the rich collection of flora and fauna here.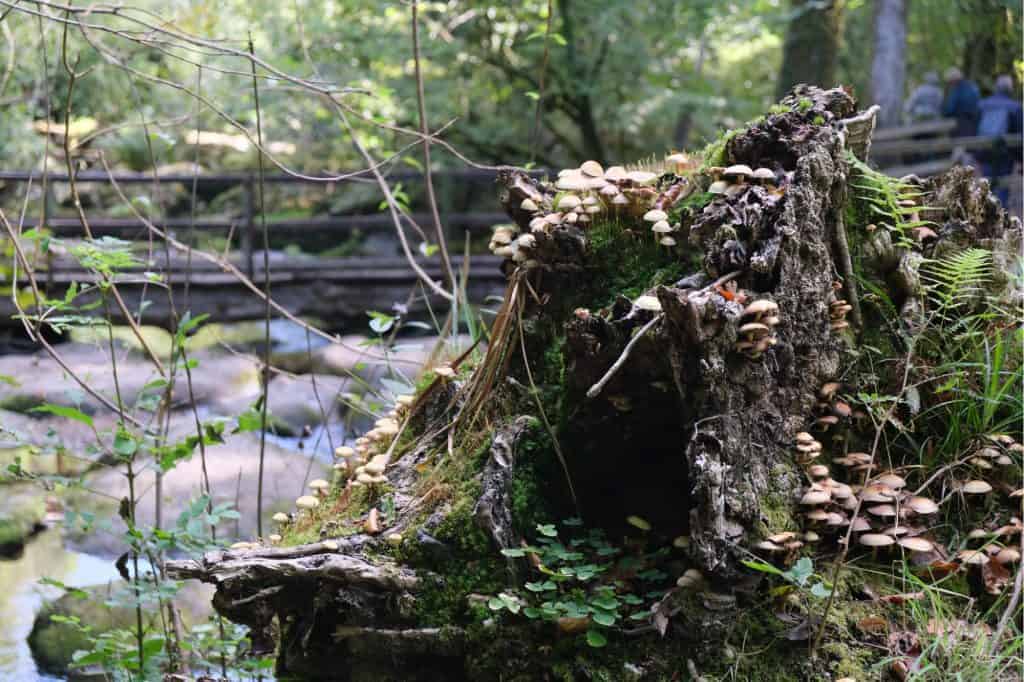 When we visited in the autumn the fungi was in full bloom. At other times of year you can see displays of wild flowers all over the woodland.
The root riddled and boulder strewn footpaths, and wooden bridges are ideal for young explorers but will be trickier for toddlers. Pushchairs are most definitely a no-no here. Bring a baby or child carrier or borrow one from the cafe or gift shop.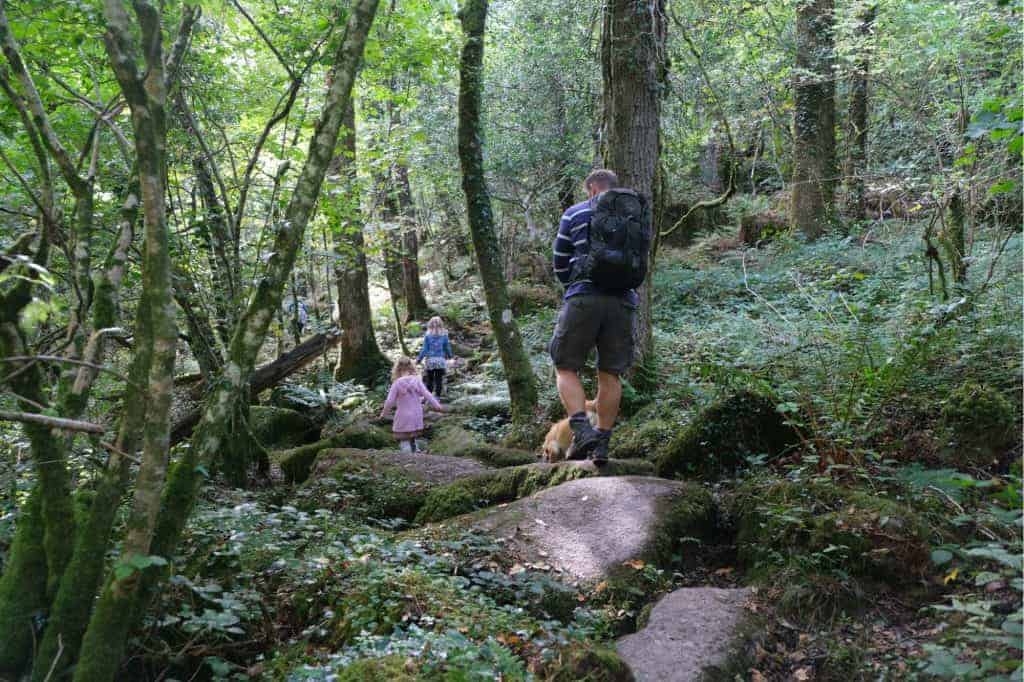 It goes without saying that sensible shoes are a must. You'd struggle in flip flops or shoes without some grip.
Things to do at Becky Falls in Devon
This is a great outdoor attraction for families. Here's a few of the things we did:
Scramble over boulders
Spot wildlife on the Ancient Woodland trail
Meet animals in the Petting Zoo and Animal Discovery Zone
Find the money trees
Say hello to the pigs and ponies who live in the woodland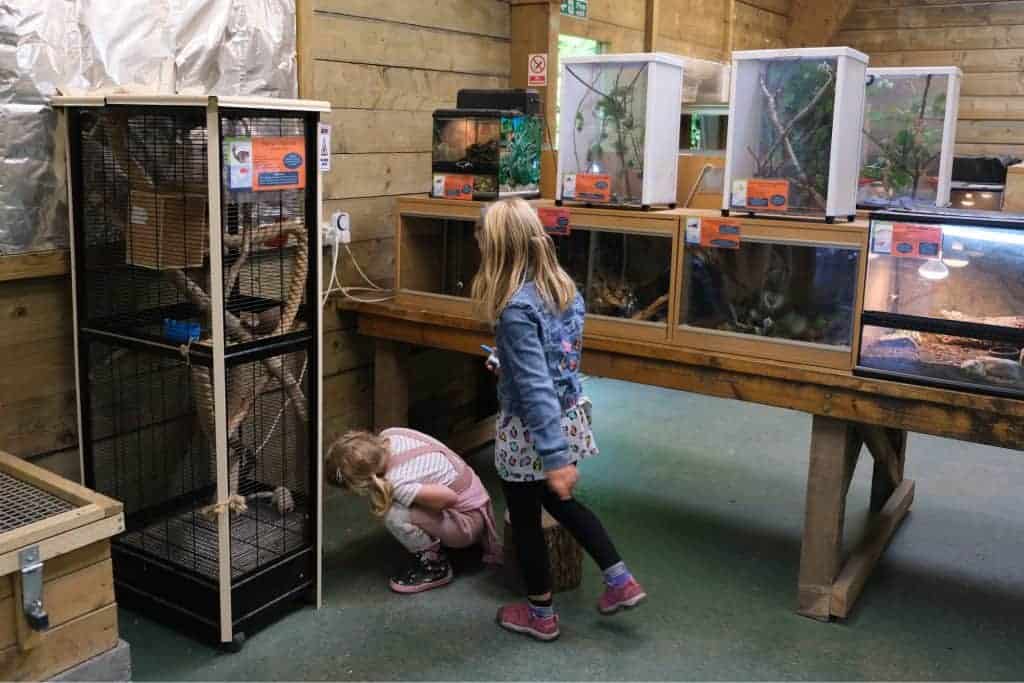 There was plenty to keep our five and seven year old going with minimal mumbling. They particularly enjoyed jumping from boulder to boulder to cross the river and visiting the Animal Discovery Zone.
Here's more things to do in Dartmoor with kids.
How long does it take to walk the falls?
We made it around the lower red trail and more challenging purple trail that follows the full route of the falls in just over an hour. You can make the route shorter by skipping the purple trail and taking a short cut on the red trails after the log bridge.
Be warned that there's a steep climb on the purple trail – it's called 'Lungburst Rise' for a reason. We were quite sweaty by the end of it, even on a chilly morning in late September.
There's also the blue route around the Ancient Woodland where you can find a picnic area. This took us about half an hour to walk. The route is reasonably flat but watch out for roots and rocks in the path. My five year old managed to face plant and come away with a black eye – ouch!
Here's some more options if you are looking for easy walks in Dartmoor with kids.
Is Becky Falls dog-friendly?
Yes. Because of Becky Falls' SSSI designation the must be kept on a lead at all times. There's dog bowls outside the cafe and poo bag bins at the top of the falls.
Find more dog-friendly Devon attractions.
Can you swim at Becky Falls?
No. The falls aren't suitable for swimming.
Where is Becky Falls?
Becky Falls is in Manaton in Dartmoor National Park. It's 10 minutes off the A38 so is easy to reach from Plymouth or Exeter.
Opening times
Becky Falls is open from 10am until 5pm daily from February until the end of October.
Becky Falls prices
A family ticket for two adults and two children cost £31 when we visited in 2020. See the Becky Falls website for the latest visitor information and prices.
Love waterfalls? Take a look at my post about more waterfalls in Devon.
More waterfalls in Dartmoor
We can also recommend visiting these Dartmoor waterfalls:
Would you like more Devon goodies delivered to your inbox? Sign up to the Devon with Kids newsletter.
Planning a visit to this waterfall in Dartmoor? Use Pinterest to save this post about visiting Becky Falls in Devon.