Hartland in North Devon is a destination we love to return to again and again. Aside from having family in the area there's something enchanting about the rugged Atlantic coastline with its beaches carved from the cliffs and windswept landscape. Here's our guide to holidaying here including where to stay, North Devon tourist attractions, beaches and things to do near Hartland.
Love Devon? Join the Devon with Kids Facebook group and subscribe to my newsletter!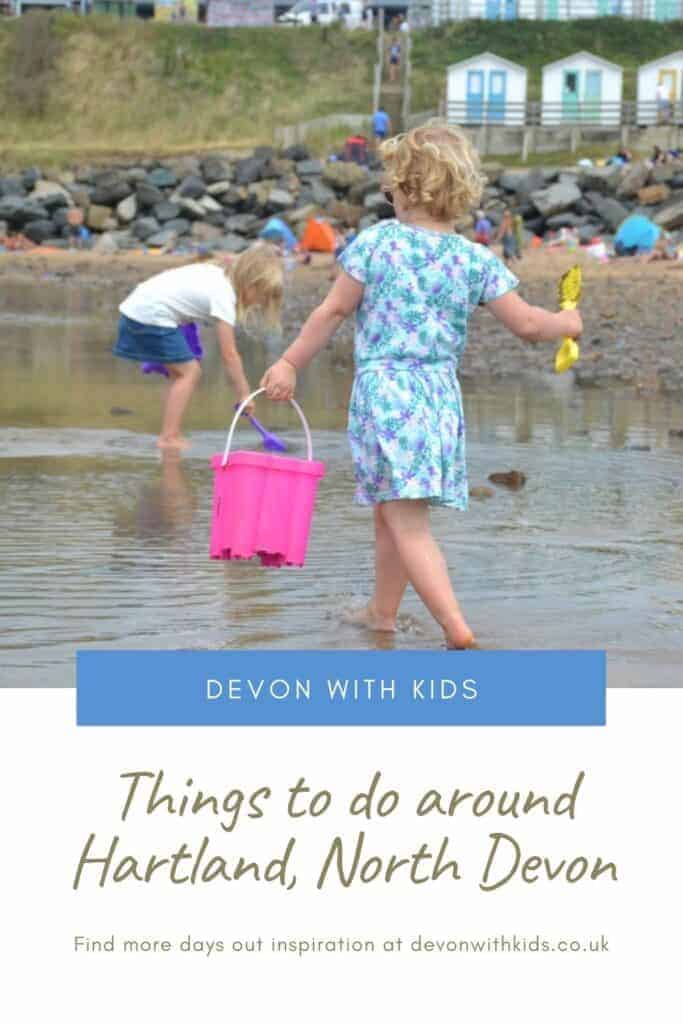 Got a while to stay? Here's our BIG guide to family holidays in Devon.
Why visit Hartland in North Devon?
Hartland is a rural escape from commercialised city life and big name UK destinations. Come off the M5 at Tiverton and in just over an hour you'll be immersed in a very different pace of life.
Unlike touristy South Devon, you'll not find Hartland with the same volume of visitors. Yet there's still plenty of excellent places to visit, stay and explore.
Things to do in Hartland, Devon
It's easy to fill a seven day holiday with short executions from Hartland in North Devon. Here are some of our favourite North Devon tourist attractions and things to do near Hartland:
1. Hartland Point and Hartland Lighthouse
This is a dramatic vantage point on the North Devon coast has borne witness to hundreds of ship wreaks on the contorted layers of rock below. One of the most recent was the Johanna which grounded at Hartland Point in 1982. It was carrying a cargo of wheat from Holland to South Wales when it came ashore in the shadow of Hartland Lighthouse. It's still possible to make out the shape of the wreak on the rocks below.
Hartland Lighthouse opened in 1874 and was once staffed by four lighthouse keepers and their families. In 1984 it was automated. It's not possible to get close to the lighthouse but you can get a great view of it from the heather covered cliffs.
During our visits to admire the view at Harland Point we have spotted seals bobbing around in the bay. If you fancy a walk you can pick up the South West Coast Path here.
Be aware that the cliffs are very exposed and that you must keep a close eye on children and pets near the edge.
You need to pay for parking at Hartland Point in the summer months so bring change. You'll also find a small hut selling snacks, cakes and drinks in the car park.
Find Hartland Point here.
2. Hartland Quay, Devon
A visit to Hartland isn't complete without seeing Hartland Quay. Regardless of the weather we wouldn't miss driving down the winding cliff road to park outside the Hartland Quay Hotel for some exploring on the beach.
The rock formations in the cliffs speak of the incredible power of nature to shape and move the landscape. Below on the beach there are pockets of sand to make castles and countless rock pools.
Sadly dogs aren't allowed on the beach so we don't always spend long here. But there's always time to clamber over the rocks in search of mermaids and pirate treasure. We have even been able to paddle board when the sea has been calm, but don't expect welcoming seas all the time.
The history of Hartland Quay is full of smugglers, ship wreaks and wreakers, as well as trade. Film buffs may even recognise this location from movies like Disney's Treasure Island, Hercules, and most recently Guernsey. Of course, car fans will remember it from Top Gear's DIY motorhome challenge.
To get a glimpse of Hartland Quay's seafaring heritage visit the Hartland Quay Museum opposite the hotel. Expect to for parking during the busy summer months.
Find Hartland Quay.
3. Hartland Abbey
Hartland Abbey is a historic family home that was originally built as a monastery in 1157. King Henry VIII dissolved the abbey and handed it over to William Abbott in 1539.
Since then it has remained in the same family and is open to the public between March and September each year. The house is extraordinary as are the accomplishments of many of the Stucley family's ancestors.
You can find out more about them in exhibitions here as well as walking through the woodlands and estate.
I've written more about our visit to Hartland Abbey in another blog post.
Hartland Abbey, Hartland, open end of March until start of October.
4. Clovelly Village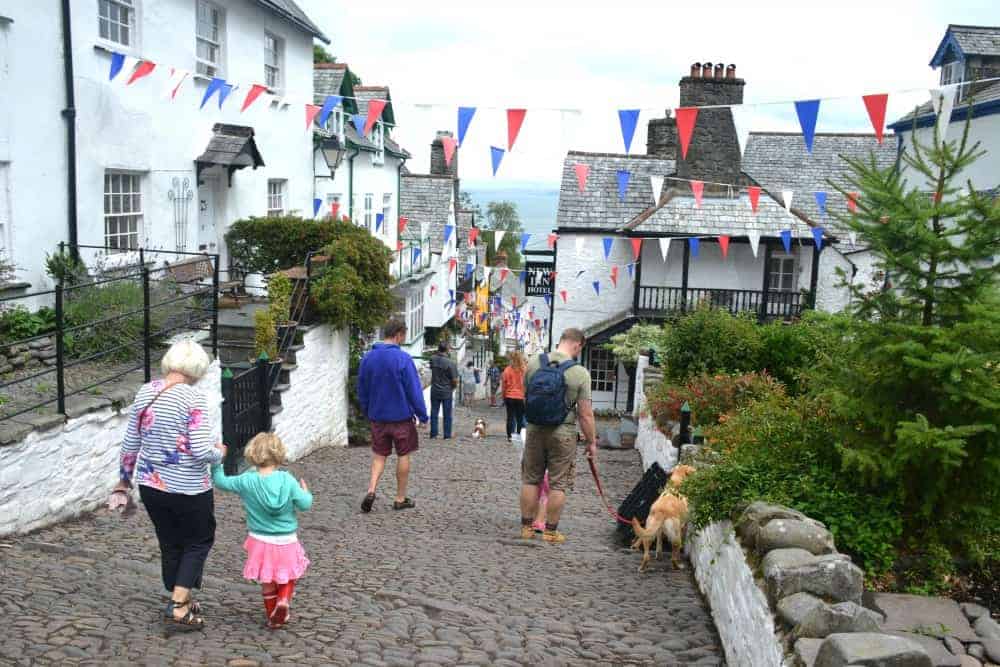 This is another place we never tire of seeing during our trips to North Devon.
Clovelly is a traditional fishing village that has been owned by the same family for generations. No cars are allowed on the cobbled and winding street down to the picturesque harbour and the pretty cottages that line the route are a photographer's dream.
Clovelly is also famous for its donkeys which were once used to pull goods and belongings up and down the steep slope. Today they are there for the tourists to meet and the odd ride around their stables at the top of the hill.
Read about our visit to Clovelly Village.
Clovelly, open all year round.
Find more dog-friendly Devon attractions.
5. Walk the South West Coast Path
We've not yet attempted a walk of Hartland's section of the South West Coast Path with the girls but Tin Box Dog would be raring to go.
Before kids we walked from Hartland Point to Hartland Quay and I remember it being quite challenging. I'd love to try this section from Clovelly to Hartland Quay but maybe when the girls are a bit bigger!
6. The Milky Way Adventure Park
This Devon theme park is a great family day out whatever the weather. Indoors there's three football pitches of undercover activities ranging from sports like archery to crafts and fair ground rides.
Kids will burn off loads of energy in the adventure play areas and sci-fi fans will love the model exhibition. Outdoors there's a model railway, rollercoasters and the North Devon Falconry Centre.
We were invited to the Milky Way in exchange for coverage on my other blog, Tin Box Traveller. You to find out more read about our visit to The Milky Way Adventure Park to take a look at the highlights in this video:
The Milky Way, Bideford, open on selected dates all year round.
7. Bude and Summerleaze Beach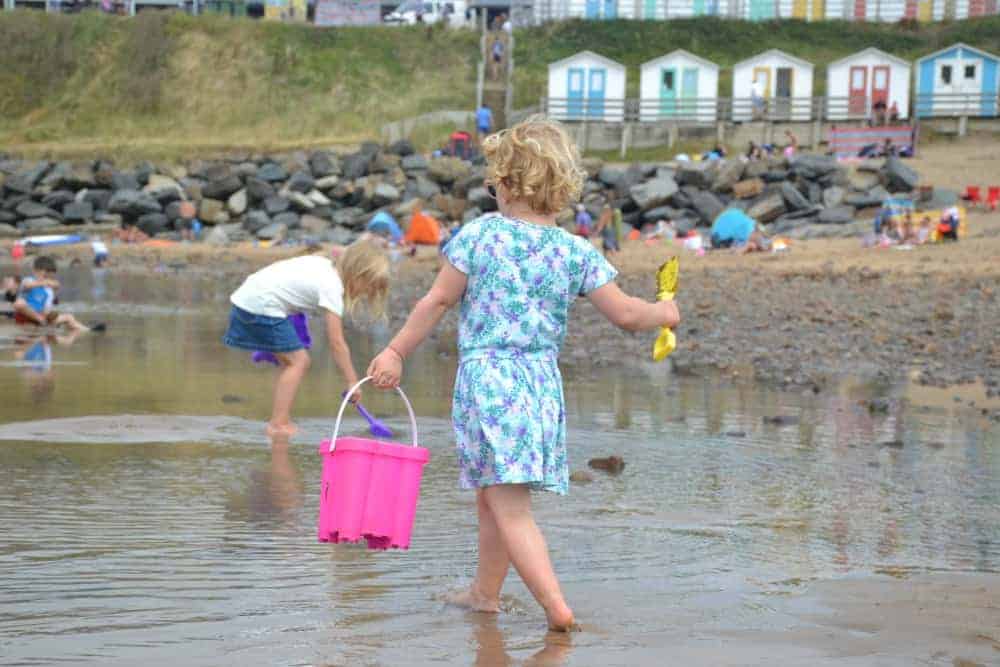 Hartland is not far from the North Cornwall border where the first large town you come to is Bude – famous for its sandy beach and surfing.
We took the girls there for an afternoon of building sand castles and paddling. The beach is in a large cove which seems to stretch out forever at low tide. This does get covered reasonably quickly when the tide comes in so there's a life guard station to keep an eye on beach goers and bathers.
Aside from the beach, Bude has lots of shops selling crafts and curiosities, as well as surfing attire and fashion brands.
We recommend trying the pasties from Pengenna Pasties and grabbing a hot chocolate or something more substantial from the Life's A Beach cafe on Bude seafront.
Dogs are allowed on Summerleaze beach all year round but must be kept on a lead between late May and the end of September.
Summerleaze Beach, Bude, open all year round.
8. The Big Sheep
This is one of the more recent places we have visited near Hartland in North Devon. It's great for all ages, from tiny tots who want to meet the animals and crawl around the soft play, to rollercoaster and assault course loving teens.
While there are lots of thrill rides the roller coaster here is the biggest in Devon. You can also watch sheep races, shows and there's an onsite distillery.
The Big Sheep, Bideford, open daily (check website for full details).
More things to do in North Devon
If you want to go further afield I've written about things to do near Barnstaple and even more things to do in North Devon.
Where to stay near Hartland in North Devon
We camp when we are staying in Hartland and have now tried three different sites in the area.
Our most recent stay was at Stoke Barton campsite which is not far outside the village Hartland. This is a low key site on a working farm that's within walking distance of the South West Coast Path and Hartland Quay.
Before that we stayed at Hartland Caravan Holidays which is in the village and an easy walk from the post office, shops and pubs.
As well as camping here there are three mobile homes you can hire. You can read about our North Devon holiday here a few years ago.
Previously we have holidayed at Welcombe X – a North Devon campsite also offering glamping.
This small site is easily accessible from the A39 and is in a great location for exploring the area. However, it does get some traffic noise during the day. Read my full review of Welcombe X near Hartland in North Devon.
A bit further out of Hartland we have stayed on the Caravan and Motorhome Club certified location at Fosfell Country House. You share the caravan field with a small herd of grass munching alpacas and have use of two shower huts (token operated).
The country house has a bar and restaurant, and there are holiday cottages for hire too.
Shopping
There are major supermarkets in Bude (North Cornwall) and Bideford. You can also find a supermarket and outlet shopping centre at Affinity Devon, formerly Atlantic Village, which is signposted from the A39 on the way to Bideford.
Have you visited North Devon? I'd love to hear your recommendations on things to do and places to stay near Hartland in Devon.
More things to do in North Devon
Find more ideas for places to visit in my guide to things to do in North Devon.
Here's some more places we can recommend:
You might also like my guide to things to do near Barnstaple and my free to download 101 days out in Devon guide.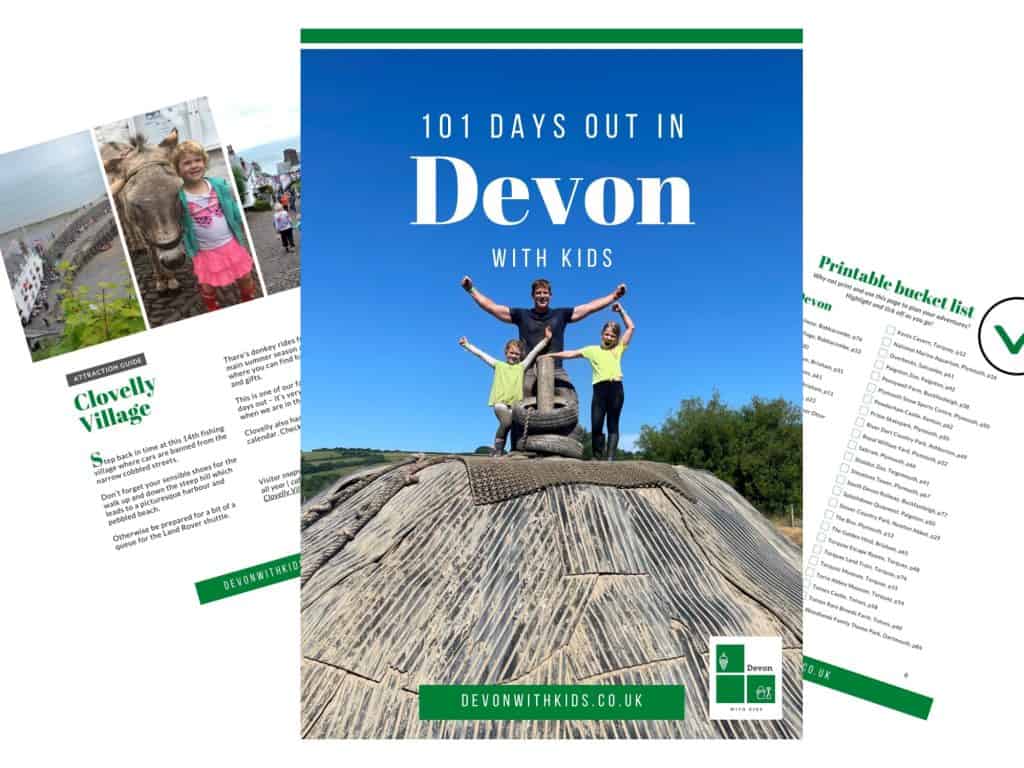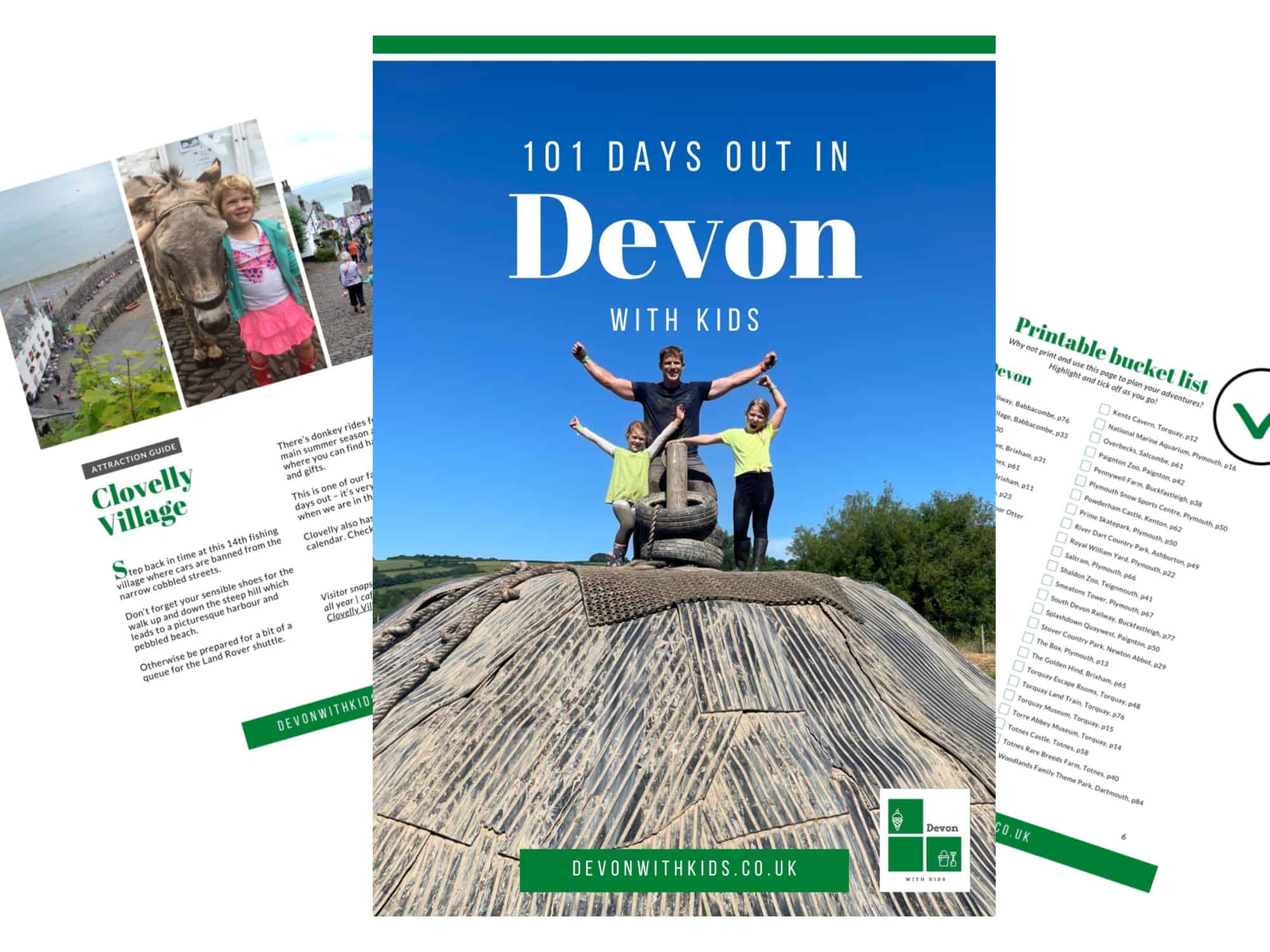 It's FREE!
Grab your copy of this guide to family-friendly things to do across the county, from coast to coast, in the cities, on the moors and whatever the weather.
Planning a holiday in North Devon? Why not save this guide to things to do near Hartland for later.