There's something magical about waterfalls whether they cascade from a shear drop or weave their way through a rocky, woodland landscape. As a family, we find dangling the carrot of finding one of these beautiful water features (and ice cream) adds enthusiasm to outdoor adventures. But they're not always easy to find. Here's some of the best waterfalls in Devon to seek out with kids.
Love Devon? Join the Devon with Kids Facebook group and subscribe to my newsletter!
Please be aware that most of these walks are not suitable for pushchairs. Make sure you wear sensible shoes!
Speke's Mill Mouth, North Devon
You can reach Speke's Mill Waterfall from the South West Coast Path between Hartland Point and Bude in North Devon.
The easiest way to see it with kids is to park at Hartland Quay and walk south for a mile.
There are a few live stock fields and steep drops along the way so keep dogs on leads and children in close check. There are uneven steps and rock paths down the valleys, so this isn't a walk you could achieve easily with toddlers and is definitely not suitable for pushchairs.
But what a beautiful sight! The main waterfall drops from the fields down into a cascade of pools before trickling away through the dramatic rock formations on the shore line.
We can recommend climbing down to the beach. There's a separate path that faces out to sea. It's challenging underfoot with some small rock faces to scramble down.
Visitor snapshot: Free to visit | Open all year round | Dogs welcome | Park at Hartland Quay | Speke's Mill Mouth
Clovelly, North Devon
While visiting the impossibly pretty North Devon fishing village of Clovelly don't miss the opportunity to find another waterfall.
Close to bottom of the cobbled path that winds through the village you can take a narrow set of steps down to the back of the RNLI Lifeboat Station and turn right onto the rocky beach. This is where there used to be smugglers caves.
We didn't find any long lost booty but we did discover this waterfall.
The walk to the waterfall is over rocks and shingle.
Read about our visit to Clovelly Village.
Visitor snapshot: Paid entry | Open all year round | Dogs welcome | Free parking | Clovelly
Becky Falls, Dartmoor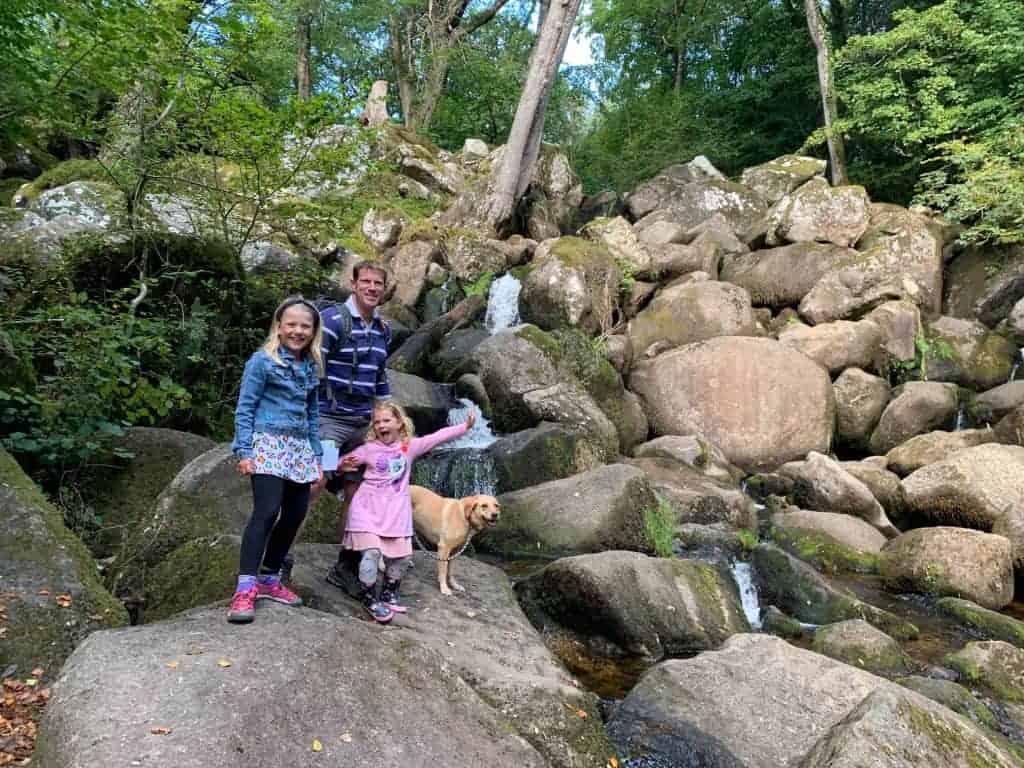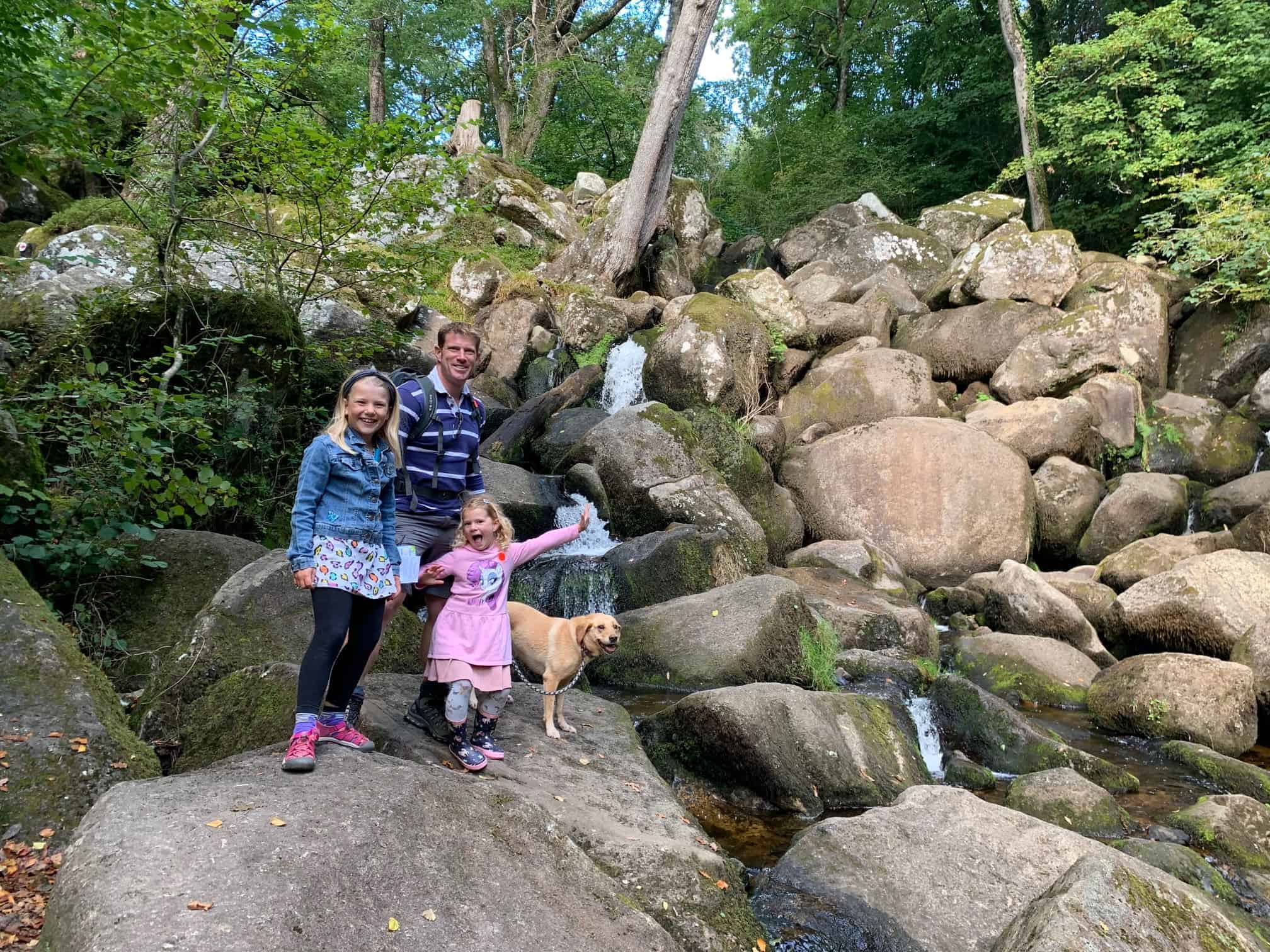 This challenging woodland and waterfall walk on Dartmoor also has furry, scaly and creepy crawly animal encounters.
Kids can clamber over boulders and spot wildlife in the ancient woodlands surrounding this privately owned valley.
As well as the waterfall walk – which you can take a few routes around depending on how difficult you want it to be – there's an animal discovery centre and petting zoo.
Read about our visit to Becky Falls in Devon.
Visitor snapshot: Paid entry | Open April to October | Dogs welcome | Free parking | Becky Falls
Lydford Gorge, Dartmoor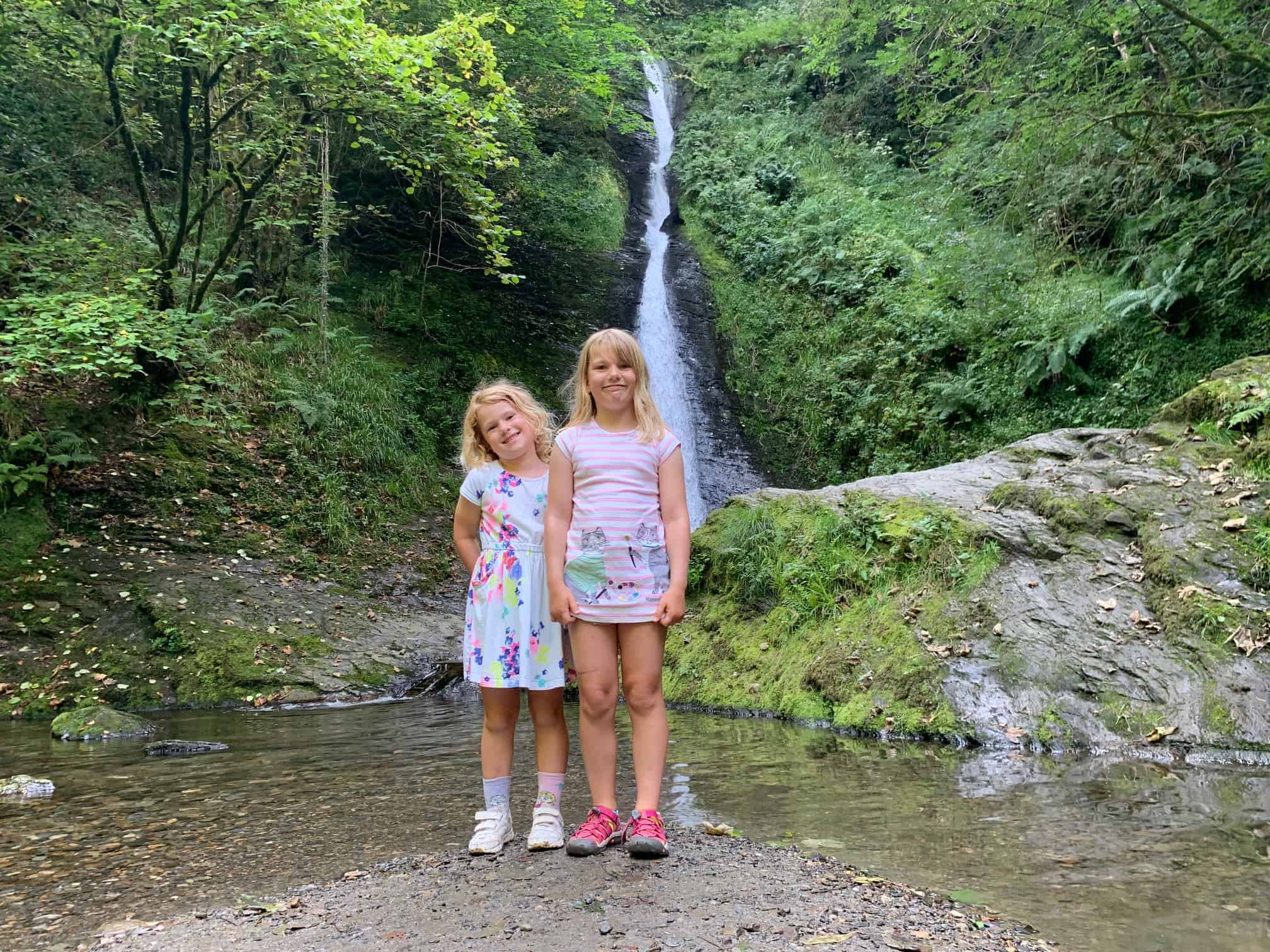 This the South West's deepest gorge and boasts a 30m waterfall and impressive natural whirlpool called the Devil's Cauldron. That's not to mention a host of waterfalls coursing through the gorge.
You can explore the gorge all day or take an hour long walk up and down the to the 30ft Whitelady Waterfall. The walk to this waterfall is possible with a pushchair if you have strong arms for the hilly bits. The rest of the gorge is less accessible.
Read more about visiting Lydford Gorge with kids.
Visitor snapshot: Paid entry (free for National Trust members) | Open all year round | Dogs allowed on leads | Lydford Gorge
Canonteign Falls, Dartmoor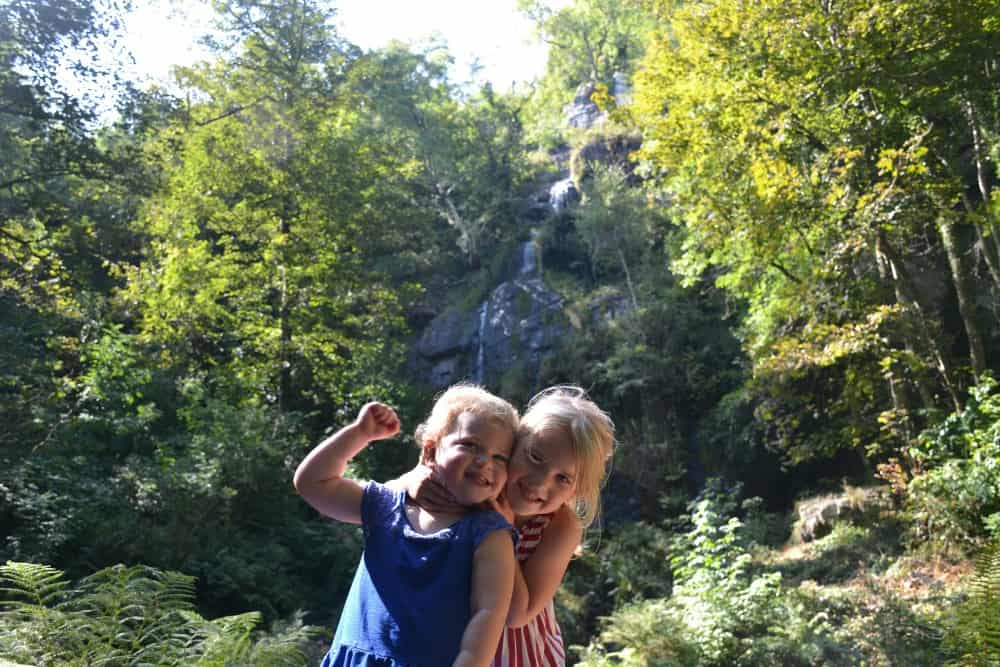 Tick England's highest manmade waterfall off your watery bucket list with a visit to Canonteign Falls.
What makes this a great family day adventure is that there's much more to see than just the waterfall. Although it and the views from the top are seriously impressive.
As well as the waterfall walk, there's an adventure playground and assault course, children's trail sheets and a model boating lake.
It's also very easy to refuel before or after your hike up the waterfall as there's a cafe and snack shack at the bottom.
Read about visiting Canonteign Falls.
Visitor snapshot: Paid entry | Open March to November | Dogs allowed | Free parking | Canonteign Falls
More waterfalls in Devon
The waterfalls I've mentioned above are all ones we have visited as a family, but of course there's more. Here's some more waterfalls in Devon to add to your bucket list – they're on mine!
Map of waterfalls in Devon
Here's where to find these waterfalls:
Do you have a favourite waterfall in Devon?