Canonteign Falls on Dartmoor is a Devon waterfall with the benefit of lots of family-friendly facilities, making it easy to visit with children. However, if you think that makes it any less stunning think again. It's one of our favourite places to visit on Dartmoor.
*Advertisement feature*
We were invited to visit Canonteign Falls and share our experience but have visited before so knew we were going to have a great time.
Our most recent visit to Canonteign Falls was on a very hot day in August. Walking around the lakes and through the shady forest leading up to the Falls was light relief from the heat.
Canonteign Falls history
The Canonteign Estate was bought by the decorated naval officer Sir Edward Pellew in the late 18th Century. Mining came to the estate and the course of an existing waterfall was diverted to power the mine wheel.
When the mining boom came to an end in 1880 the course of the water was diverted again over the nearby rock formation and through the woodland. This is when Canonteign Falls took shape. It's the highest manmade waterfall in England.
Later the estate fell into disrepair because of the burden of death taxes. Restoration began in 1985 and continues today. Among the Victorian features uncovered are 90 steps discovered in the 1980s.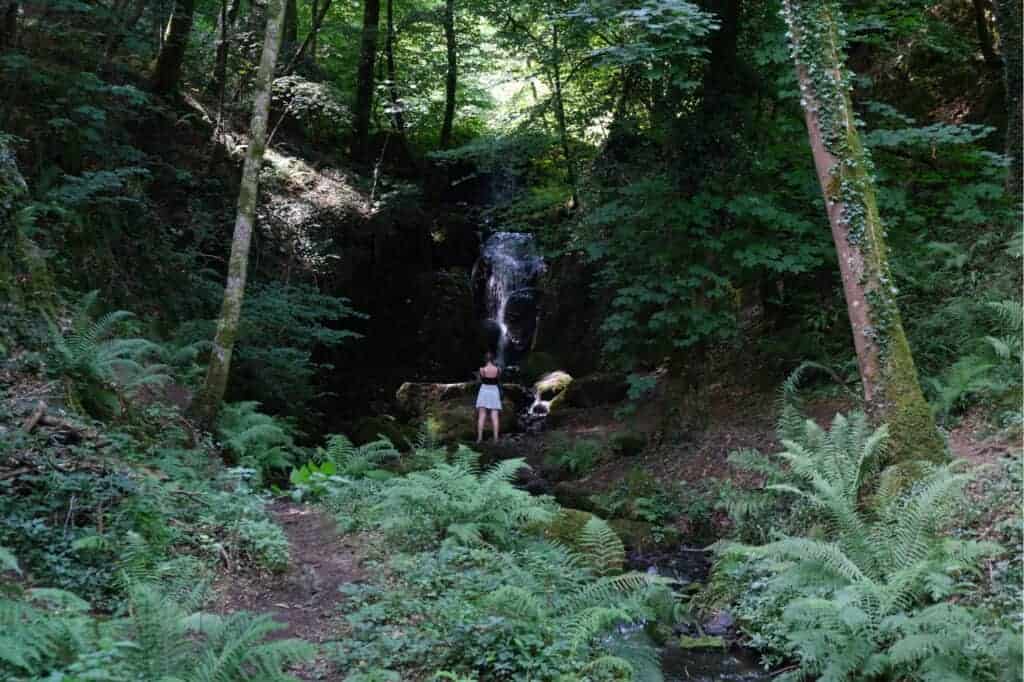 Today it is open to the public and is a gorgeous place to walk, picnic and appreciate stunning views of Devon.
A lot of people ask: is Canonteign Falls National Trust? But the answer is no. The estate is privately owned. You entrance fee goes towards maintaining and restoring the Falls.
Where is Canonteign Falls?
Canonteign Falls is really easy to find and is sign posted off the A38 at Chudleigh. It's half and hour south of Exeter and 45 minutes north of Plymouth.
How easy is the walk to the top of the waterfall?
There's no getting around the fact this is a steep walk in places but there are level parts to have a rest.
The path itself was made in Victorian times so there are lots of roots and rocks to negotiate. It's not suitable for pushchairs or wheelchairs.
What I can tell you is I've now done the walk twice: once with a two-year-old in a child carrier and a four-year-old walking with lots of encouragement; and more recently with a five and seven-year-old who ran up parts.
Here's a blog post about our first visit in 2017.
If you are stomping up you could probably do it in 20 minutes but there are things to look at on the way so we took about 45 minutes to get to the top on out most recent visit.
It's hard not to be impressed by the view when you reach Buzzard's View at the top.
Here's a video of our visit three years ago that I still thinks sums up this wonderful experience today:
What is there for kids to do?
Every time I mention the word 'walk' to my kids they let out a very over-exaggerated groan and start retelling tales about how terrible their last walk was.
However, Canonteign Falls is a walk with benefits for kids. Along the route up with 220ft waterfall there's wooden people to spot, a fern garden with fairies floating in the canopy above and a dinosaur called Terence.
At the bottom of the walk there's an assault course for kids and a smaller adventure playground for younger children.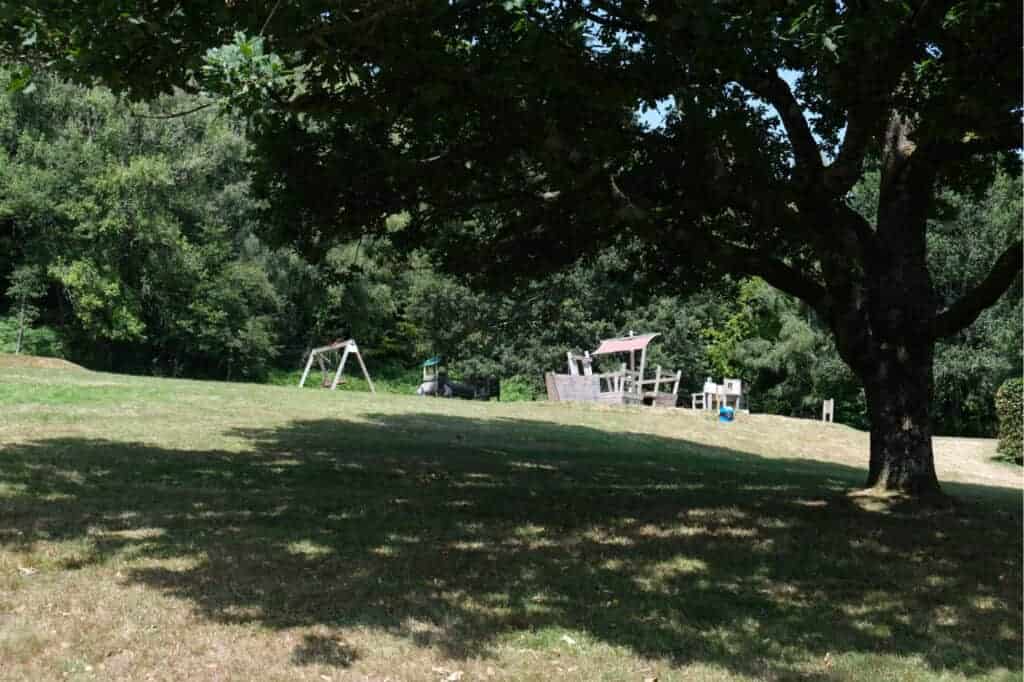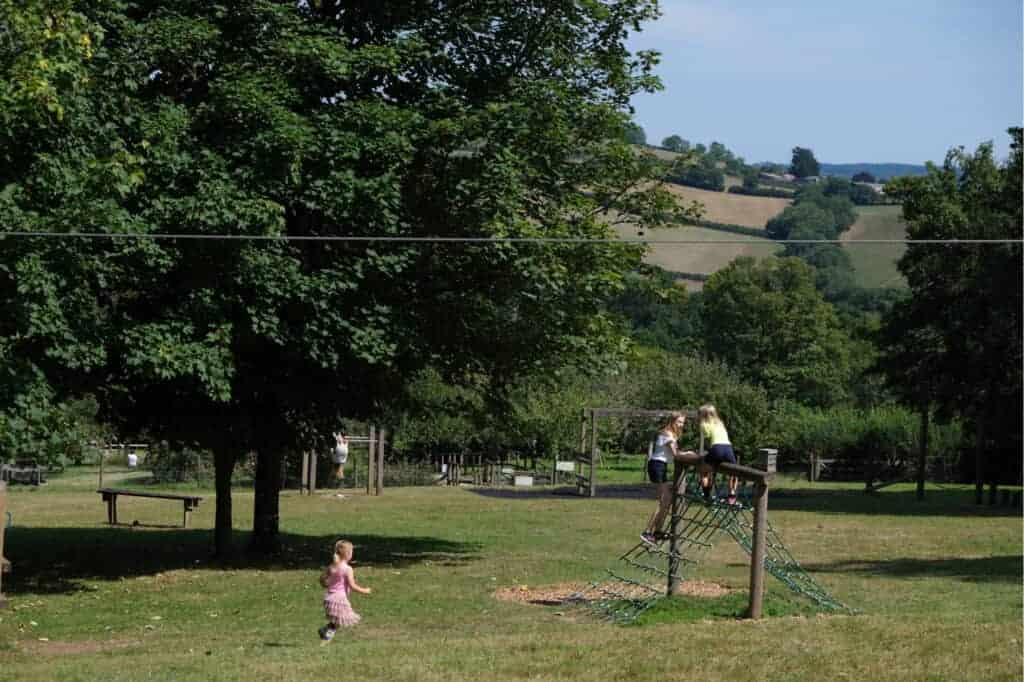 For inquisitive kids there's sign posts all over the estate telling you about its history and what happens here now, such as bee keeping and the boating lakes.
Canonteign Falls cafe
You can bring a picnic to Canonteign falls and munch on sandwiches anywhere around the 90 acre estate. However, I'd also recommend a visit to the cafe or takeaway van.
The cafe's menu has been reduced in 2020 but it's still serving meals and snacks using local producers and food. We grabbed some sandwiches, including child-friendly cheese & pickle and cheese & ham (without 'icky' salad – my lettuce-dodging seven-year-old's words), before starting our walk up the falls. There were also delicious wraps, as well as soup, pasties, cake and ice creams on offer.
On our return we stopped at the cafe again and enjoyed a Devon cream tea with scones from a local bakery in the Teign Valley. If you can't indulge a little after climbing to the top of a waterfall then when can you?!
Is Canonteign Falls dog-friendly?
Dogs are allowed at Canonteign Falls but must be kept on a lead.
Find more dog-friendly Devon attractions.
Can you swim at Canonteign Falls?
No. Sorry, there's no wild swimming here. Canonteign Falls is part of a private estate.
Canonteign Falls prices
Check the attraction website for the most up-to-date prices and all ticket options.
Opening times
Canonteign Falls is open from 10am until 5pm daily during the summer season. Opening hours may vary in the Spring and Autumn, so check before you visit.
The falls are closed during the winter months – usually from November to February. Dates may vary.
Find out more about visiting Canonteign Falls by visiting its website.
Love waterfalls? Take a look at my post about more waterfalls in Devon.
More things to do on Dartmoor
Looking for more things you can do with children on Dartmoor? Take a look at my post about the best places for walks with kids and our favourite places to visit on Dartmoor.
We can also recommend visiting these Dartmoor waterfalls:
If you prefer a coast walk, then check out this one from Gara Rock to Mill Bay.
Disclosure: We were invited to visit Canonteign Falls in exchange for sharing our experience.
If you would like to visit England's highest manmade waterfall then why not save this post about Canonteigh Falls on Pinterest.