Looking for the best Dartmoor walks with kids? If your children are anything like mine there's only so much hiking they can take before they start to get bored or flag. So picking the right routes with pit stops, toilets and good paths is essential.
In this post I've shared some tried and tested family walks on Dartmoor – some of the best outdoor activities in Devon. Enjoy!
Love Devon? Join the Devon with Kids Facebook group and subscribe to my newsletter!
*This post contains affiliate links*
Walking on Dartmoor with children
Dartmoor is famed for its hiking trails, which stretch across 368 square miles of rugged moor and woodlands. The good news for families is that there are also less challenging, easy Dartmoor walks to be found.
Check out our top things to do in Dartmoor with kids and other fun things to do in Devon with kids.
Below I've shared some ideas for where to go if you are looking for a Dartmoor walk the whole family will enjoy including some bimbles that you could do with a pushchair.
If you'd like to go off the beaten track then you'll be needing a OS Map:
Hembury Woods – a family-friendly Dartmoor walk near Buckfastleigh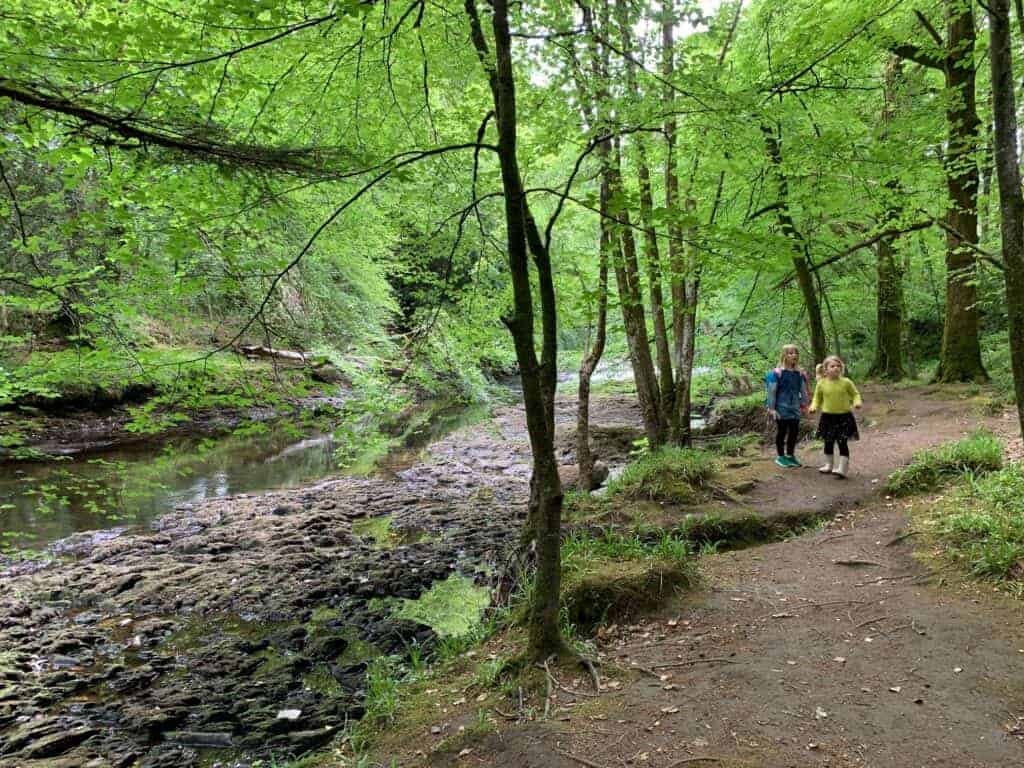 Hembury Woods on Dartmoor is a great place to walk along the River Dart and spot wildlife. You can also go up the hill to an Iron Age site, Hembury Castle Hill Fort.
Hembury is one of those walks that can be as easy or as challenging as you like – perfect for families with kids of all ages. There's flat routes and more rocky, uneven trails if you are feeling adventurous.
This is also a pushchair-friendly Dartmoor walk, with some routes around the woods on wide, even paths. There is a stile before you reach the hill fort, so you would need to lift your pushchair over this.
If you can make it to the hill fort we'd recommend it – there's some great views of Dartmoor.
Some parts of the trail are sign posted but many are not. However, it's not difficult to find your way.
The car park is in several sections, split among shady glades. There's a picnic space with a few benches in the middle. The are no toilets here.
Find out more about walking at Hembury Woods.
Haytor – a Dartmoor walk near Bovey Tracey
Haytor is one of the most scenic places on Dartmoor with iconic rocky outcrops that are easily accessible from the Haytor upper car park, which is a short drive off the A38. This makes it a very popular and busy spot on bright sunny days.
Park up and cross the road to take the well trodden path through the gorse and bracken up to the rocks where kids can clamber over boulders and explore crevices for Geocaches.
For a longer hike, you can leave Haytor and go on a circular walk to nearby Hound Tor. This is a round trip of about 4.5 miles. You will be walking across moorland so it's not suitable for pushchairs.
There is a visitors centre with toilets at Haytor lower car park.
Hound Tor – an easy Dartmoor tor to explore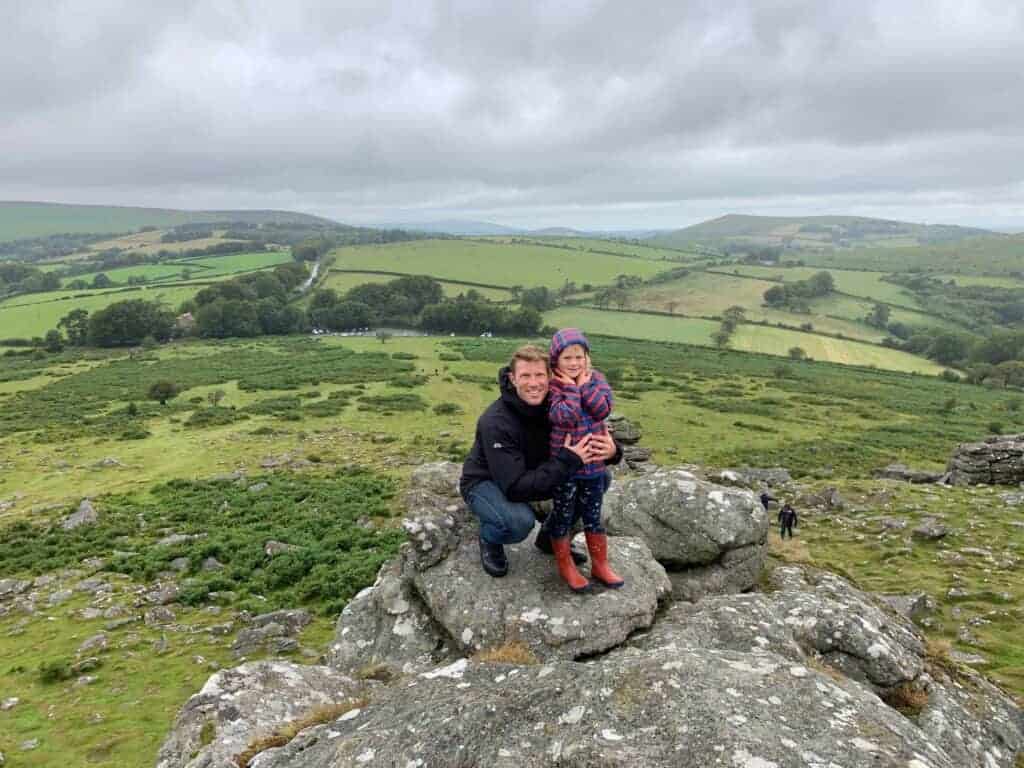 Hound Tor is another outcrop that's easy to walk to from the nearby car park. There's plenty of rocks to climb up and around making this an easy and super picturesque landmark to explore with kids.
Behind Hound Tor there are the remains of a deserted Medieval village.
In the summer months an ice cream van can often be found in the car park. If you are looking for toilets and a cafe we can recommend The Cafe on the Green at nearby Widecombe.
Tamar Trails – a Dartmoor walk near Tavistock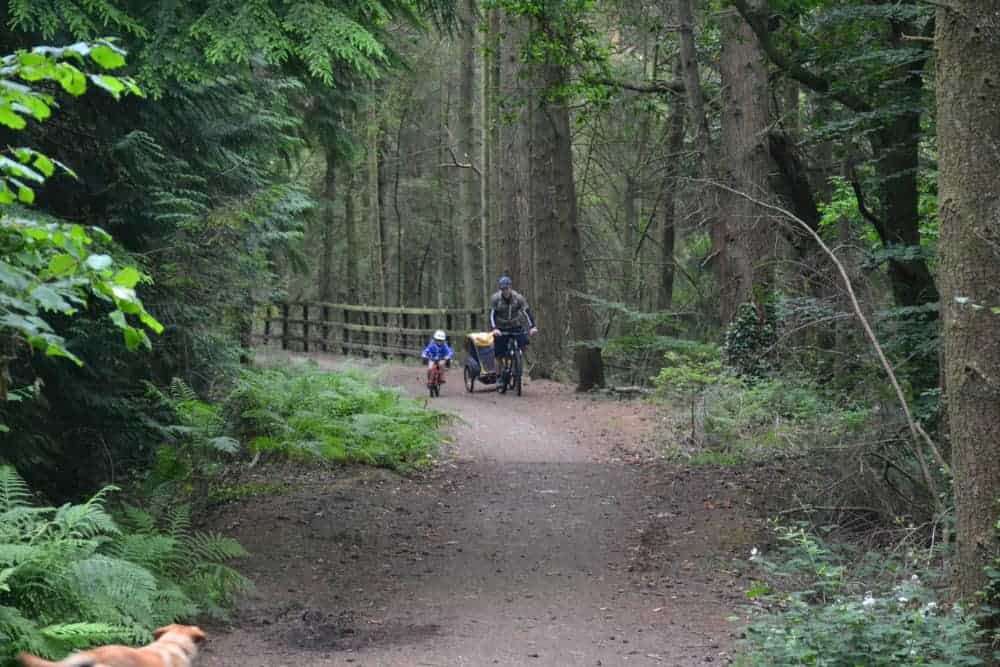 There are seven different walks to do at Tamar Trails in the Tamar Valley. Some of the trails are better than others for families.
The Mineral Railway Trail is the most family-friendly and is easy to do with a pushchair. It's best to start at the Tamar Trails Centre where you'll find a car park, cafe and toilets.
From the visitor centre head north towards the Devon Great Consols Mine, where you can see a landscape that has been shaped in the pursuit of minerals. It's both beautiful and rugged.
The route is very flat and passes through fields and evergreen forest for two miles. There are no stiles or obstacles to jump over so you can do this with a pram or with your kids on bikes. This takes about an hour.
From here you can extend your walk on the circular Wheal Maria Trail. This is where the path becomes winding, rocky and steep. It's fun to cycle with older kids and it is possible to take a pushchair as the paths are flat but you'll need muscles to get up some of the hills.
The Wheal Maria Trail is about three miles long (on top of the walk from the visitors centre). It navigates around the main copper and arsenic mines of the Devon Great Consols. It's all perfectly safe now. Just keep to the marked paths and don't let dogs off the lead.
Back near the visitors centre you can find activities like high ropes, canoeing and archery.
Here's a map of all the Tamar Trails walks.
Avon Dam – a pushchair friendly walk on Dartmoor
The walk to Avon Dam on the South East side of Dartmoor is a super easy route for families, with tarmac paths that are ideal for pushchairs, scooters and bikes. It's also very scenic with the river tumbling through the valley from the dam, moss covered trees and open moorland.
Read about the route and facilities available at Avon Dam.
Canonteign Falls – a Dartmoor walk with waterfalls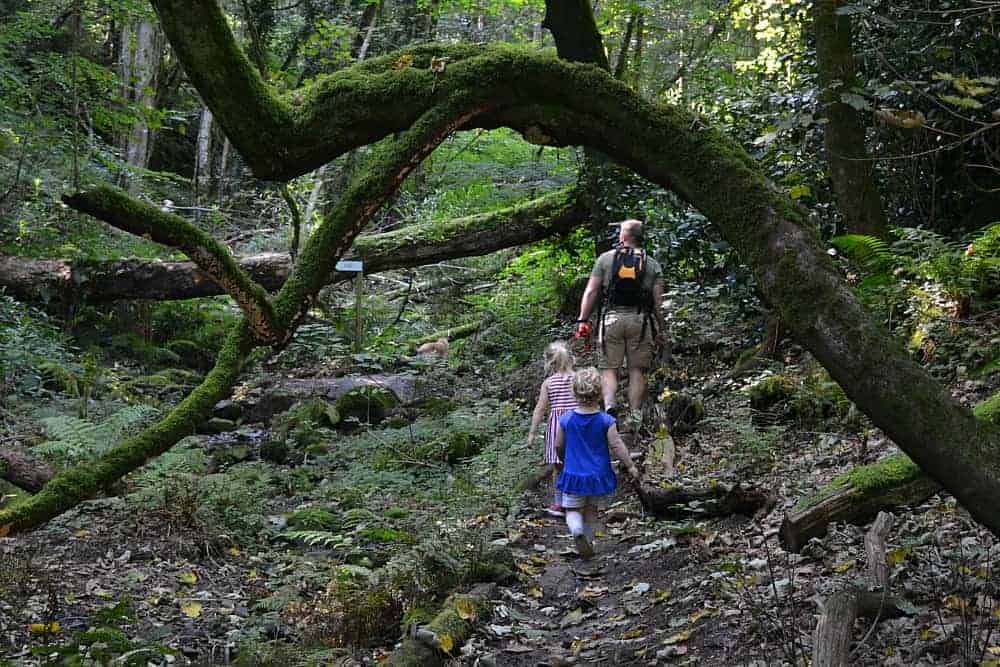 Canonteign Falls one of our recommended days out on Dartmoor with kids. It is a privately owned waterfall and woodland walk with trails, an adventure play area, trampolines, model boating lake and fishing lakes.

Read about our visit to Canonteign Falls.
The walk up to the top of the waterfall is challenging for little legs but it is possible if you bring a baby carrier for the littlest in your group.
This is not a Dartmoor walk for pushchairs. The paths have a fair smattering of rocks and roots, and there are numerous reminders that the rustic fences are there for guidance, not for leaning upon.
The walk is circular. Along the way there's a fern garden, fairy doors and fairies in the trees. Great distractions for kids!
At the top there's a viewing platform, Buzzard's View, from where you can over the falls as they plummet 70 meters into the valley below. The view of Dartmoor is spectacular.
Back at the bottom there is a cafe where you can recharge after your walk. This is also where you will find toilets.
Here's the route around Canonteigh Falls.
Find out more about Canonteign Falls opening information and admission prices.
Lydford Gorge – another waterfall walk on Dartmoor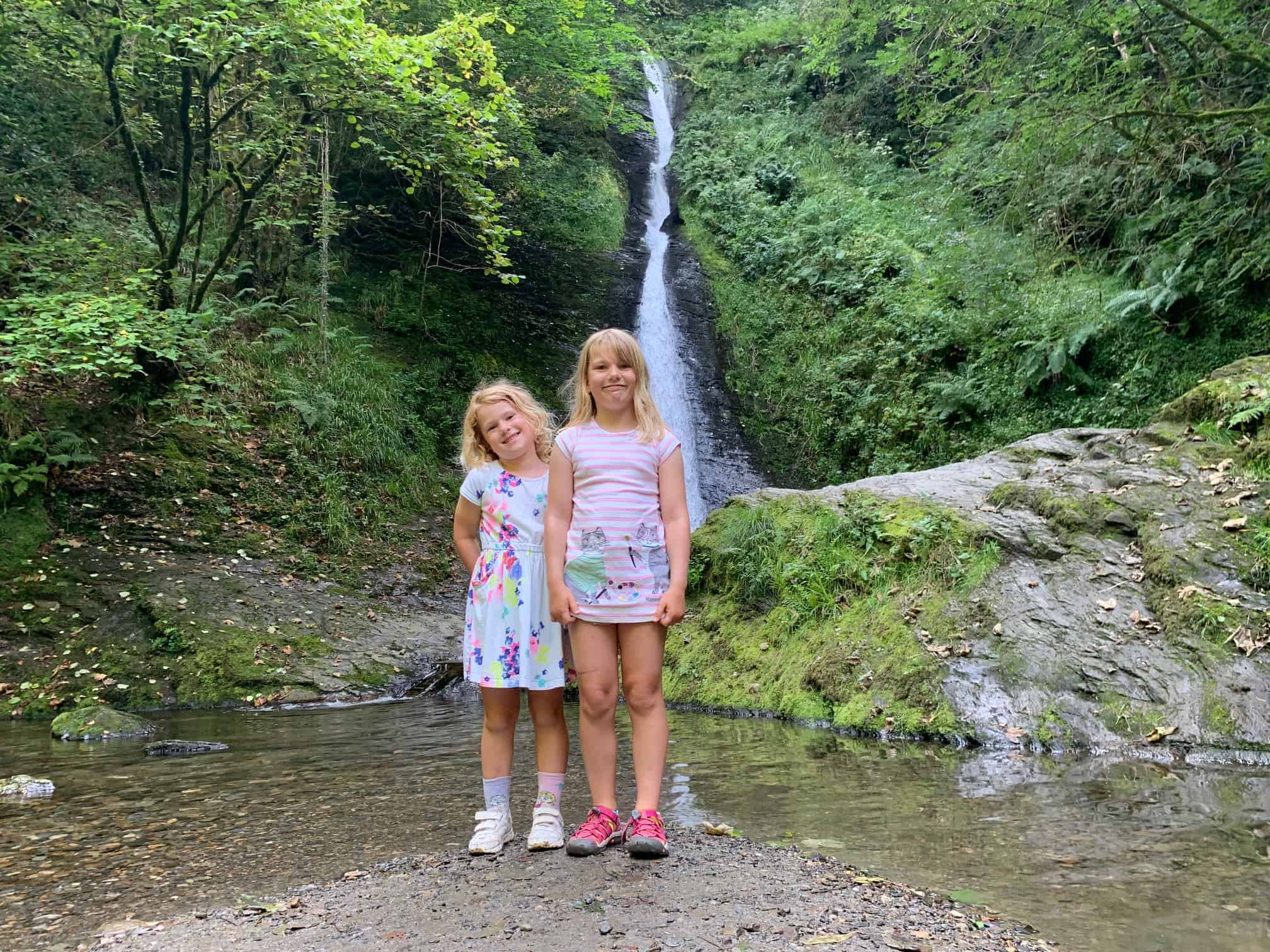 A short walk on Dartmoor with a waterfall at the bottom is Lydford Gorge. You can also spend a day exploring the whole of this extraordinary gorge with some more challenging sections.
However, in 2020 only part of the gorge is open and accessible from the National Trust's waterfall car park.
Read about our visit to Lydford Gorge.
Find out more about visiting Lydford Gorge and admission prices.
Becky Falls – a bit of a challenge but lots of fun
This challenging woodland and waterfall walk on Dartmoor also has furry, scaly and creepy crawly animal encounters.
Kids can clamber over boulders and spot wildlife in the ancient woodlands surrounding this privately owned valley.
As well as the waterfall walk – which you can take a few route around depending on how difficult you want it to be – there's an animal discovery centre and petting zoo.
This walk is not suitable for pushchairs. Wear sensible shoes!
Read about our visit to Becky Falls in Devon.
Find out more about visiting Becky Falls and admission prices.
Buckland Abbey – an easy Dartmoor walk with toddlers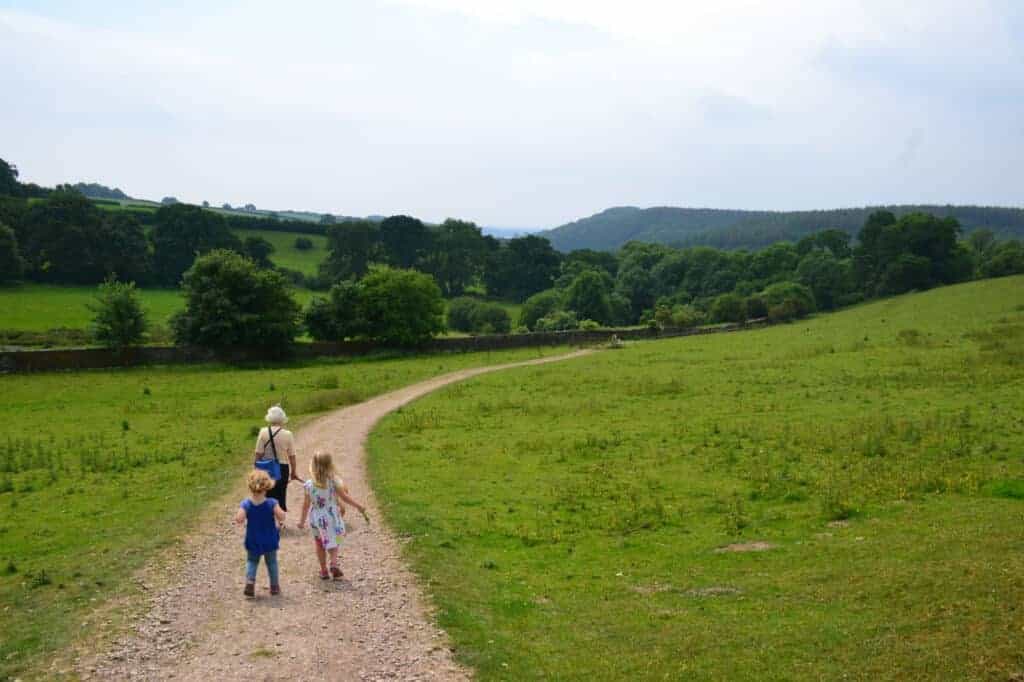 Buckland Abbey was the Devon home of Sir Francis Drake and is now one of several National Trust properties in Devon.
You can walk on the estate without visiting the house and gardens. Just pay for your parking (free for National Trust members). If you did want to find out about the house here's more about visiting Buckland Abbey.
There are three way-marked woodland walks on the Buckland Abbey estate. These varying in length from one mile to three miles.
The yellow route is the shortest and is a Dartmoor walk you can do with a pushchair. The longest, blue route will give you excellent views of the river.
There is a National Trust cafe in the stable yard beside the house. This is also where you will find toilets.
Find all the routes on this map of Buckland Abbey walks.
Haldon Forest Park – an easy Dartmoor walk with a pushchair
This Forestry England site is where you'll find an easy Dartmoor walk near Exeter that's also suitable for toddlers and pushchairs. Take the Discovery Trail for wide, flat paths that follow a play trail to keep the kids entertained.
The trail is 1.5 miles long and passes through woodland and a ridge overlooking Exeter and Dartmoor. In 2022, the Superworm Trail is also along the Discovery Trail.
You can extend your walk by adding in the Raptor Trail, which takes you up to a bird of prey viewing point. This walk is three miles long and includes some steeper sections.
There are also cycle trails, a pump track and skills area. You can hire bikes on site.
Haldon Forest Park has a large car pay and display park with a visitor centre, cafe and picnic areas. This is where you'll find toilet facilities. Go Ape with high ropes and Segways is also located in the park.
Find out more about visiting and walking at Haldon Forest Park.
River Dart Country Park – a fun Dartmoor walk with children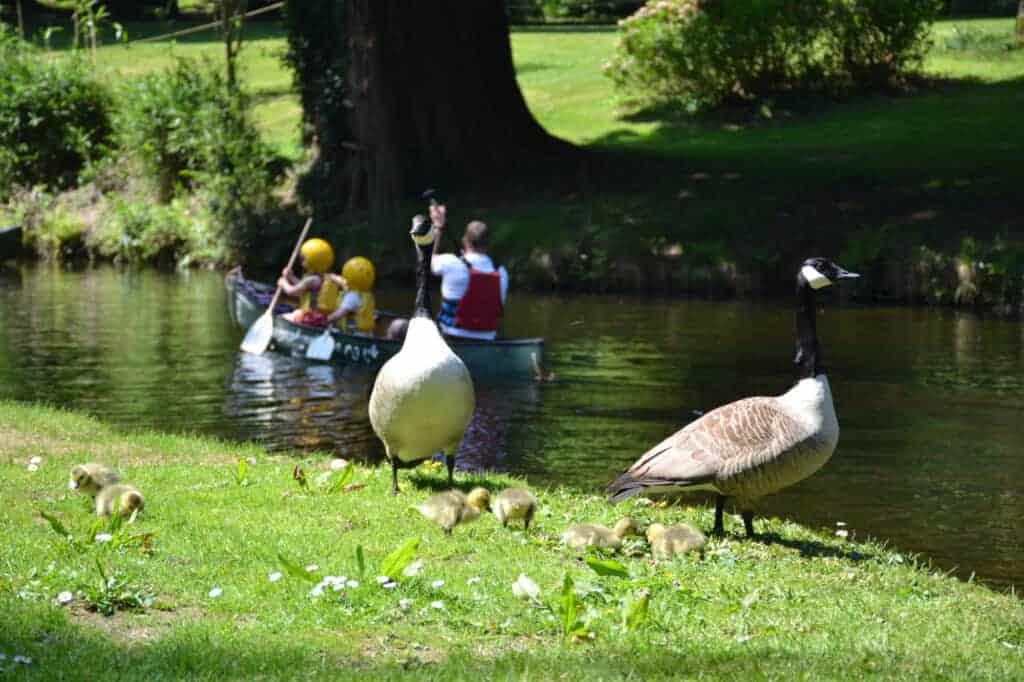 You'll get no complains from the kids if you take them on a walk around the play trails at River Dart Country Park at Ashburton.
There's slides, nets and play parks all over this parkland's 90 acres. There is a restaurant and toilets near the old country house as well as a toilet block near the canoe and swimming lakes.
There's an admission charge for visiting the park in peak season. Pay for parking only in low season.
Dogs must be kept on a lead within the country park at all times.
Here's the routes around River Dart Country Park.
All these Dartmoor walks are ones were have done as a family but I know there are many more. Do you have a favourite Dartmoor walk with kids that's not mentioned here? Let me know!
Disclosure: this post contains affiliate links. If you click on one of these and make a purchase I may earn some commission. This does not affect the price you pay.
Would you like more Devon goodies delivered to your inbox? Sign up to the Devon with Kids newsletter.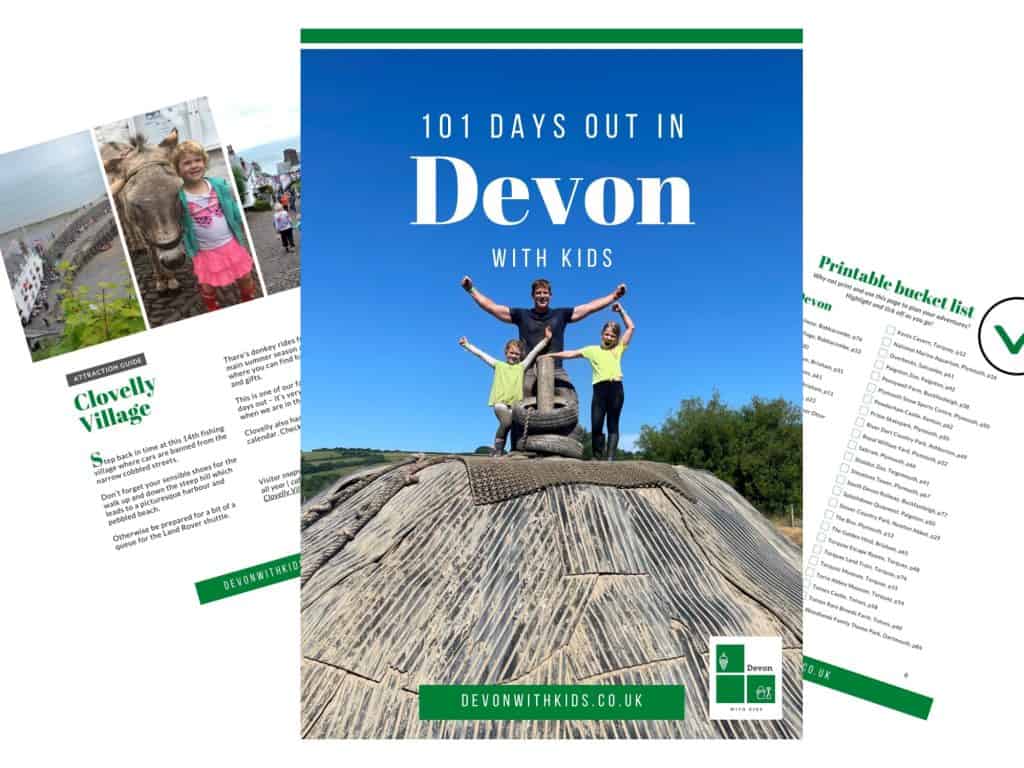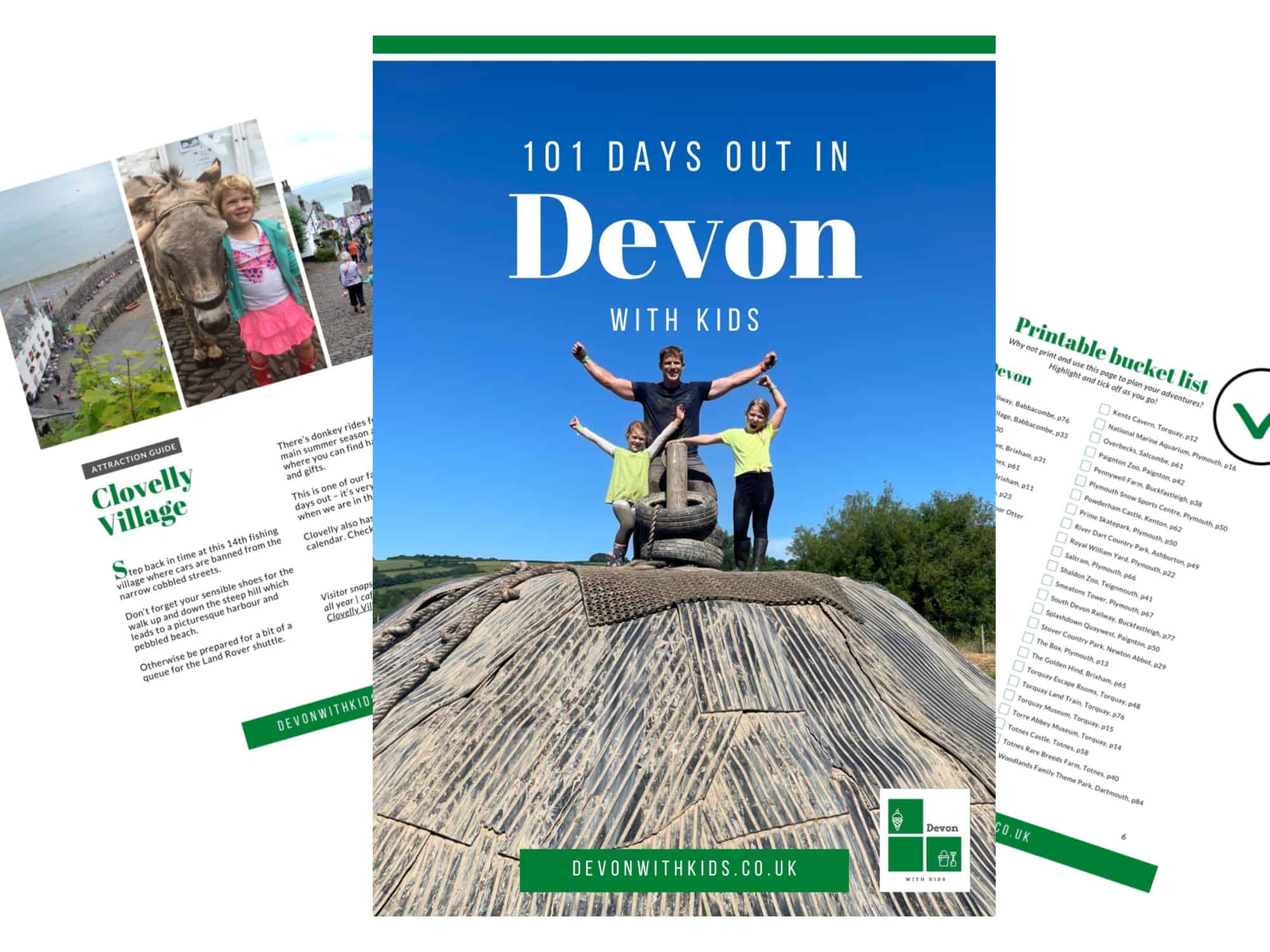 It's FREE!
Grab your copy of this guide to family-friendly things to do across the county, from coast to coast, in the cities, on the moors and whatever the weather.