Lydford Gorge walk with children
If you enjoy walks with plenty of natural drama then Lydford Gorge is an extraordinary place for a walk on Dartmoor in Devon.
We visited using our National Trust membership in August 2020. Things were a little bit different to normal as you might expect. A large section was closed so we will have to go back to appreciate the whole Gorge another time. When we do I'll update this post, but it thought our experience might be handy for anyone else visiting this year.
Love Devon? Join the Devon with Kids Facebook group and subscribe to my newsletter!
Why is Lydford Gorge so special?
The Gorge is 1.5 miles long and is the deepest in the South West. At one end there is a 30m waterfall and at the other is a naturally formed whirlpool called the Devil's Cauldron.
In between is a rambling river with mini falls (in comparison), steep cliffs and lycern covered woodland that's a haven for wildlife.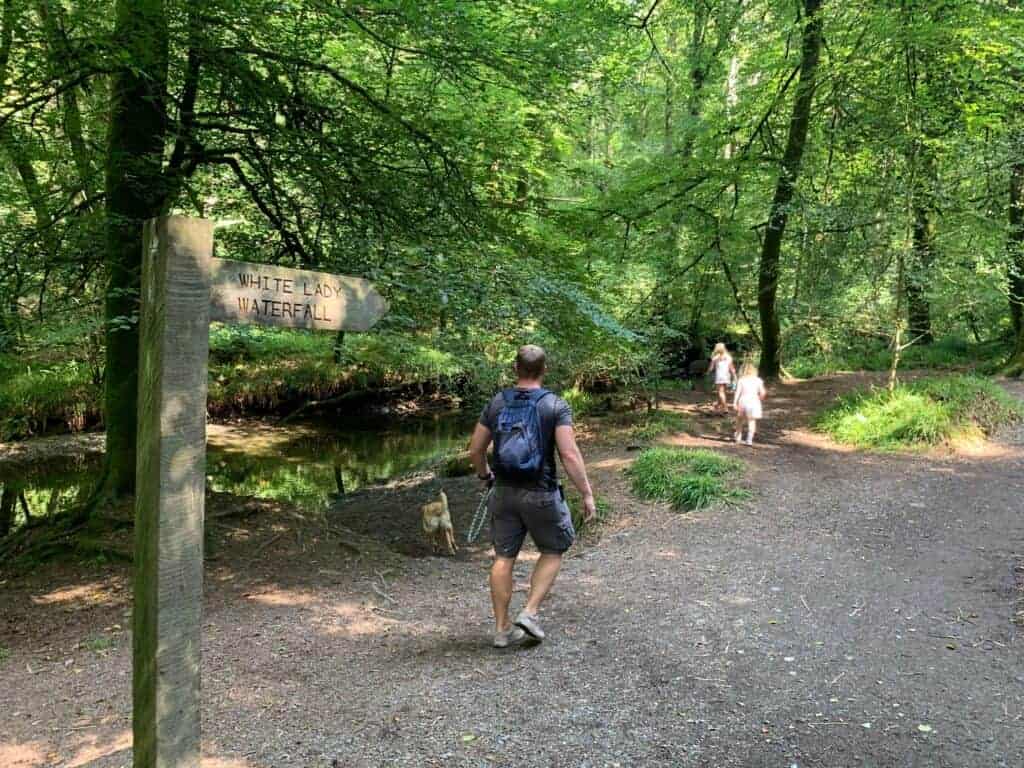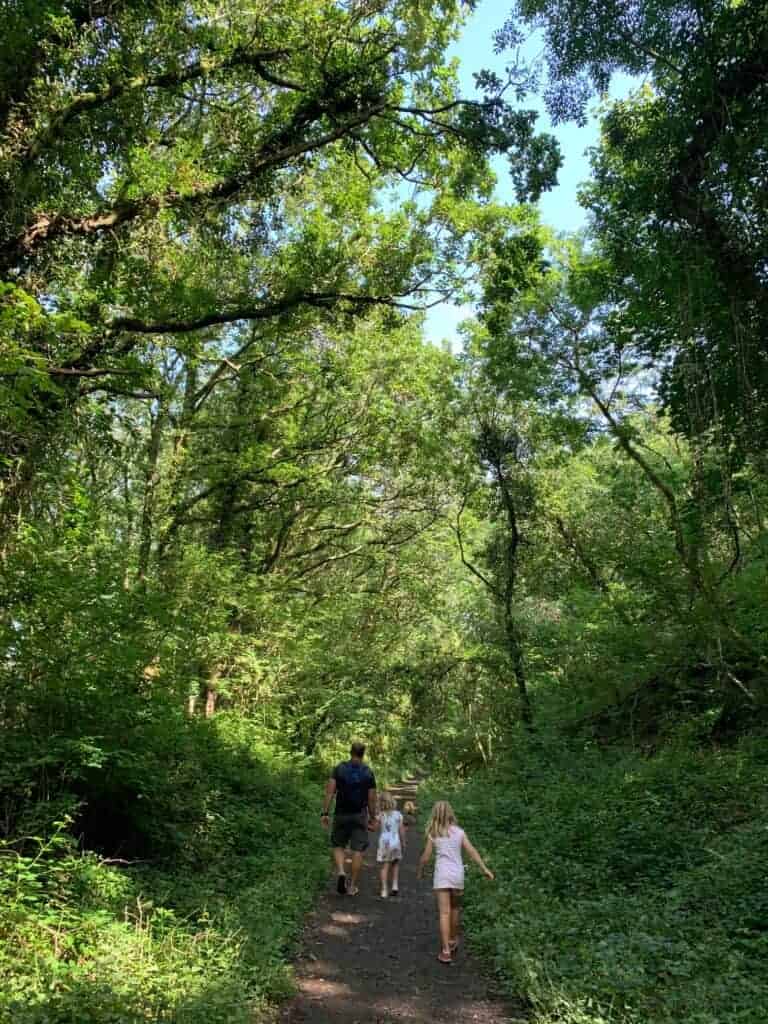 There's also a few fun things for kids to spot along the way.
Find more days out on Dartmoor to do with your family.
We enjoyed a reasonably gentle walk here on one of the hottest days of the year so far. There was a cool down draft beside the Whitelady Waterfall and a mesmerising babble of the steam dashing along the bottom of the Gorge.
Visiting Lydford Gorge during COVID-19
It's not possible to visit the whole Gorge at the moment but you can park at the waterfall car park and do an hour long circular walk to the Whitelady Waterfall.
This short section in itself was ideal for such a hot day. Our van had registered an outdoor temperature of 30°C just before we arrived.
Here's what else you need to know about visiting Lydford Gorge this summer:
Book your timed entry slot in advance. We booked four days ahead and had limited choice, so get in quick.
You follow a one way system from the waterfall car park. This is described as the 'long and easy' walk down to the falls.
There is hand gel at the entrance to the walk and along the way.
Bring your face mask for use in the tea room and toilets.
The tea room is doing takeaway only with a one way system.
Lydford Gorge Map
Here is a map of the whole Gorge and the walks around it.
It's important to say that some parts of the Gorge walk that aren't currently open are narrow and have a hand rail between you and a steep drop. Hold the hands of small children and keep an eye on kids of all ages at all times.
In 2020 just a small section and walk to Whitelady Falls is open.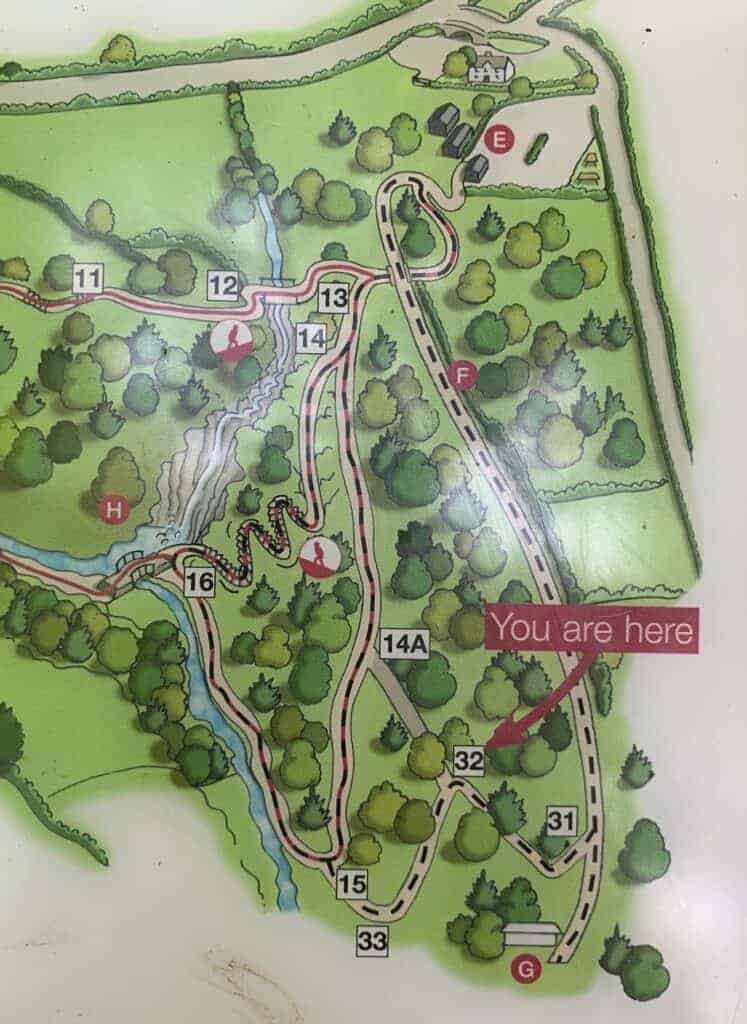 The waterfall car park is marked with E. The steep, wiggling path between 14 and 16 is currently closed.
Is this walk suitable for pushchairs?
No. There are some steep sections and rough paths that are not suitable for pushchairs. You could however easily walk this route with young children under their own steam or in a baby or toddler carrier.
Wear walking shoes or boots as the path is wet and slippery in places.
Find more easy walks to do on Dartmoor with kids.
Can you swim at Lydford Gorge?
However tempting it may be in the heat of the summer it is dangerous to swim in Lydford Gorge. Please do not enter the water. Some parts are deeper than they appear and the water flows fast.
Is it dog-friendly?
Yes, your dog can join you on the Devon waterfall walk at Lydford Gorge. However, they must stay on a lead.
Find more dog-friendly Devon attractions.
What facilities are there at Lydford Gorge?
The tea room at the waterfall car park is open from 11am until 4.30pm. The toilets are open and there are picnic tables at the car park. Picnics are not allowed during your walk at the moment.
When is Lydford Gorge open?
The waterfall car park and walk to Whitelady Falls is open but the Devil's Cauldron end of Lydford Gorge may remain closed in 2020.
This is sadly due to COVID-19 and redundancies within the National Trust.
You can visit from the waterfall car park from 10am to 4.30pm daily but you must book in advance.
Find out more and book here.
More waterfalls in Dartmoor
We can also recommend visiting these Dartmoor waterfalls:
Would you like more Devon goodies delivered to your inbox? Sign up to the Devon with Kids newsletter.
If you're thinking of visiting Lydford Gorge on Dartmoor then why not save this post for later.