The Box Plymouth was the largest arts and cultural hub to open anywhere in the UK in 2020. No mean feat in the middle of a pandemic! The even better news is that it is a free day out in Devon with plenty to entertain the whole family.
Here is everything you need to know about visiting The Box in South Devon.
Love Devon? Join the Devon with Kids Facebook group and subscribe to my newsletter!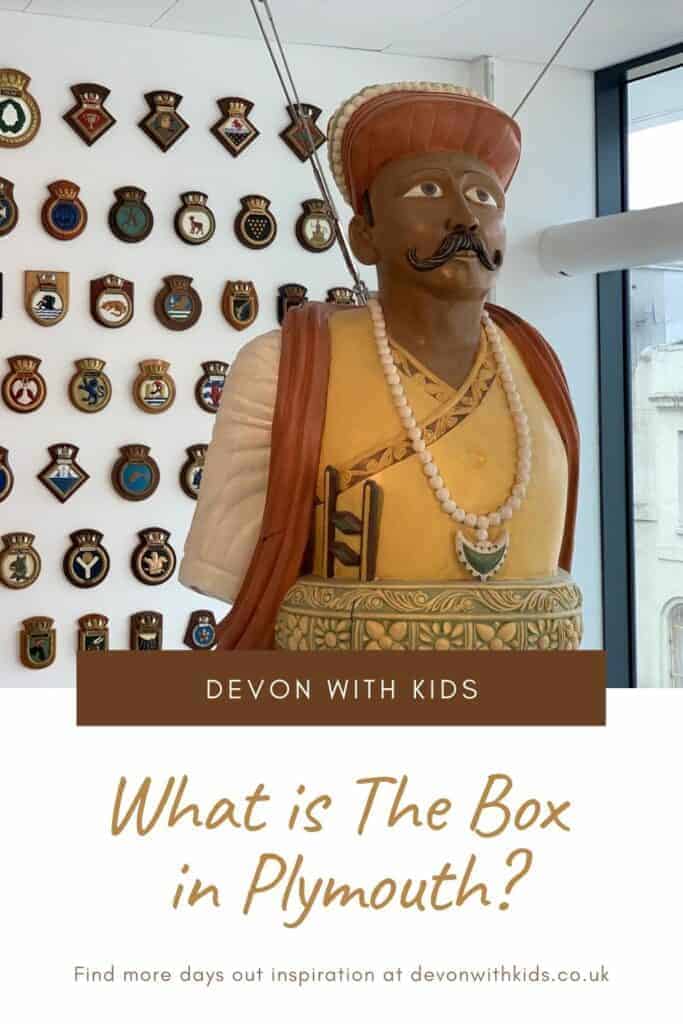 What is The Box Plymouth?
Excellent question – the name doesn't give much away, especially when you are scrolling through ideas for things to do in Plymouth with kids.
The Box is the city's new cultural centre with permanent galleries and touring exhibitions. It's also free to visit – a bonus for anyone looking for things to do on a rainy day in Devon.
The exhibition spaces are large and airy. Some have been carefully curated to tie in with the Mayflower 400 commemorations, which marks four centuries since the Mayflower's voyage to America – the impact of which still ripples through history.
But this isn't just a museum to commemorate the pilgrims. It's much, much more. There's areas dedicated to Plymouth's natural history, its strong maritime heritage, art, media and photography.
Frankly, its all beautifully put together and has been a labour of love for the team involved over the past five years. Not only is it stunning, it's also interactive, making it a fun place to visit with kids.
Of course, at this time a lot of the interactive stuff is hands off, but there's still plenty of things your kids can look at inside, press and walk through to make this an exciting, yet COVID safe place to visit.
Must see at The Box Plymouth
Here's 10 things your kids will love to see at The Box:
1. The figureheads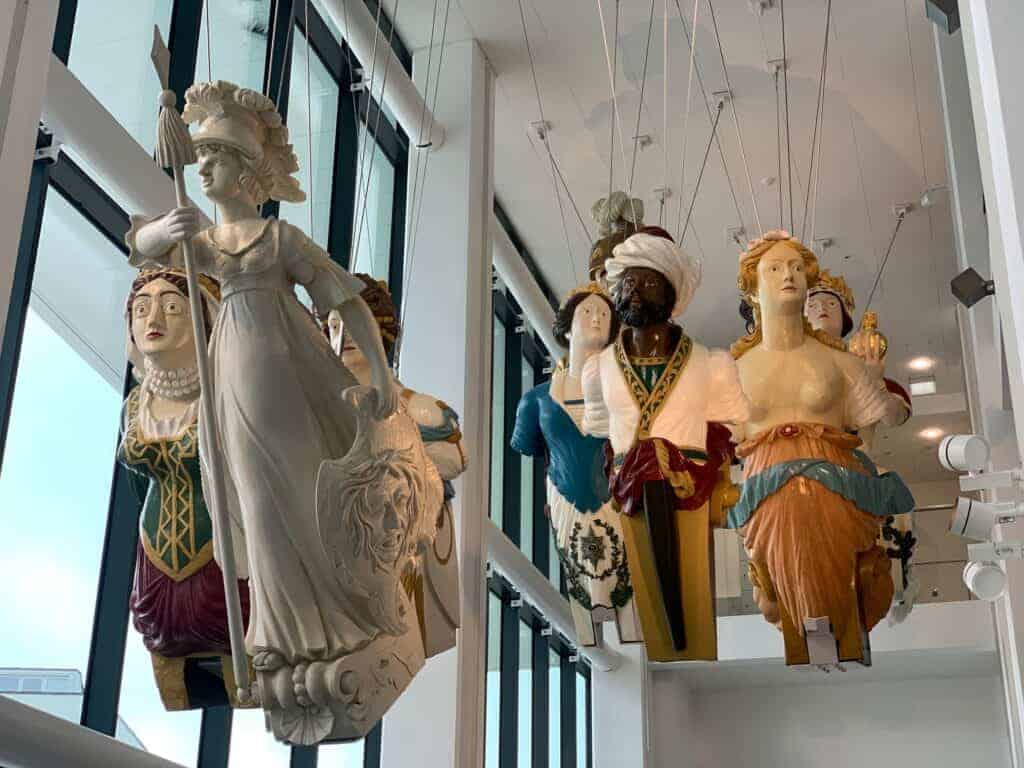 Before you even step inside The Box you can't miss the 14 monumental ships' figureheads floating above the entrance. Collectively they weigh more than 20 tonnes – the largest HMS Royal William or 'King Billy' is 13ft tall and was carved in 1833.
You can view them from below and get an eye-to-eye view from the balcony on the first floor.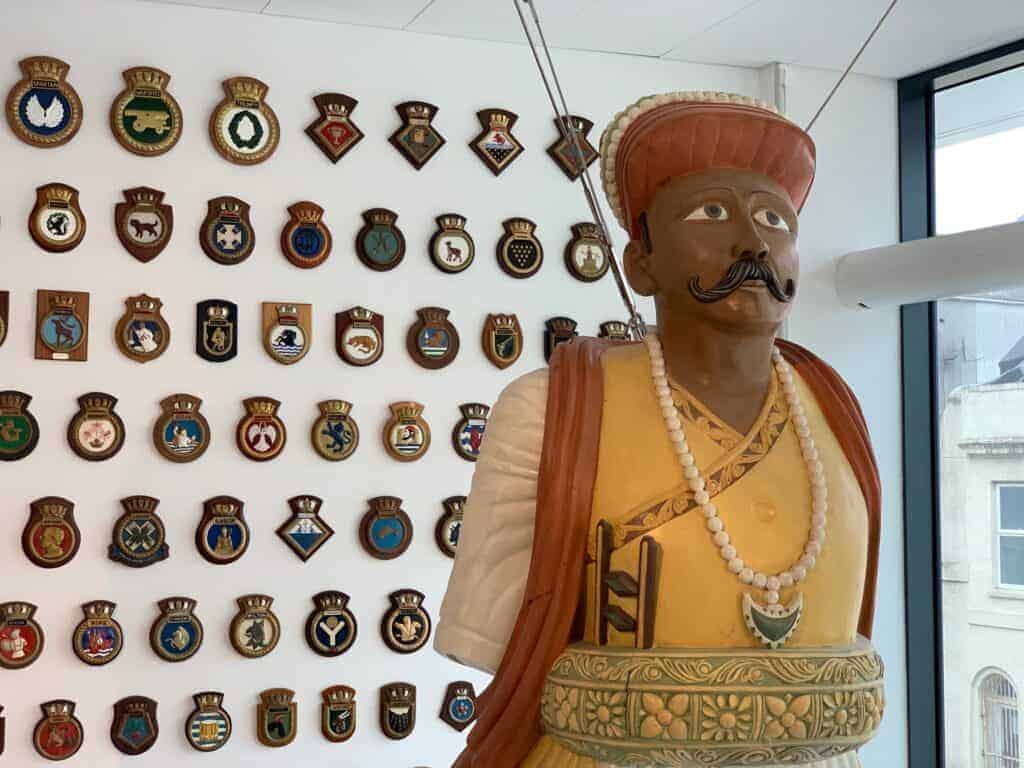 2. The wooly mammoth
Did you know that 350 thousand years ago mammoths, woolly rhinos, cave lions and bears roamed Plymouth and South Devon?
In honour of these pre-historic Plymothians The Box commissioned a life-sized model of a female mammoth to stand alongside skeletons and bones of other creatures in its collection.
Top fact: the mammoth was made in America by the team behind Chewbacca from Star Wars – you may recognise the fur.
3. Beetles and a baby shark
You'll find it hard to tear the kids away from The Mammoth Gallery. It is packed full of the curiosities of Plymouth's natural history. I did three circuits and spotted something new each time.
This gallery will usually be full of interactive features like games and puzzles, but these are being kept under wraps during COVID-19. There's still a microscope for checking out bugs and the interactive information screens are all working. You're given a stylus to use on them when you arrive.
Look out for a surprise beetle in the walk-in display of 4,837 mini beasts and the baby shark among the jars of pickled creatures found in Plymouth Sound.
4. The Port of Plymouth film
This is likely to be the first exhibition you walk through at The Box Plymouth.
The Port of Plymouth is a celebration of city's naval and maritime heritage. It starts with a six minute long animation that whisks you from land to sea and under the waves to discover the city's long-standing connection with the ocean.
Top fact: the narrator is none other than Devon's Dawn French.
5. The Periscope
The Port of Plymouth exhibition continues by exploring the city's heritage from the Bronze Age through to the living history of the fishing community and the dockyard.
One of the best interactive exhibits here at the moment is the periscope that you can look through for views of Plymouth Sound.
6. The Puffersphere
In the 100 Journeys exhibition you can find the Puffersphere, which is a UK first.
The globe is constantly changing with projected images relating to the historic journeys that have started in Plymouth, including voyages taken by Sir Francis Drake, Charles Darwin, Captain Cooke and Robert Scott.
Below it are four interactive screens where you can find out more about key events and characters.
You can then look at objects from some of these expeditions in the cases around the room. Keep an eye out for Scott of the Antarctic's huge wooly socks and wooden skis.
The exhibition doesn't shy away from the darker side of history including Britain's role in the slave trade and piracy.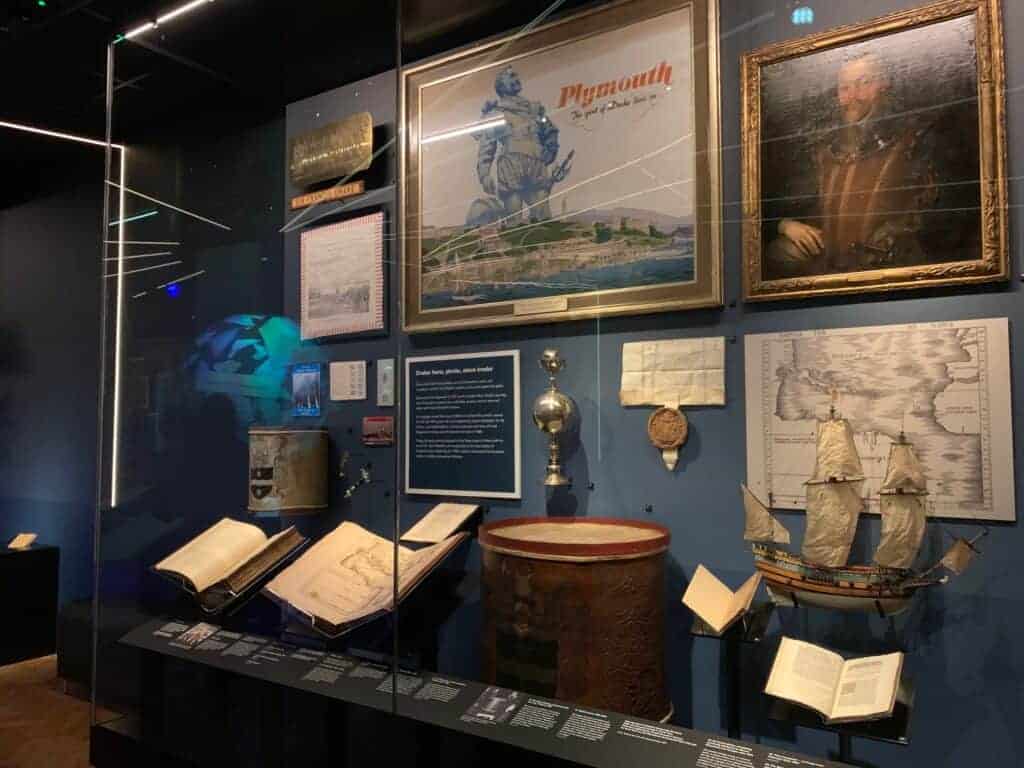 7. The wall of treasure
The Our Art exhibition showcases more of Plymouth's art than even before. As you walk through the door there's a wall of 350 pieces of treasure including tea pots, dining sets, period costumes, silverware and pottery.
On either side there's work by South West artists from the past three hundred years.
8. TVs of the past
Blow your children's minds by pointing out the telly you had when you were a kid in the display of classic TVs that covers a wall in the Media Lab.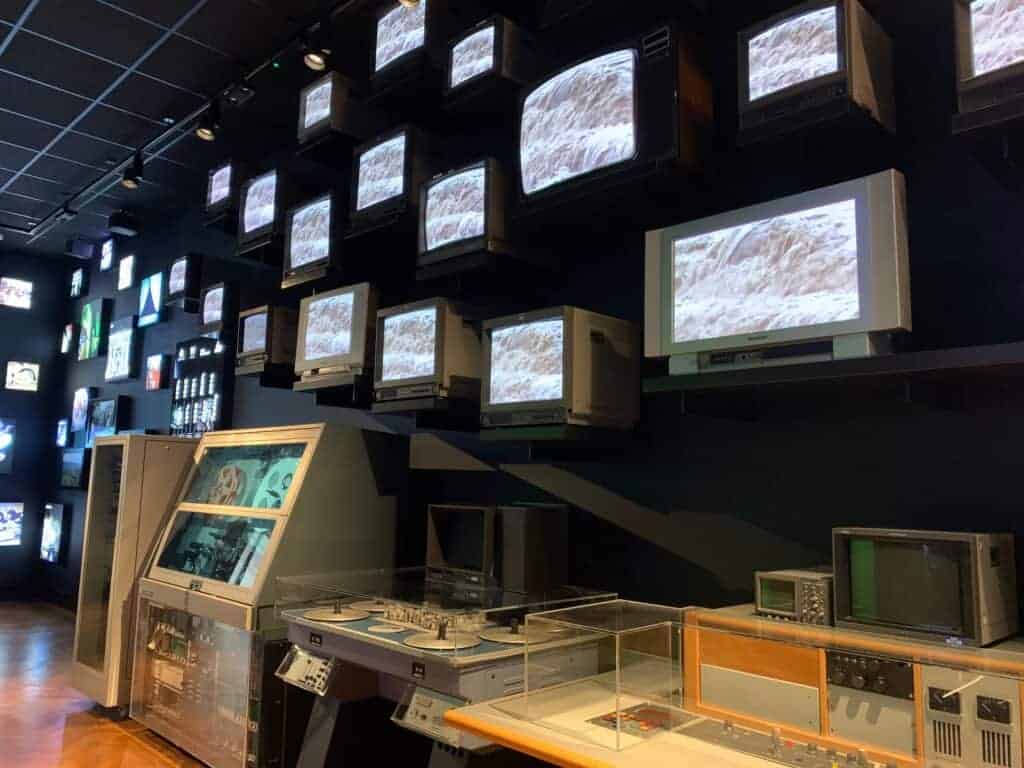 This area features historic moments from the Television South West archives and is the UK's largest regional film and television archive.
The footage on the small screen TVs is also projected on to three walls on the opposite side of the exhibition where it feels like you have stepped inside a telly.
9. Gus Honeybun
I have to admit that my friend and Plymouth blogger Helen, who writes Twins, Tantrums and Cold Coffee, had to explain this exhibit to me.
Gus Honeybun was the station mascot for Westward Television, and later Television South West, from 1961 to 1992.
As someone who moved to Devon in 2015 I didn't have a clue. But Gus – who has definitely seen better days – used to help deliver birthday messages to children. Here's a taster of his work:
10. The TV studio
If you have a budding news reporter in your family, or maybe even a YouTuber, then they can have a go at presenting their own edition of BBC Spotlight in The Media Lab.
Here's Helen doing an audition to become the next big thing on the Beeb!
Family facilities and accessibility
The Box used to be Plymouth art gallery and library, but has undergone a redesign and extension. This includes new and remodelled family and accessible facilities.
There's a buggy park, and a changing places and baby changing facilities on the ground floor behind The Box Kitchen. There are also lifts to all levels.
When you are exploring the museum you'll notice that there are low level displays and wide walkways. There are also gallery guides in each space to welcome you and answer questions.
Children's trails and activities
If your kids are anything like mine they'll love trails. The Box has six free children's trails to pick up when they arrive and help them explore the different exhibits.
They are designed for all ages to encourage kids to look up and around them, draw what they have seen and write about their visit.
I've already mentioned some of the interactive and fun things for kids to see at The Box. But there will be more coming post-COVID such as games, puzzles and stamps. Even more reason to go back in better times!
School holiday activities
Each school holiday there is a programme of paid and free drop-in children's sessions at The Box.
Find out what's on at The Box.
The Box Kitchen & Bar
This is the all important cafe at The Box. You'll find it on the left as you come in the main entrance. You can reserve a table when you book your visit to the museum.
We booked at table during our visit after The Box reopened in May and can highly recommend it. As soon as we arrived there was someone to seat us and give the kids Box-themed colouring sheets.
The restaurant menu is a refreshing change from the usual fast food you might find at other family attractions. Its made with locally sourced ingredients and is delicious. I can recommend The Salcombe crab linguine. My husband has a Box Burger with fresh slaw and skin on chips, and the girls had sausage, chips and peas. It all went down very well.
When is The Box open?
The Box is open Tuesday to Sunday and bank holidays, from 10am to 5pm.
How much does it cost?
Entry to The Box and its permanent exhibits is free.
Parking for The Box
The Box is a five minute walk from the city centre, so you can easily access it using public transport or Plymouth Park and Ride.
The closest car parks for The Box are pay on exit parking at Drakes Circus or pay on foot parking at Regent Street.
The Box address
You can find The Box at: Tavistock Place, Plymouth, Devon PL4 8AX. Visit its website for more information.
More things to do in Plymouth
While you're here why not take a look at my posts about more things to do in Plymouth with kids and places to visit in South Devon.
You might also like to read these Plymouth attraction guides:
Planning things to do in Plymouth? Why not use Pinterest to save this post about The Box Plymouth.