When it comes to traditional English seaside destinations, Paignton has to be one of the top in Devon. It has beaches, amusements and lots of family-friendly attractions. We live just the other side of the River Dart and are regular visitors. If you want to fast track to the best bits for families here's my guide to things to do in Paignton with kids whether the sun is shining or you've been caught out with a wet day.
*This post contains affiliate links*
Staying between Paignton and Torquay on the English Riviera? You also need to check out my post about things to do in Torquay.
Love Devon? Join the Devon with Kids Facebook group and subscribe to my newsletter!
Got a while to stay? Here's our BIG guide to family holidays in Devon.
Family attractions in Paignton
There are some top family days out in and around Paignton. Here's a few:
1. Paignton Zoo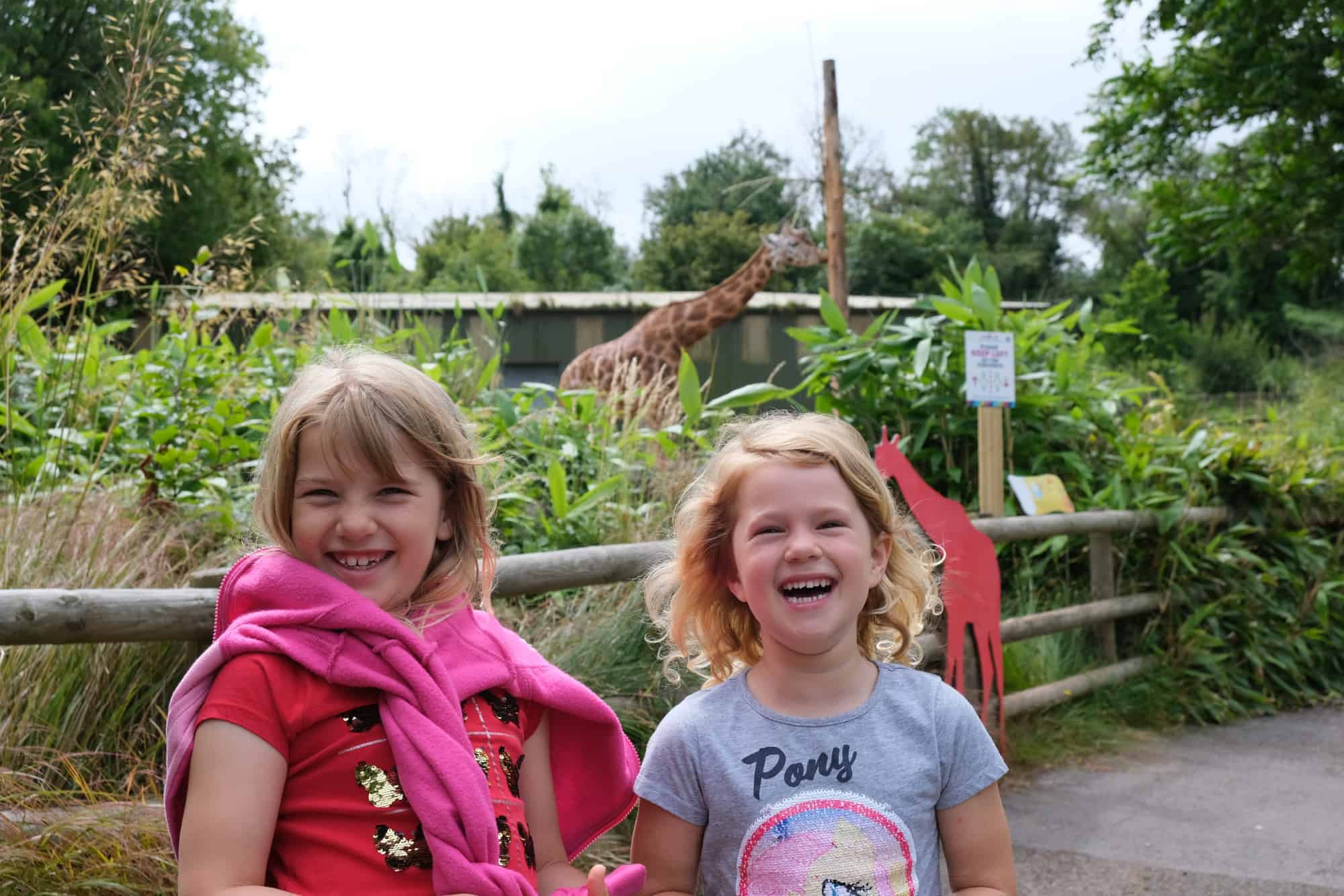 One of the most popular things to do in Paignton with kids has to be a visit to the Zoo. This is a full day out with more than 2,500 creatures to meet, keeper talks and events in the school holidays.
There's also play grounds, a soft play area and indoor habitats making this a great all-weather Devon attraction.
Please note: some activities are not available during the pandemic. Here's what to expect if you visit the Zoo during COVID-19.
Find out more about Paignton Zoo prices and opening times.
2. Dartmouth Steam Railway
All aboard for a journey back in time along the old branch line from Paignton to Kingswear.
The steam trains of Dartmouth Steam Railway travel along a beautiful coastal and riverside track with stops at Greenway Holt, where you can walk to Agatha Christie's holiday home, Greenway, and Churston before the end of the line at Kingswear. From here you can hop on the passenger ferry for a walk around historic Dartmouth.
Read more about things to do in Dartmouth with kids.
You can make this a full day out by buying tickets for the Round Robin tour which takes you in a loop from Paignton to Kingswear via the train, then from Dartmouth to Totnes by boat and finally from Totnes back to Paignton by bus.
Visit in November and December and you can ride the award-winning Train of Lights.
This is a dog-friendly day out that also gives you cover on a wet day in Devon.
Trains run daily in the summer months, at weekends in the off season and with special services around Christmas. Find out more about trips on Dartmouth Steam Railway.
3. Pirates Bay crazy golf
Just back from the sea front is Pirates Bay Adventure Golf Course with 18 holes of themed golfing fun.
Historic attractions in Paignton
Go off the beaten track and explore some of Paignton's history.
4. National Trust Compton Castle
Explore one of the ancestral homes of the Gilbert family, which was built in the 14th Century. Among its Tudor residents was Sir Humphrey Gilbert who colonised Newfoundland in the name of Queen Elizabeth I in 1583.
Compton Castle is not open all year round, so keep an eye on the National Trust website for opportunities to visit.
Beaches in Paignton
Here's our favourite beaches in Paignton. Don't forget there's plenty more great South Devon beaches to explore too.
5. Goodrington Sands
This is our favourite beach in Paignton as it has something for everyone:
The water is shallow and safe for toddlers.
The north end is dog-friendly
There's amusements and great views of the steam trains running along Dartmouth Steam Railway at the south end
In the summer there's always plenty to do at Young's Park behind the beach. See below.
6. Broadsands Beach
Much like Goodrington Sands, Broadsands is shallow and safe for paddling. There's a promenade here with a couple of cafes and a large area of park behind.
Dogs are allowed between October and April.
7. Paignton Sands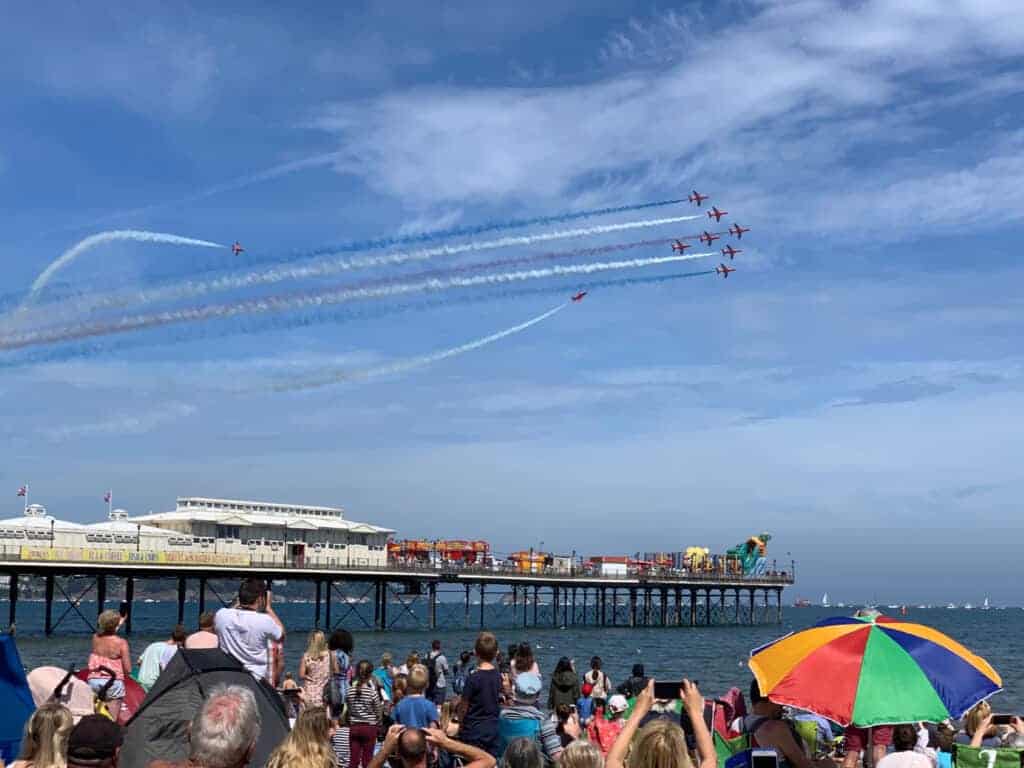 This shallow stretch of sand is brilliant for a beach day with kids. It's in the shelter of Torbay so the waves don't get too rough unless there's stormy weather.
Even better, it's a top place to watch the English Riviera Airshow in June.
Paignton Sands is the town's main beach and runs along the front of the town. This puts it in a prime position with plenty of other family-friendly things to do close by like the Pier, Geoplay Park, cinema and crazy golf.
There's plenty of parking along the sea front or a multi-storey car park a great roads back.
Dogs are allowed from October to April.
8. Preston Sands
Preston Sands is to the North of Paignton Sands and is another sheltered beach in Torbay. There's a promenade and cafe.
Dogs are allowed from October to April.
Parks in Paignton
Looking for parks for picnics, walks and playgrounds in Paignton. Here's some we love – and you only have to pay for parking!
9. Youngs Park
Head to Youngs Park in the summer for picnics on the lawn, crazy golf and rides in swan boats and bumper cars.
Even in the winter, it's a great place to kick around a ball, scoot and let the kids enjoy the playground.
Whatever the weather we can recommend stopping at Cantina to grab a hot, chocolate, pizza, tapas, seafood and cake, among other delicious locally sourced food and drink. There's lots of vegan options on the menu too.
Find Youngs Park off the A379 Dartmouth Road.
10. Cockington Village and Cockington Country Park
Explore the picturesque village of Cockington, take a walk along the river, through the country park and explore the artisan shops of Cockington Hall.
This is a great picnic spot in Paignton and somewhere you'll find lots of seasonal and school holiday events.
Find out more about visiting Cockington.
11. Geoplay Park
Inspired by the incredible geology of the English Riviera, this large play park is a brilliant place to let toddlers, tweens and teens let off steam. There's lots of play equipment for different ages, a sand pit and in the summer there's a water feature.
Find the Geoplay Park on the seafront.
12. Victoria Park
Victoria Park is set back from the sea front. It has plenty of lawns where you can have a picnic and admire the pond. There's also a great playground, tennis courts and skate park.
Find Victoria Park off Hyde Road.
Find more parks and adventure playgrounds in Devon.
13. Boat trips from Paignton
There are lot of companies offering boat trips around Torbay and along the coast where you can pop into neighbouring towns like Torquay, Brixham and Dartmouth. You can also go on wildlife spotting and fishing trips.
Pick up a boat trip at Paignton Harbour or at Torquay Harbour.
Check sailing times and prices with Paignton Pleasure Cruises and We Ferry.
Free things to do in Paignton
Entertaining kids is expensive – I hear you! Here's some ideas for places to visit in Paignton where you don't have to pay an entrance fee.
14. Occombe Farm
This is one of the great free places to visit in Paignton with young children. You can wander through the farm, visit the animals and explore the vegetable fields.
We'd also recommend a visit to the farm shop for lunch or a cream tea.
Look out for music and food events at the farm too.
Find out more about visiting Occombe Farm.
15. Paignton Pier
For some traditional seaside fun visit Paignton Pier and chomp on fish and chips while enjoying the amusements.
Find out more about visiting Paignton Pier.
16. Buy a seaside souvenir
If, like us, you collect souvenirs from your days out and holidays you'll find plenty in the shops on Torbay Road running from the level crossing to the sea front in Paignton.
There's also chip shops, ice cream sellers and cotton candy hanging in bags around the arcades at the beach end.
Pools and splash parks in Paignton and nearby
Please note that indoor swimming pools in Paignton may not be open in 2020. Check with each venue to avoid disappointment.
17. Splashdown Quaywest
If your kids love flumes then the ultimate thing to do in Paignton is visit Splashdown Quaywest at Goodrington.
This is a great day out in Devon with teens. There are also a few slides and splash areas for younger kids
Splashdown is an outdoor splash park and is open from April to September. Find out more about visiting Splashdown Quaywest.
18. Torbay Leisure Centre
Go for a dip in the swimming pool at Torbay Leisure Centre – easy fun on a wet day in Paignton.
Find out more about swim sessions at Torbay Leisure Centre.
19. Waves Leisure Pool
This swimming pool with wave machine, flume and toddler splash area is a top place to visit near Paignton on a rainy day.
You can get a dip and dine deal in the leisure centre cafe where there's also a small soft play area.
Be aware that there are no family changing rooms.
Find out more about pool sessions at the English Riviera Centre in Torquay.
20. Aztec Leisure
Another swimming pool near Paignton is at THL Leisure hotels in Torquay. This is open to non-residents.
Relax in a poolside lounger while older kids splash around in the 25m swimming pool or supervise younger children in the Aztec Falls fun pool.
There's also ten pin bowling, an arcade and pool tables.
Find out more about visiting Aztec Leisure in Torquay.
Things to do in Paignton when it rains
Don't let the wet weather ruin your fun. Here's some ideas for things to do in Paignton with the kids when it rains. Be aware that you will need to book in advance.
Here's some more ideas for things to do in Devon when it rains.
21. Vue Cinema
Escape the weather on a wet day in Paignton and see the latest blockbuster movies at the Vue Cinema on the seafront.
There's a Harvester right next door for an easy, kid-friendly dinner.
Find out what's on at Vue in Paignton.
22. Palace Theatre
There are family-friendly shows throughout the year, particularly at Christmas, Easter and in the Summer holidays.
Find out what's on at Palace Theatre.
Looking for more days out and activities in the Torbay area? Read my post about things to do in Torquay.
23. Ride an open top bus
The Golden Hop 122 open top bus service is not only a great way to get around the English Riviera, it also gives you some beautiful views of the coast.
This Stagecoach service runs from Hoburne Devon Bay holiday park to Babbacombe, every half hour, seven days a week. It stops at Paignton Seafront, Torquay Seafront, the harbour and Babbacombe Cliffs.
It's also your chauffeur service to attractions like Splashdown Quay West, Paignton Pier, the English Riviera Wheel, Bygones, Babbacombe Model Village, Babbacombe Theatre, Babbacombe Cliff Railway and Kents Cavern.
That's not to mention the beaches at Goodrington, Paignton and Torquay – some of the top beaches in South Devon. Hop on and off any time you want. Group day rider tickets for up to five people cost £10 in 2021.
Full details are on the Stagecoach website.
24. Soft play in Paignton
Parents of babies and toddlers have these options for soft play in Paignton and close by:
25. Events in Paignton
Here's some great events in Paignton to add to your diary:
English Riviera Airshow – June
Torbay Royal Regatta, Torquay – August
To find out details about these events and others close by in my full guide to events in Devon.
Where to eat in Paignton
Eating out is one of my weaknesses – I've never been a fan of cooking. Here's a few of our favourite places to treat ourselves eating out in Paignton:
I've also seen lots of recommendations in the Devon with Kids Facebook group for the Noah's Ark pub next to Paignton Zoo and Lauren from Dining Devon had a great experience at Shoreline in Paignton.
Where to stay in Paignton
Paignton has plenty of family-friendly accommodation, not least a large number of holiday parks.
Whether you are looking for somewhere to pitch your own tent or rock up to a luxury mobile home with hot tub, there's plenty of choice. Most Paignton holiday parks also offer entertainment and are, by nature of their location, close to South Devon beaches. Here's a list of holiday parks in Paignton.
If you prefer a hotel then, there are a few options on the sea front. Take a look at booking.com* for availability.
Also take a look at places to stay in Torquay which is a short drive away.
Other things to do in Devon with kids
Paignton is in a great location to explore further afield in Devon. If you exhaust all the ideas above check out these Devon guides:
Would you like more Devon goodies delivered to your inbox? Sign up to the Devon with Kids newsletter.
Disclosure: this post contains affiliate links marked with *. This means that if you click on one and make a purchase I may earn some commission. This is at no additional cost to you.
Are you planning your days out and things to do in Paignton with kids? Why not save this post on Pinterest.