This family-friendly walk in the South Devon has it all: views, a beach and several options for places to recharge when little tummies start growling. Here's what you need to know about walking from Gara Rock to Mill Bay and even extending your walk from the South West Coast Path across the estuary to Salcombe.
Love Devon? Join the Devon with Kids Facebook group and subscribe to my newsletter!
Handy information about this circular walk in South Devon:
We completed this walk in August. Please allow for seasonal changes if you are walking at a different time of year. Wear appropriate footwear and check facilities are open before you set off.
This three mile circular walk in Devon is suitable for families but not pushchairs.
You can add to it by taking different routes and hoping on the passenger ferry across to Salcombe from the jetty below the Venus Cafe at East Portlemouth.
You can find toilets at Gara Rock and in the Mill Bay National Trust car park.
Park at Gara Rock, as the car park at Mill Bay is currently closed due to a land slip.
You could easily complete this walk in an hour but we took a slow saunter and did it in three hours with a wander along to Venus cafe at East Portlemouth.
NB The Venus Cafe at East Portlemouth is meant to be open 10am-5pm seven days a week but it was closed on the Wednesday we visited early in August. Check before you go.
The route from Gara Rock to Mill Bay and back
Ignore the off shoot to Gara Rock Beach at the end of this Google Map – unless you want another dip! There is access from the South West Coast Path back to the Gara Rock restaurant and car park.
How to do it
Start at Gara Rock where you can use the non-residents car park.
Gara Rock is a great place to fuel up before your walk or grab lunch on your return. There's a takeaway van outside or you can order from the restaurant and eat in or outdoors. There are toilets here.
We completed the route anti-clockwise starting from the non-residents car park at Gara Rock. This is where you'll find a sign saying 3/4 mile to Mill Bay.
There's a tree lined walk from the non-residents car park down the valley. Just follow the path and signs down hill avoiding roads marked as private property.
There are a few steep and rocky parts so good shoes are recommended.
Along the way you'll see some interesting trees on the fern-lined gully path. This takes you into the end of the Mill Bay National Trust car park.
If your kids like a bit of encouragement/bribery at this point there's a small shack selling ice creams and drinks at Mill Bay.
After the down hill walk (or headland hike if you have done the route clockwise) you have to pull of your shoes and dip a toe at Mill Bay. There's a steam and rock pools to accompany the fine sand on this estuary beach opposite Salcombe.
Mill Bay is one of our favourite South Devon beaches.
This beach is a lovely spot for paddling with young kids, paddle boarding and rock pooling. However, the car park has been closed during much of 2020 after a landslip. Check the National Trust website before you drive here.
To extend there walk you can take the Eastportlemouth Ferry to Salcombe. You will find the steps to this next to the Venus Cafe on Millbay Road.
Here's some of the things to do in Salcombe with kids.
You pick up the walk route again to the left of Mill Bay beach. From here all paths lead back to Gara Rock but you can make the walk longer by taking the right fork when you reach the first junction. This takes you on the lower path around the mouth of the estuary to visit another of the small sandy coves.
We look the higher path that zig zags up into the woods. The path is covered in roots and rocks to keep an eye on younger walkers.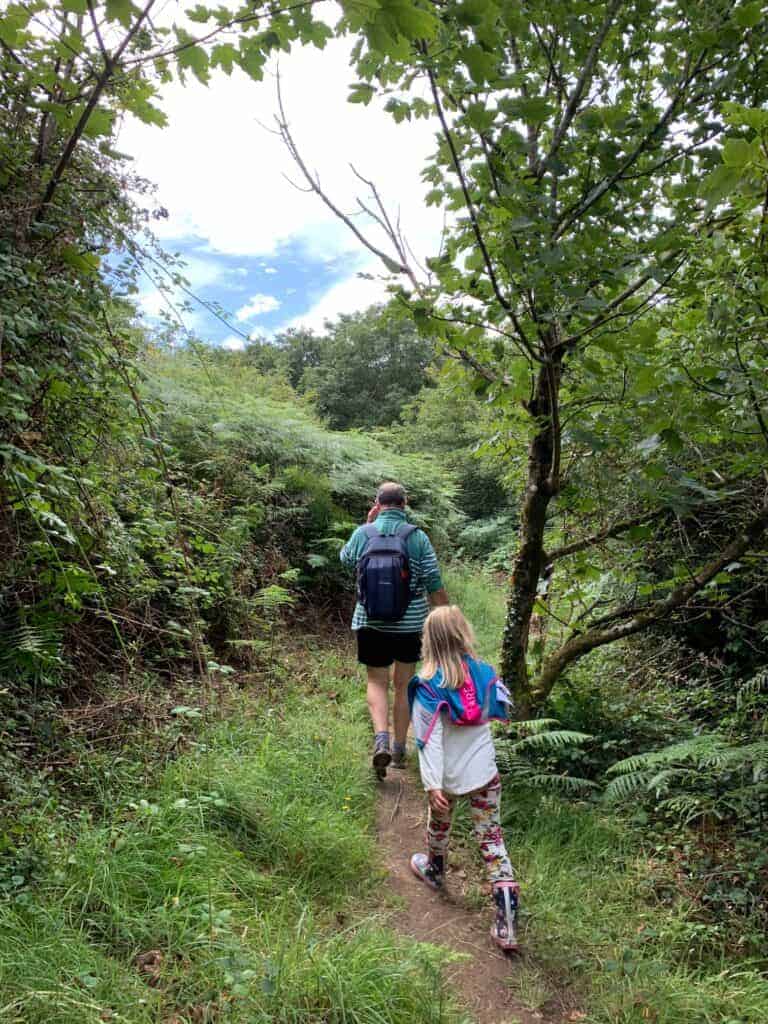 You emerge onto the gorse covered headland next to Rickham Common. This has excellent views of North Sands and South Sands on the other side of the estuary.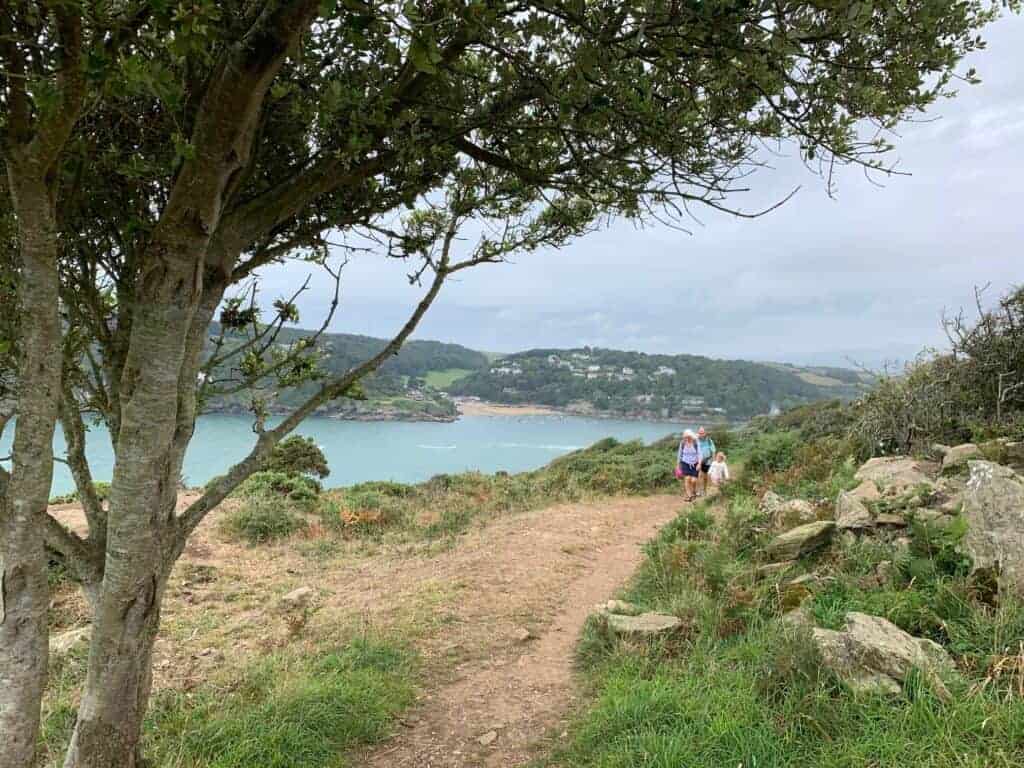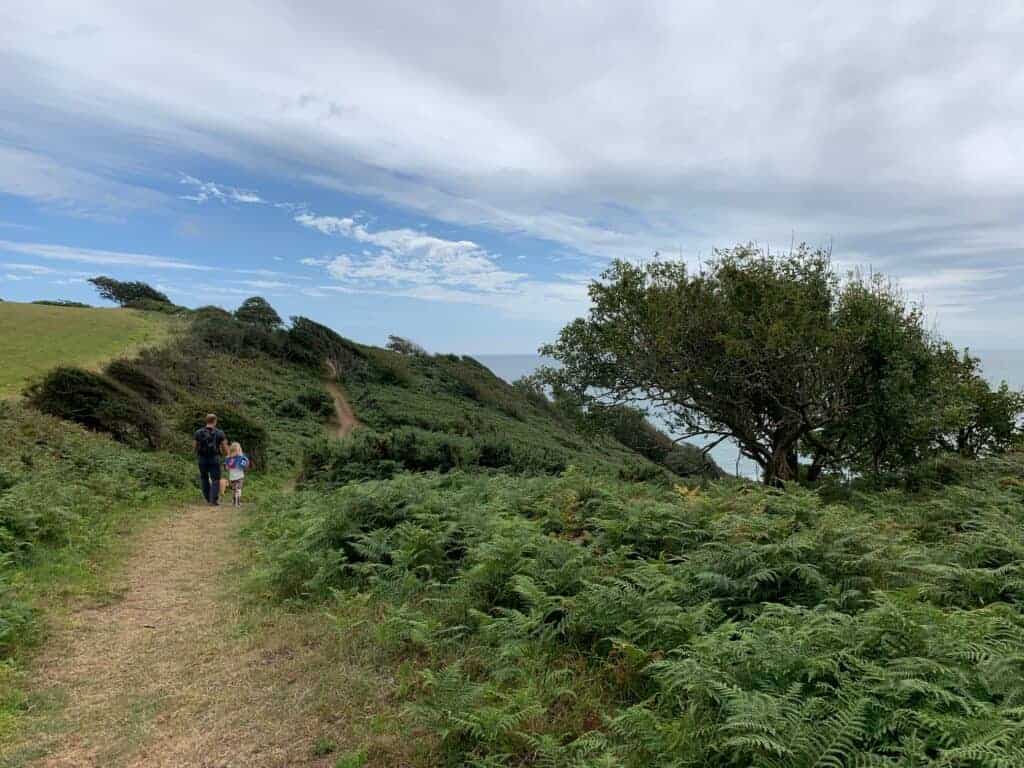 You continue onto Portlemouth Down where the path climbs up and down with each dip of the coastline with off shoots to the lower path should you want a closer sea view.
You know you have arrived at Gara Rock when you see the white walls and thatched roof of the former coastguard look out at Gara Point. It used to keep a check on smuggling in the area in the 19th Century.
This sign post marks where you can access Gara Rock and the car park. Or keep going to find Gara Rock Beach and more views along the South West Coast Path.
Today there's all kinds of goodies on offer at Gara Rock at the start or end of your walk. There's a snack van offering takeaway as well as the main restaurant.
We completed this walk from Gara Rock to Mill Bay while staying at Wilton Farm Campsite, which is a short drive away. You can also walk to Gara Rock from the campsite in about 45 minutes.
Here's my review of Wilton Farm Campsite in the South Hams.
More walks in Devon
Here's some more guides to South Devon walks we have done with kids:
If you prefer walks inland then you have to visit Dartmoor National Park. Here's some easy walks on Dartmoor to do with kids.
Would you like more Devon goodies delivered to your inbox? Sign up to the Devon with Kids newsletter.
Love coast walks? Why not save this post about the circular walk from Gara Rock to Mill Bay in South Devon on Pinterest.