A Devon Christmas attraction that has been drawing crowds both onboard and trackside since 2018 is Dartmouth Steam Railway's Train of Lights – the first festive locomotive experience of its kind in the world.
We've ridden the line between Paignton and Kingswear several times over the years. We always enjoy this scenic steam train ride with stunning views of the River Dart, South Devon countryside and English Riviera sea front. It has to be one of the most picturesque vintage train rides in the UK.
An added bonus for pet families like us is that it's also a dog-friendly Devon attraction.
But if you've seen this former GWR branch line by day, is it worth hopping on board at night?
Love Devon? Join the Devon with Kids Facebook group and subscribe to my newsletter!
Is it worth booking?
Without wanting to give away too many spoilers, yes! Before our ride I was a bit dubious about whether the Train of Lights could be as good on the train as watching it steam past for free.
After all…what a sceptical!
But after experiencing it myself, I wouldn't hesitate to say 'book, book, book for next year'.
Keep an eye on the Dartmouth Steam Railway website for ticket sales in the new year.
What happens during the Train of Lights experience?
The Train of Lights is a totally unique and uplifting event for families who want a magical Christmas experience.
It isn't a Santa train, but it's super exciting for children.
The 1.5 hour return journey from Paignton to Kingswear is full of magic, light and winter wonderland scenes. What you see from the various vantage points along the track is very different to what you see from inside the vintage carriages.
The additions to the track are very impressive. Each time you approach a different highlight the train slows so all 10 carriages can get a good look.
There's mystical animals, fairy tale characters and the odd baddy along the way. The narrator during your journey prompts you shout out the fun things you see.
When you reach Kingswear you can step on to the platform to appreciate the view of Dartmouth across the river and get another look at the illuminated train and carriages.
Then its back on board for the return trip to a sound track of festive tunes that have everyone singing along.
Read about more things to do in Paignton with kids.
Handy things to know
Here's some extra information that's useful to know before your illuminated journey through South Devon:
Boarding the Train of Lights in Paignton
All Train of Lights experiences depart from Paignton station.
You book online and collect your tickets here. Once you have your tickets you can make your way onto the station and train. Don't miss the talking tree and reindeer in the station building.
Can you take pushchairs?
The train carriages are vintage so it's difficult to get pushchairs on and keep them with you. A pushchair park is available indoors at the station in Paignton.
Toilets
There's toilets at Paignton Station, two on the train and at Kingswear Station.
When we stopped at Kingswear we had time to get off and walk the length of the platform, queue for the ladies and get back to our seats well in time.
Refreshments
The station cafe at Paignton is open for hot drinks and treats. The shop and cafe at Kingswear are not open. You can however bring your own drinks and snacks.
Masks and other COVID measures
In December 2021 masks were required in the station buildings and on the train in line with government guidance. Perspex screens were up between each set of seats and family groups were allocated their own booths.
We had six tickets for our group so had two four seater booths across the carriage from each other.
There was hand sanitiser at the stations.
Are dogs allowed?
Dogs are allowed to join you but must be booked in advance.
Are there any scary parts?
Something that isn't well publicised and might upset younger children is that the main lights in the train go out a few times during the journey. This is to help you appreciate the displays outside.
You are never totally in the dark because there are fairy lights strung through the overhead luggage racks. But it's worth warning children who might find this scary.
How much are tickets?
Tickets for a family of four or five cost £75 in 2021. Under threes are free.
Where to see the Train of Lights
Tickets for the Train of Lights were still available for later evening journeys when I published this post.
However, if you'd just like to find a good vantage point to view it, here's some of the best places and where you can find them using What Three Words to pin point the location:
The train sets off from Paignton at 4.45pm, 6.45pm and 8.45pm and returns 1.5 hours later. We were on the 4.45pm train and arrived back at Paignton by 6.15pm.
The train is not running from Christmas Eve to Boxing Day.
Final thoughts on the Train of Lights
What makes this night time Christmas experience so special is the story telling, incredible staging and vintage setting.
If you have travelled the line before you need not think you have seen it all. We have been on Dartmouth Steam Railway several times before – most recently this summer – and found the Train of Lights experience to be totally different.
You literally see the views in a different light.
And for anyone who has only experienced the Train of Lights, you must go back and see the views in daylight. They are just as impressive.
You might like to read more posts about things to do in Devon at Christmas and what's on here between Christmas and New Year including the Train of Lights which runs until 30 December 2021.
Check ticket availability for the Train of Lights on the Dartmouth Steam Railway website.
If you're a fan of Dartmouth Steam Railway you'll find it in my Dartmouth and Devon Colouring Books for Kids.
£5.95 +P&P
A child-friendly Devon guide & activity book supporting Devon Air Ambulance Trust
Got a while to stay? Here's our BIG guide to family holidays in Devon.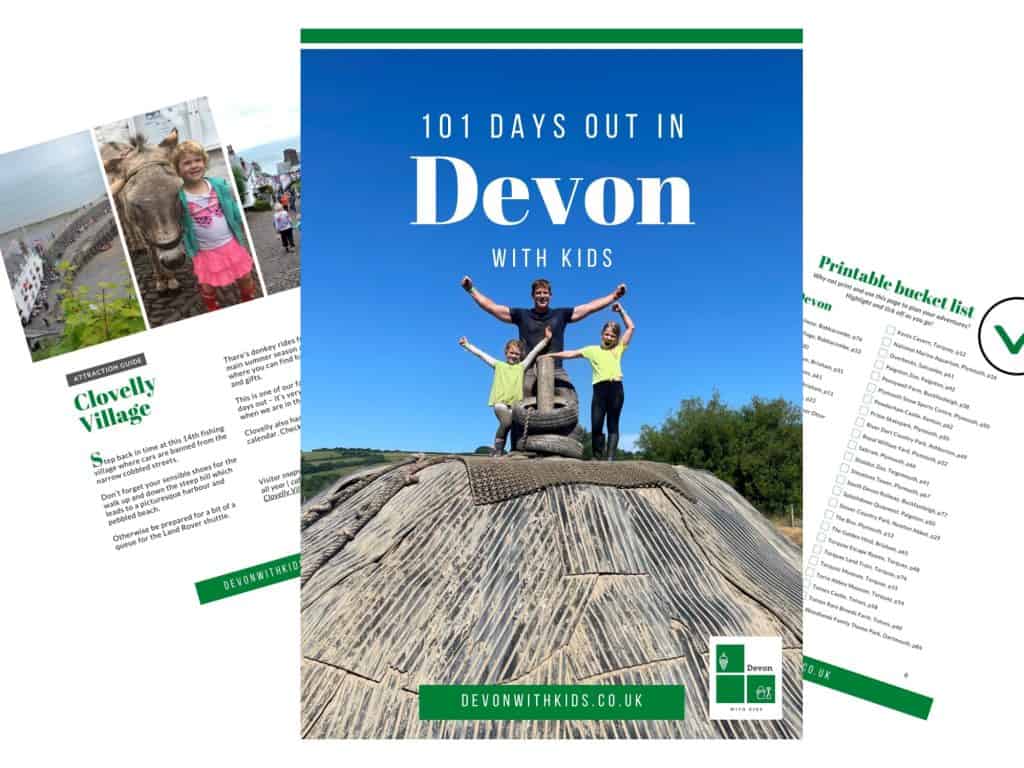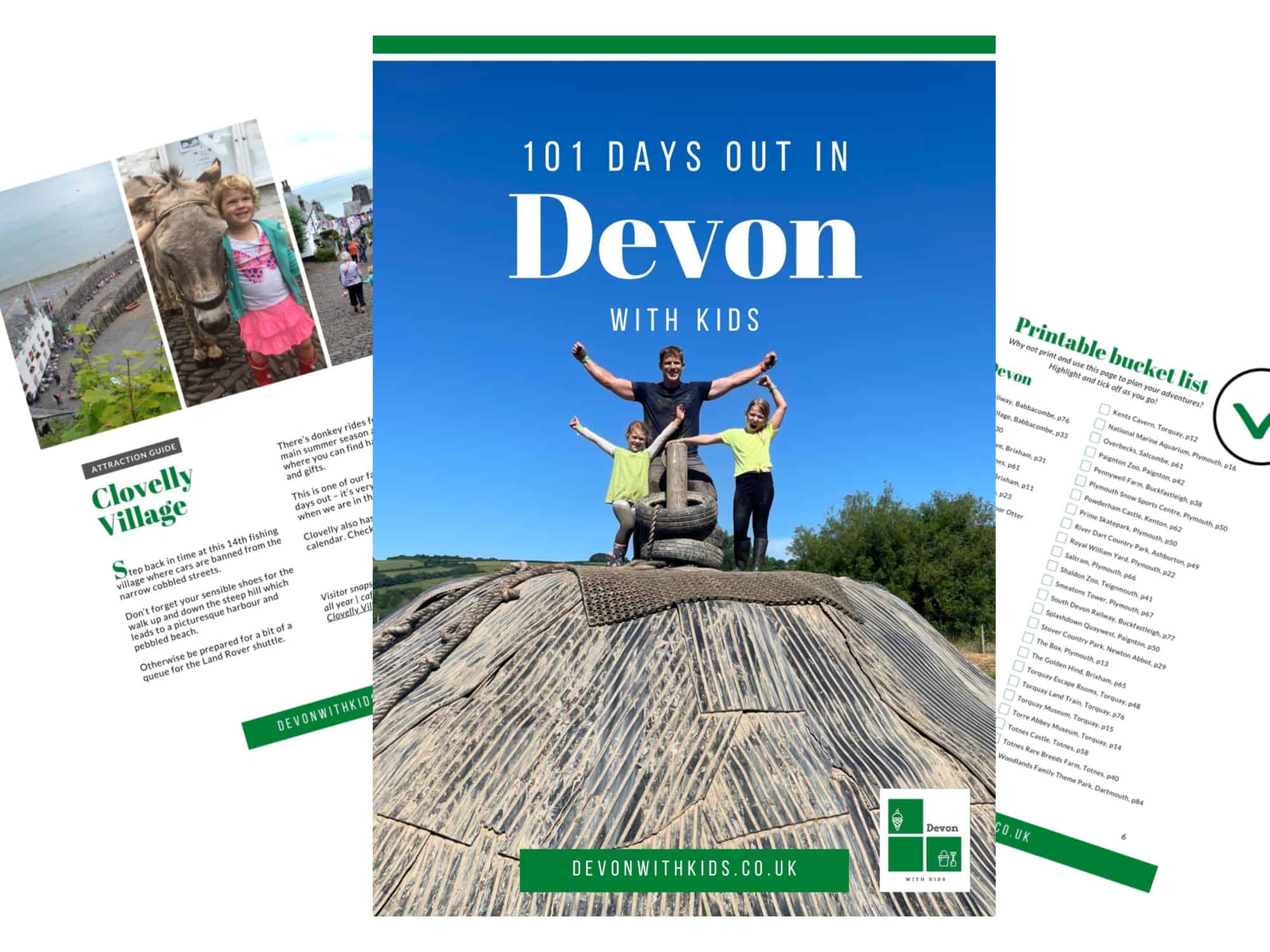 It's FREE!
Grab your copy of this guide to family-friendly things to do across the county, from coast to coast, in the cities, on the moors and whatever the weather.