If you're planning to visit Dartmouth in South Devon then you're in for a treat. We fell in love with the Medieval streets and stunning coastal views of this historic UK town long before we moved here. As someone who has lived and breathed Devon life for seven years, I thought I'd share our favourite things to do in Dartmouth with kids.
Love Devon? Why not follow me on Instagram, join the Devon with Kids Facebook group and subscribe to my newsletter!
Contents - jump to what you'd like to know
Bring the Dartmouth Colouring Book for Kids on your adventures
Things to do in Dartmouth, England
Dartmouth is a Devon town on the River Dart that is steeped in maritime history. Its Medieval streets are full of delights – you could easily lose a day wandering through the timbered buildings, cute alleyways and sampling local delicacies from independent traders.
However, as a mum I know this isn't always that fun for children. So, what's there to do in Dartmouth for the kids?
Here's a selection of things to do in Dartmouth with kids from theme parks to Devon steam trains and walks – it's a small Devon town with plenty to offer.
Also check out my guide to more things to do in the South Hams, all around South Devon and in neighbouring Brixham Torquay, Paignton and Salcombe.
1. Visit Dartmouth Castle
More of a fort than somewhere you'd expect to find knights and princesses, Dartmouth Castle was built in the 14th Century to defend what was then a very significant port.
Today you can visit the ammunition stores, find out about the lifestyle of the small group of soldiers stationed here and climb up to the roof for fabulous views of the river, town and English Channel.
If you're feeling peckish the tiny cafe – the Castle Tea Rooms – does awesome milkshakes and cream teas. You can walk to Dartmouth Castle from the town or catch a ferry from the quayside.
2. Relax at Blackpool Sands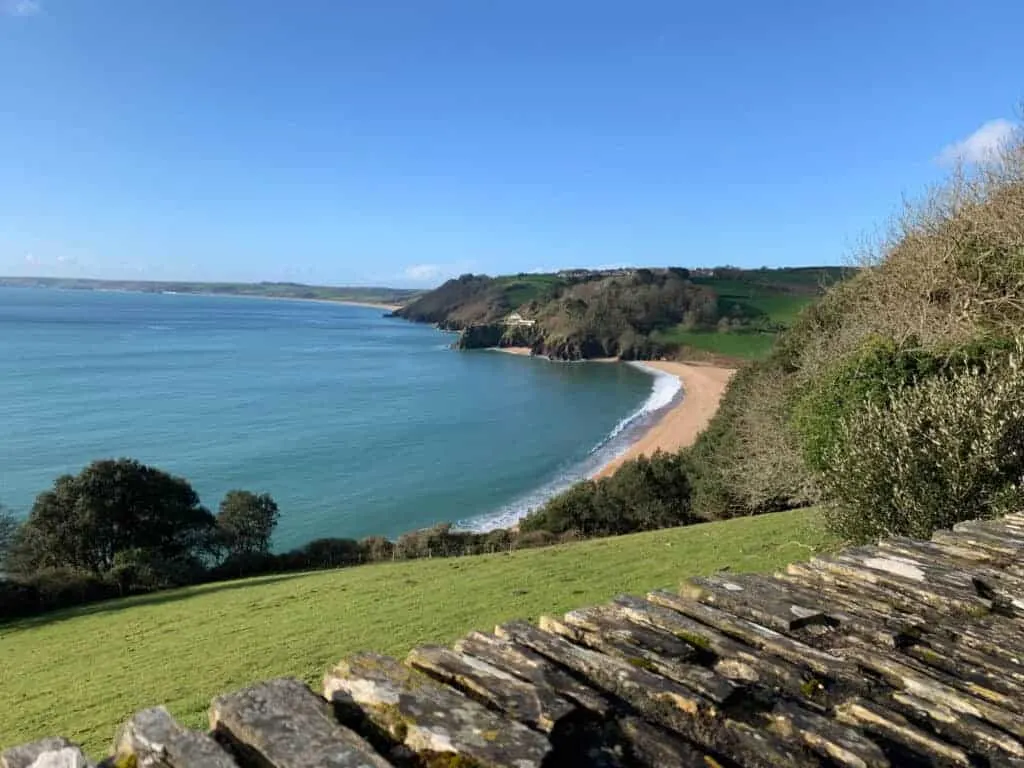 Unlike its name suggests Blackpool Sands is not in the more famous seaside resort of Blackpool in the north west. And it's not sandy.
However, it is one our favourite South Devon beaches and ranked as one of Britain's top beaches. It's also one of the top free things to do in Dartmouth whatever the time of year.
Visit during the summer and you'll find it packed with holiday-makers lounging on the pebbles, hiring water sports equipment and paddling in the fresh water river. There's an excellent cafe, toilets and showers.
Dogs are allowed on the beach from November to March. You can park on a sloped, concrete car park open all year round or a large grass car park which is available during busier holiday periods.
Parking charges apply from late spring and throughout the summer and vary throughout the day.
Check the latest information on the Blackpool Sands website.
3. Play at Coronation Park
If you're looking for more free things to do in Dartmouth Coronation Park is the ideal space for young children to let off some steam on the beach and boat themed playground.
There's also plenty of room for older kids to have a knock about with a football or a game of rounders on the adjacent field.
The Beth's cafe on the corner of the park is open for breakfast and light meals from 7am in the summer until late afternoon. If you're refuelling on the go we can recommend grabbing a takeaway coffee and a delicious Salcombe ice cream or Dart Farm ice lolly for the kids.
4. Sail to Greenway by boat
You can catch a boat from Dartmouth up the river to where crime writer Dame Agatha Christie had her holiday home at Greenway.
The trip takes about 30 minutes each way giving you a few hours to explore this fascinating house full of curious collectibles. Also allow yourself plenty of time for a stroll through the gardens to the boathouse and battery overlooking the River Dart.
If you're feeling sporty you can hit about some balls on Agatha's tennis court. Our girls discovered some hobby horses to help them make it round the gardens during a recent visit.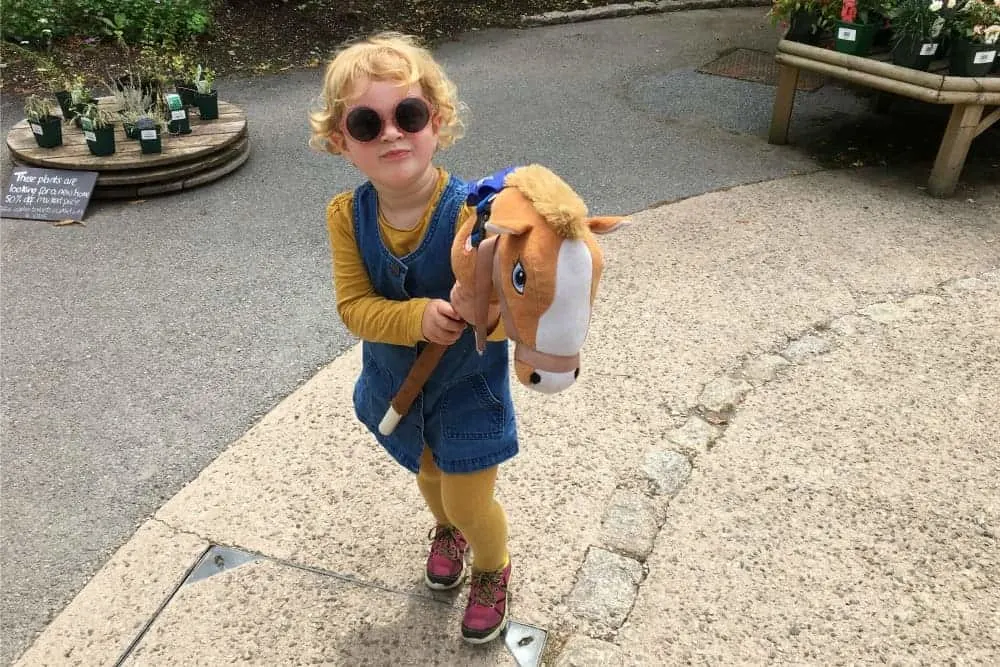 The boat ride is dog friendly as are the grounds of Greenway.
5. Hop on the Round Robin
Dartmouth is one of several starting points for the Round Robin tour of South Devon by river boat, steam train and bus. This is one of the top fun things to do in Dartmouth for fans of steam and beautiful scenery.
You can buy your tickets on the quayside in town and either take a voyage up river to Totnes from where you catch the bus to Paignton and coastal steam train to Kingswear, or do it in reverse by taking the Dartmouth to Kingswear passenger ferry over to the station.
If you're looking for somewhere for a bite half way we can recommend the Royal Seven Stars Hotel in Totnes. Each stage of the Round Robin tour is dog friendly.
Please note that the Round Robin doesn't run all year. Find out the latest information about Dartmouth Steam Railway.
If you're visiting at Christmas look out for the Train of Lights.
6. Visit Dartmouth Ice Cream Company
If you have a sweet tooth (and what kid doesn't?!) you must call into the home of the Dartmouth Ice Cream Company, The Good Intent, on Lower Street. It's close to the Lower Ferry.
They have a wide range of treats and ice creams. They even have frozen desserts suitable for dogs.
7. Go crabbing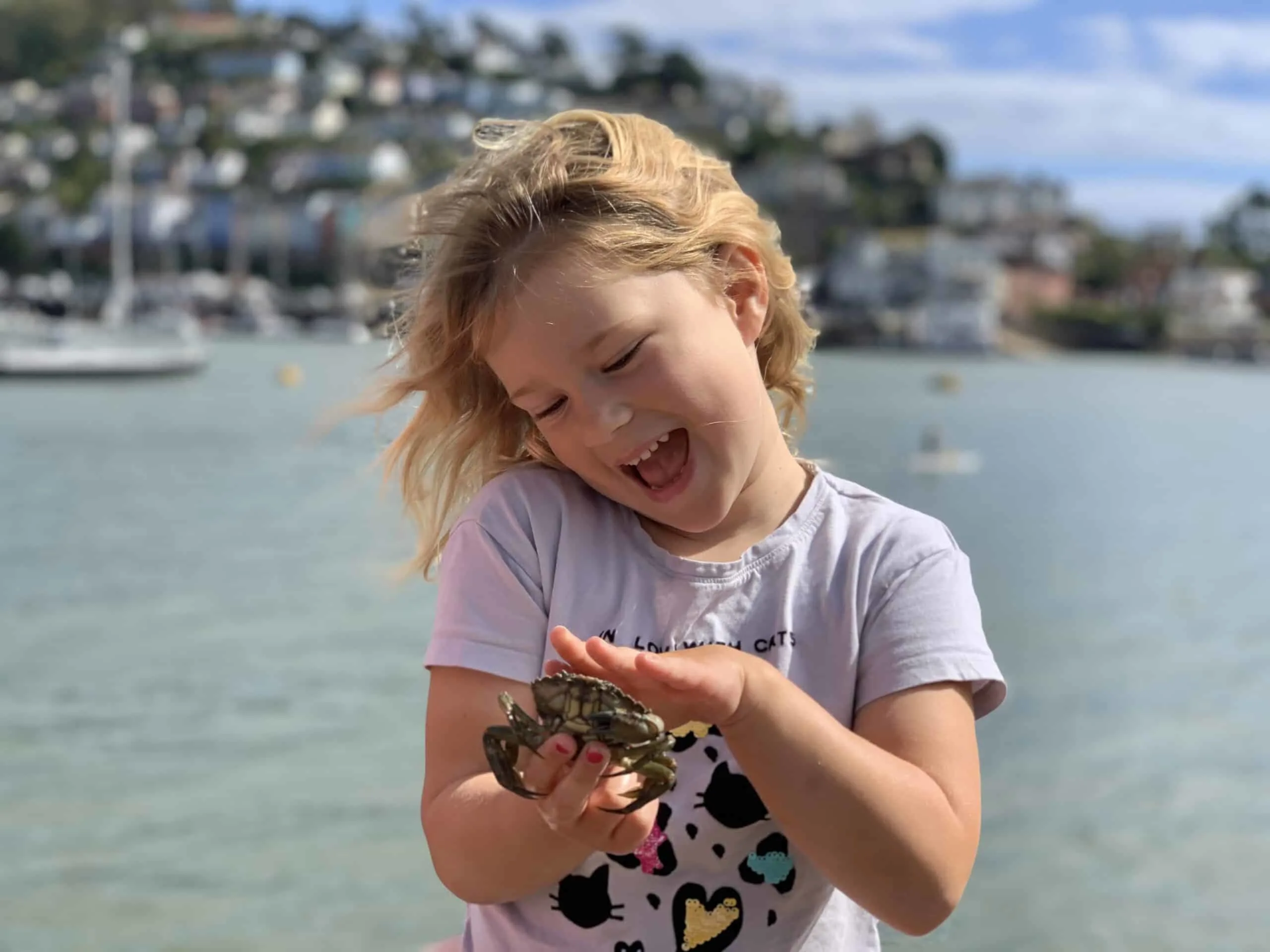 Dartmouth is a top place to go crabbing in Devon as there's plenty of crustaceans to be caught in the River Dart that runs inbetween Dartmouth and Kingswear. Bring your crab line and bait, or buy them from the shops in town. Then find a spot along the quayside.
Be warned that there's a long drop and some sections aren't fenced off. Keep kids under close supervision at all times and look for signs prohibiting crabbing and fishing in certain places.
8. Have fun at Woodlands Family Theme Park
If you're looking for a full family day out during your visit to South Devon then Woodlands Family Theme Park must be on your bucket list. It's also a great things to do in Dartmouth when it's raining as it has a lot of indoor play areas.
The park is packed with opportunities for kids tire themselves out with adventure playgrounds, giant soft play areas and thrill rides. Young kids will also enjoy the farm, splash pool and slides.
There's always seasonal events during the school holidays. We can recommend a visit to the grotto at Christmas, the monster house at Halloween and the Easter Bunny's Warren.
Find out the latest information about visiting Woodlands Family Theme Park.
9. Discover local heritage at Dartmouth Museum
There are just a few small rooms in this museum but they are lined with curiosities and history.
The Tudor merchant's house that holds Dartmouth Museum was used as a refuge by King Charles II when his fleet came into Dartmouth during a storm.
The walls of what's now known as the King's Room are adorned with cabinets containing model ships commemorating various points in Dartmouth's maritime history such as the Pilgrim Fathers' Mayflower which called in the town on the way to America.
There's also a room dedicated to curiosities collated by Victorian collector William Cumming Henley. Kids can look at smaller items under microscopes and investigate artefacts in draws.
This museum is volunteer run. Check opening times before you visit.
10. Chill out at Castle Cove or Sugary Cove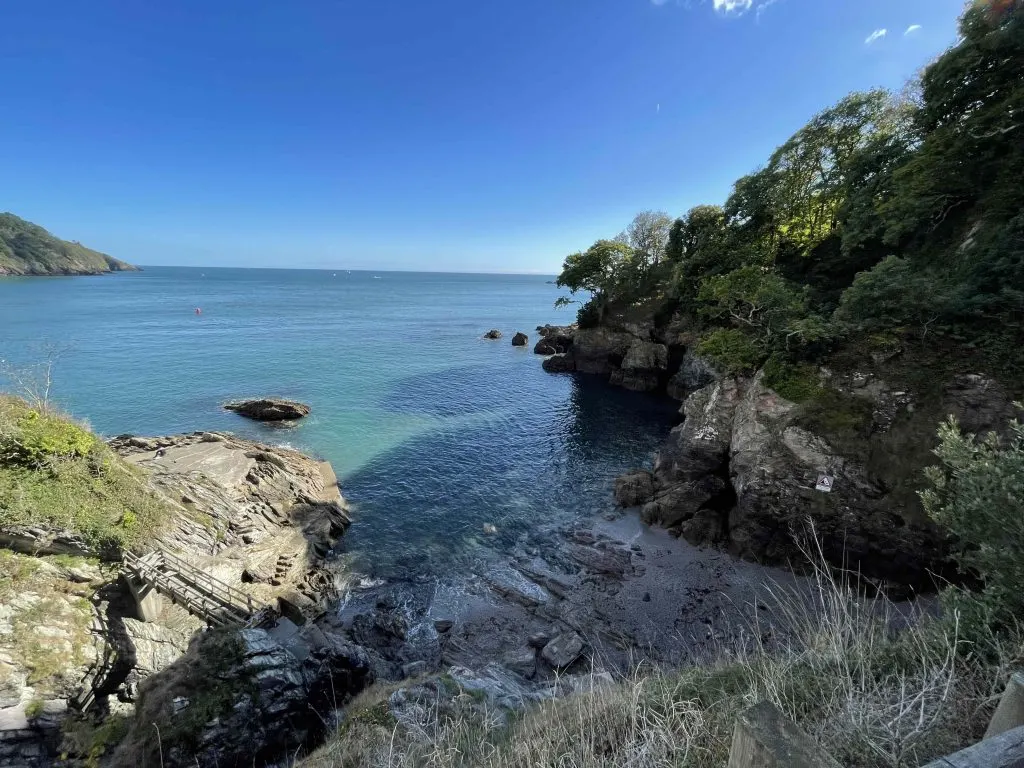 These small hidden shingle and sand beaches on the South Devon coast are just a short walk from Dartmouth Castle has plenty of rock pools to explore. Small children will need help down the steps into both coves.
Dogs are also welcome on these beaches all year round.
11. Experience Dartmouth Regatta
On or around the August Bank Holiday weekend Dartmouth is a hive of activity on land and water. The Regatta is more than 170-years-old and attracts tens of thousands of people to watch gig racing, rowing competitions and live music.
There's always a programme of activities for families with entertainment, children's competitions and an area where they can take part in crafts. Don't miss the firework displays and aircraft fly pasts.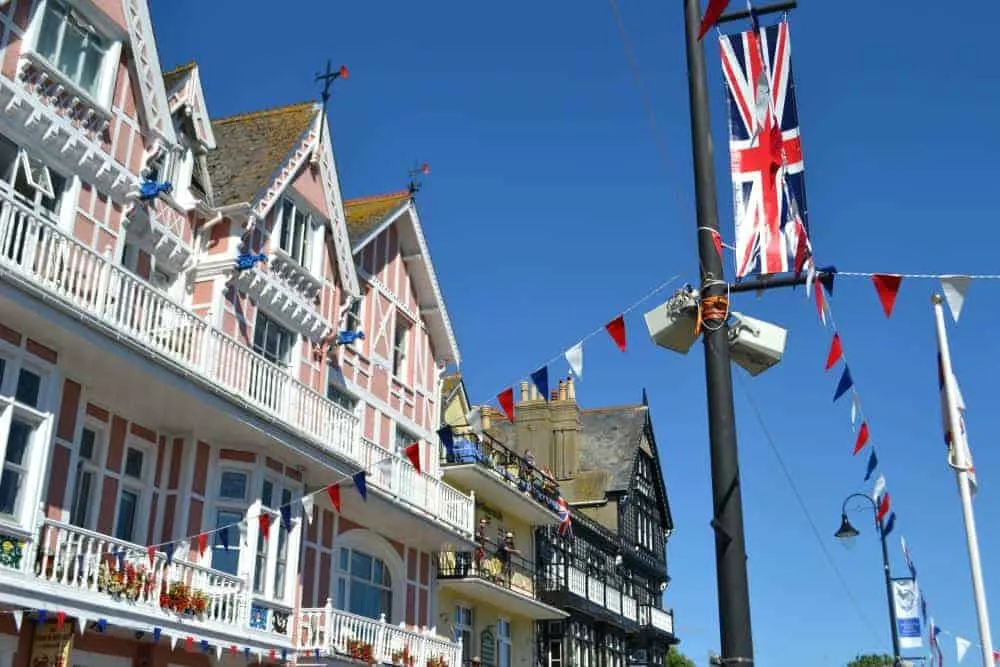 12. Enjoy Devon delicacies at Dartmouth Food Festival
Devon is a foodie paradise and Dartmouth Food Festival is just one of many top annual events celebrating the county's produce, artisan treats and talented chefs.
It takes place in October each year with cookery demonstrations, food-themed family activities and more producers of Devon delicacies than you'll be able to sample in a weekend. Bring your elasticated trousers!
13. Follow the Dart Valley Trail
For a walk to challenge the whole family why not follow the Dart Valley Trail along the River Dart and spot wildlife along the way. It's common to see grey seals, spoonbills, kingfishers and even, escaped mandarine ducks along the river banks.
There are many hills to climb but you'll be rewarded for your efforts with spectacular views of the valley and river on the nine mile circular route.
14. Treat yourself at Morellos
Morellos is Dartmouth's American diner style dessert cafe serving indulgent milkshakes, waffles and crepes to eat in or takeaway.
You can also buy a Surfing Cow ice cream, Mr Whippy and coffees to enjoy while you explore.
Find out what's on the menu this week.
15. Experience Candlelit Dartmouth
This cockle-warming event kicks off the Christmas season in Dartmouth and usually happens at the end of November. For 48 hours the town comes alight with Christmas lights and a candlelit procession of lanterns through the streets.
Don't miss Santa arriving by boat on the Friday or the children's entertainment on the Saturday before the procession.
Here's a taster of what you can expect:
16. Tour Britannia Royal Naval College
Dartmouth is home to the Royal Navy's officer training college, BRNC. It is steeped in history that you can discover by booking a guided tour with The Britannia Association.
The College was originally located on HMS Hinderstan and HMS Britannia both moored on the River Dart but moved into a purpose built college on the hill above when recruits started to become ill in the cramped quarters on the ships.
If your kids are at all interested in a military career then this is an inspiring and impressive place to visit.
17. Take a dip at Dartmouth outdoor pool
This heated outdoor pool outside Dartmouth Academy is the perfect place to enjoy an alfresco dip in the summer. It is usually open from April to September.
Find other outdoor swimming pools and splash parks in Devon.
18. Go for a swim at Dartmouth Leisure Centre
A swim at this relatively new Dartmouth indoor pool is an ideal wet day activity in Dartmouth. The modern changing rooms come larger family cubicles, hard dryers and lockers.
There are fun sessions with floats once a week during term time and more often in the school holidays.
Check the leisure centre website for the up-to-date timetable.
19. Walk Little Dartmouth
Pull on your hiking boots and take a walk to see some of the best views of the South Devon coastline.
There's a National Trust car park at Little Dartmouth on the south side of the River Dart. From here you can join the South West Coast Path and wander across fields and along the cliff until you reach Dartmouth Castle.
Here's my full guide to the Little Dartmouth to Dartmouth Castle walk.
This isn't a walk suitable for pushchairs and dogs may need to be put on leads at some points due to live stock. Keep an eye out for signs.
Across the river you might also like a walk at Brownstone Battery near Kingswear.
20. Take a ferry ride or two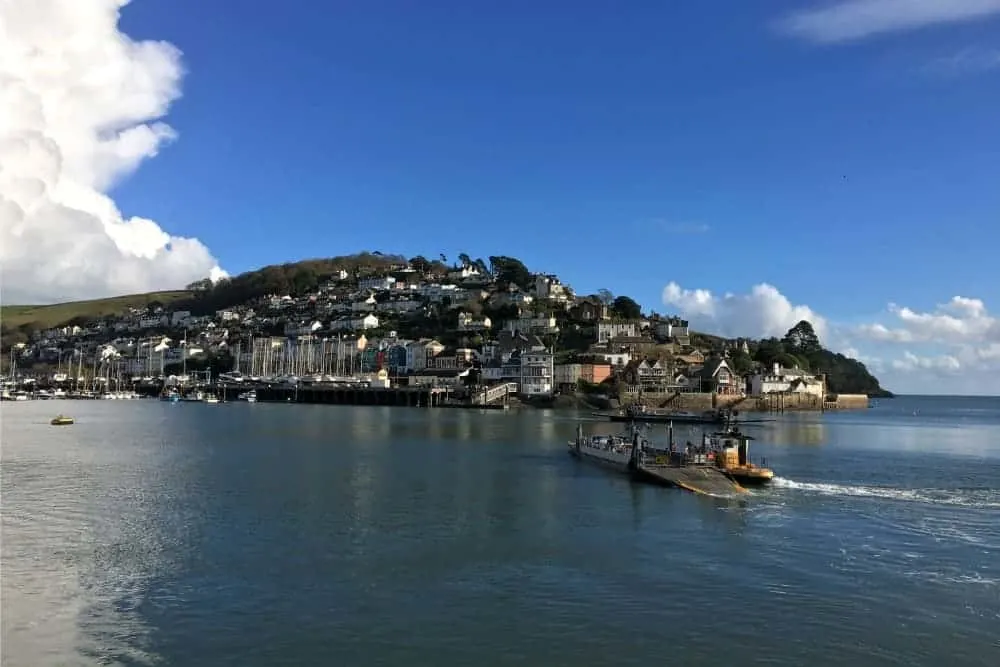 Dartmouth has two vehicle ferries – the Higher Ferry and the Lower Ferry – plus a passenger ferry to Kingswear. You can hop on either the Lower Ferry or passenger ferry, walk along the riverside between Dartmouth and Kingswear, and catch the Higher Ferry back across. This route also works in reverse and takes you right next to the Dartmouth Steam Railway Line.
You'll be unlucky not to see one of the vintage engines and a string of carriages puffing out of Kingswear Station.
The Higher Ferry is a chain ferry crossing the river from the Floating Bridge pub at Dartmouth Marina. The Lower Ferry is a floating barge which is pushed across the river to Kingswear by a tug boat.
If you're on foot you can take any of the ferries but the dedicated passenger ferry leaves the pontoon next to the Platform 1 restaurant and crosses over to Kingswear Station.
21. Visit Coleton Fishacre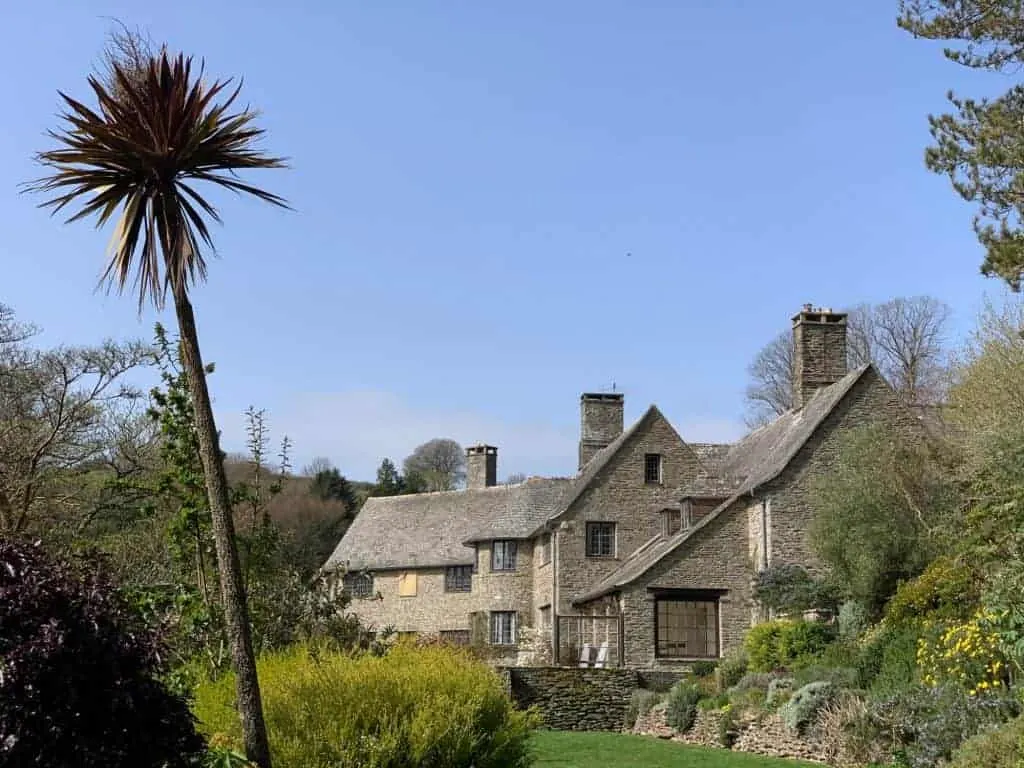 Coleton Fishacre is a National Trust property on the Kingswear side of the River Dart and can be easily reached by car from the Lower Ferry or by walking along the South West Coast Path if you have a bit more energy.
It was built by the D'Oyly Carte family which owned a theatre company of the same name in the 19th Century. Coleton in South Devon was their country retreat – a place for relaxation and entertainment.
We love visiting Coleton in all seasons as the gardens are incredible. Christmas is a particularly favourite time though as the gardens have been lit up for the past few years.
Find out more about visiting Coleton Fishacre with kids.
22. Take a boat trip from Dartmouth
There are lots of boat trips to take from Dartmouth, including the very special Fizz Boat that needs booking in advance.
As well as boat trips up the River Dart to Greenway, Dittisham and Totnes you can ride out of the river mouth to neighbouring Brixham and Paignton where you can pick up other services to Torquay. Buy tickets from the booths along the quayside.
Or you can bring your own boat or paddle board.
23. Walk to the Daymark
It's possible to see this jutting landmark for miles but it's also an incredible sight up close. The Daymark was built in 1864 as a navigational point for sailors.
You can walk the path past it from Brownstone and Coleton car park near Kingswear. Beyond the Daymark is the South West Coast Path which is not suitable for pushchairs. Pack little ones into baby or toddler carriers.
Here's a guide to the walk to Brownstone Battery.
24. See a show or film at The Flavel Arts Centre
This is ideal for wet days in Dartmouth and those times when you just need to sit and be entertained.
The Flavel has a programme of live and streamed theatre, music and shows as well as a cinema showing recent flicks.
Find lout what's on at The Flaval.
25. Complete the Dartmouth Colouring Book for Kids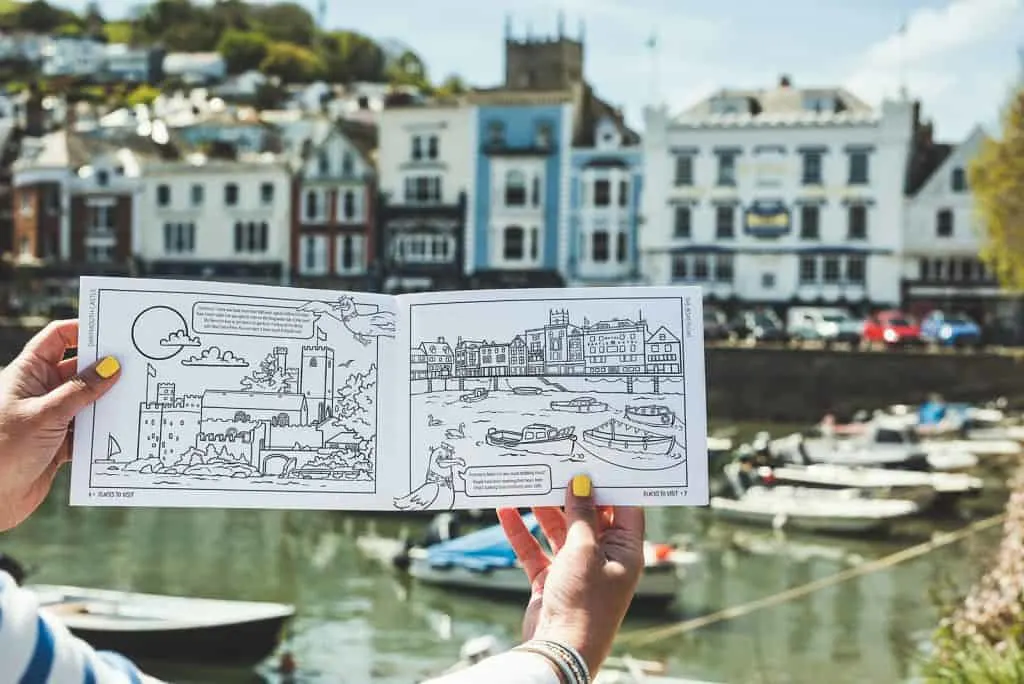 If your kids love colouring then they'll love this activity book and children's guide to Dartmouth that has been designed specifically for Devon with Kids and our friends at Barrington House!
Find out more and buy one in our shop. You can also buy a copy at Dartmouth Visitor Centre beside Royal Avenue Gardens.
Fun things to do around Dartmouth
This is a round up of things to do in Dartmouth that we have experienced in seven years of living here. I'm sure there's more to add and we can't wait to give it all a go. Let me know what's missing and we'll pop it our adventure list.
You might also like my guide to things to do in the South Hams which incorporates Totnes, Kingsbridge, Ivybridge and Wembury.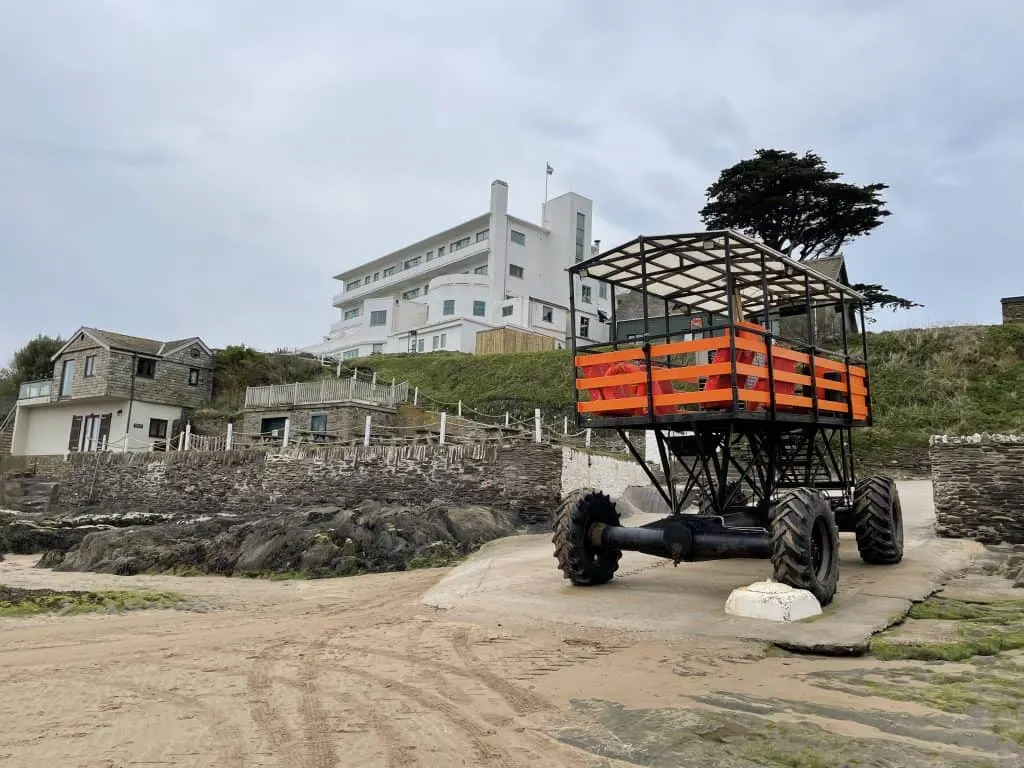 So what about other things to do in South Devon?
Jump on the Higher or Lower ferries and you can be in Brixham, Paignton or Torquay within 40 minutes. Head south and you'll find plenty to do with kids in Salcombe.
Back towards the A38 Devon Expressway you'll find plenty to do in Totnes.
If you're looking for Devon attractions to visit in other parts of the county then check out my tried and tested family days out in Devon.
If you're holidaying in North Devon take a look at these great Devon attractions around Bideford, Ilfracombe and Barnstaple and I have more ideas for places to visit in East Devon.
I can also recommend you visit some of Devon's lesser known beaches. And if you're unlucky to visit South Devon on a damp day don't despair! I can point you in the direction of things to do on wet days in South Devon.
Where to stay in Dartmouth
If you love camping then take a look at our review of Dartmouth Camping and Caravanning Club site, which is a short drive from town.
You'll find more recommendations on places to stay in Dartmouth as well as other local things to do on the Discover Dartmouth website.

Would you like more Devon goodies delivered to your inbox? Sign up to the Devon with Kids newsletter.
Visiting Dartmouth soon? Why not save this post about things to do in Dartmouth with kids.