We spend a huge chunk of the summer months hanging around in Salcombe in South Devon and never get bored despite it being off the beaten track when it comes to Devon's big family attractions. Here's our recommended things to do in Salcombe with kids.
Love Devon? Join the Devon with Kids Facebook group and subscribe to my newsletter!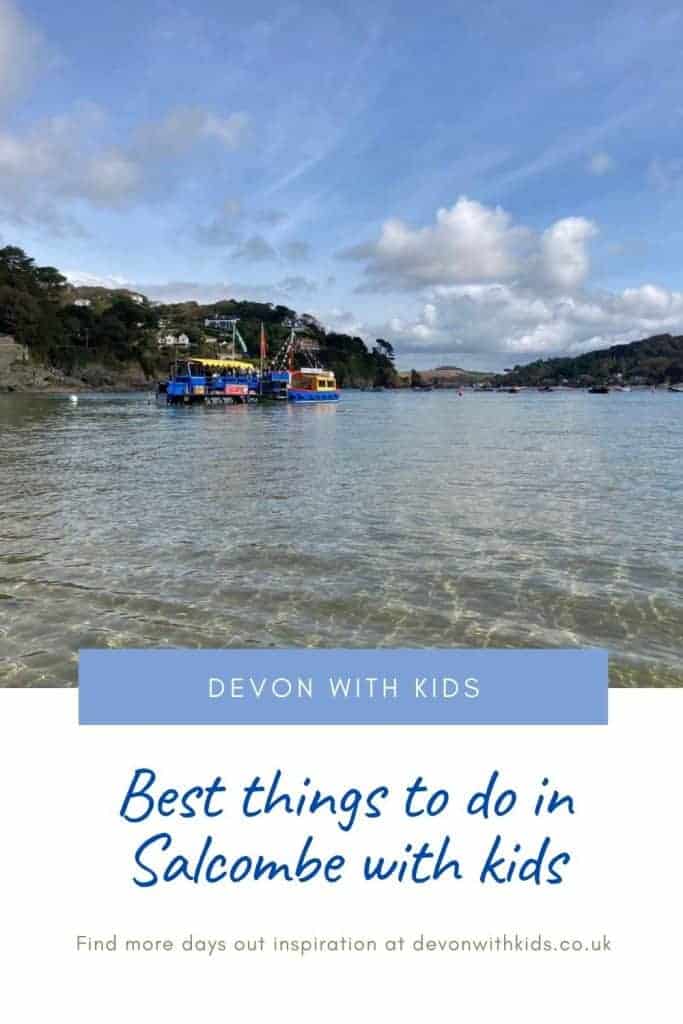 Got a while to stay? Here's our BIG guide to family holidays in Devon.
1. Visit the beaches at Salcombe
Salcombe has some of the best beaches in South Devon for families. They are in small sandy coves that offer sheltered and shallow paddling for young children and plenty of opportunity for sand castle building and water sports for older kids.
North Sands
Salcombe North Sands Beach is set in a small cove with tree-lined cliffs rising up on either side. The beach slopes slowly in to the water making it a good place for a paddle or swim with young children.
Always check what the tide is doing before you visit North Sands. At high tide the beach is almost completely submerged.
North Sands has a pay and display car park across the road. You'll need the Ringo App to pay hands-free. Download this in advance and start the payment process five minutes before you arrive as there's very little signal once you reach the beach.
Dogs are allowed on North Sands all year around. There are public toilets a short walk away.
South Sands
South Sands is a small sandy beach in front of a family-friendly Devon hotel by the same name.
The water is shallow and perfect for toddlers and young children to splash about in. If you want to try out water sports you can hire equipment here from Sea Kayak Salcombe.
Dogs are allowed on South Sands from November to March. There are toilets in the car park opposite the hotel and Bos Cafe is right on the beach.
You can visit South Sands via the South Sands Ferry (see below).
Mill Bay
This small cove is on the opposite side of Kingsbridge Estuary to Salcombe. You can take the passenger ferry from town and walk along East Portlemouth to Mill Bay or drive around (be aware that a landslip has closed the Mill Bay car park in 2020).
The beach is in a small cove with plenty of sand and rock pools for children to explore and a great view of the comings and goings on the water.
The National Trust has a small car park here. Access to the beach is a bit bumpy so leave pushchairs in your car. Your dog is allowed all year round on a lead.
Find out more about South Devon beaches to visit near Salcombe.
2. Try out a water sport in Salcombe
Salcombe is a Devon town by the sea and as you would expect there's plenty of opportunities to get in and on the water.
We are particular fans of paddle boarding and if you would like to give this a go yourself you can hire equipment and take lessons with Salcombe Paddle Boarding. There's also options to hire a boat, go kayaking or coasteering.
Find more things that teens will love to do in Devon.
3. Ride the South Sands Ferry
Ride a ferry that has inspired it's own children's book: 'I Saw It First…in Salcombe'. The South Sands ferry runs between town and South Sands Beach every half an hour between 10am and 6pm (March to October).
This is a fun adventure for kids and takes you on a ride past some stunning scenery on the Kingsbridge Estuary before landing you at South Sands via a sea tractor.
Find out the latest running information about the South Sands Ferry.
4. Visit Overbecks National Trust
Visit Overbecks and you'd be forgiven for thinking you'd been transported to a tropical paradise. Devon's unique microclimate has allowed plants from all around the world to flourish here, making it an exciting place to explore with children.
The current house at Overbecks was built in 1913 and is now home to a collection of curiosities belonging to one of its former owners, Otto Overbeck. He was an eccentric inventor and collector.
You can also find out about the house's roles as a convalescent home to courageous men and women that fought to keep spirits high during World War One.
Find out more about visiting Overbecks in Salcombe.
5. Buy ice cream straight from Salcombe Dairy
Who doesn't love ice cream and sorbet made using locally sourced ingredients? It's been a winning recipe for Salcombe Dairy for more than 40 years.
You'll find Salcombe Ice Cream on sale all over South Devon and here in Salcombe you can visit the dairy where it is made to sample some of the many flavours on offer. You'll find Salcombe Dairy on Shadycombe Road just behind the harbour.
6. Go crabbing in Salcombe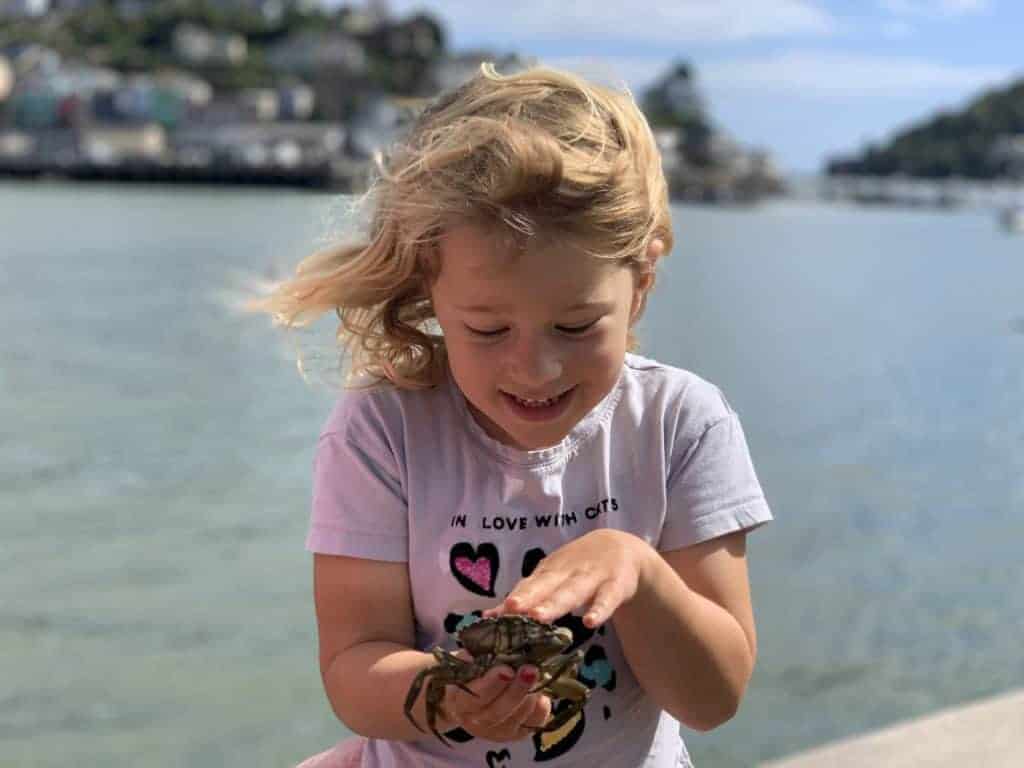 Salcombe and nearby Kingsbridge are top spots for crabbing in the area. Dangle a line off the harbour wall or venture over to Kingsbridge, Southpool or Dartmouth where you'll find other great places to go crabbing in Devon.
7. Walk the coast path at Salcombe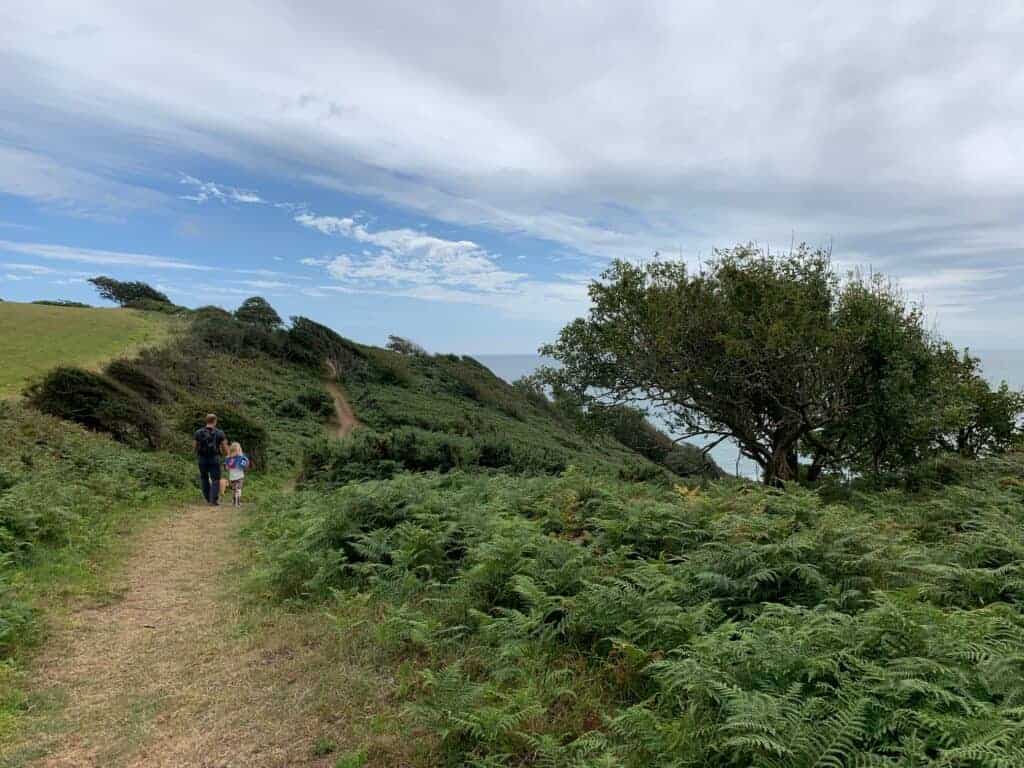 One of our favourite coast path walks near Salcombe is between East Portlemouth and Gara Rock towards Kingsbridge. Here's the route and what you can find along the way, including refreshment stops.
8. Play at Courtenay Park adventure playground
This free adventure playground at the heart of Salcombe is one of the best in Devon and has recently been refurbished. Find it in Courtenay Park off Devon Road.
9. Seek thrills at Woodlands Family Theme Park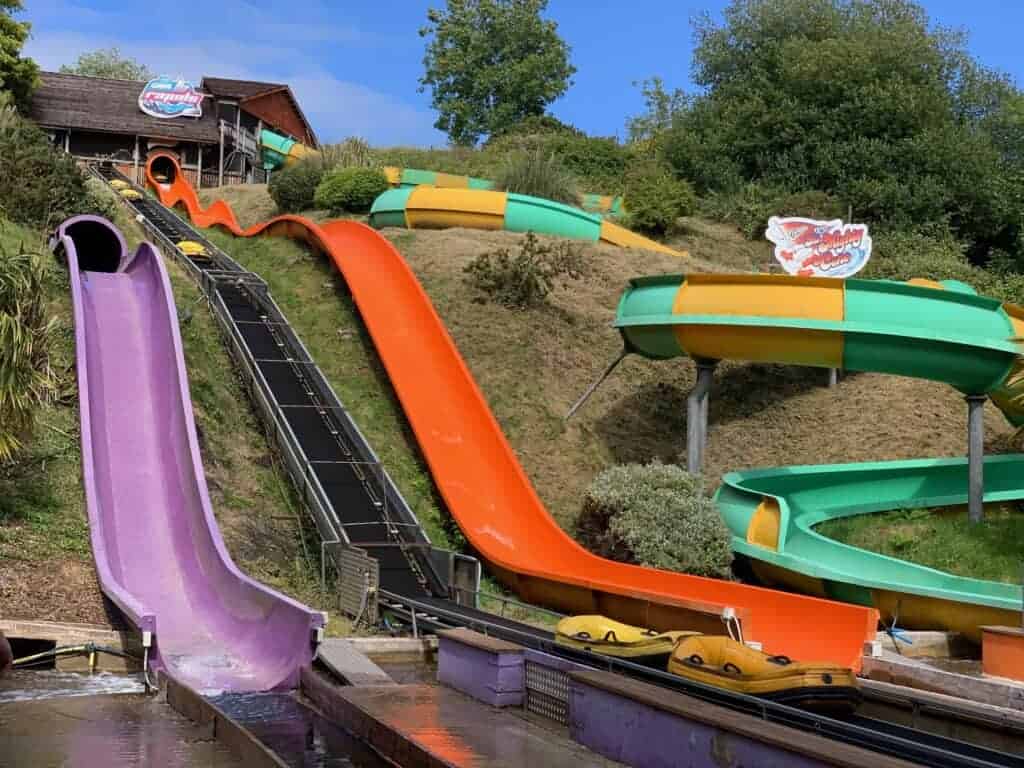 If you're caught in the rain then a visit to Woodlands Family Theme Park is one of our recommended things to do on a wet day in Salcombe.
This theme park is a half hour drive towards Dartmouth and has indoor and outdoor adventure play areas as well as rides and a farm.
Find out more about what there is to do at Woodlands Family Theme Park.
Visit during the school holidays and there's extra entertainment like family shows, fancy dress competitions and seasonal activities especially at Christmas, Easter and Halloween.
10. Go to the cinema
Another rainy day activity in this part of South Devon is to book tickets for the Kings Cinema just down the road in Kingsbridge.
11. Make a splash at Salcombe swimming pool
If you don't fancy a dip in the sea you have go for a swim at Salcombe's heated outdoor swimming pool in the summer months.
For indoor swimming all year round go to Quayside Leisure Centre in Kingsbridge.
12. Satisfy your sweet tooth at Cranch's Sweetshop
Established in 1869, Cranch's Sweetshop on Fore Street is everything you'd expect from a traditional confectionary.
Check out what's in store and if there are an special offers on the Cranch's Facebook page.
More things to do near Salcombe
If you live or are staying in and around Salcombe you have plenty more things to do just down the road. Check out these posts for suggestions for things to do near Salcombe:
Where to eat
Here are some of our favourite family-friendly places to eat in and around Salcombe:
Where else would you recommend?
Where to stay in Salcombe
We live just down the road in Dartmouth so haven't done any overnight stays in Salcombe. However, here are some family-friendly accommodation in Salcombe that comes highly recommended:
Have you visited Salcombe with your family. What are your favourite things to do in Salcombe with kids?
Planning days out or a holiday in South Devon? Why not use Pinterest to save this post about things to do in Salcombe with kids.