The harbour side town of Brixham in South Devon is famous as one of the UK's busiest fishing ports, making it a delectable destination for seafood lovers. A visit wouldn't be compete without indulging in a hearty potion of fish and chips while admiring views of the English Riviera. If you've got time to delve a little deeper, here's all the things to do in Brixham, with plenty thrown in for families.
Love Devon? Join the Devon with Kids Facebook group and subscribe to my newsletter!
1. Explore Brixham Harbour
A walk around Brixham Harbour will give you an insight into the modern day and historical role Brixham plays in the fishing industry. The walls and footpaths are lined with lobster pots, nets and crates.
In the 19th Century Brixham had the largest trawling fleet in England. Before the First World War there were more than 300 boats here, often with distinctive red sails.
Today, there's a smaller fleet of fishing vessels in all shapes and sizes, but they still play a vital role in the UK fishing industry.
2. Board The Golden Hind
As you wander around Brixham Harbour it's impossible to miss a very different kind of vessel – The Golden Hind. This is the main family attraction in Brixham and combines living history with plenty of pirate fun.
The Golden Hind is a life-size replica of the ship that the famous Devonian Sir Frances Drake used to sail around the globe in 1577. The voyage on this 80ft vessel took him and his crew of 70 three years to complete. It's not a cruise I fancy! Plus most of the time they were being chased by the people whose treasure they had plundered!
This tribute to an extraordinary ship is now in the hands of a team of modern day pirates who will tell you about what life was like onboard. Below decks you can see the captain's cabin, the crew's sleeping quarters, and some of the weapons and tools they would have used during their voyage.
In 2021 there's a new audio tour. Bring your own smartphone and earphones.
Find out more about visiting The Golden Hind.
3. Swim in Shoalstone Seawater Pool
If you want to go swimming in Brixham but don't fancy a dip in the sea, Shoalstone Pool is the ideal solution. This 53m Victorian outdoor pool is right on the seafront and has panoramic views of Torbay. There's a shallow end for kids and a cafe where you can pick up a post swim snack.
The pool is run by volunteers and has a life guard while it is open from May to September (target reopening date in 2021: 21 June). Entry to the pool is free but there is a suggested donation of £2 per person or £5 per family.
Find out more about Shoalstone Pool.
Find more outdoor swimming pools and splash parks in Devon.
4. Catch a crab in Brixham Harbour
Brixham Harbour is one of the top spots for crabbing in Devon. Don't worry if you've forgotten your line and net – there's plenty of shops on Middle Street where you can pick up crabbing gear.
Be considerate when crabbing and look out for signage where it's not allowed, such as boat landing areas.
5. Look for street art
If you love art and are looking for free things to do in Brixham, it is one of Devon's street art hot spots. Tucked away down narrow side streets and brazenly slashed across shop fronts, you'll find incredible 2D and 3D works of art.
Many pay homage to Brixham's seafaring heritage, while others are thought-provoking, fun and fantastical. There's always something new to see.
6. Brixham Heritage Museum
Something else on the list of free things to do in Brixham is the Heritage Museum. It tells the story of all the key moments in the town's past, from the sailing of the Mayflower to the Americas to the impact of the Second World War and the lives of important personalities from Brixham's maritime history.
The museum is also a family heritage research centre – could you have links to Brixham? Find out here!
Find out more about Brixham Heritage Museum.
7. Go nautical at Brixham Pirate Festival
If you want to see one of the largest gatherings of modern day pirates then head to Brixham in May. Over the first bank holiday weekend the town is awash with swashbuckling activities. Expect skirmishes, historic reenactments and even mermaids.
Brixham Pirate Festival is free to attend, but please give generously to any donation buckets you see around town to help this unique event continue in the future.
Find out more about Brixham Pirate Festival on the website.
8. Party at Brixfest
This celebration of sea, food and music usually takes place over the Spring Bank Holiday weekend. The line up includes a dragon boat challenge, cooking demonstrations and fireworks. Families will also love the Children's Day with lots of children's activities planned.
Please note that this event has been cancelled in 2021.
Find out more about the event programme on the festival website.
Find more family-friendly events in Devon.
9. Book a boat trip
Next to Brixham Harbour you'll find a row of booths offering boat trips to other towns on the English Riviera and beyond. Choose from fishing trips and pleasure cruises to explore the South Devon coastline.
You can also book a boat trip to spot wildlife in the waters around South Devon with Dolphin Watch UK.
Find out about some more boat trips available from Brixham.
10. Explore Berry Head Nature Reserve and forts
Berry Head Nature Reserve sits on a headland to the south of Brixham. It's possible to walk there from the Harbour. As well as panoramic views of the South Devon coast you'll find two forts here dating back to the Napoleonic Wars.
The water at the bottom of the cliffs is a stunning turquoise, even on a blustery day. Wander around the ruined buildings that used to house soldiers and see what wildlife you can spot. It's also possible to walk down to the quarry to the north side. This is a popular fishing spot.
Once you've built up an appetite, stop by the award-winning Guardhouse Cafe for a snack, brunch or lunch.
Here's my guide to visiting Berry Head Nature Reserve.
11. Visit Coleton Fishacre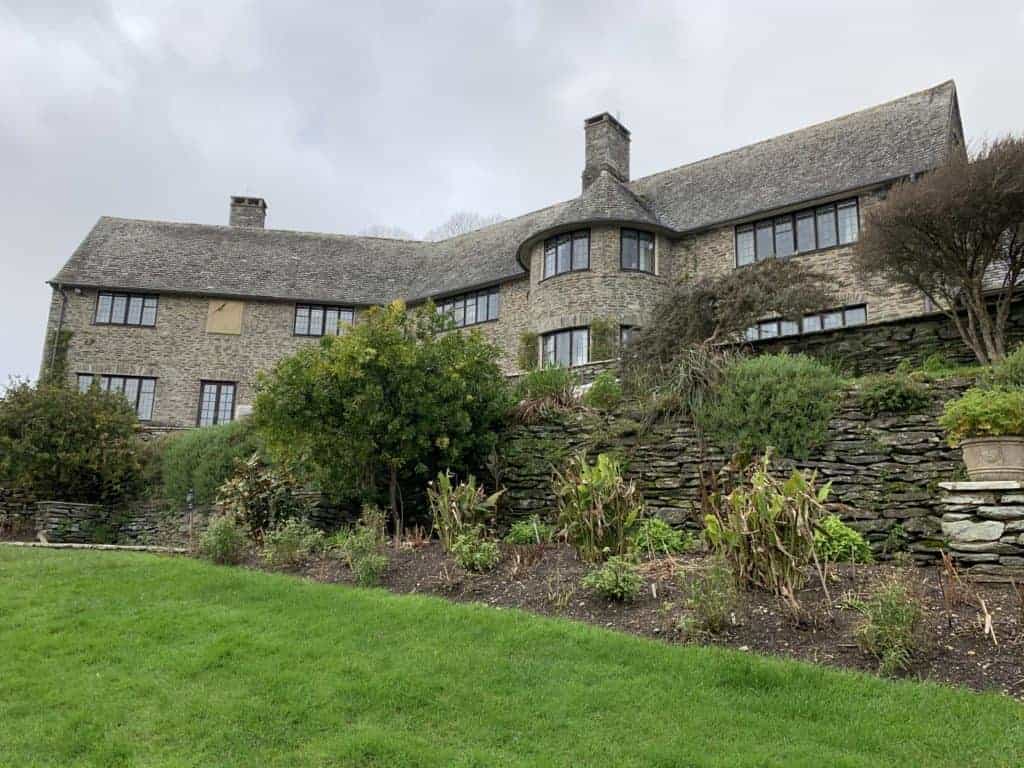 Not far outside Brixham is Coleton Fishacre. It's a National Trust property and subtropical garden set in a valley that stretches down to the South West Coast Path.
The house was built by the D'Oyly Carte family, which owned a theatre company of the same name in London.
Step inside and it feels like the residents have gone away for the weekend and left their art deco home open for show.
There are some lovely walks and sea views around the estate. Make sure you have comfortable shoes on and have plenty of energy for getting back up the hill if you venture to the beach.
Find out more about visiting Coleton Fishacre with kids.
12. Walk the South West Coast Path
The South West Cast path runs around the harbour in Brixham. Pick it up here or at Coleton Fishacre National Trust, Berry Head Nature Reserve or Battery Gardens for wonderful views of Torbay and the English Channel.
If you want a longer walk that takes in the whole of Torbay you can start at Brixham and head north to Babbacombe, passing through Paignton and Torquay. It's a 13 mile hike along the Coast Path.
13. Promanade along Brixham Breakwater
The breakwater stretches out half a mile into the sea providing sheltered anchorage for fishing and private boats. It's another place to gain an incredible vantage point of sweeping Torbay.
Keep a close eye on young children as there's no barrier along the breakwater.
Find out more about Brixham Breakwater.
14. Book the Brixham Fish Market Tour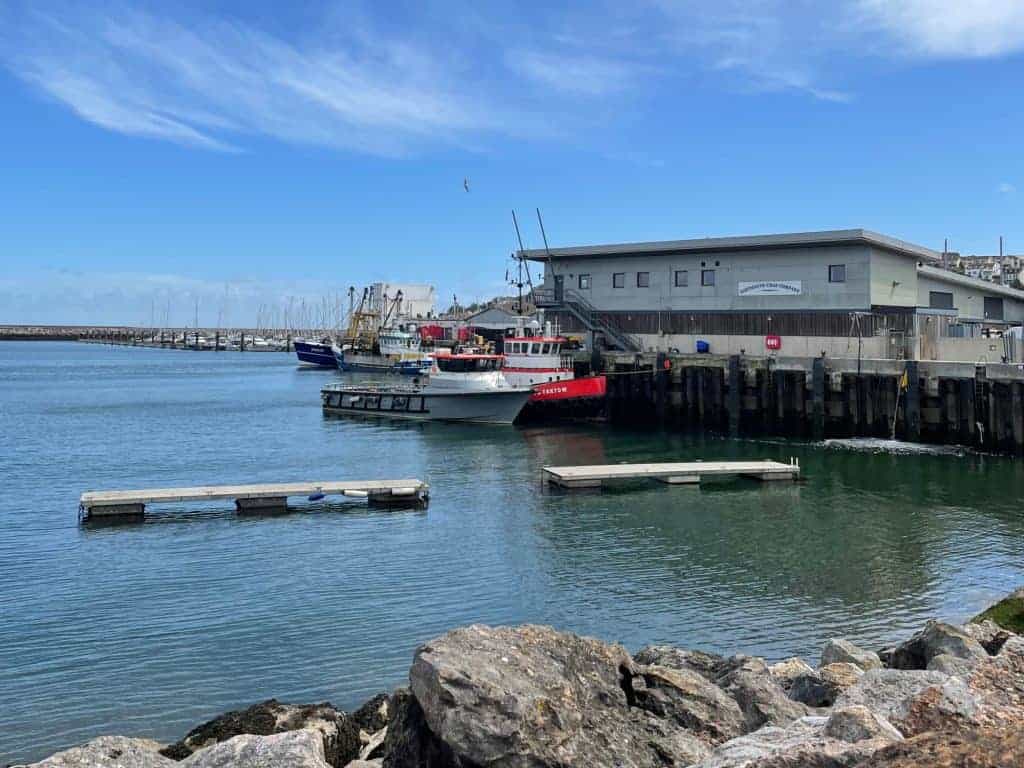 Early risers can go behind the scenes at Brixham's Fish Market to see the catch of the day and find out how fish make their way from the sea to your plate. If you're eating seafood in South Devon it will almost certainly have passed through here.
You will also see how the market's auctions work. Gone are the days of 'shout auctions' when the building was a very noisy place to do business. It now uses an online auction.
Tours are suitable for adults and teens aged 14 and over.
Find out more about Brixham Fish Market Tours.
15. Go indoors for soft play
Looking for something to do on a rainy day in Brixham? If you have young children then the Whizz Kids soft play centre is a indoor activity they will love. It has has 5,000 sq ft of soft play, a basket ball court, climbing wall and that all important cafe.
Whizz Kids is on Northfields Industrial Estate, which is a 20 minute walk from Brixham Harbour.
Find out more about Whizz Kids.
Find more things to do on rainy days in Devon.
16. Sit down for fish & chips at Rock Fish
You can't miss Rock Fish right next door to the Fish Market. It's one of several restaurants and takeaways run by local chef Mitch Tonks on the south coast in Devon and Dorset.
Everything on the menu is caught by the restaurants' own boat The Rockfisher, which brings its seafood haul into Brixham. Depending on the season and weather, you can enjoy anything from John Dory to hake and juicy scallops to delicate white-fleshed plaice.
Eat in or sit on the harbour wall.
17. Eat on Middle Street
For even more Brixham delicacies take your pick of the cafes and restaurants on Middle Street.
The Curious Kitchen comes highly recommended for its weekend donuts. Pop in during the week for coffee, cakes, bakes, brunches…the mouth-watering list goes on!
Other things to do in Devon with kids
Want to explore a bit further than Brixham? The seaside resorts of Paignton and Torquay are just down the road, and Dartmouth is a short ferry ride away.
Check out these other guides to days out in Devon:
Would you like more Devon goodies delivered to your inbox? Sign up to the Devon with Kids newsletter.
Are you planning your days out and things to do in Brixham with kids? Why not save this post on Pinterest.