Who's up for some March madness? And by 'madness' I mean fun – obvs! Spring is in the air and there's plenty happening across the county to entertain and enthral your youngsters. Read on for your guide to what's on in Devon in March 2022.
Love Devon? Join the Devon with Kids Facebook group and subscribe to my newsletter!
What's on for families in March
Here's my top picks from the family-friendly events on in Devon this month:
Money off Devon days out
Did you know the National Lottery and Visit England are offering £25 towards days out at attractions and experiences throughout March?
There's four places in Devon where you can use their vouchers:
RHS Garden Rosemoor
Dartmoor Zoological Society
Shaldon Wildlife Trust
and SOUTH WEST SUP.
If you have a Lotto ticked bought on or after 1 October 2021 get your voucher from the Visit Britain website.
Super Trumps Trail at The Donkey Sanctuary, Sidmouth – every day until 31 March 2022
Head to The Donkey Sanctuary in Sidmouth this March and find out which adoption donkey has the loudest bray, the longest ears, or who is the most playful.
The Adoption Donkey Top Trumps Trail takes you around the sanctuary to find the giant Top Trumps cards and discover which adoption donkey comes out on top in each round. This exciting family activity is a great way to explore the sanctuary, combining fun, exercise and brainpower.
The Donkey Sanctuary Sidmouth is open seven days a week, from 9am to 4.30pm. Entry to the sanctuary is free, as is parking, and dogs on leads are welcome.
Each trail costs £5.00 and includes a prize on completion.
Find out more on the Donkey Sanctuary website.
Top Secret: The Magic of Science at Palace Theatre, Paignton – 5 March 2022
The Palace Theatre in Paignton presents a fusion of magic with wondrous and miraculous feats of science in this family-friendly show coming in March.
Hang on to your seats as they transform the venue into a real life science laboratory. Expect mystery, suspense, and lots and lots of mess!
Find out more and book tickets for The Magic of Science.
Oi Frog & Friends at Exeter Northcott Theatre – 5 – 6 March 2022
Join FROG, CAT and DOG in this Olivier Award nominated action-packed stage adaptation of Kes Gray and Jim Field's bestselling books. There will be songs, puppets, laughs and more rhymes than you can shake a chime at.
Find out more and book tickets for Oi Frog & Friends.
Welly Walk at RHS Rosemoor, Great Torrington – 7 March 2022
Join the Education team at RHS Rosemoor in Great Torrington for a welly walk and crafting or planting activities. This workshop for under fives must be booked in advance.
Find out more and book your places.
The Tiger Who Came to Tea, Princess Theatre, Torquay – 7 – 8 March 2022
See this delightful adaptation of Judith Kerr's dreamlike story about a very hungry tiger and a curious little girl. This is a perfect show for under sevens.
Find out more and book tickets.
Bedknobs & Broomsticks at Theatre Royal Plymouth – 8 – 12 March 2022
Enter a world of magic and fantasy as Disney's classic movie Bedknobs and Broomsticks makes its world premiere as an exciting new stage musical.
Find out more and book tickets.
Bubblicious Family Rave at Soapbox Children's Theatre in Plymouth – 12 March 2022
Join in this family-friendly dance part at Devonport Park. There will be an eclectic mix of dance music from old skool to new skool, glowsticks, UV face painting, bubbles, walkabout performers, arts and crafts chill-out area and lots more to keep everyone entertained.
Find out more and book tickets.
Reopening: Canonteign Falls, Christow – from 16 March 2022
Canonteign Falls in the Tegn Valley reopens for the season from 16 March. New activities have been added at this outdoor attraction including fresh seasonal children's activity trails, a new fern garden fairy trail and a paved Labyrinth.
Read about visiting Canonteign Falls with children.
Find out more about visiting Canonteign Falls on it's website.
The Noise Next Door: Run Wild! at Pavilions Teignmouth – 19 March 2022
This family-friendly comedy features stars of Britain's Got Talent and The One Show who put on an hour of songs, scenes and gags all based on what the audience want to see.
This show is suitable for children aged five and up.
Find out more and book tickets.
Plymouth Brick Festival, Plymouth Guildhall – 19 March 2022
Calling all LEGO® fans! Head to Plymouth Guildhall to see iincredible LEGO® builds and build challenges during this day-long festival.
There will also be boxed sets, mini-figures and loose bricks to buy.
The festival takes place from 10am to 4pm. Tickets are on the door.
Find out more about Plymouth Brick Festival.
Daffodil Day at Hartland Abbey, Hartland – 20 March 2022
Daffodil Day returns to Hartland Abbey this March. This is the first chance to visit this historic house and its gardens in 2022.
Pop along to see a large collection of historic daffodils as well as camellias, hellebores, early Spring bulbs, mimosas, wild primroses and violets. These are dotted all over the gardens and estate walks.
The house, which is the set for CBBC's Mallory Towers, will also be open during the afternoon.
Here's some more about visiting Hartland Abbey.
Find out more about what's on during Hartland Abbey's Daffodil Day.
Life: Light and Sound Experience at Exeter Cathedral – 22 to 26 March 2022
See the interior of Exeter Cathedral transformed with light and sound art installations representing the earth, sea and sky.
Visitors will be able to walk through the Cathedral and become immersed in the soundscapes and light artworks. The experience starts at 6.45pm each evening and can be booked at 15 minute intervals. Tickets must be bought in advance.
Find out more and book tickets via the Exeter Cathedral website.
Gangsta Granny at Princess Theatre in Torquay – 24 to 26 March 2022
Join Ben and his Granny on the adventure of a lifetime in this stage adaptation of David Walliams' best selling children's book.
Find out more and book tickets.
Pirates of the Imagination at Soapbox Children's Theatre in Plymouth – 24 March to 2 April 2022
Join the Stiltskin Theatre Company for this family friendly outdoor show about pirates who sail through time and space exploring the wonders of imagination.
Pirates of the Imagination performed at Soapbox Children's Theatre in Devonport is aimed at kids age three to eight and their families. It lasts approximately 50 minutes and there will be time at the end to take photos with the cast.
Food and drink will are available for purchase in the venue's cafe during, before and after the show.
Buy tickets on the theatre's website.
More things to do in March
If you're looking for more Devon days out and inspiration for activities to do check out my guide to Spring in Devon.
You might also like these posts:
Don't forget about my area specific destination guides. You'll find these in the main menu.
Got a while to stay? Here's our BIG guide to family holidays in Devon.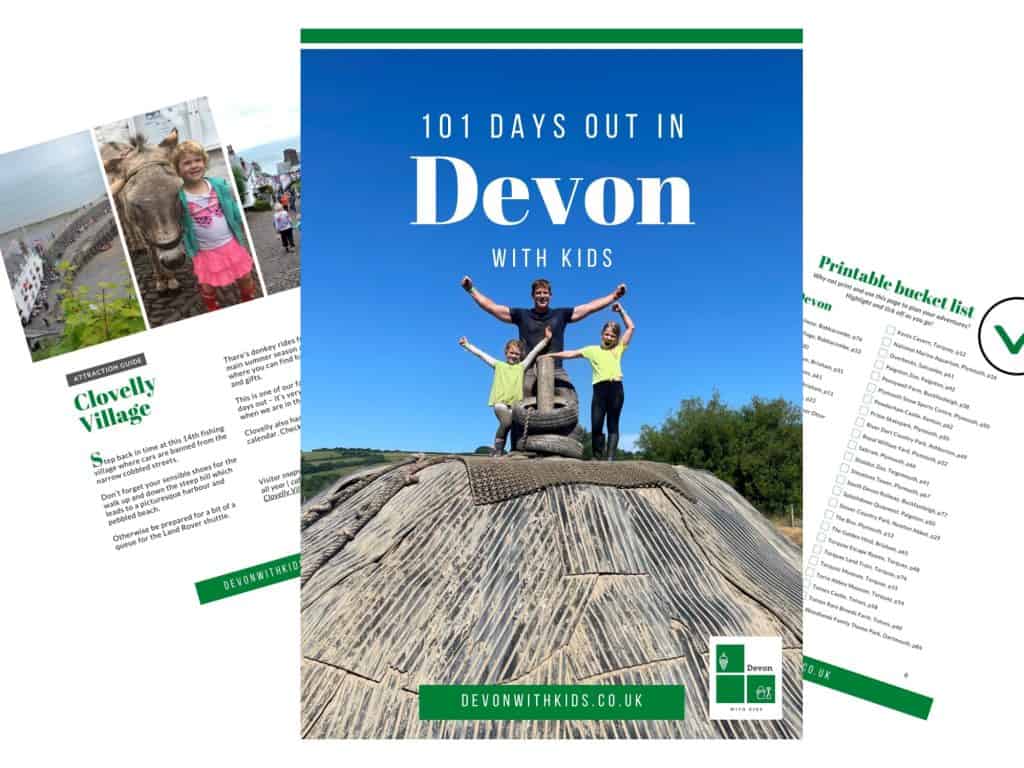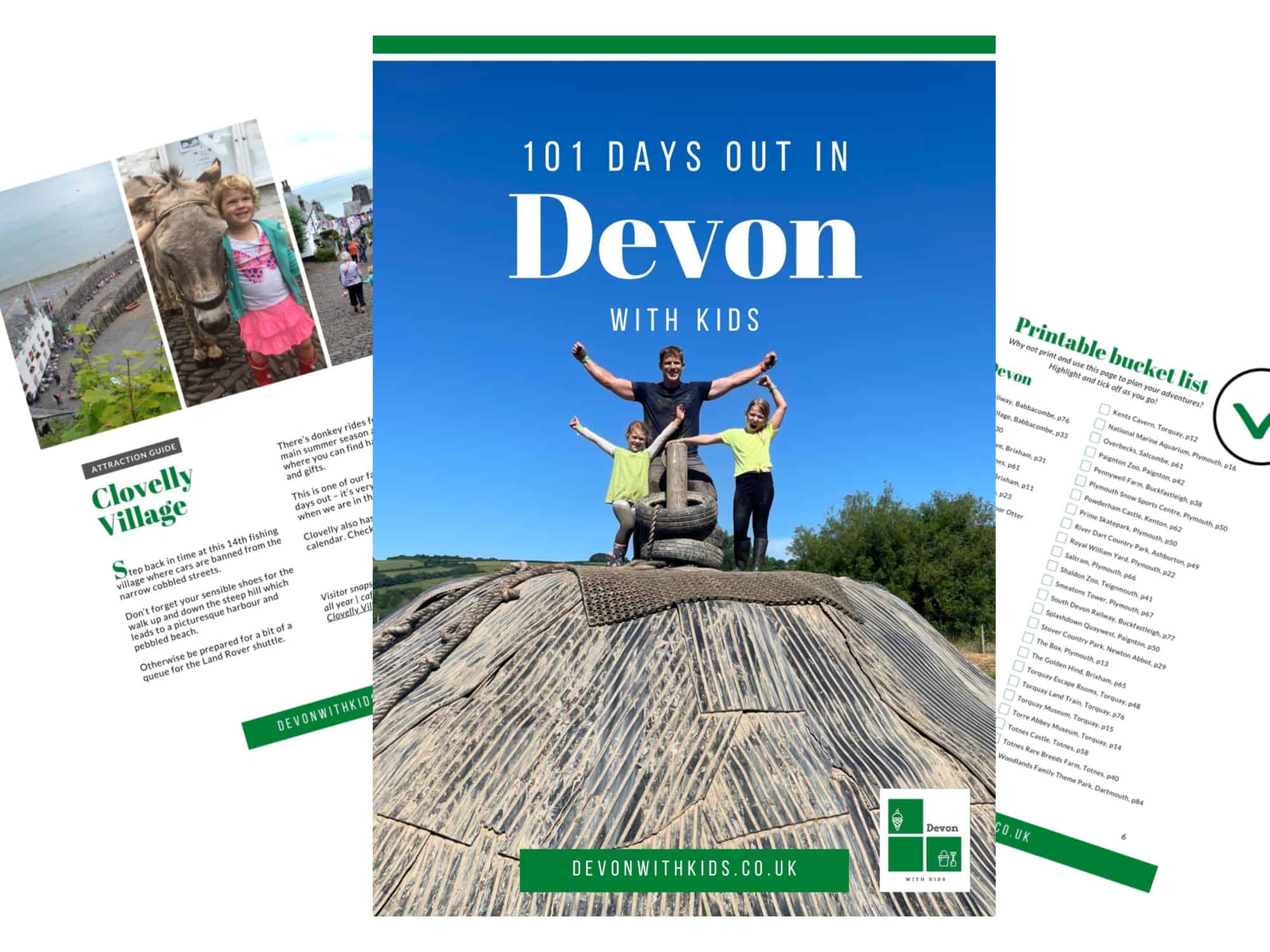 It's FREE!
Grab your copy of this guide to family-friendly things to do across the county, from coast to coast, in the cities, on the moors and whatever the weather.