Hartland Abbey is one of North Devon's hidden gems. Here's what you need to know about visiting and what's on at this stately home with gardens and walks near Bideford.
Love Devon? Join the Devon with Kids Facebook group and subscribe to my newsletter!
Exploring Hartland Abbey and Gardens
Hartland Abbey is a former monastery turned stately home that dates back to 1157. Unlike a lot of other historic houses you might visit in England, this one is not owned by the National Trust.
It is owned in by descendants of the family that moved in during the reign of Henry VIII by the Stucley family. They are descended from William Abbott – the Sergeant of King Henry VIII's wine cellar at Hampton Court – who was given the estate when the monastery was dissolved.
He must have done a good job as Hartland is a fine house in a beautiful North Devon location.
Stepping inside the Abbey
When you step inside Hartland Abbey it's immediately clear that it is still a home. Everywhere you look there are family heirlooms that have been part of the building's fabric for centuries. Sometimes when houses like this are left in trust these personal memorabilia get lost along the way making them feel more like a bare film set.
The house was renovated in the 18th and 19th Century. The dining room and drawing room walls are decorated with scenes from the Stucley family history. These include many famous historic characters and moments such as the coronation of Anne Boleyn during which a Stucley ancestor played a ceremonial role.
Amazingly these dramatic murals were covered by a ancestor who didn't like them much. They were rediscovered decades later. The benefit for visitors today is that the vibrant colours have been perfectly preserved.
Photos are understandably not allowed within this private house so I was not able to use my camera when we visited in 2018. But believe me that the artwork, wood panelled rooms and fascinating ornaments are worth seeing.
Something that I found particularly interesting was the large segmented table in the dining room which has an intricate and extremely clever mechanism to help it expand to accommodate more guests. There's a small scale model so you can see how it works.
Before or after your visit to the house have lunch or a cream tea in the courtyard tea rooms. We can recommend the crab sandwiches.
Characters from Hartland Abbey's past
The Stucley family's ancestors include prominent politicians, courtiers and even pirates. Someone who's history is explained in loving detail in an exhibition at the bottom of the house is Rev William Stucley. He was Sir Isaac Newton's friend and biographer as well as a scientist and archeologist in his own right.
Rev Stucley theorised that the Milky Way was a collection of stars and that Stone Henge was not made by the Romans – as was commonly believed in the 18th Century – but by an earlier people.
His theory that the stones were erected at around 500BC was a bit short of the mark. Knowledge of pre-historic times was limited back then! Regardless, he cemented Stone Henge's place as a prominent historic site and saved it for future generations.
There is an exhibition about Rev Stucley in the abbey's basement.
Walks at Hartland
You can walk one mile from Hartland Abbey down through the estate to Blackpool Mill – a rocky cove looking out over the Atlantic and Lundy Island. The rock formations here are incredible.
There are also walks around the estate to find the gazebo, walled garden and woodland summer house.
Along the way you pass by locations used in the filming of The Night Watchman, Sense and Sensibility and Top Gear in the past decade. Many other television programmes have been recorded around the estate and house over the years.
The post recent is the CBBC show Malory Towers.
Here's more things to do around Hartland.
Activities for families
There's not an awful lot in the house to keep young children amused. But if you have older kids who enjoy history then go for it. I really enjoyed looking around and finding out about the Stucley family.
The winding woodland paths are great fun for children of all ages to explore and there's a nature trail you can pick up from the welcome hut to complete while exploring. It's common to see buzzards, Roe deer and foxes if you are quiet enough.
In the field behind the house and car parking area there's black sheep and donkeys. While they're not there specifically for petting, the friendly donkeys may come over to say hello.
Blackpool Mill beach is an easy walk to do with children and they will be rewarded with rock pools to explore.
You can extend your time at Hartland Abbey into the evening by coinciding your visit with one of the outdoor theatre productions during the summer months. There's an additional charge for theatre tickets.
Is Hartland Abbey dog-friendly?
Dogs are welcome on a lead at Hartland Abbey and can go everywhere but in the house. They can also go on the beach throughout the year.
Finding Hartland Abbey
Hartland Abbey is located on a small, windy road between Hartland Village and Hartland Quay. Much of the land between the house and the coastline is part of the estate including Hartland Quay itself.
Pop the postcode into your SAT NAV to find the Abbey entrance and driveway: EX39 6DT.
Hartland Abbey & Garden opening times
The gardens, grounds and beach walks were open Sunday to Thursday, from May to October.
Check the Hartland Abbey website for more information.
More things to do in North Devon
Find more ideas for days out in my guide to things to do in North Devon with kids.
Here's some more places we can recommend visiting:
You might also like my guide to things to do near Barnstaple and my free to download 101 days out in Devon guide.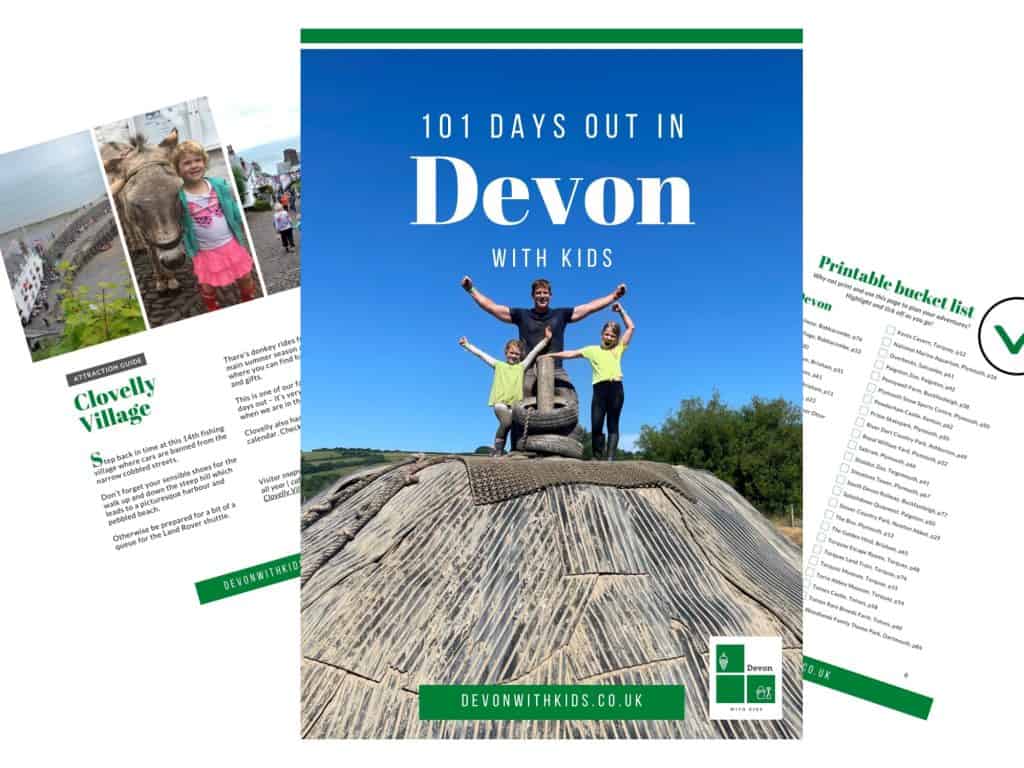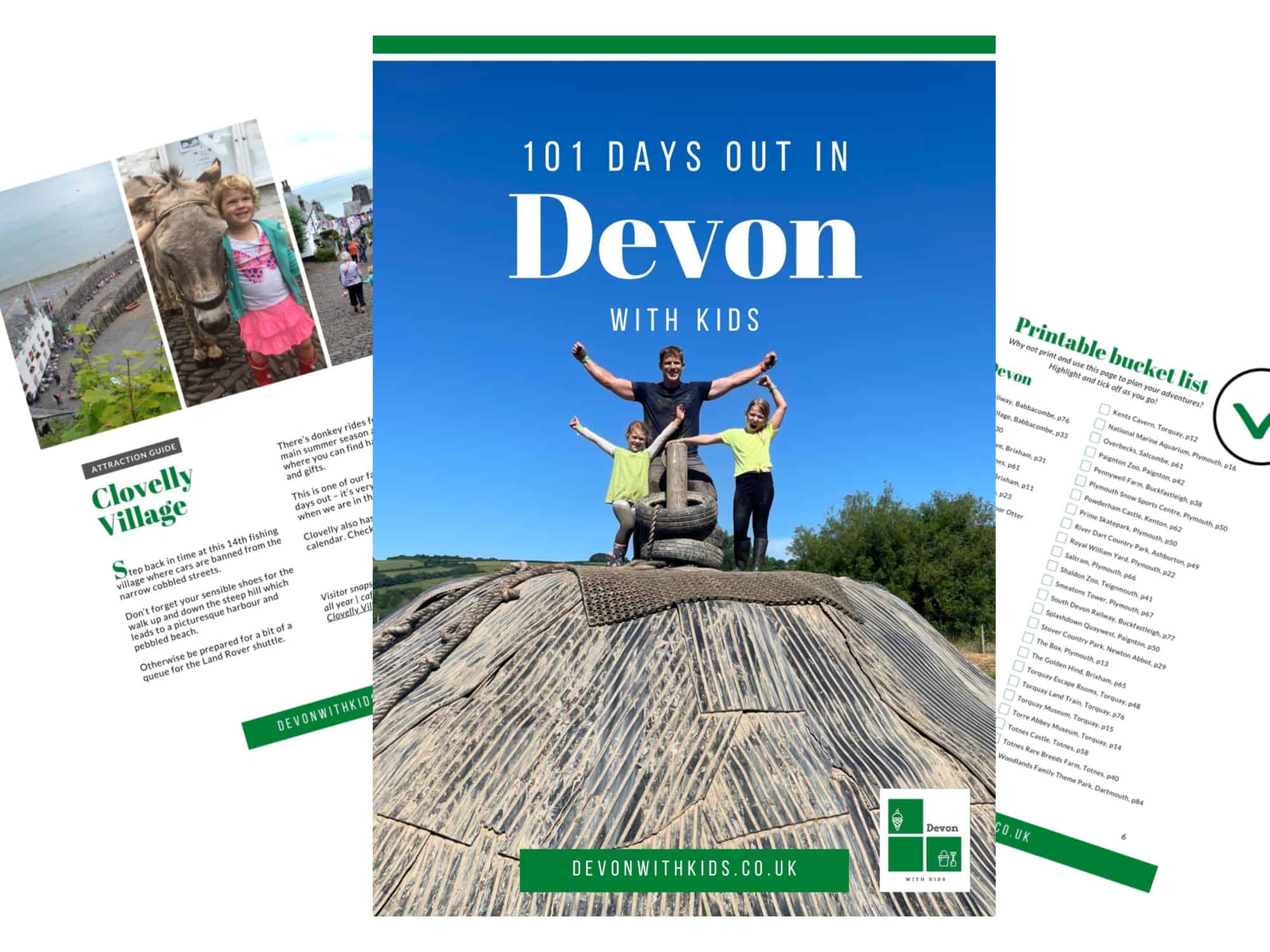 It's FREE!
Grab your copy of this guide to family-friendly things to do across the county, from coast to coast, in the cities, on the moors and whatever the weather.
More historic houses and National Trust in Devon
If you're interested in other historic houses in Devon check out these posts:
Planning a visit to Hartland Abbey and Gardens in North Devon? Why not use Pinterest to save this post for later.