We started our summer holidays with a trip to Paignton Zoo in South Devon. It's Devon's largest zoo and one of its very best Devon days out with kids, especially if yours are animal fans.
Paignton Zoo is set in 80 acres of botanical garden and is home to more than 300 species – that's 2,500 animals in total, including many that are endangered in the wild and others that are part of conservation projects.
Love Devon? Join the Devon with Kids Facebook group and subscribe to my newsletter!
Why visit Paignton Zoo?
There's such a lovely feel about this zoo in Devon. The animals' enclosures are set within an amazing, shady landscape where they have plenty of room to roam.
Keepers give excellent talks about the wildlife they look after here. Check the map you are given on your way in for talk times throughout the day.
Please note: that keeper talks have been suspended for the time being.
There's also lots of play areas for children to stretch their legs in-between meeting the animals. This, along with other family-friendly facilities, makes it one of our top recommendations for things to do in Devon with toddlers.
Paignton Zoo is also part of the conservation charity, the Wild Planet Trust, which has one of the largest and most productive zoo-based research departments in the UK. It also runs Newquay Zoo in Cornwall and 20 conservation projects in the UK, Africa and Asia.
Find out about other Devon zoos and wildlife days out.
Paignton Zoo animals
If you're wondering if Paignton Zoo has giraffes, tigers or gorillas, the good news is yes it does.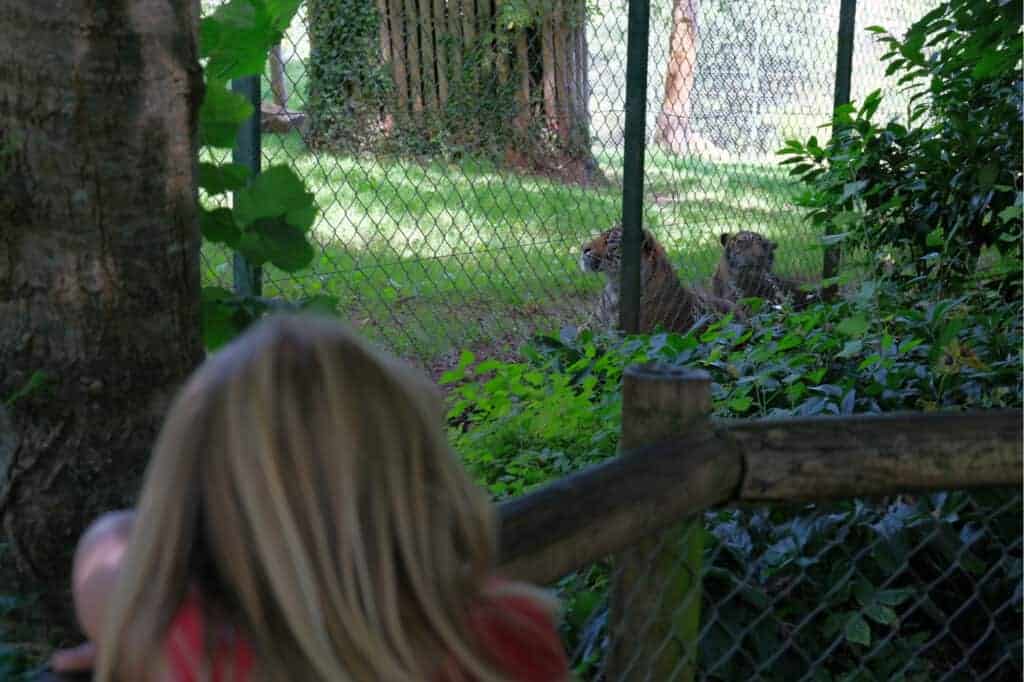 Here's some more of the many Paignton Zoo animals you can visit during your day:
flamingos
crocodiles
reptiles
tropical birds
owls
red pandas
giant tortoise
gibbons
spider monkeys
orang-utans
baboons
rhinos
meerkats
cheetahs
lions
tigers
kangaroos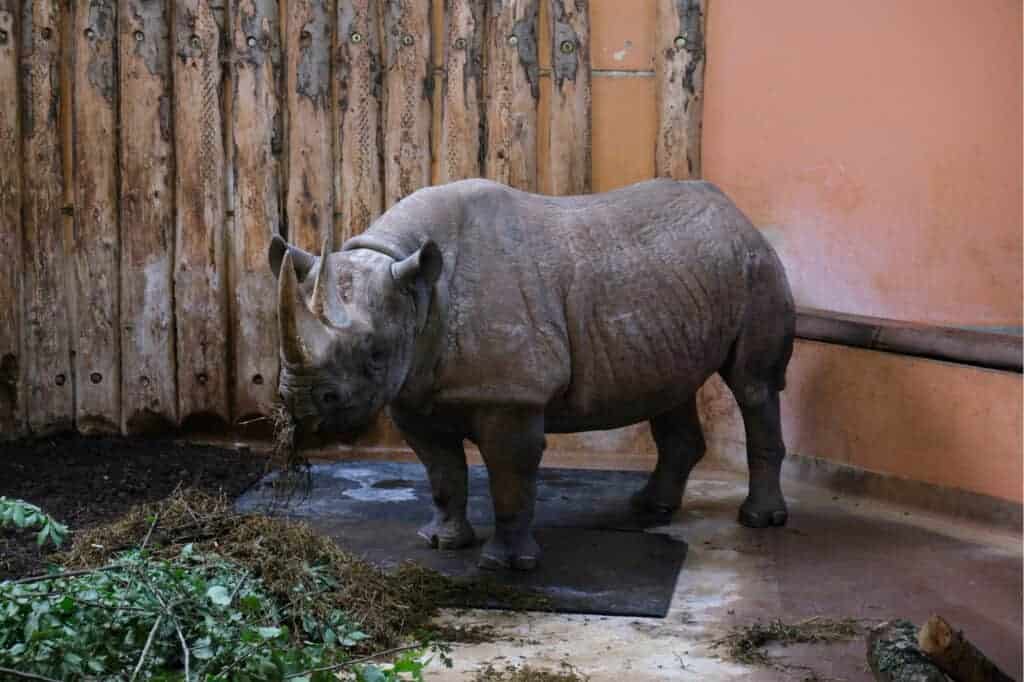 Sadly their elephant, Duchess, died in 2019. They also lost their male lion, Lucifer, early in 2020. The lionesses are still at the zoo.
Something it is worth saying is that it may not be possible to see all animals every visit. Having visited a number of times, we know that you are likely to see more animals in their outdoor enclosures on warm days. The zoo recommends visiting the big cats in the afternoon for a better chance of seeing them.
Everyone loves penguins but you won't find them at Paignton Zoo. If you want to see penguins you'll find them at Newquay Zoo in Cornwall, which is also run by Wild Planet Trust.
Sadly Living Coasts in Torquay, which was also part of the Trust and home to penguins in Devon (as well as sea lions, seals and other marine life) was forced to close because of lack of income during the 2020 lockdown.
Find other things to do in Paignton and in nearby Torquay in Devon.
Other things to do at Paignton Zoo
Kids can also play on the playgrounds dotted around the zoo, meet and pet farm animals at The Ranch, ride the Jungle Express Train (additional charge) and see a bird show between April and September. And don't miss a wobbly wander across the bridge in Lemur Wood.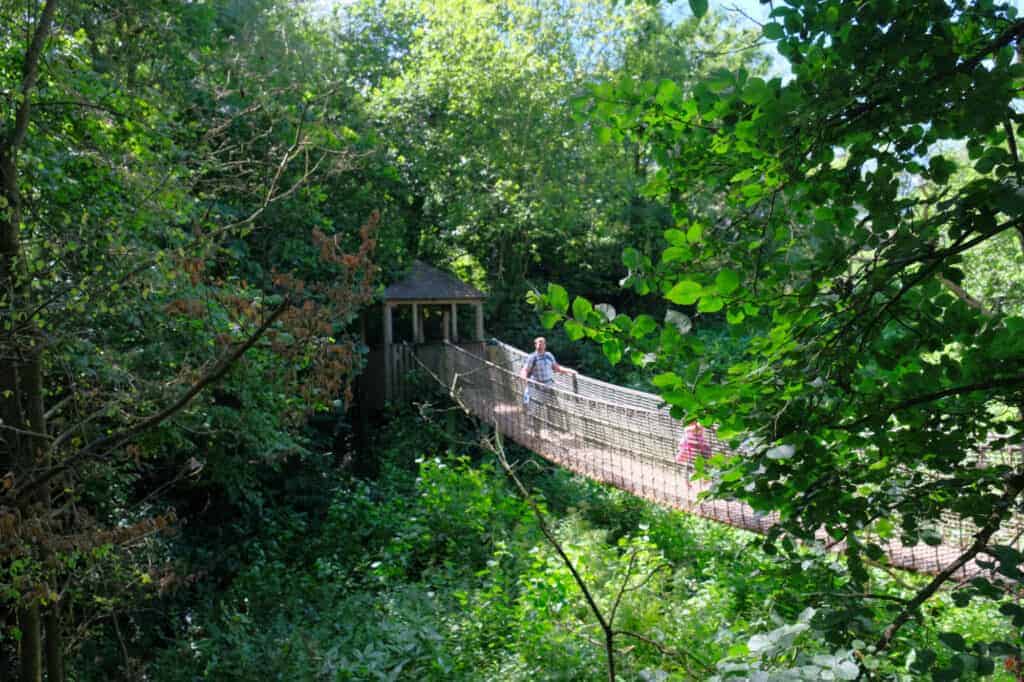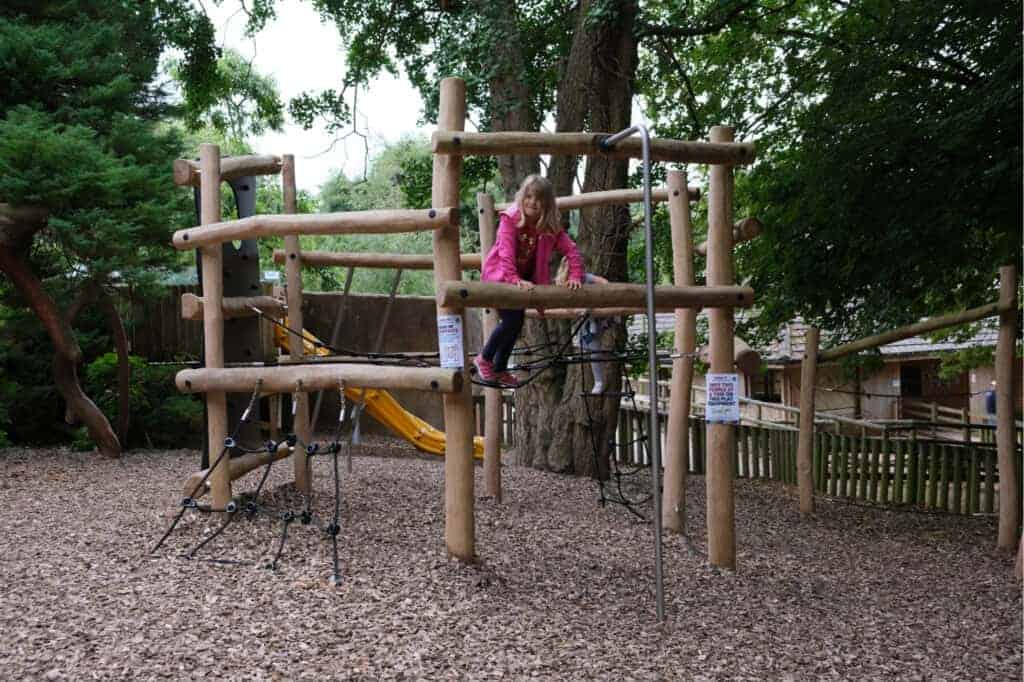 Cafes and toilets
The main restaurant at Paignton Zoo is not far from the entrance. This services hot and cold food in a canteen. There is indoor and outdoor seating.
There are snack shacks located around the zoo. These sell drinks, ice creams and a limited selection of hot and cold snacks.
Please be aware that not all snack shacks are open all year round.
You can also eat your own picnic at benches located around the zoo. You cannot take food into some areas like the Lemur Wood where animals roam freely as you walk through.
There are toilets and baby changing facilities close to all the eateries except for the ice cream stall at the furthest end of the zoo near the giraffes.
How accessible is Paignton Zoo?
Paignton Zoo is one of our recommended accessible places to visit in Devon. Viewing areas and indoor enclosures are accessible, and there are disabled toilets.
The zoo is set in a valley so there are some hills. You can pick up an accessible route map at reception.
Is Paignton Zoo dog-friendly?
Please be aware that Paignton Zoo does not allow dogs and there are no kennels on site. Do not leave dogs in your car as there is no shaded parking.
Find dog-friendly Devon attractions.
Paignton Zoo map
Here is where you will find the Paignton Zoo map. Be aware that it is not to scale and doesn't show how hilly the site is in places.
It is possible to navigate the zoo with a pushchair but bring your strong arms for heaves up hills.
Where is Paignton Zoo in South Devon?
Here's where to find Paignton Zoo in South Devon:
The zoo has a large car park that is free to use during your visit. Walk down hill through the car park to find the zoo entrance.
Looking for more things to do around the English Riviera? Read my guide to things to do in Torquay.
Paignton Zoo opening times
Paignton Zoo is open all year round. In the summer months it's doors open at 10am and close at 6pm. Last admission is 4pm. In the off season opening times may vary.
Book in advance in 2022.
Paignton Zoo prices
Ticket prices are £18.55 for adults, £15.30 for children (aged three to 15), and £17.35 for senior citizens. There's also a family ticket. The zoo welcomes a voluntary additional donation per ticket to help with its conservation work. You can find the prices including a small donation on the zoo website.
Tickets must be pre-booked in 2022. Here's where to buy tickets for Paignton Zoo.
Looking for more ways to entertain your children in Paignton? Here's my guide to things to do in this town on the English Riviera.
Would you like more Devon goodies delivered to your inbox? Sign up to the Devon with Kids newsletter.
Have you visited Paignton Zoo in South Devon? I'd love to hear about your experience. Visiting Paignton Zoo? Why not save this post on Pinterest.