If my teenage years are anything to go by I know that entertaining teens can be a fine balancing act. Days out not only have to be fun, they also need a element of cool. If there's an TikTok-able moment too, even better. So what are the 'sick' (that's 'good' to you and me) things to do in Devon with teenagers? Here's your guide to slaying days out with your teens.
Love Devon? Join the Devon with Kids Facebook group and subscribe to my newsletter!
I've split some of the more unique days out into locations – North, South and East Devon – and grouped more popular activities like water sports, pottery painting, cinemas, bowling, trampoline and climbing centres. You'll find these further down the post.
Click on the drop down menu to skip to what you'd like to know.
So, without further ado, here are some of the best activities and places to go with teens in Devon:
Things to do in South Devon with teens
Here's wat to find activities and days out in South Devon that will keep everyone interested:
Activities at River Dart Country Park
There's plenty of outdoor activities at River Dart Country Park near Ashburton. Kayak around the lake, try the high ropes, climb into a water zorb or set your teens free to explore the acres of adventure playgrounds and swimming lake.
Find out more about activities and visiting River Dart Country Park.
Fairground fun at Dawlish Warren
Dawlish Warren has a host of traditional seaside attractions including Go Karts, fairground rides and arcades.
Find out more about activities at Dawlish Warren.
Activities at Dynamic Adventures Dartington
Dynamic Adventures have loads of activities for families to try from canoeing to abseiling and high ropes as well as archery, zip wires and bushcraft. Find them in Dartington, South Devon.
Check out the activities for teens available at Dynamic Adventures.
Indoor skateboarding in Plymouth
Prime skatepark is an indoor skating facility made up of a series of bespoke wooden ramps and a street section set in three warehouses.
The first room features a 33ft long mini ramp which is 4.5ft high with 6ft extensions at the far end, a 10.5ft roll-in to a foam pit and a sound proof hut for chilling.
Here's all you need to know about Prime skatepark.
Find more things to do in Plymouth.
Adventure your way through Haldon Forest
Haldon Forest near Exeter has lots of activities for teens. We love Go Ape. And the good news about the courses at Haldon Forest is that they are good for kids of all ages. Kids just have to be 1m to play.
There's a Treetop Adventure for novice apes and Treetop Challenge for more adventurous teens and adults.
As well as high ropes you can book a Segway tour for over 10-year-olds and cycle hire for all the family.
Get your ape on at Haldon Forest, get ready for a Segway adventure or hire bikes at Haldon Forest.
Walk on Dartmoor
Dartmoor National Park is a walker's paradise with easy hikes and more challenging treks to take you to incredible beauty spots. There are even places you can go wild swimming which might be a fun thing to do with teens in Devon.
Here are some of our tried and tested Dartmoor walks with kids and if you are looking for more hikes check out Mum on Dartmoor.
Here's even more things to do in Dartmouth with kids.
Go climbing on Dartmoor
Scale a tor and come back down to earth with professional instructors. Abseiling and climbing is a top adrenaline pumping activity that your teens can do on their own with the pros or you can book a family session.
Here's companies offering climbing, abseiling, navigation and expedition skills on Dartmoor:
Escape rooms in South Devon
Head to Dartmouth where you'll find a choice of two escape rooms suitable for anyone aged nine to 99! The Mayflower Adventure room at Dartmouth Escape Rooms is based on the true story of when the Mayflower docked in Dartmouth 400 years ago.
The second room has a Britannia Royal Naval College connection and is based on the James Bond character 'M' – real name Sir Cumming Mansel, who studied at Dartmouth.
A new pair of escape rooms are also opening on The Terrace in Torquay Spring 2021.
Find out more about these escape rooms in South Devon.
Ski in Plymouth
If your teens love winter sports then they can do them all year round at Plymouth Snow Sports Centre. There's skiing, snowboarding, tubing and tabboganning down this dry ski slope on the outskirts of the city.
Plan your ski centre adventure.
Slip and slide at Splashdown Quaywest
Let teens slip and slide to their hearts' content at this epic splash park in Paignton. It's the UK's largest splash park with ten attractions ranging from black hole slides for fearless kids to paddling pools for toddlers.
Splashdown is located on Goodrington Beach with plenty of its own attractions like arcades, go karts and swan boats to make it a full on day out for families in the summer.
Find out more about Splashdown Quaywest.
Here's even more things to do in South Devon with kids.
Things to do in North Devon with teens
Get ready for high adrenaline activities that will bring out the competitive streak in your whole family:
Activities at The Ultimate Adventure Centre
There's plenty of activities to get adrenaline pumping at this activity centre on the North Devon Coast. Have a go at surfing, paddle boarding and coasteering. Or avoid the water and have a nerf battle, tackle the high ropes or try mountainboarding.
Find out more and plan your action-packed day.
Make a splash at North Devon Wake Park
If your teens love skateboarding or snowboarding they they'll want to try wake boarding. The North Devon Wake Park welcomes pros and absolute beginners to try this water sport with their professional coaches.
There's also an aqua park assault course, ringo and activities for younger children from the age of five. So younger siblings won't feel left out.
Lots of activities are suitable for children from the age of five. Check specific age restrictions before you book.
Find out more about this wet and wild day out in North Devon.
Become a falconer with North Devon Hawk Walks
This unique experience for wildlife loving teens introduces you to falconry on and around Exmoor. Book an introduction to falconry during which you learn how to get a hawk to fly to you and how to feed it. You will also learn why Harris Hawks are often used in falconry and about their way of life.
This experience is ideal for kids of all ages and costs only £65 an hour for a group of up to four people.
To plan your hawk walk visit the website.
Tackle high ropes at H2Outdoor
If you're looking for high energy activities in North Devon challenge your family to a day of high ropes fun at H2Outdoor just outside Bideford.
If you're feeling really adventurous H2Outdoor can also take you kayaking and coasteering on the Atlantic Coast.
Find out more about high ropes and other activities at H2Outdoor.
Axe throwing with Norse Hawk
Book something a little less ordinary as part of your North Devon holiday – axe throwing!
Norse Hawk is North Devon's first axe throwing activity centre and offers indoor and outdoor axe throwing, with family throwing games and a Viking Garden for picnics.
Axe throwing is suitable for families with kids aged 11 and up.
The Ultimate Adventure Centre
This outdoor activity centre in Abbotsham near Bideford has all kinds of adventurous things to do from coasteering and SUP, to high ropes, archery and an assault course.
Find out more about activities at The Ultimate Adventure Centre.
Outside in Rollerdome
If you're unlucky enough to get a rain day in North Devon Rollerdome in Barnstaple is the Southwest's largest rollerskating rink.
Find out more about Outside Rollerdome.
Survival Games
If you're looking for things to with teens near Bideford then they'll love Survival Games which offers airsoft and laser tag.
These outdoor combat, all weather activity are played in natural woodlands with towers, bunkers and various buildings, where you can experience the adrenaline of laser combat, the game where everyone is equal.
Quad biking at Keypitts
Have an off road adventure quad biking near Ilfracombe. As well as quad bikes, Keypitts have axe throwing and 4×4 Land Rover Experiences.
There are quad bike routes suitable for children aged six and up.
Segway with EasiGlide Devon
Kids as young as seven can have a go on a Segway with EasiGlide at Ilfracombe. Their tours take place with amazing coast views and last between 45 minutes and an hour.
If it's raining this is an activity in North Devon that can still go ahead. Sessions take place in a indoor arena instead.
Cycle the Tarka Trail
This figure of eight trail covers 180 miles with plenty of starting points from Lynton on the coast to Okehampton on the edge of Dartmoor.
Find out more about the Tarka Trail.
Here's even more things to do in North Devon with kids.
Things to do in East Devon with teens
Ride the coasters at Crealy Adventure Park & Resort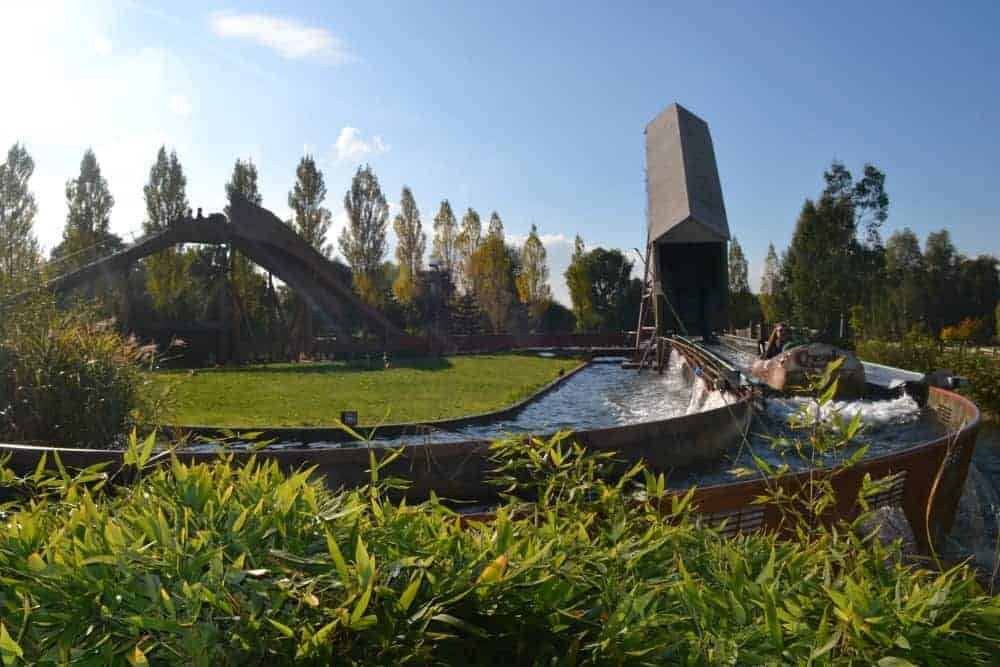 Crealy is the best theme park in Devon for teens with rollercoasters, a log flume, bumper boats and drop slides.
There's easily enough here to keep teenagers entertained all day along with places to hang out with a smoothy or coffee.
If you're visiting with younger kids there's plenty to keep them occupied too including toddler rides, giant soft play and adventure playgrounds.
Prices start at £15 for a day out at Devon's top theme park.
Take a look at our full guide to days out at Crealy Adventure Park.
Find out more about theme parks in Devon.
Play a round of foot golf
Foot golf combines two of the nation's favourite sports to make a fun day out for families with kids aged five and up. Head to FootGolf on the eXe to try it for yourself on this 18 hole Football Golf Course near Exeter.
Find out more and book FootGolf on the eXe.
Get muddy at The Bear Trail
If you are a family that doesn't fear mud then you have to head to The Bear Trail at Cullompton for an extreme family assault course.
Dress not to impress and land yourself deep in the do do (mud) for a family day out you will not forget.
There's good news for parents who don't want to face the challenge of this family assault course – you can sit within the grassy grounds and watch your youngsters tackle this fun-filled course from a safe distance.
Book a session at The Bear Trail.
Go Alpaca trekking
For something completely different to do in Devon with teens, why not go trekking with alpacas? Bearhouse Alpacas are based in the beautiful Roncombe Valley, East Devon, and can take you on half hour wanders along local bridleways in this Area of Outstanding Natural Beauty.
Find out more about trekking with Alpacas in Devon.
Here's even more things to do with kids in East Devon.
Water sports in Devon
There's a whole range of instructor-led water sports available for young people to try out across Devon. These centres of excellence are ready to teach you and your teenagers a new power, sail or paddle sport, or they can build on their existing skills.
Of course, if your teen would just prefer to hang out at a beach then here are the best beaches in South Devon and top North Devon beaches to visit.
Pottery painting in Devon
If you have an artistic teen, and even if you don't, pottery painting is a wonderful way to bring out their creative side and inspire a bit of mindfulness. It's also a great activity for a wet day in Devon. You'll find pottery painting in Devon at:
Indoor climbing in Devon
A top thing to do with teens in Devon is climbing. Here's where you'll find indoor climbing walls in Devon:
Bounce at trampoline centres in Devon
Another rainy day activity bound to keep teens happy is bouncing. Here's where you'll find trampoline centres in Devon:
Devon cycle routes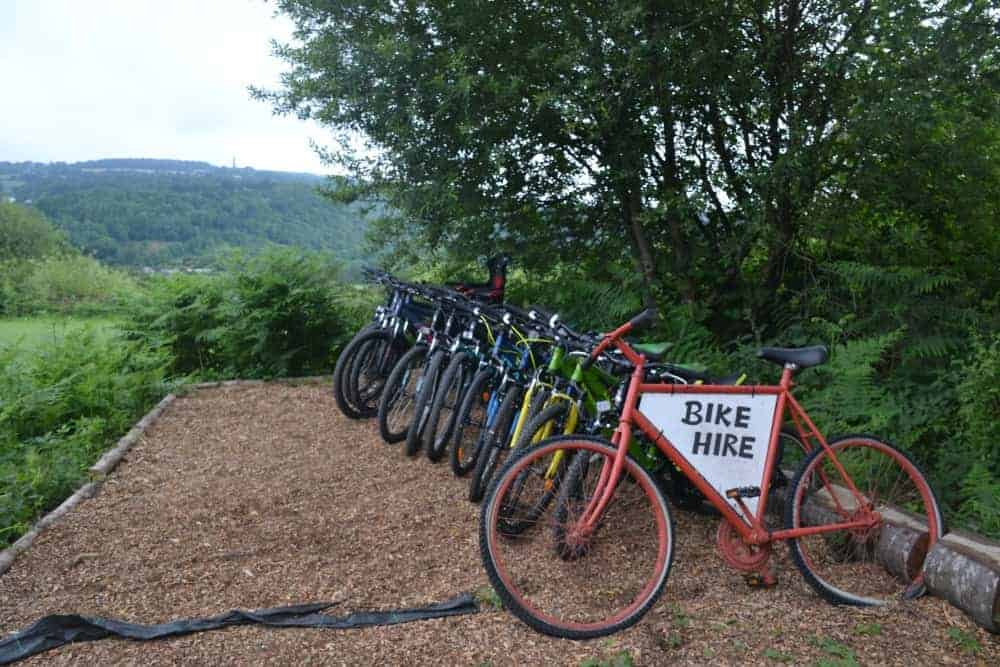 Bring your bikes or hire some for a cycle around some of Devon's family-friendly cycle routes. Here's where to go cycling with teens:
Bowling in Devon
A top thing to do with teens when the great British weather isn't playing ball is bowling. Here's where you'll find bowling alleys in Devon:
Bowling in Plymouth
Bowling in Exeter
Bowling in South Devon
Bowling in East Devon
Bowling in North Devon
Cinemas in Devon
If your teen is a film buff then here's where to find cinemas in Devon to fulfil their need to see the latest blockbusters or arthouse flicks:
Cinemas in Plymouth
Cinemas in South Devon
Cinemas in North Devon
Cinemas in Exeter
Cinemas in East Devon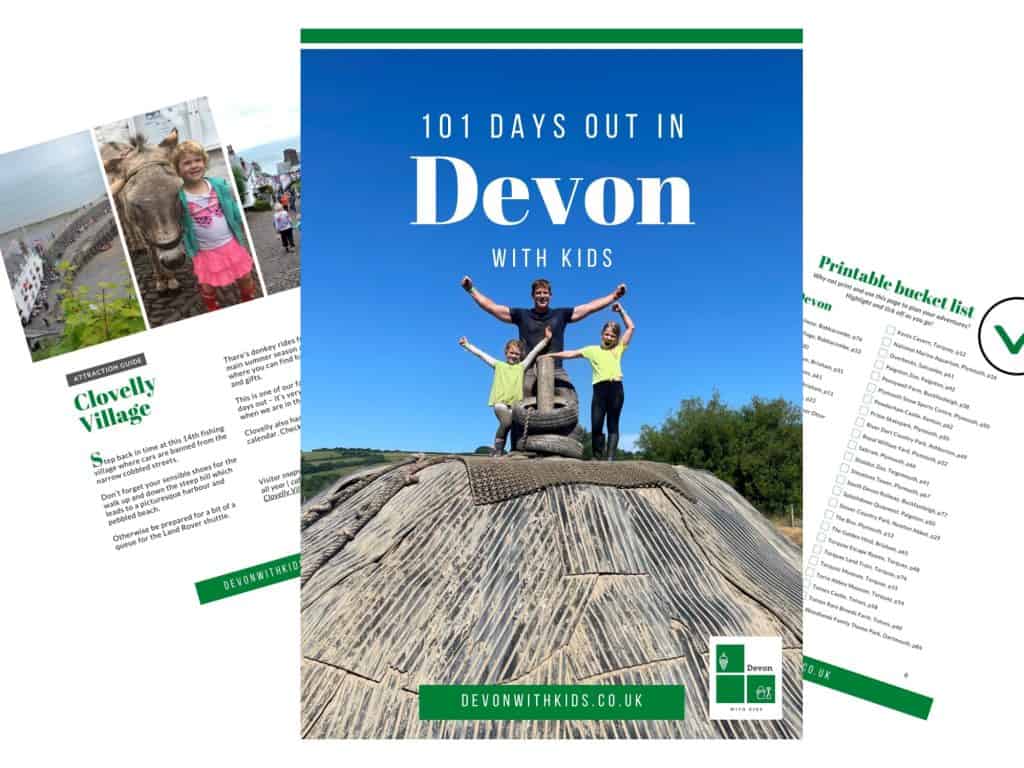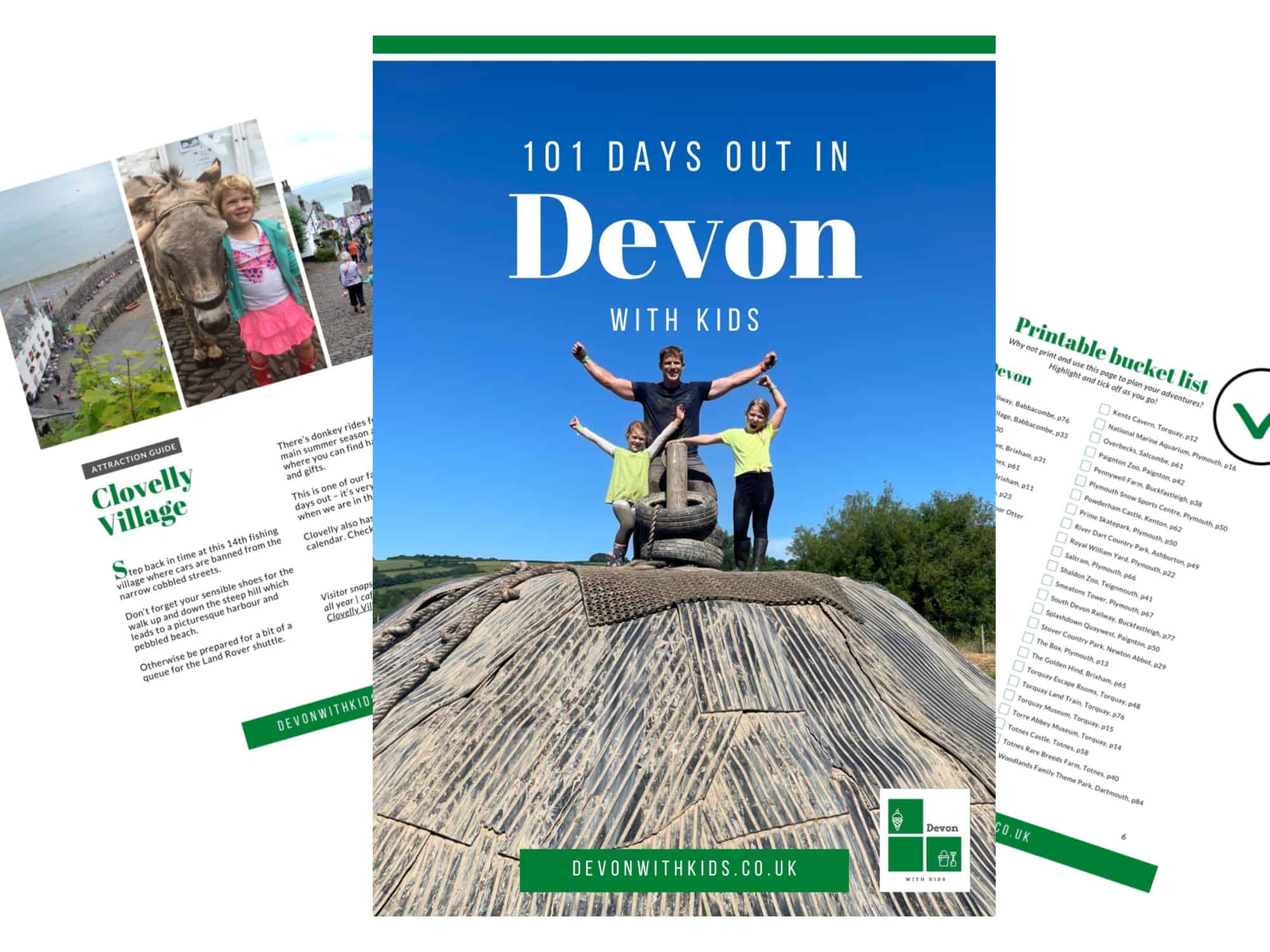 It's FREE!
Grab your copy of this guide to family-friendly things to do across the county, from coast to coast, in the cities, on the moors and whatever the weather.
Got a while to stay? Here's our BIG guide to family holidays in Devon.
I hope this guide to things to do in Devon with teenagers has been a useful read. If you are looking for more places to visit and family activities in Devon then check out my big guide to 101+ Devon days out.
If you have teens and can recommend anywhere that should be added to this list then please let me know. Either comment below or email me.
Planning your days out and activities with teens? Why not save this post about things to do in Devon with teenagers on Pinterest?