Want to experience something like nothing else? There's not many days out that aren't replicated from county to county or city to city. But finding something new to do is what makes holidays and days out special, right? Well let me share some West Country gems with you. In this guide I'm sharing my top picks of the unique and unusual things to do in Devon.
Love Devon? Join the Devon with Kids Facebook group and subscribe to my newsletter!
Here's some family-friendly days out and activities that you'll only experience in Devon:
Immerse yourself at Market Hall
Devon experiences don't come more cutting edge than the immersive dome at Market Hall in Devonport. This Plymouth attraction opened in 2021 and is the second largest dome of its kind in the world.
So, what can you expect? Entering the dome and experiencing one of its epic shows is a little like having a full-scale virtual reality experience without having to don a headset.
Shows range from nature and wildlife encounters to films from outer space.
This is a great family experience for cold, rainy days.
Find out what's on at the Market Hall immersive dome.
Here's some more things to do in Plymouth and Devon attractions for rainy days.
Visit Devon's tiniest village
What could be more unusual than stepping into a miniature world? Babbacombe Model Village is one of the best in the UK and Europe. If you been to others you'll immediately notice the attention to the finest detail here.
This four acre attraction is home to more than 13,000 residents who you can see going about their every day and sometimes extraordinary business in scaled down scenes of English life and pop culture.
As well as seeing tiny recreations of Stonehenge, Paignton Zoo and the Eastenders set you can play crazy golf (opening Spring 2022) and see the gardens illuminated at night a certain times of year.
Find out more on the Babbacombe Model Village website.
Meet all creatures great and greater at The Jolly Roger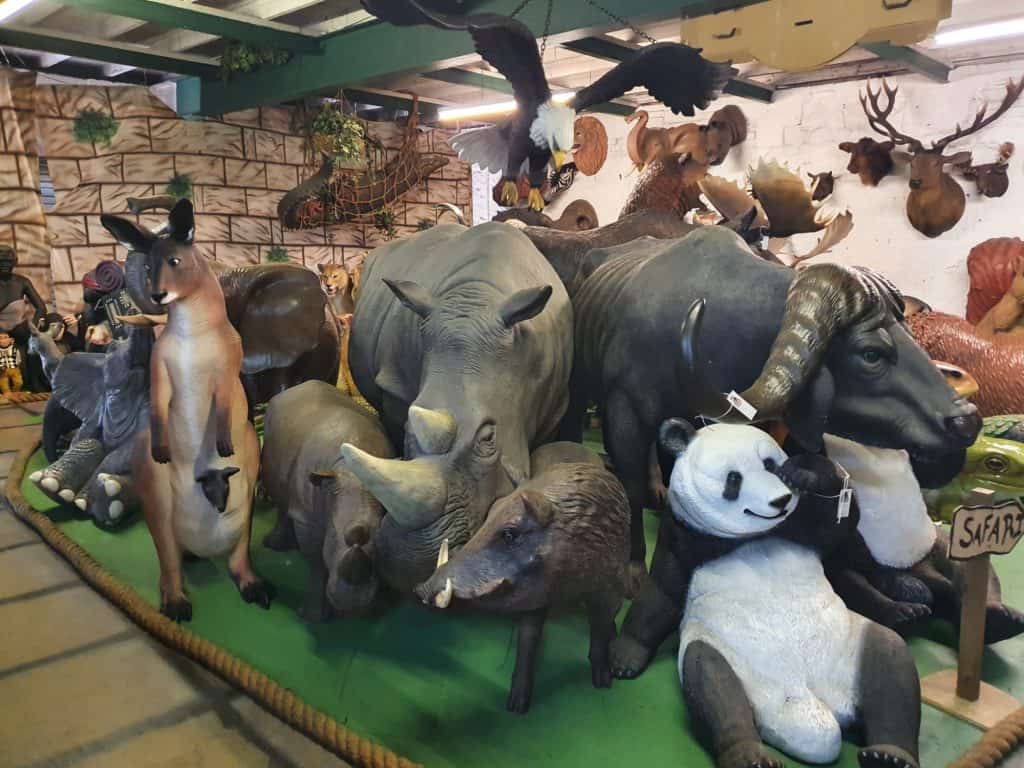 At the other end of the scale to Babbacombe, The Jolly Roger in Bovey Tracey is the UK's largest supplier of life-sized resin models and the showroom is free to visit.
Sidle up to Elvis, meet Big Foot or pose with an array of animals. There's also a cafe serving snacks and ice creams to complete your visit.
Find out more about what there is to see at The Jolly Roger.
Visit Britain's oldest ancient monument
Hidden in the hillside above Torquay is a place that was once located at the bottom of a tropical sea, south of the Equator. The Devonian limestone that now makes up Kents Cavern formed about 380 million years ago. It began its journey 3,000 miles north a mere 300 million years ago.
The cave itself is about two million years old, putting it way up the ancient monument pecking order compared to others like Stonehenge and the Cerne Giant.
Visiting Kents Cavern is a great way to start exploring the Torbay Global Geopark, which also includes the red coastlines of Paignton and Brixham.
It's possible to take a guided tour of the caves all year round and they are easily accessible for families.
Read the Devon with Kids guide to Kents Cavern and find out more about the area's geology at Torquay Museum.
Check opening times and admission charges on the Kents Cavern website.
Ride South Sands Ferry
This ferry and tractor ride on the Kingsbridge Estuary has inspired its own children's book: 'I Saw It First…in Salcombe'.
It's a fun adventure for kids and takes you past some stunning scenery on the Kingsbridge Estuary before landing you at South Sands via a sea tractor.
The South Sands ferry runs between Salcombe town and South Sands Beach every half an hour between 10am and 6pm (April to October).
Find out the latest information about South Sands Ferry.
Have a day out with birds
Book a falconry experience in the Tamar Valley near Tavistock.
There are a range of experiences available including spending a couple of hours in the company of some beautiful birds-of-prey in their natural habitat while handling and flying them!
Find out more about West Country Falconry experiences.
Sail past the red sea stacks of the Jurassic coast
One of the best ways to appreciate the Devon coastline is from the sea and this is certainly the case when it comes to Devon's Jurassic Coast.
Book a boat trip from Exmouth or Sidmouth to sail past the red sea stacks at Ladram Bay. They are stunning.
Find out more about boat trips along the Jurassic Coast.
See tectonic plates collide at Hartland Quay
Hartland Quay in North Devon is one is where you can see the results of the Earth's tectonic plates colliding more than 320 million years ago.
The history of the folded rocks is fascinating for mini geologists making this a top place to visit to combine learning and a day on the coast.
Find more things to do near Hartland in North Devon.
You can also find out about the smugglers and ship breakers in the Hartland Quay Museum.
Look up at Exeter Cathedral
Devon's capital city is home to the longest uninterrupted vaulted ceiling in England.
Exeter Cathedral's foundations were laid in the 12th Century but the Gothic-style building and the ceiling you see today was completed in about 1400.
The Cathedral is a fascinating place to visit. There's a small entrance fee for adults and children can look around for free, making this a cheap addition to a day out in Exeter.
Find out more about what's on at Exeter Cathedral.
Follow in the footsteps of Agatha Christie
The Queen of Crime, Agatha Christie, was born in Torquay and used it and the surrounding area to inspire several of her books.
Each year Devon hosts an international festival celebrating her work, with activities for families as part of the week-long programme of events.
All year round you can follow in her footsteps to discover places referenced in her novels such as her holiday home Greenway on the River Dart, the Agatha Christie Mile seafront trail, and Churston Station, which is part of the train line travelled by Dartmouth Steam Railway.
You can find out more Devon's most famous author at Torquay Museum which has the largest exhibition about her anywhere in the world.
Climb Smeatons Tower
This iconic lighthouse is an unmissable landmark on Plymouth's seafront. But what's unusual about it? Well, it hasn't always stood here.
When the Tower was completed in 1759 it was 14 miles away on Eddystone Rocks. The lighthouse you can climb today was moved brick by brick to Plymouth Hoe when it was replaced in the late 19th Century.
Find out more about climbing Smeaton's Tower.
Stand at the top of England's highest man made waterfall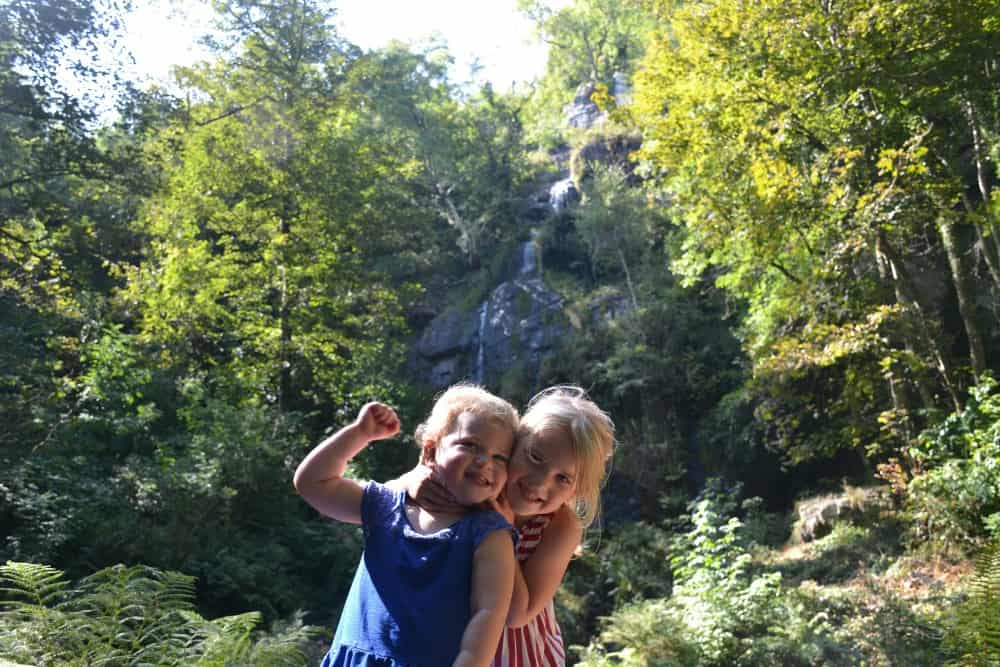 The Teignmouth Valley is home to Canonteign Falls – an extraordinarily beautiful waterfall walk where you can wind your way up to Buzzard's View to see Dartmoor stretching out in front of you.
At 67 meters high, Canonteign is the England's highest manmade waterfall and earned the title after a stream used at a former mine was diverted over the cliffs with dramatic results.
This outdoor attraction is a fun place to visit with kids as there's forest characters to spot, trails sheets and playgrounds, as well as places to eat.
Read the full Devon with Kids guide to visiting Canonteign Falls and find more waterfalls in Devon.
Check the latest opening times and ticket prices on the attraction's website.
Visit car-free Clovelly
One of Devon's most unique villages has to be Clovelly where you'll find more sleds and donkeys than cars.
This picturesque fishing village perched on the North Devon coast has narrow cobble streets that are unsuitable for vehicles so villagers and businesses use sledges to move things up and down the hill.
Find out more about visiting Clovelly Village with children.
Check opening times and prices on the village website.
Ride the World's tallest water-powered funicular
Lynton and Lynmouth Cliff Railway isn't just the tallest it's also the steepest water-powered funicular in existence.
It was built by the Victorians following a boom in tourism.
Find out more about about Lynton and Lynmouth Cliff Railway and more things to do nearby like the Valley of Rocks.
Check opening times and ticket prices on the funicular's website.
Walk South West England's deepest gorge
Lydford Gorge to the West of Dartmoor is 1.5 miles long and is the deepest in the South West. At one end there is a 30m waterfall and at the other is a naturally formed whirlpool called the Devil's Cauldron.
Find out more about visiting Lydford Gorge with kids.
Check opening times and parking on the National Trust website.
Go deep at the UK's largest aquarium
Did you know Plymouth boasts the UK's largest aquarium?
The National Marine Aquarium is one of those places you could visit again and again. And with tickets being valid for 12 months from your first visit you can do just that.
The enormous tanks showcase species from UK waters, as well as the Atlantic Ocean and Great Barrier Reef.
Find out more about visiting Plymouth's aquarium.
Book your visit on the aquarium's website.
See a 16 sided house
A la Ronde is a 18th-century, 16-sided house with an extraordinary collection of curiosities within it.
It was built near Exmouth by a pair of travelling sisters, Jane and Mary Parminter, who took a grand tour of Europe and came back with fantastical objects and mementoes. You can see many on display in this unusual house that is now looked after by the National Trust.
It has beautiful views of the Exe Estuary as well as an orchard, hay meadow and gardens to explore.
Find out more on the National Trust website.
Ride a unique sea tractor to Burgh Island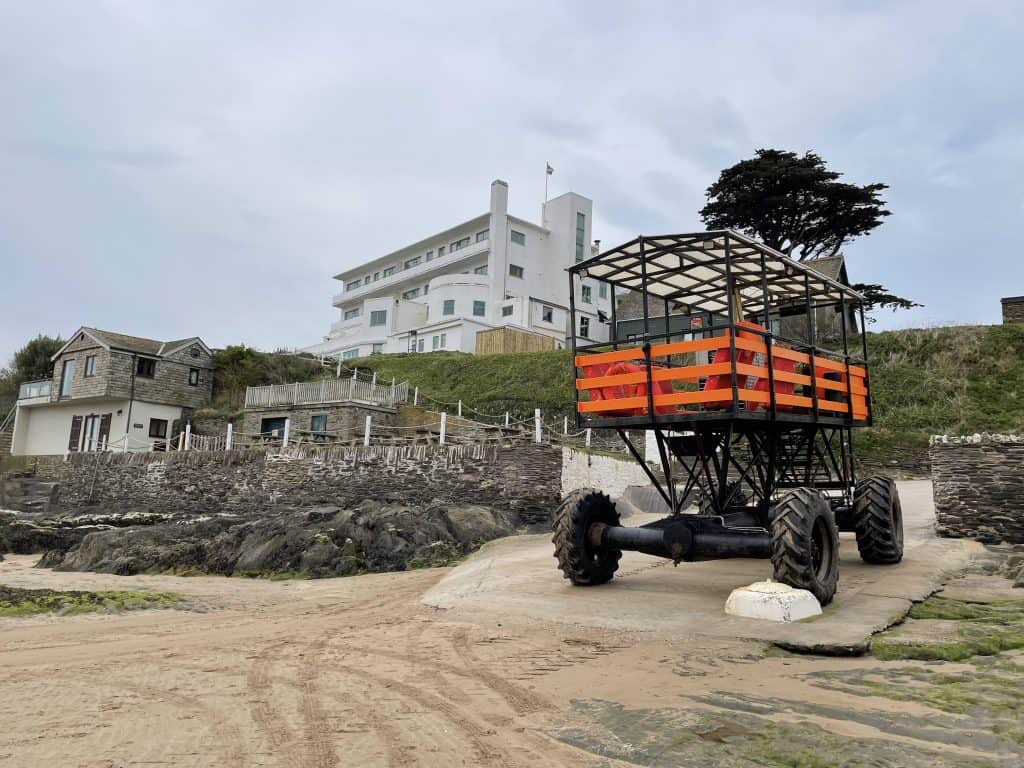 While Burgh Island in South Devon is pretty unique in itself, the transport you can take to reach it is even more unusual.
The hydraulic tractor that you board to cross the 250m sand bank between the island and mainland is one of a kind.
If you are staying at the Burgh Island Hotel you can make the crossing for free. The fare for other visitors to the 26 acre island is £2.
Find out more about the Burgh Island sea tractor.
More things to do in Devon
There's so many more activities and days out in Devon for families, and I've got loads of ideas for you. Check out my guides to dog-friendly days out, things to do on rainy days and family-friendly events in Devon.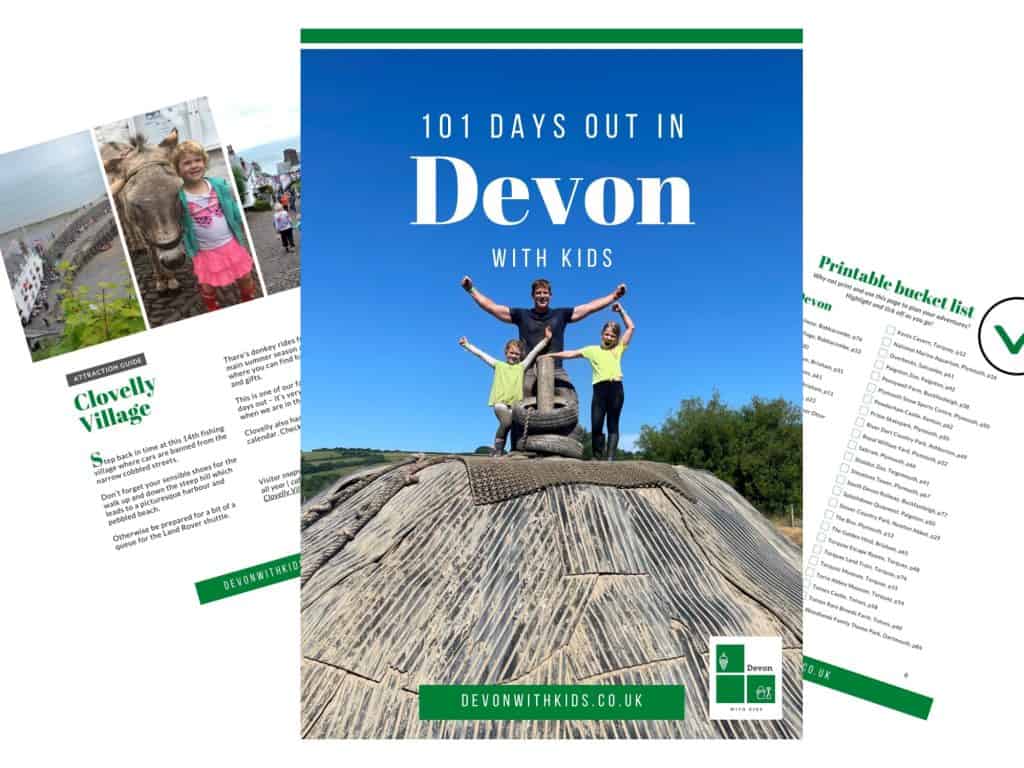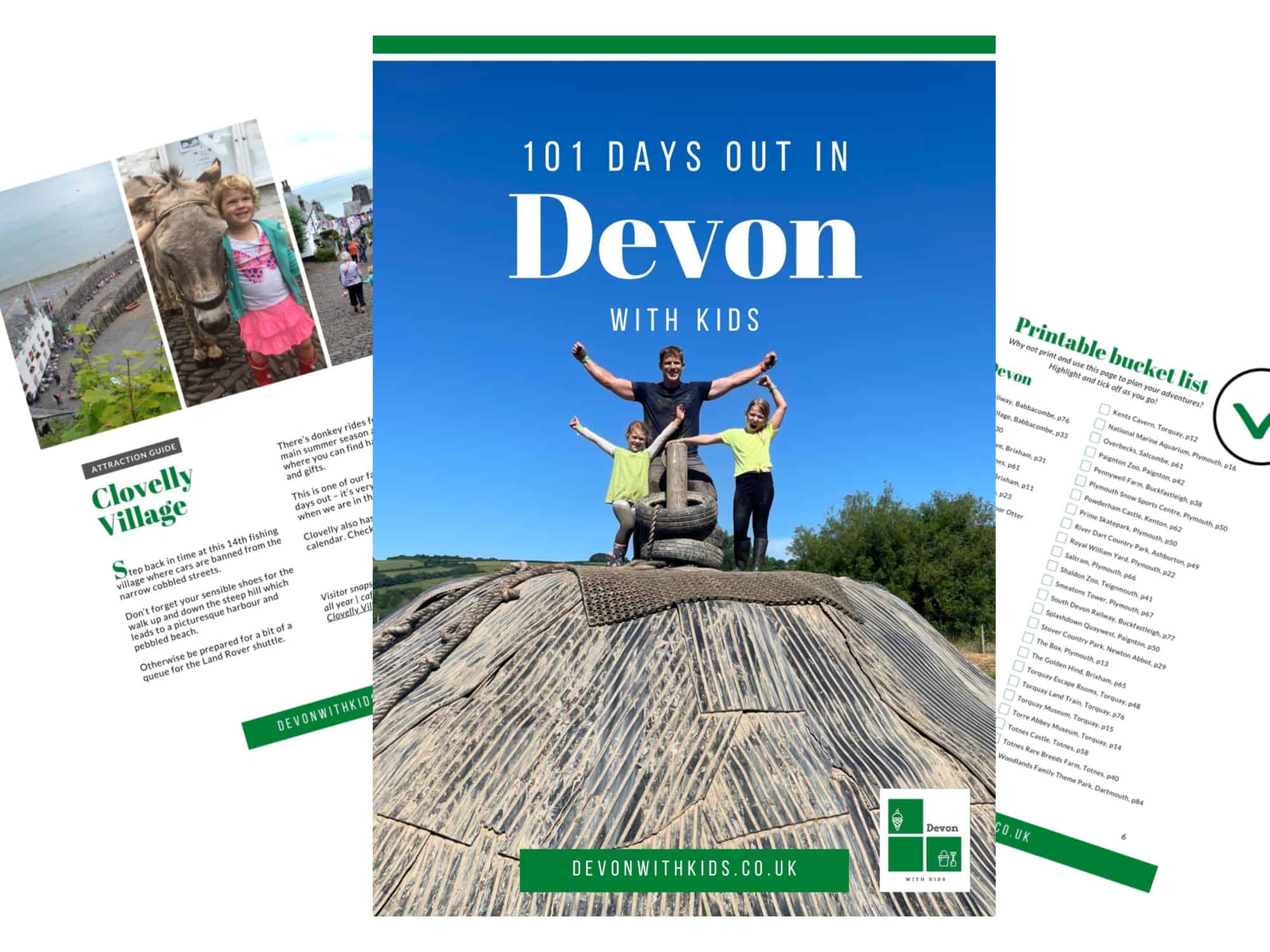 It's FREE!
Grab your copy of this guide to family-friendly things to do across the county, from coast to coast, in the cities, on the moors and whatever the weather.