If you enjoy theme parks then Crealy Adventure Park near Exeter is the south west's largest. Here's what you need to know about visiting what's billed as Devon's biggest day out including a round up of the rides, what age Crealy is best for and things to do there whatever the weather.
Love Devon? Join the Devon with Kids Facebook group and subscribe to my newsletter!
Got a while to stay? Here's our BIG guide to family holidays in Devon.
What makes Crealy a special family day out in Devon
Something that makes Crealy different from a lot of other family attractions is its super friendly team. Almost without exception in the six years we've been going, staff are cheery, polite and want to make sure you have a good time.
They greet you with a smile, encourage you to scream louder, sing and do it all with the same enthusiasm for the next set of guests to arrive.
This really does set Crealy apart from other Devon theme parks we have visited.
Things to do at Crealy
There are more than 60 rides and attractions at Crealy, from rollercoasters to a splash park and adventure playgrounds and indoor play areas for tots to teens. There's also farm animals and toddler friendly rides.
Sooty Land at Crealy
In May 2022 Sooty Land opened, bringing four new outdoor rides and 10 new indoor attractions to Crealy. Read all about what to expect from Sooty Land at Crealy.
What age is Crealy aimed at?
Something that gets asked a lot in the Devon with Kids Facebook group is: what age is Crealy best for?
We have been visiting since our kids were one and three-years-old. They are now nine and seven, and we always more than fill a day.
Of course, there are bigger rides with height restrictions.
But there's a lot of experiences for little ones that have been designed specifically with them in mind, like Junior Driving School where kids drive and adults are passengers. Check ride height requirements.
Of course, Sooty Land is aimed at pre-schoolers and you could spend a few hours in this area alone.
Find more days out in Devon for toddlers.
We're still a few years off having teenagers but there's always older kids around when we visit.
If you have teens and they are used to large theme parks like Alton Towers then they'll probably think Crealy is a bit tame.
However, there are go karts, roller coasters, bumper boats, arcades, a log flume, swinging pirate ship, water coasters and a very Instagrammable carousel.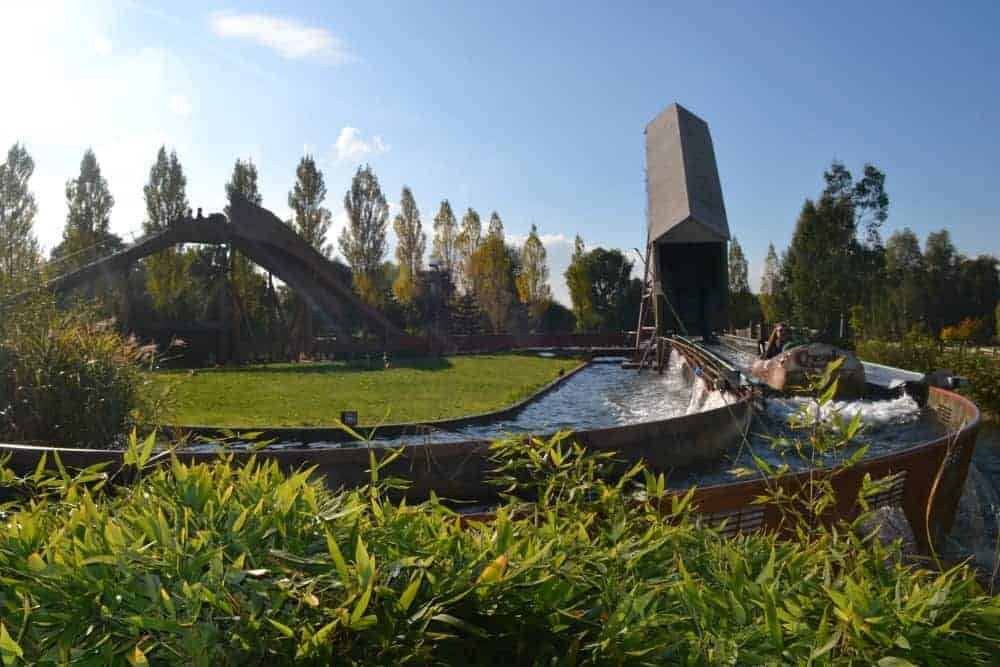 Plus, they'll find the queues much shorter than at big name theme parks, so as long as their expectations are managed I think they'll have a fun day. Of course, only you know your teens!
Find more days out in Devon for teenagers.
Things to do at Crealy on rainy days
There are three large indoor play areas with soft play, smaller rides and arcades. There's a farm shed with animals, insects and reptiles.
A lot of the outdoor rides continue to run whatever the weather in the summer months.
During one of our most recent visits we spotted the water coasters, bumper boats, go karts, log flume, flying machine and carousel all continuing to run in the drizzle. So bring your waterproofs for wet day fun.
Some rides, such as the roller coasters do need to close in wet weather for safety reasons.
Crealy shows and events
Crealy puts on awesome themed entertainment and activities in the school holidays, and most are included in the standard entry price.
At Easter expect an egg hunt, at Halloween there's usually a haunted house and pumpkin carving, and at Christmas there's a special Christmas production.
In the summer there are acrobatic, stunt shows in the Big Top Arena. There are also live shows on the outdoor Piazza Stage on selected weekends and holidays.
Keep an eye out for special events and offers to help you make the most of your visit.
Is Crealy pushchair friendly?
Yes! Crealy is one of our recommended accessible days out in Devon.
The park is on a relatively flat site, paths are tarmac and there's a fast track system for guests with additional needs.
Accessible rides at Crealy
Two new wheelchair accessible pieces of play equipment have been introduced as part of Sooty Land: a roundabout and swing.
Here's where to read Crealy's accessibility guide.
Is Crealy dog-friendly?
No. Guide dogs only. There are however there are a limited number of free kennels (£20 key deposit) if you can't leave your dog with someone else.
How much is Crealy Adventure Park?
Prices vary depending on the season and are set by height. If you have a child under 92cm they can go free. There's discounts available for NHS employees and carers.
Check the latest prices for Crealy.
When is Crealy open?
Crealy is open almost all year round. There is usually a full park closure during January following the Christmas school holidays.
The park starts opening for weekends in February and is open daily from the May half term holidays until October half term.
Expect some outdoor rides to be closed in poor weather and the winter season. However, there's plenty of festive fun to be had in the Devon Christmas holidays.
Check Crealy opening times on the website.
Where is Crealy in Devon?
Crealy Adventure Park & Resort is five minutes off the M5 at Exeter at Clyst St Mary. Postcode: EX5 1DR.
Staying at Crealy
It's impossible to try out all the rides and attractions at Crealy in one day. So why not make a weekend of it and stay onsite?
The Crealy Meadows campsite is right next-door to the adventure park has camping and caravanning pitches, as well as luxury lodges and glamping tents.
There's also activities, entertainment and great facilities for holiday-makers.
You can read our review of camping at Crealy Meadows to see what we thought.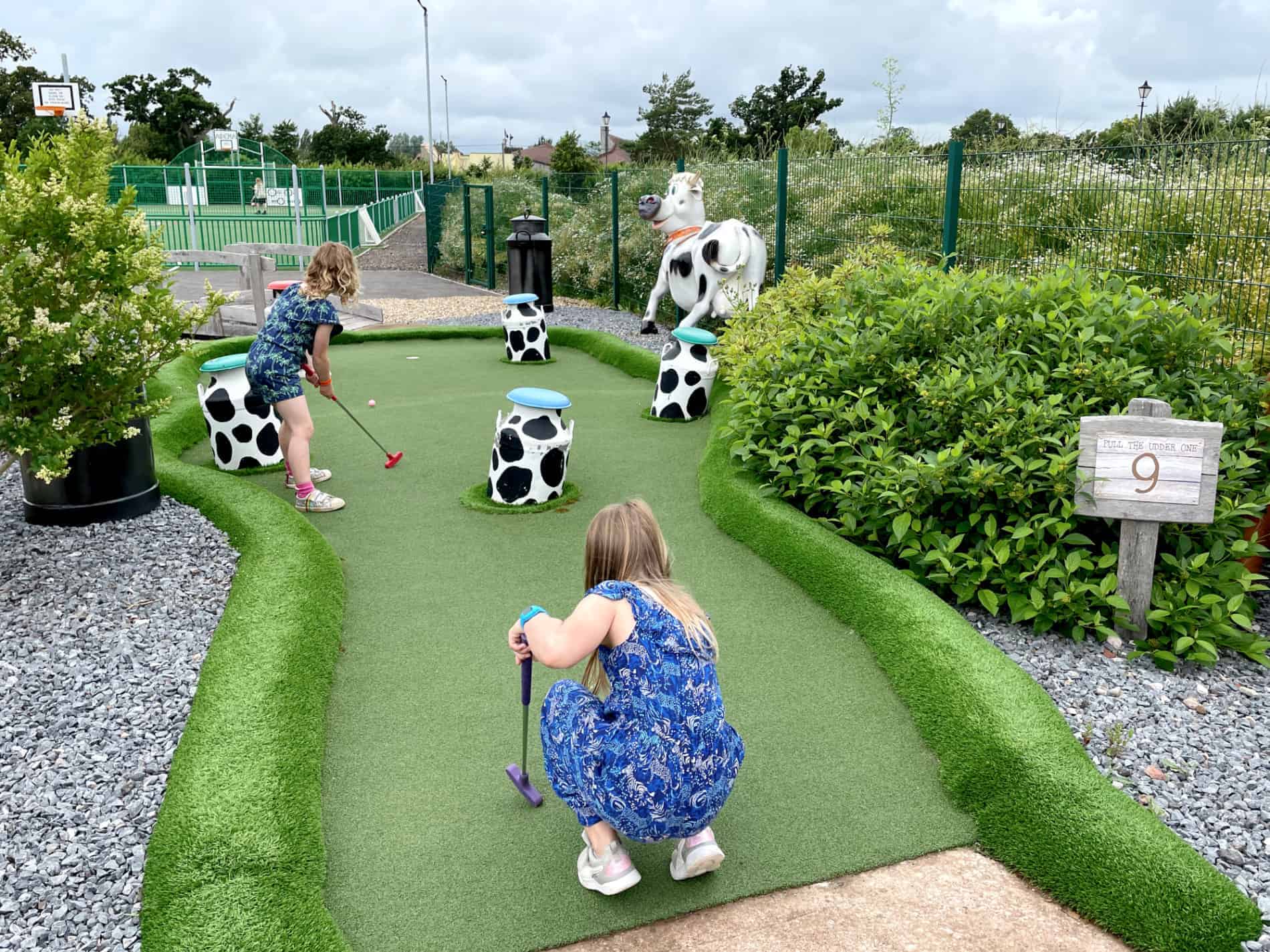 More Devon theme parks
Find more days out with rides in my guide to theme parks in Devon, which includes my tips on which are best for toddlers, kids and teenagers.
You can also find more things to do near Crealy in my guides to places to visit in East Devon and what to do in Exmouth, which is 20 minutes away. Or if you fancy a trip into the city, here's some things to do in Exeter and my itinerary for a fun and cheap day in Exeter.
Got a while to stay? Here's our BIG guide to family holidays in Devon.
---
So that's our guide to Crealy Adventure Park in Devon. Have you been? What were your best bits?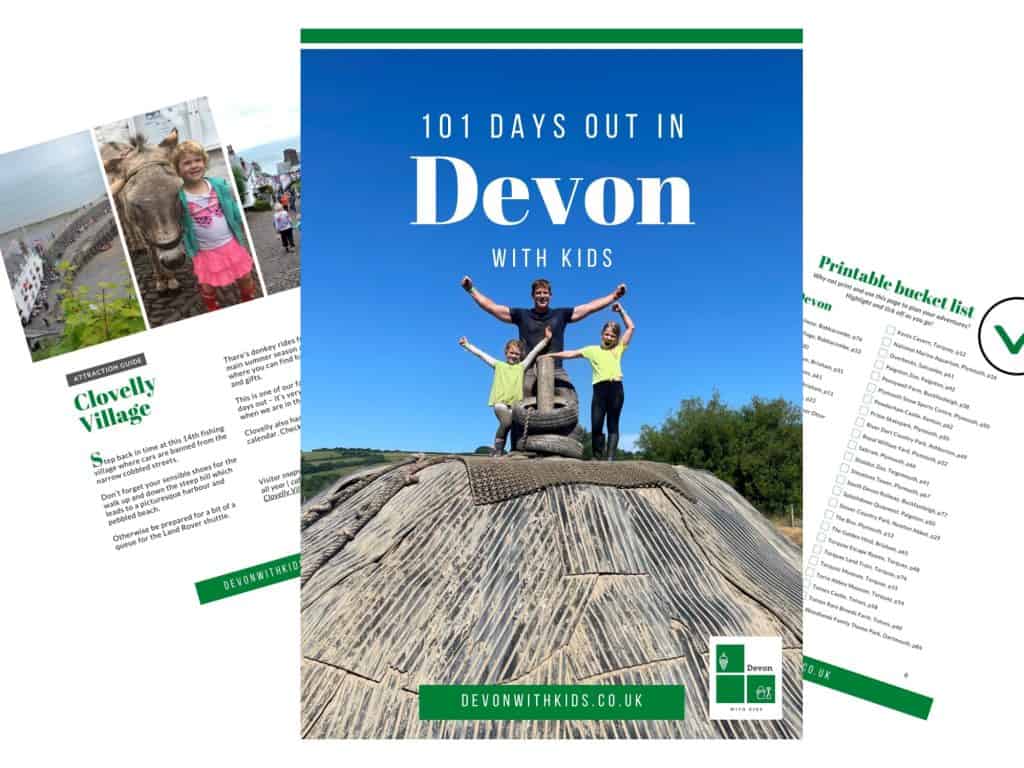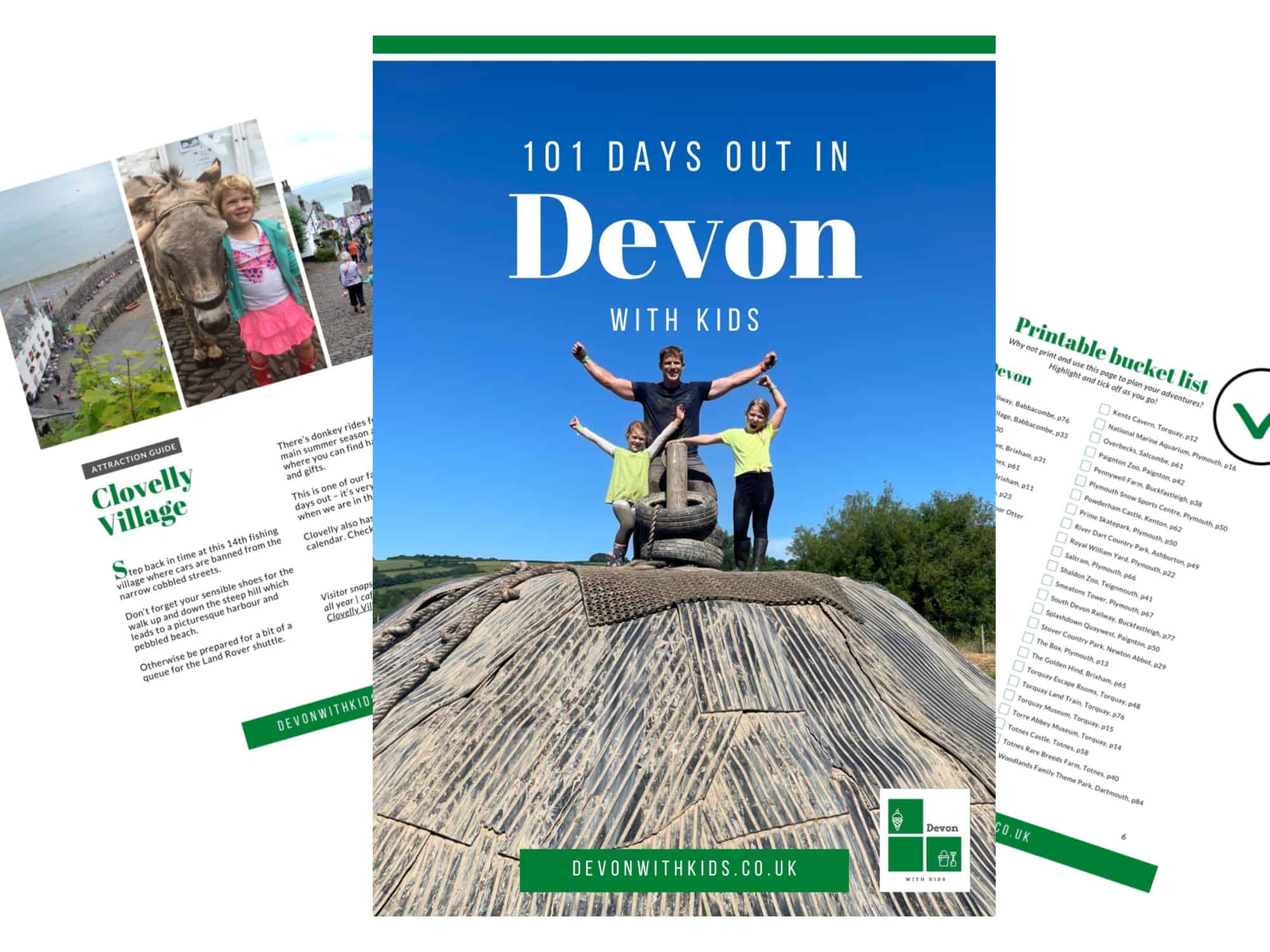 It's FREE!
Grab your copy of this guide to family-friendly things to do across the county, from coast to coast, in the cities, on the moors and whatever the weather.