Crealy Theme Park near Exeter is home to Sooty Land – a unique attraction dedicated to the world's longest running children's television programme, The Sooty Show. After being invited to the press launch, I've put together a Devon with Kids guide to visiting including everything you need to know about the rides at Sooty Land.
So, Izzy Wizzy Let's Get Busy with telling you all about it!
Love Devon? Join the Devon with Kids Facebook group and subscribe to my newsletter!
What is Sooty Land?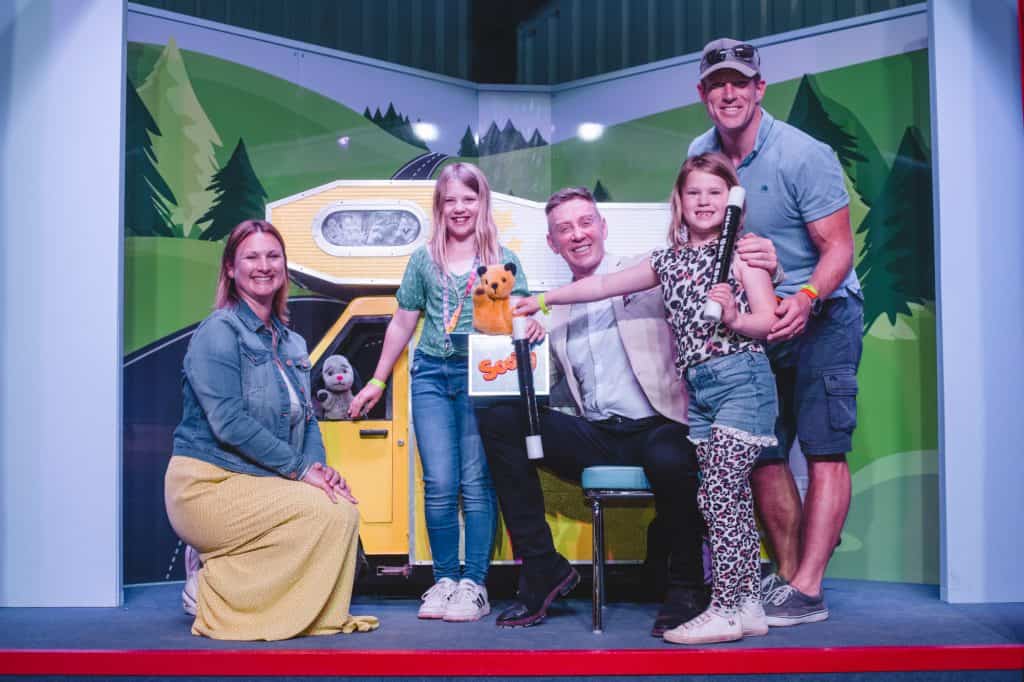 Sooty Land is a new addition to Crealy Adventure Park introduced in 2022 and entry is included in the general theme park ticket price.
If you've visited Crealy before you'll notice the Sooty Land has been created with a bit of remodelling magic in and around the former Buddy and Blossom indoor play building.
The Crealy Flying Machine has moved across the park and is now next-door to the Maximus rollercoaster and the honeybee-themed toddler ride has been retired to make way for all new Sooty, Sweep and Soo-themed attractions.
Find out more about the rides and attractions in the rest of Crealy Adventure Park.
Rides at Sooty Land
Sooty Land has brought four brand new fairground style rides to Crealy, all with younger visitors in mind.
There's no minimum age or height but children must be able to sit unaided and may need an adult to ride with them depending on their height.
You can find out the full ride details on the Crealy website, but here's an overview of each ride:
Sooty's Magic Bus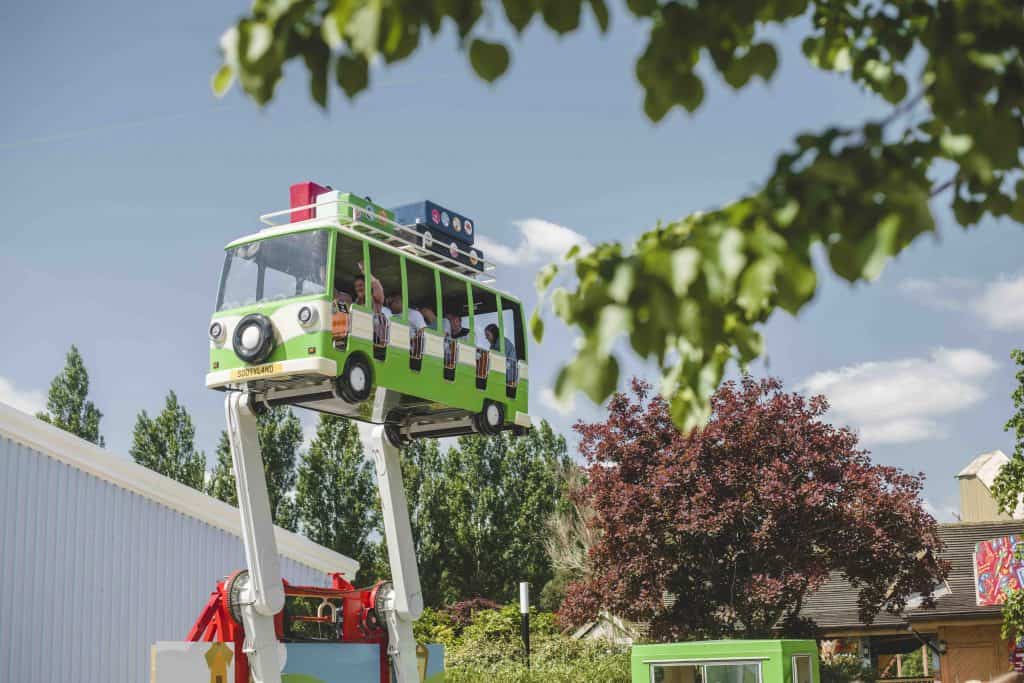 Take a bus trip with Sooty! This is a really gentle ride as long as you are OK with heights. You get a great view of Sooty Land and the rest of Crealy from the top.
Children must be accompanied by an adult if they are under 105cm in height.
Sweep's Flying Circus
Your children can take control of one of Sweep's airplanes and take it up or down at the push of a button. There are seats for four children in each plane. Adults take a back seat for a touch more leg room.
Children can fly solo if they are 105cm in height.
Soo's Sweet Balloon Ride
Soo's ride is like a modern day waltzer. If you get dizzy easily (like me) you might want to give it a pass. The kids will love it though. There's lap belts and you can give yourselves a extra spin by pulling yourselves around central pole in each balloon basket.
Kids can ride alone as long as they are 90cm in height or over.
Izzy Wizzy Let's Get Dizzy
Expect more spinning in this ride where Sooty's cars magically dodge each other around two tracks. There are four seats in each car.
Children need to be 120cm in height to ride alone.
Accessible rides
Two new wheelchair accessible pieces of play equipment have been introduced as part of Sooty Land: a roundabout and swing.
Here's where to read Crealy's accessibility guide.
Sooty Land play park
As well as the outdoor rides there's a new play park outside the 'Pier' building. Grab a bite to eat or coffee from the cafe or takeaway outlets inside and you can catch your breath while the kids play.
Indoor attractions
Formerly, Buddy and Blossom's indoor zone, the 'Pier' building is now a beach-themed play space with 10 attractions as well as two places to buy food and drink.
The attractions include:
The southwest's first Interactive Strike Arena
digi-wall ball games
a seaside mirror maze
an electronic climbing wall
spider climb duo slides
a dance studio
a giant games room
giant buzz wires
Soo's music house
and Sooty's TV studio.
At advertised times throughout the day you can also visit the Sooty Stage in the Pier building for meet and greets with Sooty and one of the Sooty Show's Crealy presenters.
Sooty's Hall of Fame Exhibition
If you've watched Sooty over the past 75 years you will most certainly be able to pick out a scene or prop from the show in the hall of fame.
There's hundreds of pieces of memorabilia as well as videos of Sooty, Sweep and Soo with Harry and Matthew Corbet, as well as the current presenter Richard Cadell.
Sooty's Magic & Souvenir Shop
If you have promised the kids a treat you can visit the gift shop and find puppets, magic tricks and other souvenirs.
The good news is that if you want to avoid adding to the cost of your day out you don't need to walk through the shop to access or exit any part of Sooty Land.
Food in Sooty Land
There's plenty of places to grab a bite to eat around Crealy, with three new options in Sooty Land:
the American-style Sooty Diner in the Pier building were you will find burgers and chicken on the menu
Soo's Cafe, which is a takeaway bar for drinks and snacks also inside the Pier building
Sweep's Hot Dogs, which is a takeaway booth outside next to the rides.
Of course, you can also bring your own picnic and use any of the open air or undercover seating outside the Pier building. The diner seating is reserved for people who have purchased food from Sooty's Diner.
Sooty Land live shows
Included in your entrance to Crealy Adventure Park & Resort and Sooty Land is a half hour performance of 'The Sooty Show' in the 'Sooty Show Time' theatre. If you've been to Crealy before you'll know this as the Big Top Arena.
The show is full of silly jokes, magic and fun that brings the Sooty experience alive for fans, old and new. Seeing it is a must as part of your day out.
Our Sooty Land review
It's brilliant to see Crealy investing in its attractions and offering visitors something they can't experience anywhere else. Sooty Land has been really well done and brings some extra magic to the park.
We spent three hours checking out the new rides, indoor activities and theatre show, so if you want to experience Sooty Land as part of a day out at Crealy get there at opening time to make the most of your day.
Here's our updated guide to the rides and experiences at Crealy Adventure Park & Resort.
Sooty Land is a great addition to Crealy, both for young fans and us oldies who remember Sooty from our childhoods.
Find out more about visiting Sooty Land on the Crealy website.
Where to stay while visiting Sooty Land and Crealy
The fun doesn't need to stop when you exit the theme park. Crealy has its own campsite and holiday accommodation so you can stay and play.
Read our review of camping and touring at Crealy Meadows.
Disclosure: we were invited to the Sooty Land press day. All opinions are my own and my family. All pictures are my own unless otherwise credited.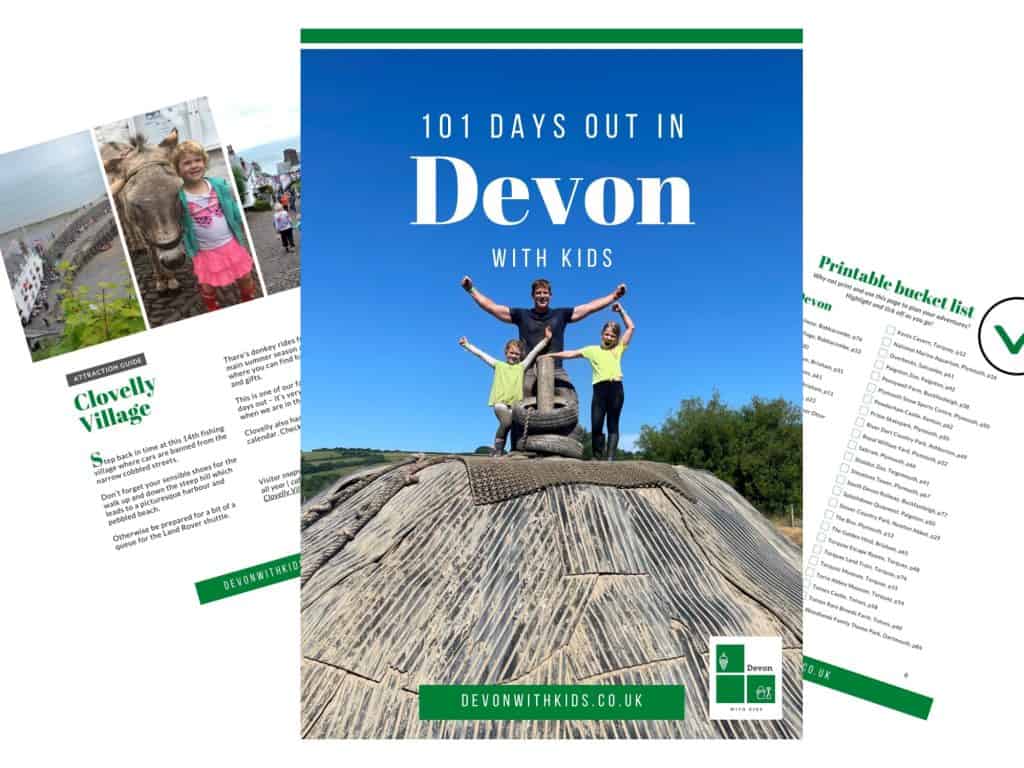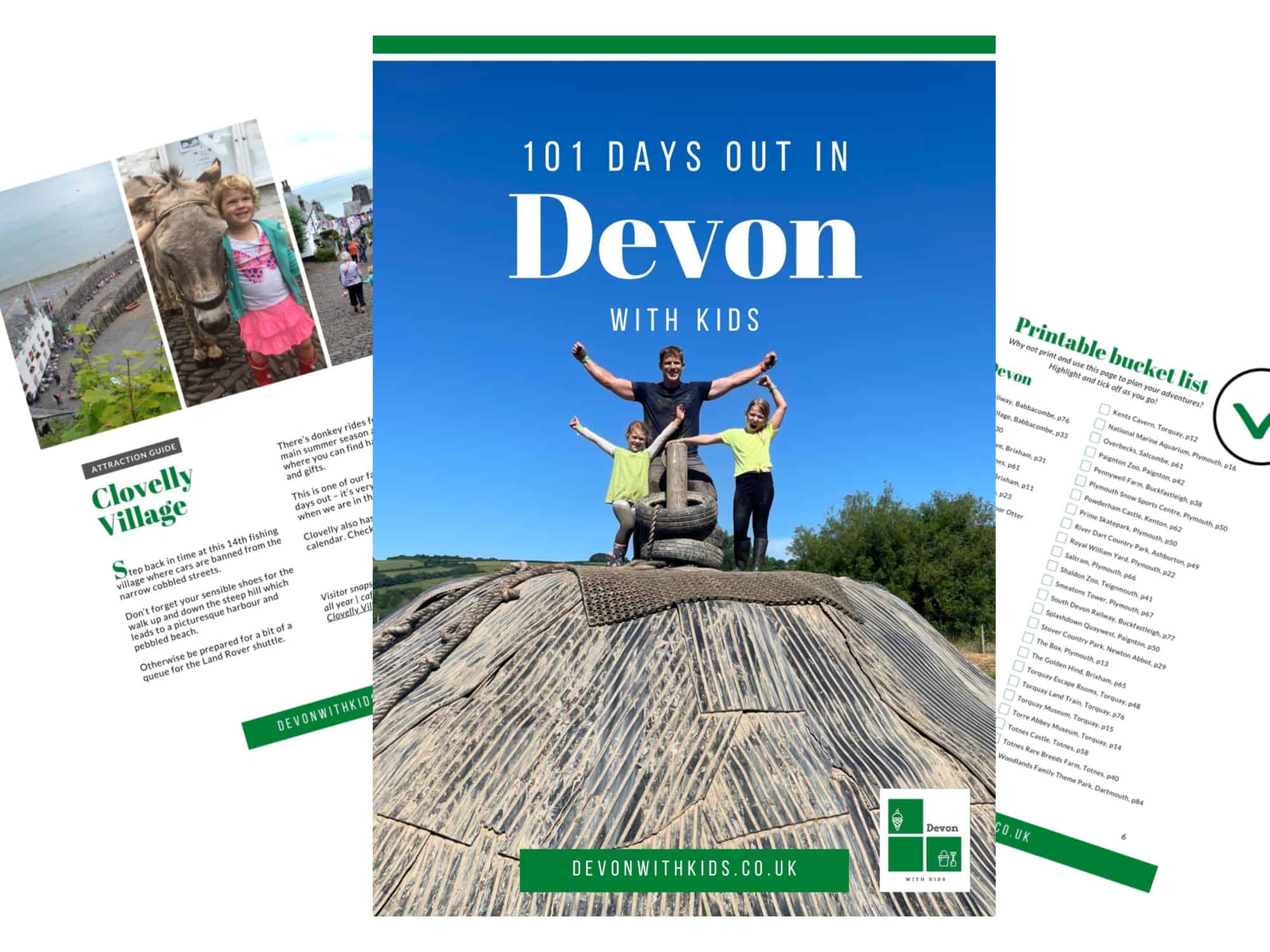 It's FREE!
Grab your copy of this guide to family-friendly things to do across the county, from coast to coast, in the cities, on the moors and whatever the weather.