There really is no better way to appreciate the beauty of Dartmouth than from the water. That's why we love paddle boarding here. But if you're looking for a more luxurious way to enjoy the scenery of the River Dart then The Fizz Boat will show you the highlights in style.
*Advertisement feature*
Thanks to a very timely invite from Louise and Aiden – the brilliant crew onboard The Fizz Boat in Dartmouth – we got to take a cruise to celebrate our wedding anniversary. Of course, the kids were welcome to join us too.
What is The Fizz Boat?
The Fizz Boat offers private boat trips in Dartmouth with food and fizz as its centrepiece.
It's an experience to book for special occasions, rather than sightseeing. But I know lots of people who live in and visit Devon look for unique ways to celebrate a special date.
It's not uncommon to see proposals of marriage, hen dos and birthday parties in the Fizz Boat's Instagram feed.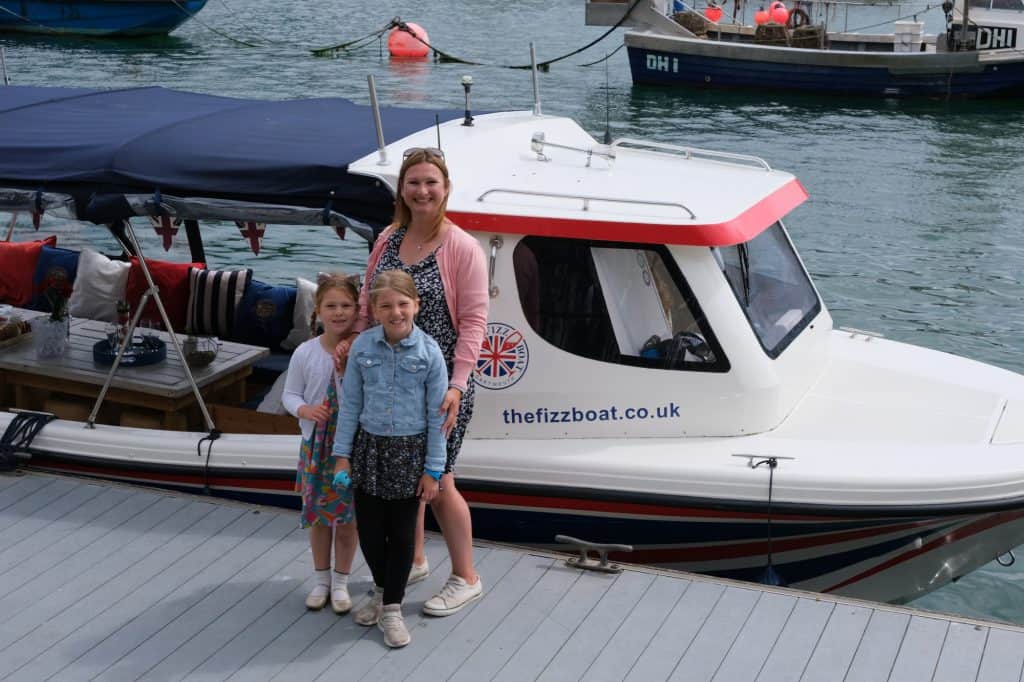 The boat is decked for a luxurious party with bunting, red, white and blue cushions to sink into and your host Louise ready to keep your drinks topped up.
The minimum price for a 1.5 hour cruise is £250, so the more people you bring with you the merrier.
Food and drink options
You can tailor your drinks and food selection to the size of your party and personal tastes.
Choose from pre-dinner drinks or fizz and nibbles through to afternoon tea and sharing boards.
We selected the 'Mediterranean Meets The Dart' sharing board of local and European meats, salami's and cheese's, crusty bread, olives and nuts.​​ It was a lovely light lunch, beautifully presented and exactly the right amount for sharing.
Each menu option comes with half bottle of house fizz for each guest. This was more than enough for lunchtime on a Monday. I may have needed a strong coffee afterwards!
If you're in the party mood you can buy more drinks on board or opt for bottomless bubbles, so there's no need to worry about the bar bill later.
Check out all the menu and cruise options.
Where does this Dartmouth boat trip take you?
The standard hour and a half boat trip takes you up the River Dart past the Higher Ferry, Britannia Royal Naval College and Agatha Christie's Greenway to the pastel coloured houses of Dittisham.
Here is where it turns and heads back towards the mouth of the river and Dartmouth Castle.
This may vary depending on the tides and weather conditions.
If you'd like to hire The Fizz Boat for longer this can be arranged in advance.
How was it with kids?
Louise admitted that they haven't had many bookings with kids in the past 18 months, but they are more than welcome onboard.
Our girls have been up and down the Dart a few times over the years. But the ever changing nature of the river kept them engaged most of the way. The addition of a pair of binoculars helped for the rest of the journey.
The girls were also thrilled to have a whole can of Sanpellegrino Limonata all to themselves.
Child-friendly things to look out for include a pair of rhinos and a giraffe in the garden of one of the riverside houses, a mermaid statue close to Dartmouth Castle and seals sunbathing on the marina pontoons.
We didn't spot any this time but it's common to see them playing in the River Dart.
Here's some more things to do in Dartmouth with kids.
Our Fizz Boat review
If you're looking for a way to celebrate a special occasion or just want to experience South Devon in style you must look up The Fizz Boat!
It offers a unique experience in Devon that we'll remember and recommend for a long time to come.
Find out more and book The Fizz Boat on its website.
Disclosure: we were invited onboard The Fizz Boat in Dartmouth so we could share our experience of this special Dartmouth boat trip.