From the Grand Western Canal and exploring one of Devon's oldest castles to soft play for wet days and the muddiest places to visit in the South West, Mid Devon has plenty of fun for families. Here's our guide to the best things to do in Mid Devon covering Tiverton, Cullompton, Crediton and plenty in between.
Love Devon? Join the Devon with Kids Facebook group and subscribe to my newsletter!
Things to do in Tiverton
Here's the best things to do in Tiverton with kids:
Walk, cycle or scoot the Grand Western Canal
The Grand Western Canal meanders for eleven and a quarter miles through beautiful countryside and quiet villages between Tiverton and the hamlet of Lowdwells.
Discover the history of Grand Western Canal at the country park's interactive visitor centre and play on the canal-themed play park at the Canal Basin.
If you want to try kayaking, canoeing or paddle boarding on the canal you need a Unpowered Boat Permit.
Find out more about the canal and country park.
Sail in a horse drawn barge
You can also enjoy the canal from the water with a ride on the Tivertonian. It is one of the last horse-drawn barges in Britain, making this a unique thing to do in Devon.
Trips are run by the Tiverton Canal Co from April to October.
Here's where to find fares and the timetable.
Go Medieval at Knightshayes
This country estate near Tiverton has a truly unique house inspired by gothic design with plenty of quirks. It was built in the 19th Century but the interiors have a Medieval feel with banners and shields – very knightly!
On the 250 acre estate there are walks, formal gardens, children's trails and plenty of space for a picnic – the grounds of Knightshayes host the Mid-Devon Show in July after all.
This is a National Trust property so free for members to visit.
Find out more about Knightshayes.
All aboard at Devon Railway Centre in Bickleigh near Tiverton
Young train enthusiasts will love the model railways, miniature towns and toddler rides at the Devon Railway Centre near Tiverton.
There's also a large soft play area and railway carriages that have been turned into toddler-friendly play zones.
The only thing to bear in mind that pushchairs can't access some of the site. Bring a baby/child carrier if you're visiting with tots.
Find out more about Devon Railway Centre.
Explore Tiverton Castle
The ancient buildings and walled gardens of Tiverton Castle were once home to the powerful medieval Earls of Devon. It's now privately owned, so it's a rare treat to see inside.
There's plenty of relics from the English Civil War and even the odd ghost story to entertain young visitors.
This Mid Devon castle is open Sundays, Thursdays and Bank Holidays from Easter Sunday until the end of October.
Check the website for full details.
Visit the cinema
Looking for something to do on a chilly or wet day in Mid Devon? You'll find all the latest flicks showing at Tivoli Theatre on Fore Street in Tiverton.
Check what's on.
Delve deeper into local history at Tiverton Museum of Mid Devon Life
Find out about the history of rural Mid Devon in this Tardis-like museum packed with interest.
Displays at the museum include the 'Tivvy Bumper' GWR steam engine, local industries (particularly lace making), farm wagons and the history of agriculture, and the every day home life of Mid Devon folk.
There's a programme of family-friendly events and exhibitions in the school holidays. The museum is also one of the dog-friendly things to do in Mid Devon. Your four-legged friend is welcome on a lead.
Find out more about visiting Tiverton Museum of Mid Devon Life.
Find more dog-friendly places in Devon.
Shop local at Halberton Court Farm Shop near Tiverton
Find a range of delicious local goodies at Halberton Court as well as a cafe, a two mile circular walk along the Grand Western Canal and pick your own fields.
There's strawberries and raspberries in the summer months and pumpkins in the autumn.
Find out more about Halberton Court Farm Shop.
Holidaying in Devon? Why not buy your kids the Devon colouring book for them to doodle in as they explore.
Things to do in Cullompton
Looking for fun days out around Cullompton? Here's the best things to do for families:
Play at Bear Town in Cullompton
This indoor role play centre is perfect for children aged 12 months to seven-years-old.
There are 12 play zones including a fire station, farm shop, police station and post office.
Find out more and book Bear Town.
Get muddy at The Bear Trail in Cullompton
If you are a family that doesn't fear mud then you have to head to The Bear Trail in Cullompton for an extreme family assault course.
Dress not to impress and land yourself deep in the do do (mud) for a family day out you will not forget.
There's good news for parents who don't want to face the challenge of this family assault course – you can sit within the grassy grounds and watch your youngsters tackle this fun-filled course from a safe distance.
Dogs are welcome on a lead.
Find out more and book The Bear Trail.
Discover Devon's textile heritage at Coldharbour Mill in Uffculme near Cullompton
Step inside the living history of one of the UK's oldest woollen mills where Devon textiles continue are still made today. Visit on a Thursday to see the heritage machinery come to life.
There's also plenty of wildlife to spot around the gardens and meadows, from buzzards to egrets and an abundance of small birds and mini beasts.
Find out more about visiting Coldharbour Mill.
Dig deep at Diggerland Devon near Cullompton
If your kids are obsessed by diggers, tractors and just about anything chunky with wheels then Diggerland is a very special day out just for them.
They can drive their own mini Land Rover, be spun around in a digger bucket and take the wheel of a dumper truck.
Find out more about this theme park in Cullompton.
Shop local at Fordmore Farm Shop
Pop in for local produce and an award winning cafe with indoor and outdoor seating.
It's also free to meet the farm animals and visit the play park.
Find out more by visiting the Fordmore Farm Shop website.
Got a while to stay? Here's our BIG guide to family holidays in Devon.
Things to do in Crediton
Want to know the best places to visit in Crediton? Here's our top picks:
Go potty at Paint Pots of Devon in Crediton
Book a table at Paint Pots and hand decorate your own Devon souvenir. Pick from a huge range of pottery ready for painting from novelty ornaments to dinner plates and seasonal gifts.
There's also a cafe where you can grab a bite after painting your perfect pot.
Find out more and book Paint Pots.
Escape the weather at Planet Play
Planet Play is perfect for letting the kids aged 0 to 11 run off excess energy when the weather is a bit dull (and even when it's not).
There's 10,000 sq ft of pure fun for kids and a coffee shop serving locally sourced food and drink for adults.
Find out more about Planet Play.
Let off steam at Waie 2 Play
The play barn at The Waie Inn has slides, soft play and a toddler area, all in view of its coffee bar where adults can relax.
There's also a pool table, squash, darts and skittles.
Find out more about what's on offer for families at The Waie Inn at Zeal Monachorum, Crediton.
Shop local at Thorne's Farm Shop near Crediton
Thorne's Farm Shop is a beautiful location and boasts a wide range of local produce that you can buy in the shop or sample in the cafe.
Visit Thorne's Farm to pick soft fruits in the summer and pumpkins in the autumn.
Find out more by visiting the Thorne's Farm Shop website.
So those are some of the family-friendly picks from all the things to do in Mid Devon. Which takes your fancy?
More things to do in Devon
Devon is a big place – there's 2,590 square miles of it! If you have time to venture outside Mid Devon here's some guides to neighbouring areas you might also like to explore:
Find more places to explore in Devon.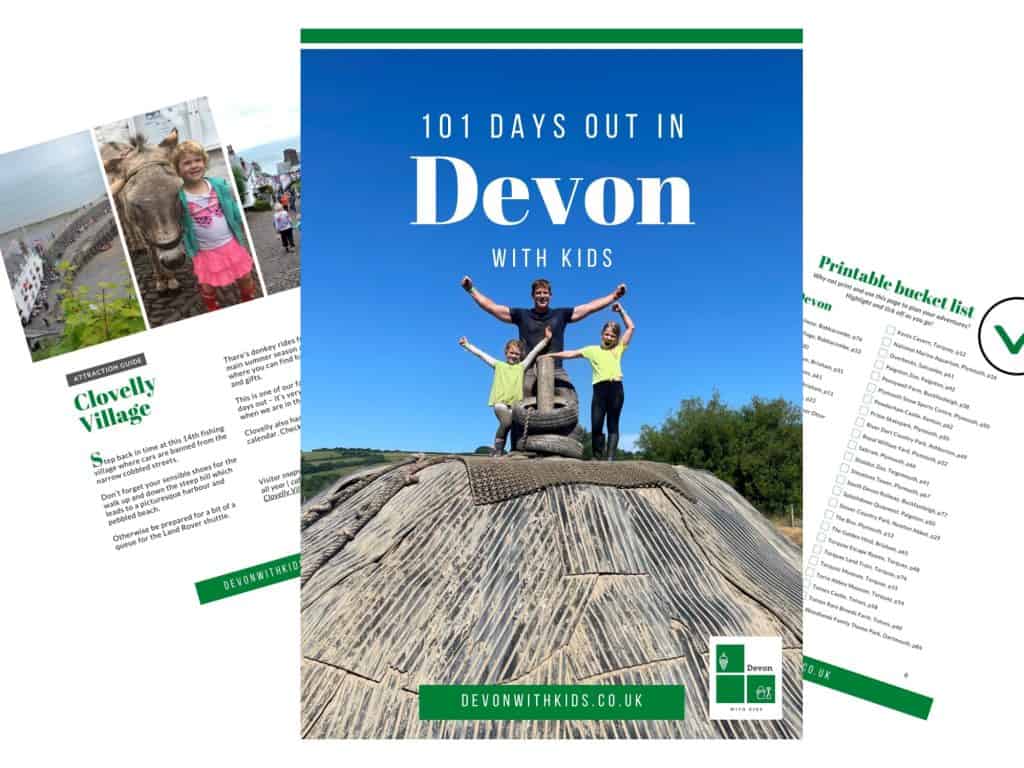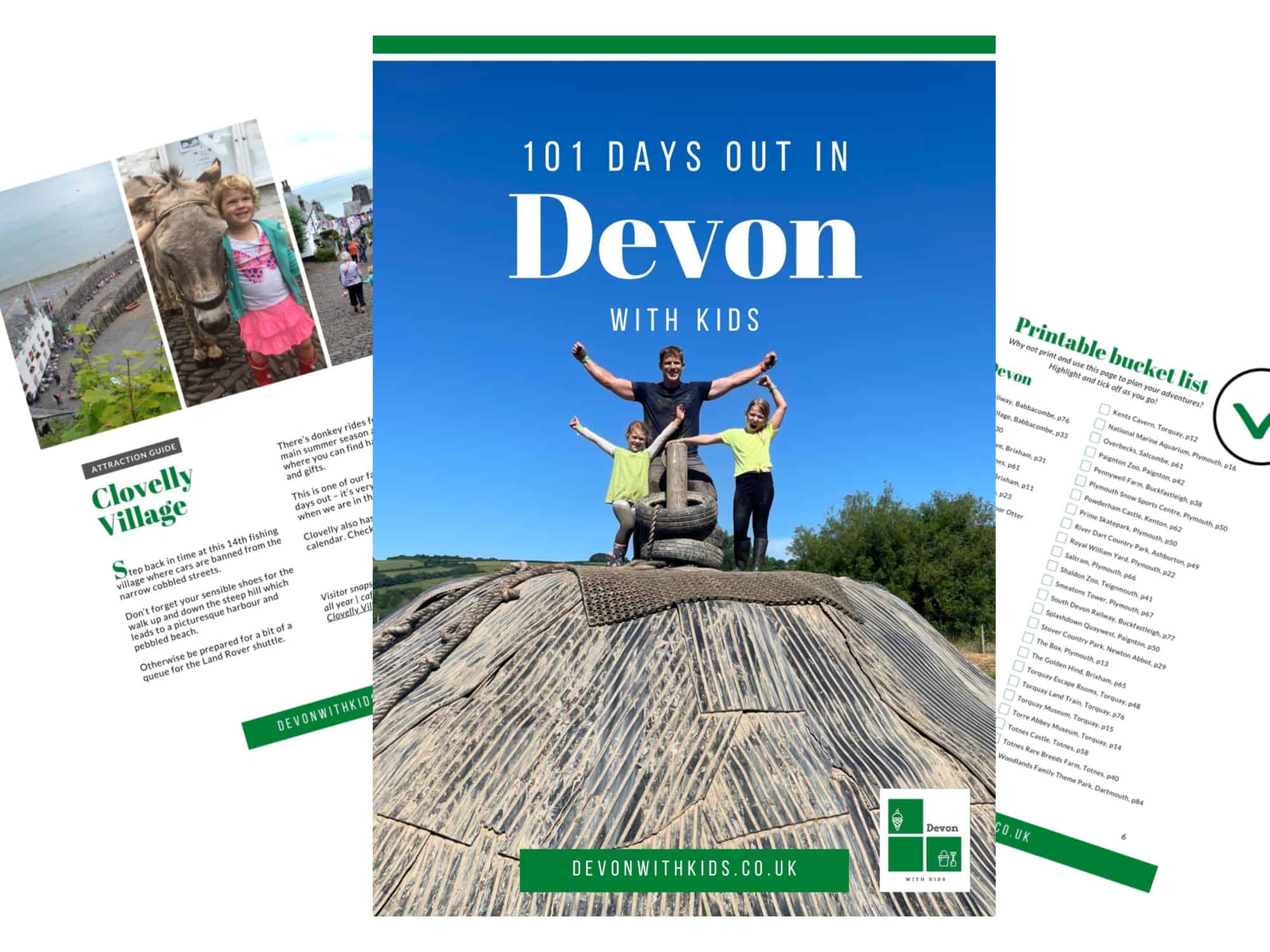 It's FREE!
Grab your copy of this guide to family-friendly things to do across the county, from coast to coast, in the cities, on the moors and whatever the weather.