Devon is famed for its coast and countryside. Both offer superb opportunities for families to explore and spend quality time together. But if roaming through the heart of Devon's inland tors, moors and rural towns is your family's preference then you'll want to know about the best things to do in West Devon.
This district is nestled between Plymouth in the South, the South Hams to the East, a medley of Cornwall and North Devon to the West and Mid Devon to the North. Yep, it can get confusing – Devon covers a lot of ground.
What's for sure is there's lots of places you will definitely want to experience – a good chuck of Dartmoor National Park for starters.
This guide to places to visit in West Devon covers family-friendly fun in and around the towns of Tavistock, Okehampton, Chagford, Yelverton and Princetown.
Love Devon? Join the Devon with Kids Facebook group and subscribe to my newsletter!
Things to do in Tavistock, West Devon
The market town of Tavistock is a great base for exploring Dartmoor and the mining heritage of West Devon.
Here's some of the family-friendly attractions and things to do in and around the town including activities for wet days in Devon:
Cycle, swing and walk through the Tamar Trails
If you're the type of family that enjoys breaking a sweat then you're set for a great workout at the Tamar Trails. Take your pick from walking, cycling or swinging your way around the trails.
The best options for days out with toddlers here are popping them in a toddler carrier to explore the valley or hiring some bikes with a tag along trailer.
Older kids may like to try tree surfing or canoeing on the River Tamar.
For more information take a look at out guide to cycling the Tamar Trails.
Go Victorian at Morwellham Quay
Morwellham is a historic port, village, copper mine and railway giving visitors an insight into the mining history of West Devon and neighbouring Cornwall.
Explore the Victorian miners' cottages, dress up in period costumes and take a train ride through the George & Charlotte Copper Mine.
Morwellham Quay is also home to the largest soft play facilities in the South West. You can visit Miners Adventure Play as part of your day at Morewellham Quay or separately for wet day fun for children aged up to 12 years old.
Find out more about visiting Morwellham Quay.
Discover local history at Tavistock Museum
Discover Tavistock's Medieval past, mining heritage and its connections to Sir Francis Drake in this community run museum on Guildhall Square.
Find out more about Tavistock Museum.
Walk Burrator Reservoir
There are walks for all abilities at beautiful Burrator Reservoir, from the pushchair friendly wildlife trail to conquering Sheepstor.
Visit the Burrator Discovery Centre to pick up self-guided trails sheets to help you find the best routes and points of interest. You can also download routes for free before you visit.
Find out more about the trails at Burrator Reservoir.
Enjoy the colours of The Garden House
The Garden House near Yelverton is famed for its year round floral displays from snowdrops in the Spring to its vibrant Acer Glade in the autumn.
Coming a close second to the magnificent flower beds, another reason to visit is the cafe's excellent cakes.
Visit between March and the end of October. Child-friendly trails are laid on in the school holidays.
Find out more about visiting The Garden House.
Search for Drake's treasure at Buckland Abbey
The former home of the navy hero Sir Francis Drake is a beautiful National Trust property where children can roam the orchard, dash around the lawn and dress up in Tudor style in the attic exhibition.
It's also one of our favourite Dartmoor days out. Older kids will be enthralled by the sparkling treasure room which displays items 'collected' by Drake during his travels.
For more information or visit the attraction website.
The Devon city of Plymouth is to the south of Tavistock. Here's my guide to things to do in Plymouth with Kids.
Things to do in Okehampton
Okehampton sits on the north edge of Dartmoor so you can expect lots of outdoor adventures in this part of West Devon:
Picnic at Okehampton Castle
We have William the Conquerer to thank for many of the castles in England. And Okehampton is no exception.
Its downfall was at the hands of Henry VIII after Henry Courtney – the Duke of Devon – was executed for treason in the 16th Century. This was the beginning of this Devon castle's decline to ruin.
However, stories of Tudor ghosts and the romantic outline of its crumbling walls have made it a popular place to visit ever since. Notability the artist JMW Turner portrayed the ruin in his works including 'Okehampton, on the Okement' (1824), which is now in the Tate Britain.
It's a popular spot for a picnic, so don't forget your blanket.
Find out more about visiting Okehampton Castle in Devon.
Here's more castles in Devon and Cornwall.
Search for piskies at Museum of Dartmoor Life
This museum tells the story of Dartmoor, its community and their lifestyle.
There's exhibits from prehistoric times right through to the early 20th Century, as well as geology and stories of Dartmoor's industrial and agricultural heritage.
Young visitors will find hands-on activities and interactive displays including puzzles, coin rubbing, colouring and dressing up. There's also a trio of Dartmoor Piskies to look out for around the museum.
Find out more about visiting the Museum of Dartmoor Life.
Treat yourselves at Barzotelli's Gelateria
This small gelateria in North Tawton is a hidden gem and a must visit for all dessert fans.
As well as serving different flavours of homemade gelato every week, you can order healthy 'no junk' lollies, milkshakes, frappes, boozy hot chocolates and hot crepes.
Check opening times before you travel as these can vary.
Find the latest information on the Barzotelli's Gelato Facebook page.
Try a water sport at Roadford Lake
Roadford Lake is the largest body of water in South West England and is managed by South West Lakes. There's a visitors centre and activity centre on either side of the 40m high dam.
Organised activities here include kayaking, paddle boarding, fishing, archery and high ropes.
You can also walk and cycle around the lake for free. Download a free trail sheet for kids before your visit.
We stayed at the campsite here a few summers ago. Read our review of Roadford Lake campsite.
Find out more about visiting Roadford Lake.
Climb the modern towers of Castle Drogo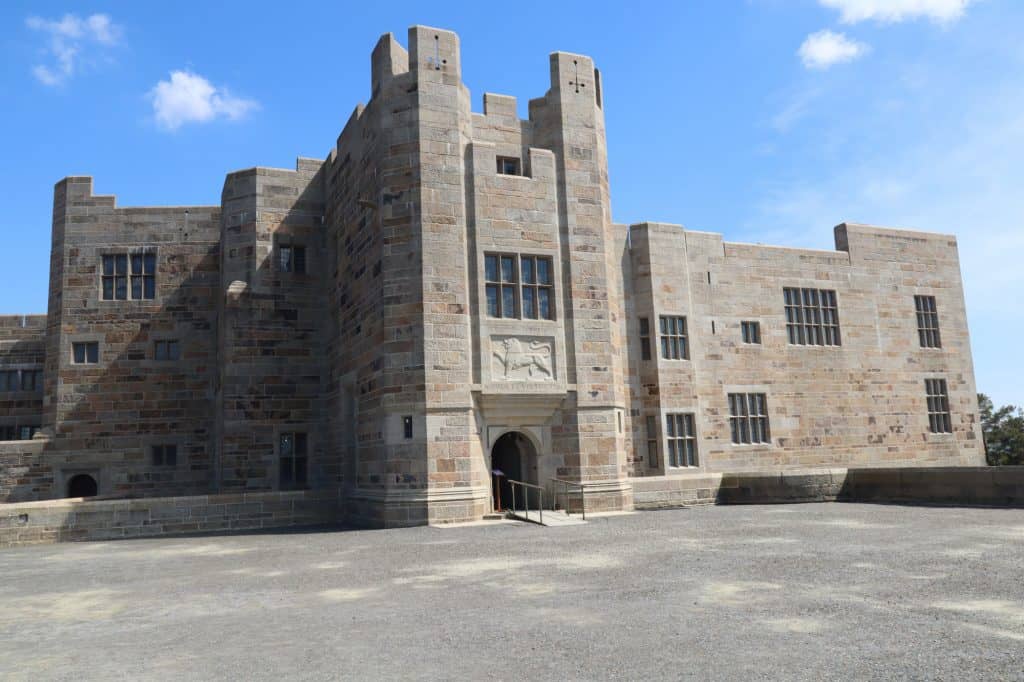 Castle Drogo is England's newest castle having been built in the 20th Century.
Tour the castle, visit the replica Bunty play house, grab a spotter trail sheet or go geocaching for hidden treasures in the Teign Gorge below the castle.
A baby/toddler carrier is a must for young visitors exploring further than the gardens.
Visit the castle's website for more information.
Pick your own at Lifton Farm Shop
Head to Strawberry Fields at Lifton Farm Shop to pick your own soft fruits, wildflowers and sunflowers in the summer. You'll also find a maize maze and a pumpkin festival in the autumn.
The cafe is well known for its menu of hearty breakfasts, Sunday roasts and homemade pies as well as cakes, cream teas and picnics to takeaway.
Find out more by visiting the Lifton Farm Shop's website.
Experience all the fun of the fair at Dingles Fairground
Dingles is a top place to head on a wet day in West Devon with plenty to keep the kids entertained indoors.
Ride and experience vintage fairground attractions in this 25,000 sq ft museum in Lifton. There's rides for young and old with more attractions coming in 2023 as Dingles undergoes a major makeover.
Booking is essential in 2022.
Find out more about visiting Dingles Fairground.
Meet the animals at War Horse Valley Country Farm Park
Parsonage Farm is the farm around which the book War Horse by Michael Morpurgo was set.
As well as meeting animals, including miniature and massive breeds of pigs and sheep, you can wander the farm trail to see local wildlife, find out about farming methods from the past 100 years and see an exhibition about the role of horses in World War I.
Find out more about War Horse Valley.
Walk the Granite Way
Walk or cycle the Granite Way to experience the wildlife, tors and industrial landscape of West Devon.
The 11 mile Granite Way crosses the Meldon Viaduct and takes you past other points of interest near Okehampton, like the castle, the Museum of Dartmoor Life and Lydford Gorge.
Find out more about the reservoir and route.
Go deep at Lydford Gorge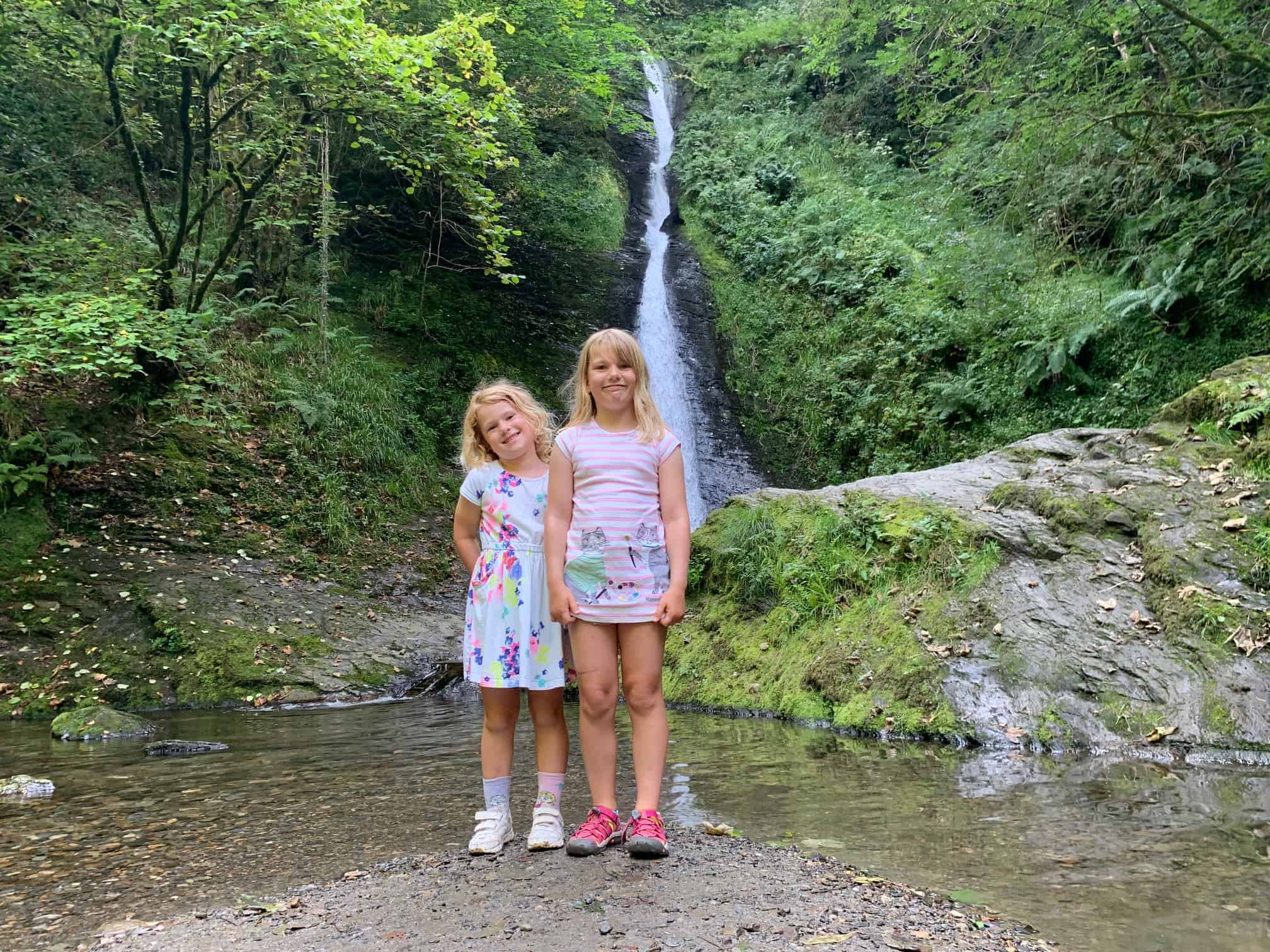 On the west side of Dartmoor you'll find the South West's deepest gorge. This National Trust site has several paths along the 1.5 mile gorge which includes a 30m waterfall and a naturally formed whirlpool called the Devil's Cauldron.
The footpaths can be steep in places but they are nothing like you might find at Becky Falls and Canonteign Falls where roots and boulders are the norm. However, I'd still advise leaving the pushchair in the car and using a baby or child carrier for tots that can't walk yet.
Find out more about visiting Lydford Gorge.
Walk an alpaca at Lydford Gorge
Spend time with these gentle, curious and affectionate animals while enjoying the fresh air and beauty of Dartmoor.
Find out more and book an alpaca walking experience.
If you're staying in Okehampton on holiday you should also check out the Devon with Kids guide to family days out in North Devon.
Things to do in Princetown, West Devon
Welcome to the heart of Dartmoor where you'll find an abundance of hikes for all abilities. Take a look at Visit Dartmoor for walks around the national park.
Here's some of the West Devon attractions you might like to visit to help you discover more about the place, its history and people:
Go behind bars at Dartmoor Prison Museum
Find out what life was once like inside one of the world's best known jails. The museum covers 200 years of history and pulls no punches when it comes to sharing the outdated methods once used to control inmates.
You can also learn the stories of some of the prison's infamous residents and escapees.
Find out more about visiting Dartmoor Prison Museum.
Discover the Moor's origins at Dartmoor Visitor Centre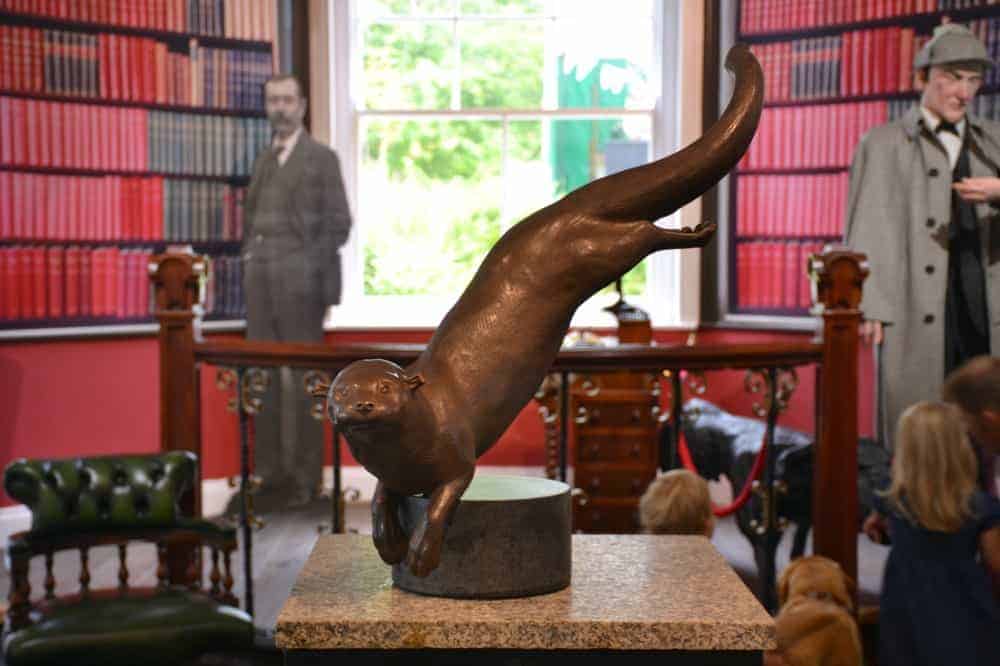 The national park visitor centre in Princetown used to be a hotel and is where Arthur Conan Doyle stayed when he wrote some of The Hound of the Baskervilles.
Today the centre tells the story of Dartmoor's natural history with interactive exhibits that children can touch and explore. It's a great place to start planning the rest of your time on Dartmoor and pick out some of the child-friendly things to do.
For more information see the Visit Dartmoor website.
Find more family-friendly things to do in Dartmoor with kids.
More things to do in Devon
Devon is a big place – there's 2,590 square miles of it! If you have time to venture outside West Devon here's some guides to neighbouring areas you might also like to explore:
Find more places to explore in Devon.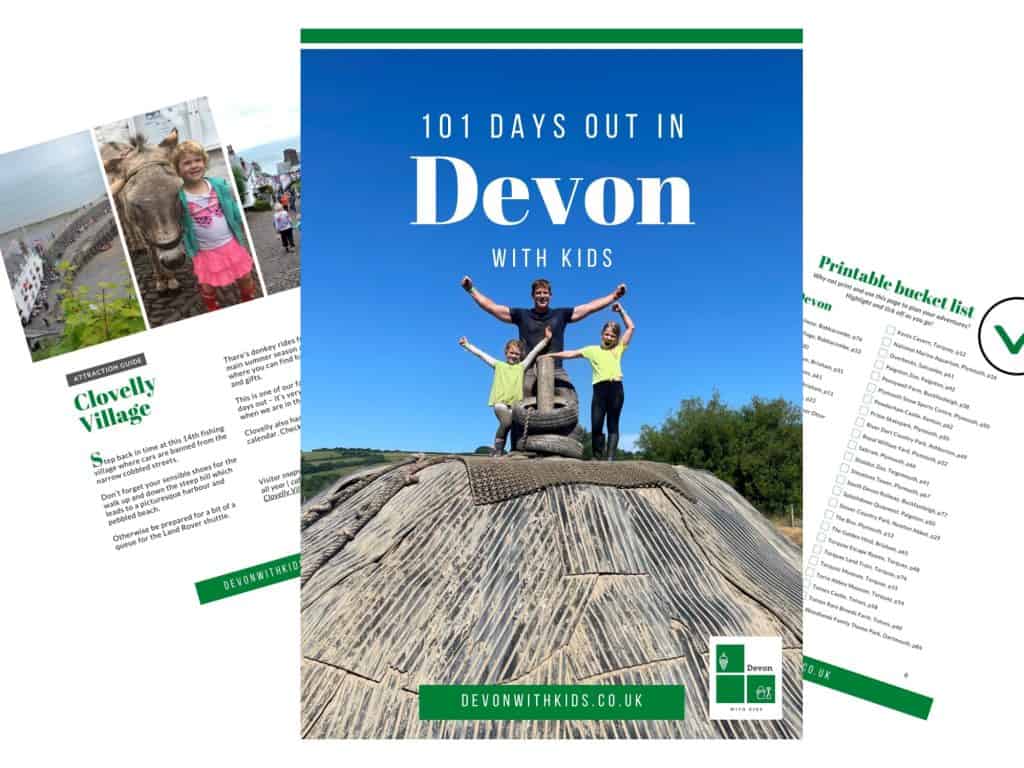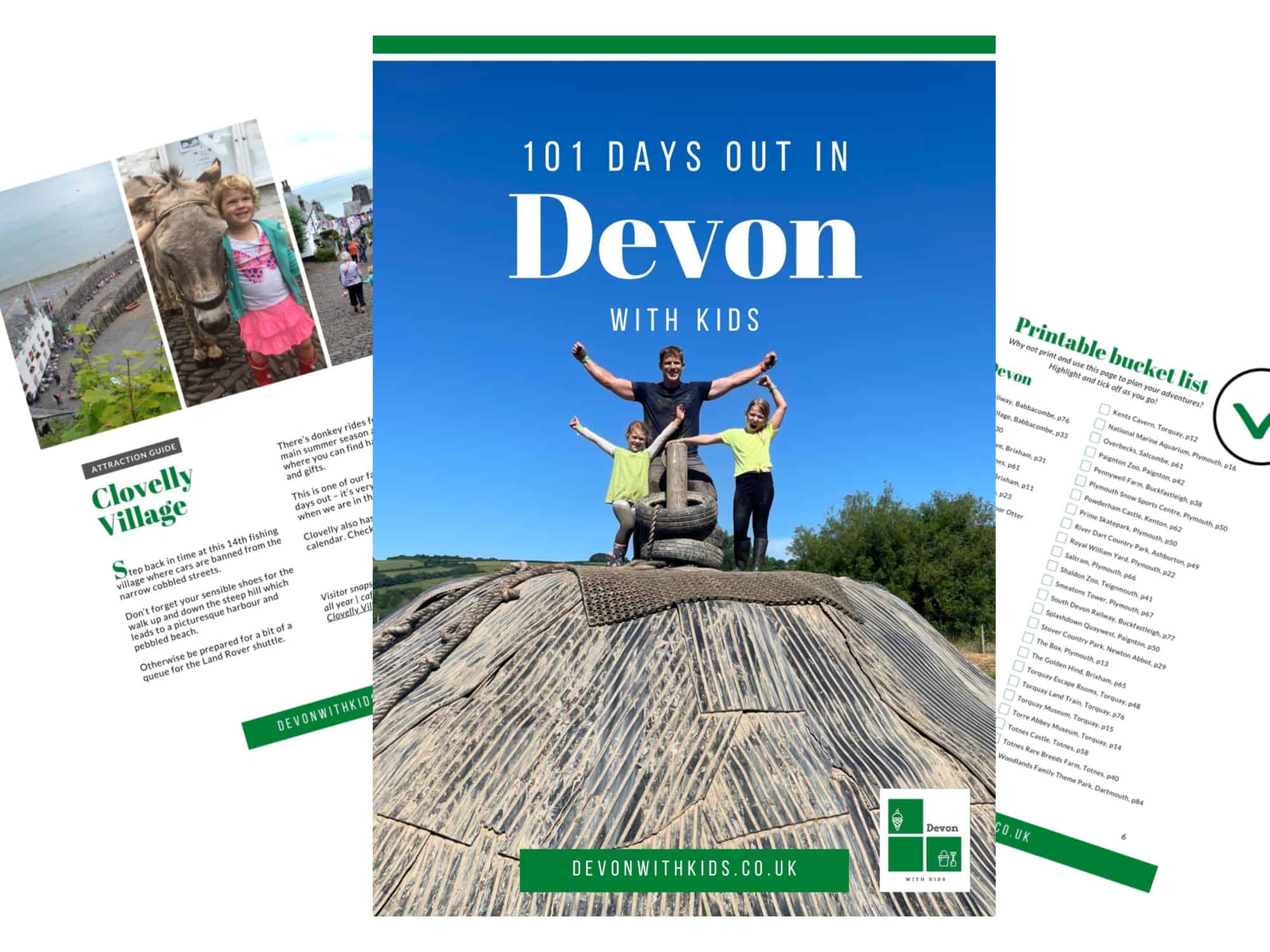 It's FREE!
Grab your copy of this guide to family-friendly things to do across the county, from coast to coast, in the cities, on the moors and whatever the weather.