It's very rare that we don't visit Clovelly Village when we are in North Devon. I love the feeling of stepping back in time as you leave your car behind to explore the steep cobbled streets of this 14th Century fishing village. Sounds idyllic, right? But is it worth visiting Clovelly with kids?
Even though I dread the hike back up every time, I think so.
This post rounds up my top tips for making the most of your day in Clovelly.
Love Devon? Join the Devon with Kids Facebook group and subscribe to my newsletter!
*This post contains affiliate links*
About Clovelly Village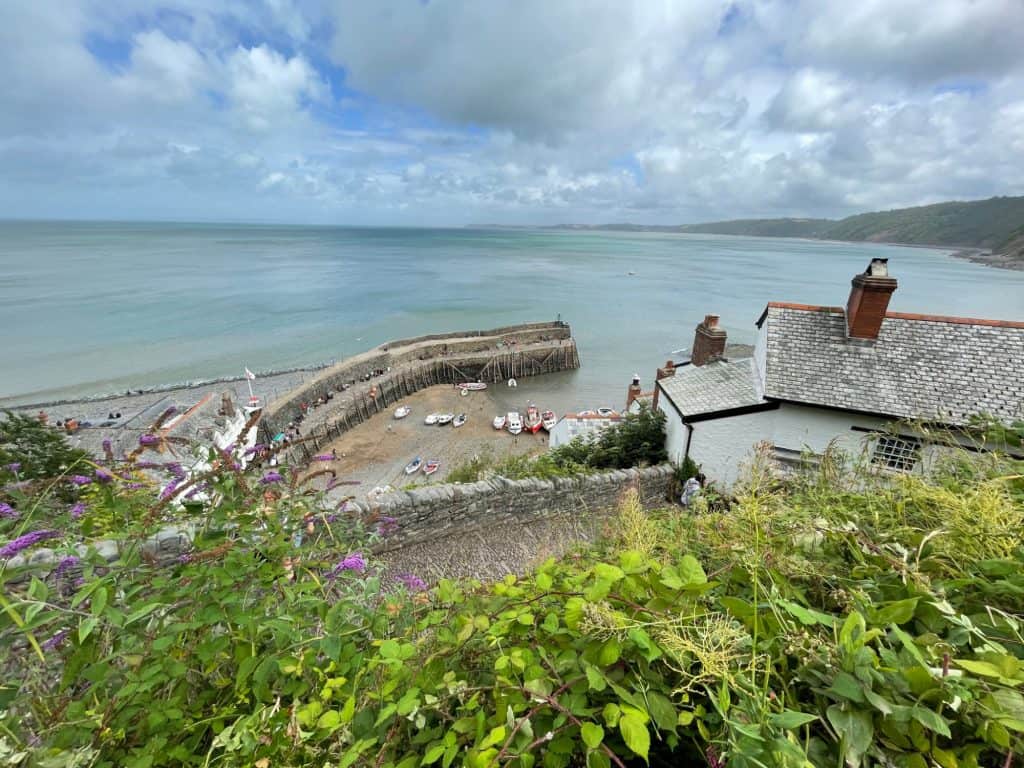 Clovelly is an ancient fishing village that clings to the cliffs above Bideford Bay. It was made famous by Charles Kingsley, the author of 'Westward Ho!'*, whose salty tale about pirates and adventure sparked a boom in Victorian tourism.
You can find out all about the history of Clovelly and its community during a video shown in the Visitors Centre.
Who owns Clovelly Village?
Clovelly is now part of a private estate owned by The Honarable John Rous who inherited it. His great grand aunt Christine Hamlyn renovated many of the cottages after inheriting it in 1884.
A walk down the steep clobbed street isn't for the faint hearted. But the harbour views and seeing the cute houses is worth it. And the kids always sleep well at the end of the day!
What to do in Clovelly Village
So, aside from walking through the village down to the sea, what is there to do in Clovelly?
Things for kids to do at Clovelly
At the top of the Village there's donkey rides for children in the main summer season and craft workshops where you can find hand-made pottery and gifts.
Close to bottom you can take a narrow set of steps down to the back of the RNLI Lifeboat Station and turn right onto the rocky beach where there used to be smugglers caves.
We didn't find any long lost booty during our last visit but we did discover a waterfall, fossils and towers of pebbles left by other visitors.
Back at the harbour you can find crabbing gear sold at The Red Lion Pub. An ice cream on the harbour wall is a must. There's even a dog-friendly flavour on sale.
More ideas for entertaining younger children
Spot the ornate doorways, animal door knockers and the initials of Christine Hamlyn who renovated the village for the Victorian tourists
Skim stones and build rock towers on the beach
Search for painted stones around the village
Pack a light beach bag and go for a paddle. Beach shoes are a must!
Reward your little explorers with some Clovelly fudge back at the Visitor Centre.
What about teens?
If you're visiting with teens they might already know Clovelly as one of the most tagged places in North Devon on Instagram.
Expect to pause for lots of snaps!
Find more things to do in Devon with teens.
Handy things to know
Here's some tips and other useful information for your visit to Clovelly in North Devon:
What to wear
Don't forget your sensible shoes for the walk up and down the steep hill that leads to the picturesque harbour and pebbled beach.
Layers are also a good idea as you may want to remove a few for the hike back up.
Can you bring a pushchair?
We've been to Clovelly with a pushchair in the distant past but a baby or child carrier is a better idea. The cobbles are bumpy and there are quite a few shallow steps.
How much does it cost?
When we last visited in 2021 entry to the Village cost £22.50 for a family ticket with free re-entry within seven days. There are reduced prices in the winter season.
Pre-booking isn't essential but you can do so online.
Find the latest ticket prices on the Clovelly website.
Where to eat at Clovelly
There's a large cafe in the Visitors Centre at the top of the village or smaller cafes on the way down to the harbour where you'll find The Red Lion pub.
We ate lunch at the Visitor Centre this time as it was very quiet just after midday. The food was also reasonably priced.
Are dogs allowed in Clovelly Village?
Yes, this is a dog-friendly place to visit. Even the beach at Clovelly is dog-friendly all year round.
Find more dog-friendly places to visit in Devon.
Facilities
There's public toilets at the Visitor Centre and half way down the hill.
Getting back top the hill by Landrover
If you do want to get a ride back up the hill a Landrover service is available from behind the pub to the car park at the top. This costs £3.50 per person.
Check the running times at the Visitor Centre.
Where is Clovelly Village?
Here's where to find Clovelly Village: near Bideford, North Devon EX39 5TA
Events at Clovelly
There's special events throughout the year at Clovelly including Easter egg hunts, a regatta, maritime festivals and a Christmas light switch on in aid of the RNLI.
See the Clovelly website for more information about visiting and its events programme.
Got a while to stay? Here's our BIG guide to family holidays in Devon.
We enjoyed our experience so much that I've included a picture Clovelly in the Devon Colouring Book for Kids.
More things to do in North Devon
Find more ideas for places to visit in my guide to things to do in North Devon.
Here's some more places we can recommend:
You might also like my guide to things to do near Barnstaple and my free to download 101 days out in Devon guide.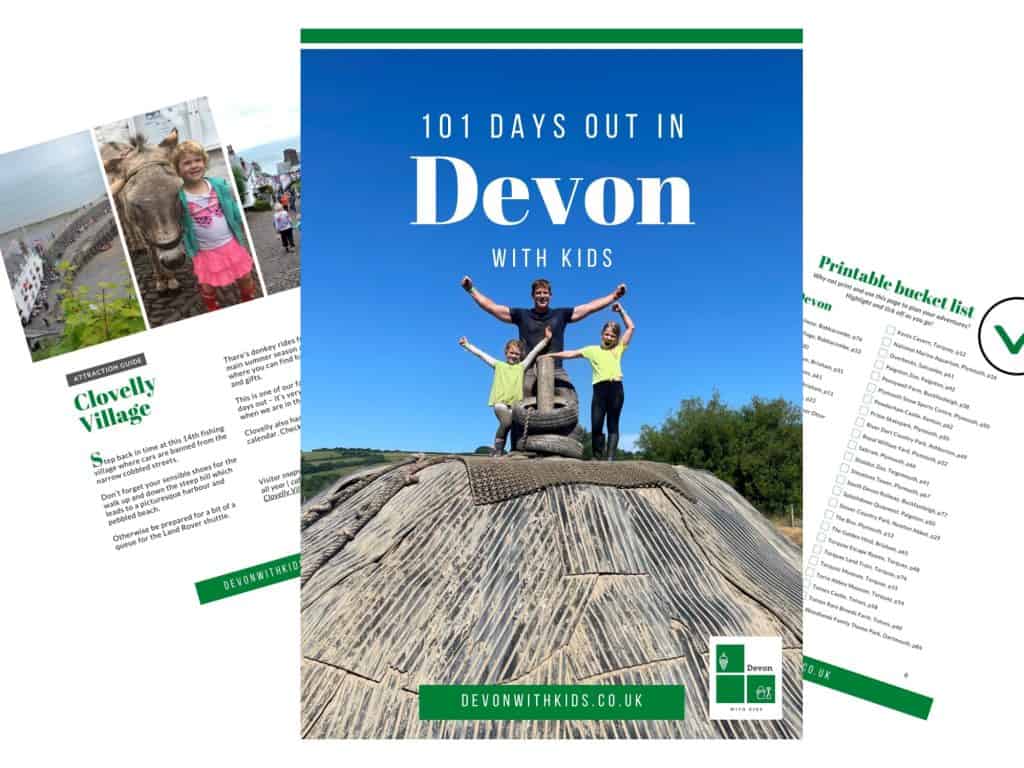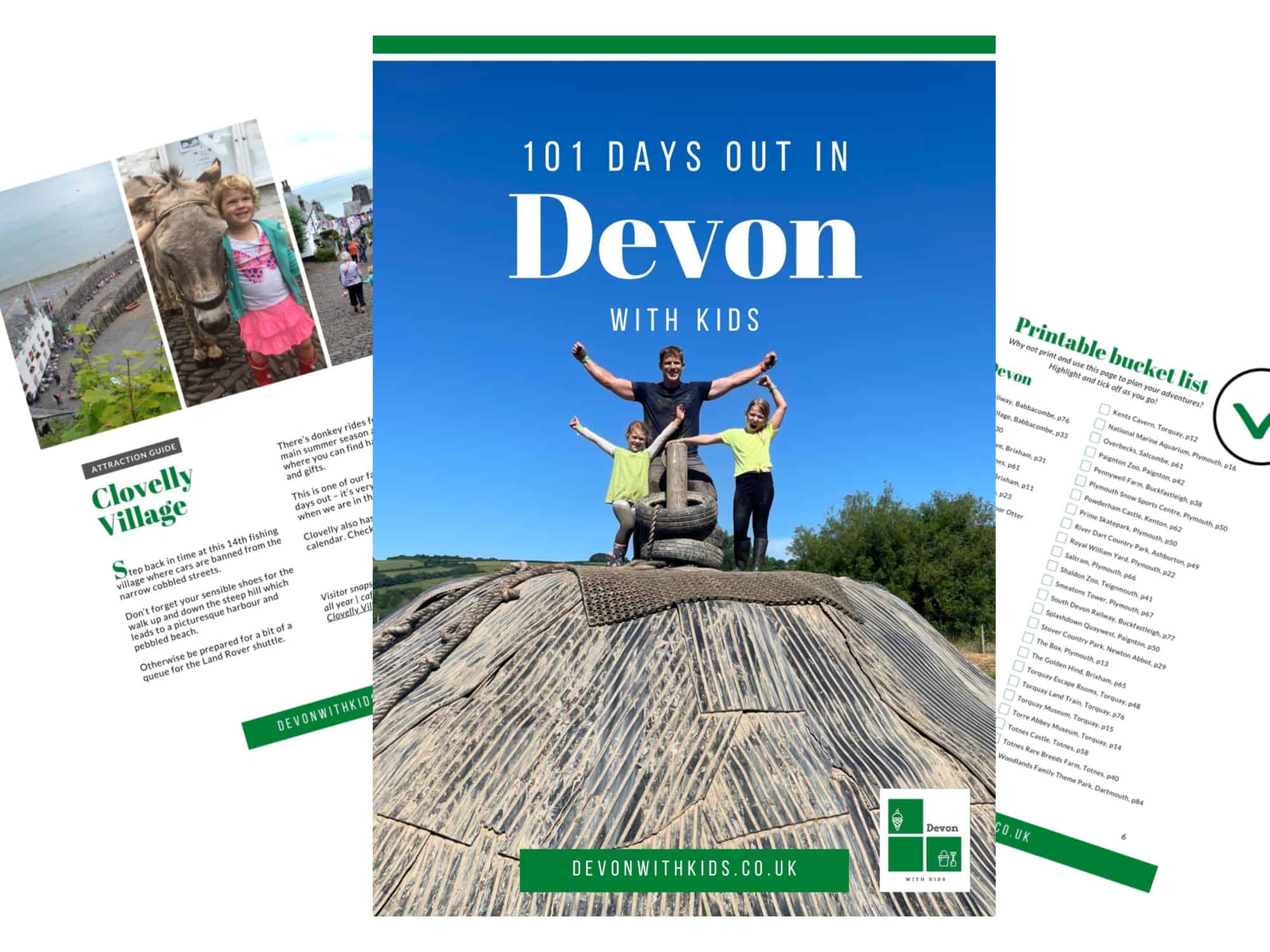 It's FREE!
Grab your copy of this guide to family-friendly things to do across the county, from coast to coast, in the cities, on the moors and whatever the weather.
Disclosure: this post contains affiliate links. If you click on one of these and make a purchase I may earn some commission. This does not affect the price you pay.