Want to have an up close and educational otter experience in Devon? Dartmoor Otters and Butterflies Sanctuary is the best way to meet these beautiful creatures.
Read on to find out more about this place to visit in South Devon and how to turn it into a full day out.
We've visited the sanctuary twice in the past five years so I've given information for families visiting with pre-schoolers and primary school aged children.
Love Devon? Join the Devon with Kids Facebook group and subscribe to my newsletter!
About Dartmoor Otters and Butterflies
The Dartmoor Otters and Butterflies Sanctuary at Buckfastleigh is a small Devon attraction where you can learn about endangered species and the important conservation work helping to reintroduce otters to the wild.
It costs £4,000 to rehabilitate each rescued otter and each month the sanctuary gets through a whopping 500kg of fish keeping the rescue otters and residents well fed.
Find out more about otters in the wild and go spotting otter sculptures during the Moor Otters art trail. It's returning to Dartmoor this summer.
Otter feeding time tours
The best time to arrive is just before one of the three daily otter feeding tours. These happen at 11.30am, 2pm and 4pm. Be aware that the 4pm feeding time may not be available in the winter months.
During the feeding times a keeper takes you on a tour of five enclosures to meet the three different breeds of otters at Buckfastleigh. They are the British otter, Asian short clawed otters and the large North American river otters.
The tour takes up to an hour, which is a much longer and more in-depth experience than we've had elsewhere. It's perfect for wildlife lovers.
Otter experiences
If you'd like to get closer you can book an Otter Experience. We saw one of these happening during our tour.
The couple involved were hand feeding the otters a delicious meal of fish. It looked like smelly but rewarding work.
As well as helping with feeding, people who buy an Otter Experience are given a private tour of the sanctuary. They also help clean out the pools and holts.
The Buckfast butterfly house

You walk through the butterfly house to reach the otters. Be aware that butterflies are only here at certain times of year. Check the attraction website for details.
The first time we visited – when my elderst was four – she had enough of the otter tour quite early on and was keen to explore the butterfly house. So Grandma took her off inside. We joined an excited Tot a little later as she introduced us to Izzy the Iguana and rows of chrysalis.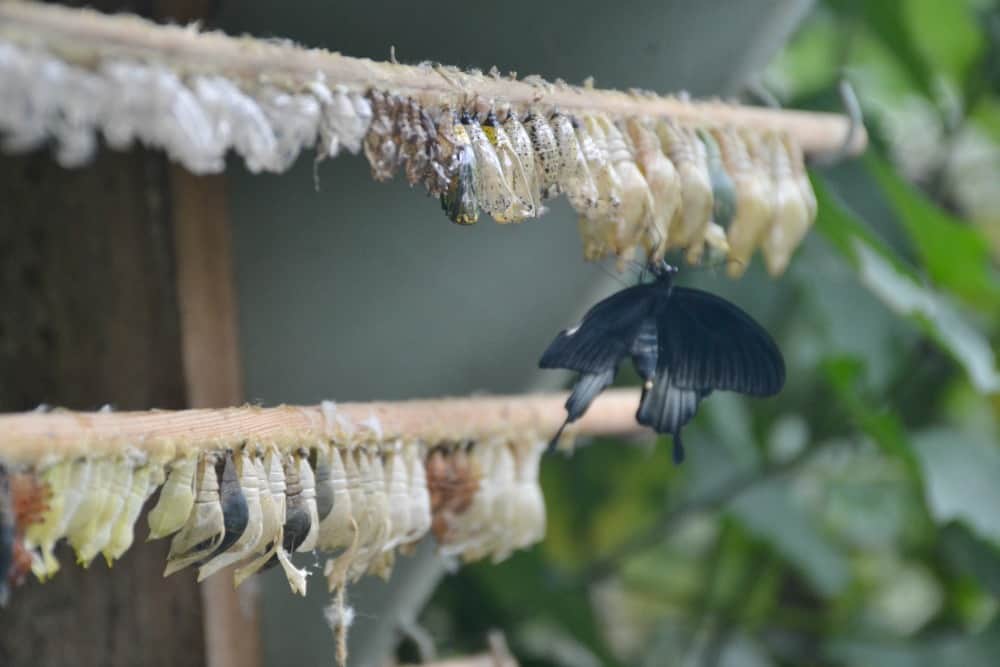 While we were there – we visited in July – a few butterflies were nibbling their way out of their little cocoons and drying their wings. Next to them we also met one of the world's largest insects, the Atlas Moth.
It seemed happy to sit and be pictured, unlike the other winged butterfly house residents who rarely stopped flitting around.
As well as the insects and Izzy, the tropical hot house was the perfect habitat for dozens of Red-eared Terrapins. These lounged around the side of the ponds, seemingly keeping out of the way of the huge fish swimming below them.
I love butterflies so wandering around paths of the small hot house was a highlight for me. The girls were also more interested in the reptiles and insects than the otters, but I think that was to do with the length of the tour. Older children would have enjoyed it more.
Back in the gift shop there's more reptiles and a Leafcutter ants colony.
These small but mighty insects are fascinating to watch as they collect food and wind their way back to their Queen along what seems to be an impossibly long piece of rope.
Combined attraction tickets
You'll probably spend no more than an hour and a half at Dartmoor Otters and Butterflies.
But if you want a full day out we can recommend getting a combined attraction ticket with South Devon Railway and Totnes Rare Breeds Farm, which is at the other end of the line in Totnes.
This deal was suspended during the pandemic so check the attraction websites for more details.
Best age to visit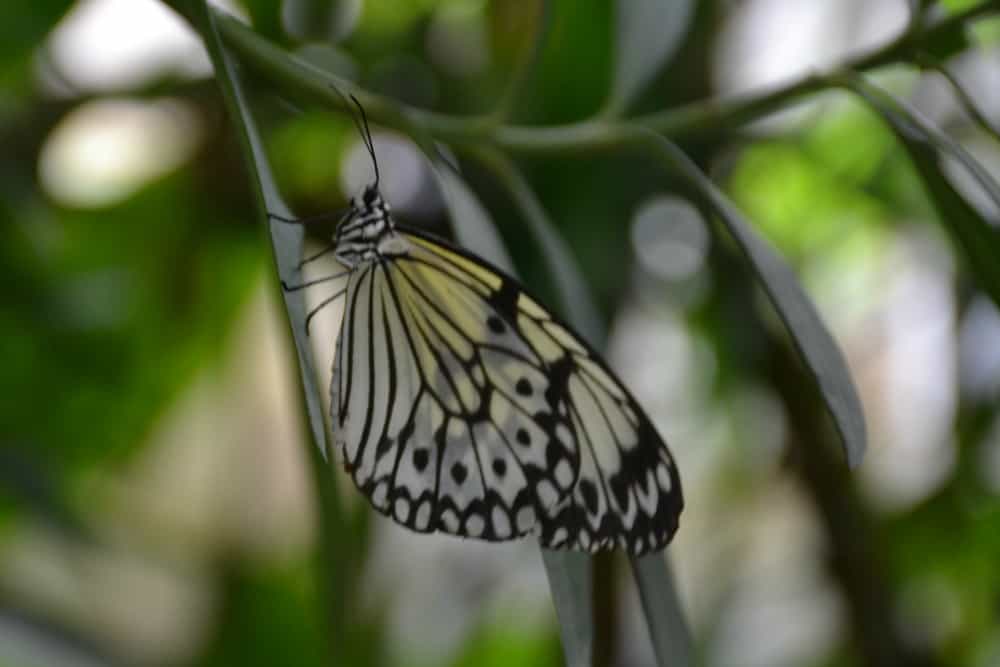 Our first visit was when my girls were pre-school age. Had they been a bit older and less fidgety, I think they might have enjoyed the Sanctuary more. It's certainly doing some great not-for-profit work and the staff are keen to share this.
However, it all went a bit over my girls' heads. If it had been up to them we would have been in and out of the attraction in less than half an hour.
out next visit was when my girls were eight and six. It was much more their scene. They thought the otters were super cute and learnt a few facts about them from the talk.
Definitely visit with school-aged kids who are keen on animals or if you're a wildlife lover yourself.
I'd also recommend combining your visit with a trip on the steam train and a visit to Totnes Rare Breeds Farm where younger children will find more activities on their level, like animal feeding and a petting area.
Tips for visiting Dartmoor Otters and Buckfast Butterflies with children
This is a small attraction so little legs don't have a lot of walking to do. However, if you do need a pushchair you will be able to navigate around the sanctuary without problem.
Make sure your children don't drop anything into the enclosures. The curious otters will destroy anything they get their paws on.
Make the most of the toilets at the train station before you go to the sanctuary as there are no visitor toilets there. You'll find baby changing facilities on the platform and in the cafe nearby.
The station cafe is a great place to fuel up on enormous cakes and reasonably priced lunches.
Prices
In 2022, there's a family ticket for two adults and two children for £27. Adult tickets cost £9 and children's tickets for three to 15-years-olds cost £7.
Book tickets and check the most up-to-date prices on the attraction website.
Find out more about the combined attraction ticket with South Devon Railway and Totnes Rare Breeds Farm.
Where is the Dartmoor Otters and Butterfly Sanctuary?
The Sanctuary is tucked away down a siding of South Devon Railway. It has its own car park.
Address: The Station, Buckfastleigh, Devon, TQ11 0DZ.
More things to do in South Devon
Check out my guide to things to do in South Devon for more ideas.
Here are some guides to our favourites places to go:
Got a while to stay? Here's our BIG guide to family holidays in Devon.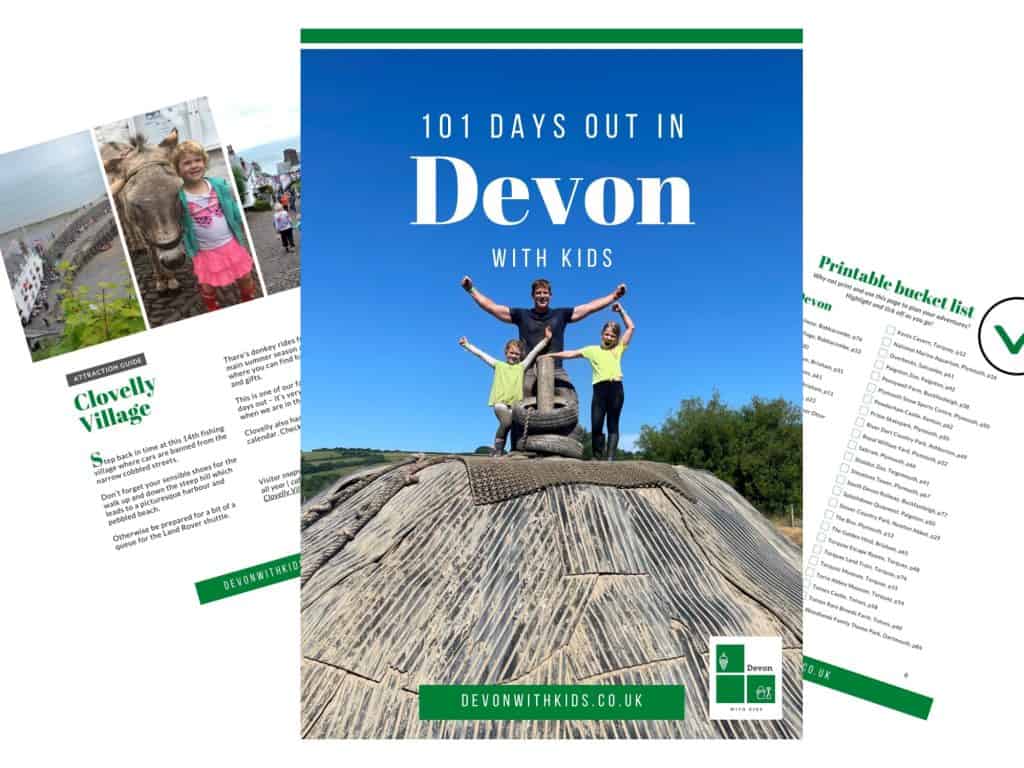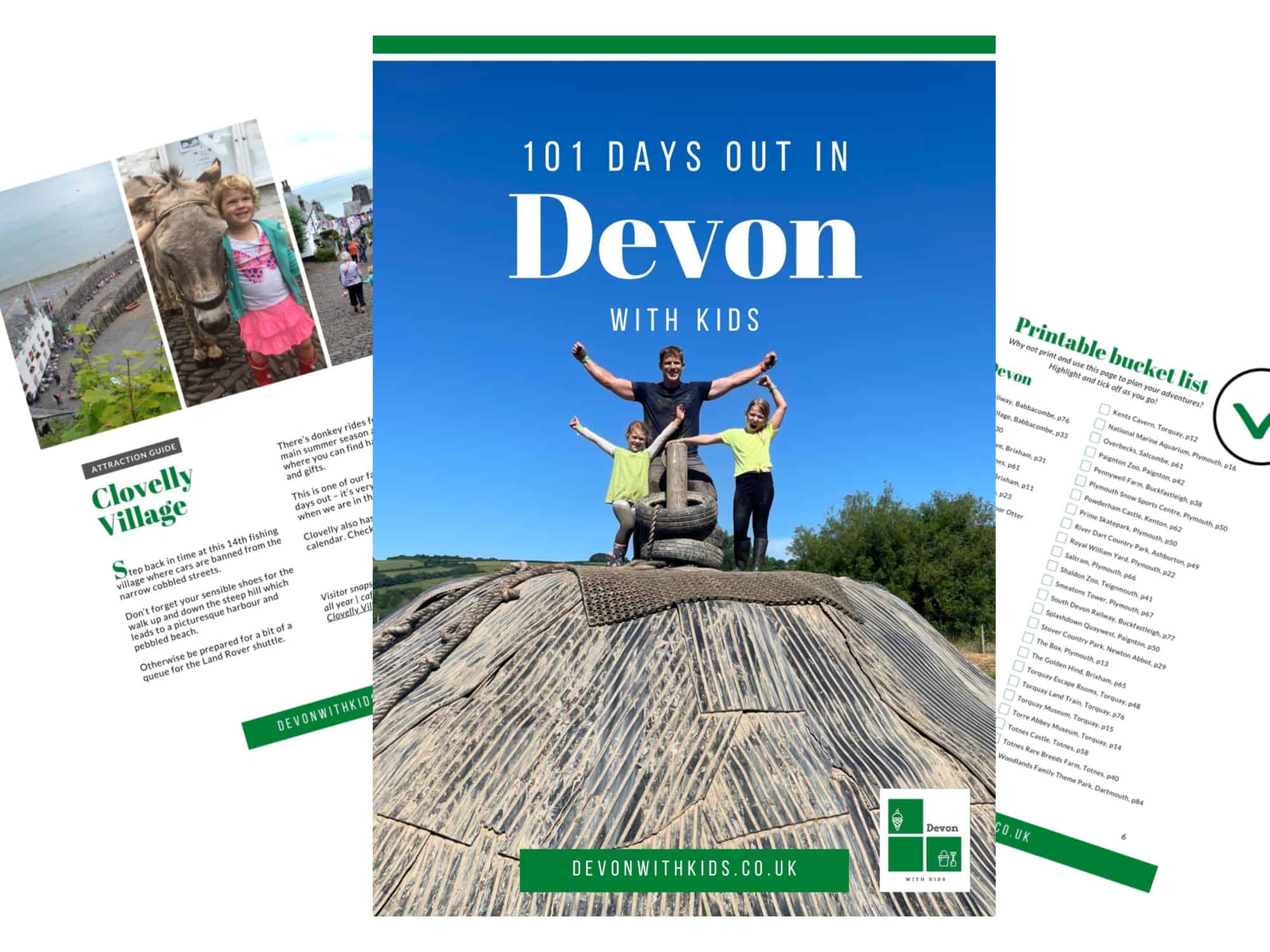 It's FREE!
Grab your copy of this guide to family-friendly things to do across the county, from coast to coast, in the cities, on the moors and whatever the weather.