Having lived in the South Hams for the past six years and now launching a colouring book based on this beautiful part of South Devon (eek!), I thought it was high time to dedicate a guide to it too. In this family-friendly round up to things to in the South Hams I'm sharing my top tips for places to visit, the best attractions, beaches and walks.
Buy The South Hams Colouring Book for Kids
The South Hams Colouring Book for Kids is a child-friendly guide and activity book to accompany your adventures in this lovely part of South Devon.
The book features Sammy the Seal who takes children on a tour of the best places to visit in the South Hams with plenty of fun facts along the way.
Why is it called the South Hams?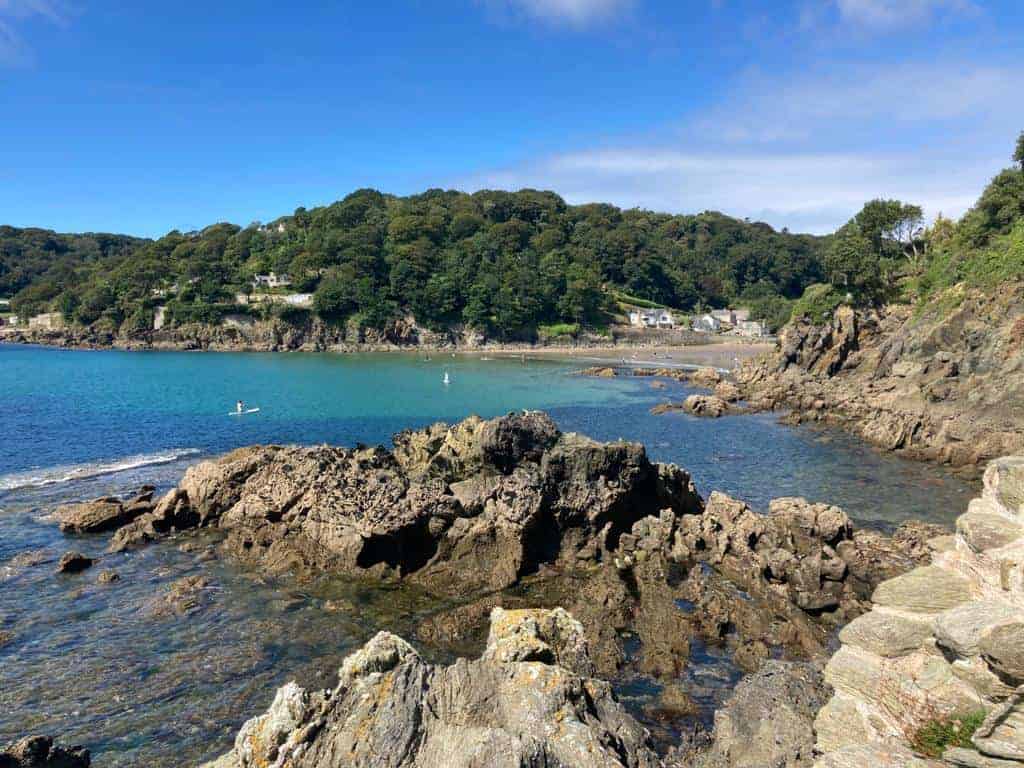 Don't you love quirky English place names?! I've heard a few explanations for this one including it being something to do with the pig-shaped coastline between Start Point and Salcombe (I can't see it myself). There's even an outcrop near the village of East Prawle called 'Gammon Head'.
However, the most credible explanation for the name 'South Hams' is that Hams comes from the old English word 'hamme', meaning an enclosed or sheltered space.
Spend a bit of time here and you'll understand the meaning better – it feels like it has its own delightful microclimate.
Quick hits: South Hams things to do
Before I get into the nitty gritty of all the wonderful places to visit in the South Hams, here's a quick guide to the activities you simply must tick off your bucket list: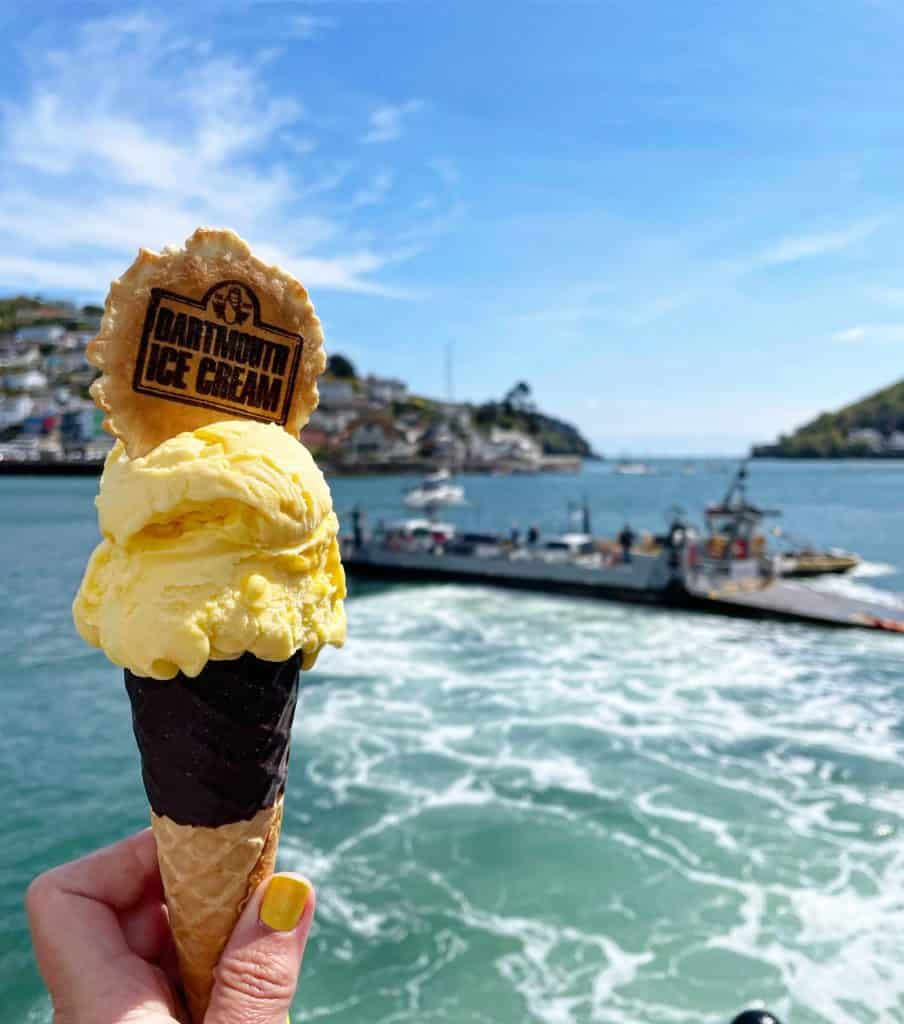 Enjoy an ice cream made in the South Hams – look out for Dartmouth, Salcombe and Surfing Cow Ice Cream. Each has its own ice cream shops and their top flavours can be found on sale all around the area
Go crabbing at Dartmouth, Stoke Gabriel, Dittisham, Kingsbridge Quay or South Pool
Paddle at a beach – there are oodles to choose from. Check out my list below
Conquer a Dartmoor Tor – Western Beacon is the closest
Walk the South West Coast Path – we love the sections between Little Dartmouth and Dartmouth Castle and Gara Rock and Mill Bay
Have a cream tea the Devon way – cream first, ALWAYS!
Take a boat trip or ferry across the River Dart – for an extra special voyage book The Fizz Boat
Climb the battlements of a castle – there's great views from Totnes Castle and Dartmouth Castle
Discover local history at a museum – visit Dartmouth Museum, Totnes Museum or Cookworthy Museum in Kingsbridge.
You might also like to check out my town guides:
I'll be adding more!
South Hams attractions
For a full day out, here's the family attractions you'll find within the South Hams area:
Pennywell Farm
Introduce your little brood to the cute and cuddly animals at Pennywell Farm. Holding a miniature pig and feeding the lambs is a must if you visit in the Spring.
As well as the animals you'll find plenty of toddler-friendly indoor and outdoor play areas.
There's also a wonderful nativity at Pennywell Farm each Christmas with animals, tractor rides and Santa.
Find out more about visiting on the Pennywell Farm website.
Woodlands Family Theme Park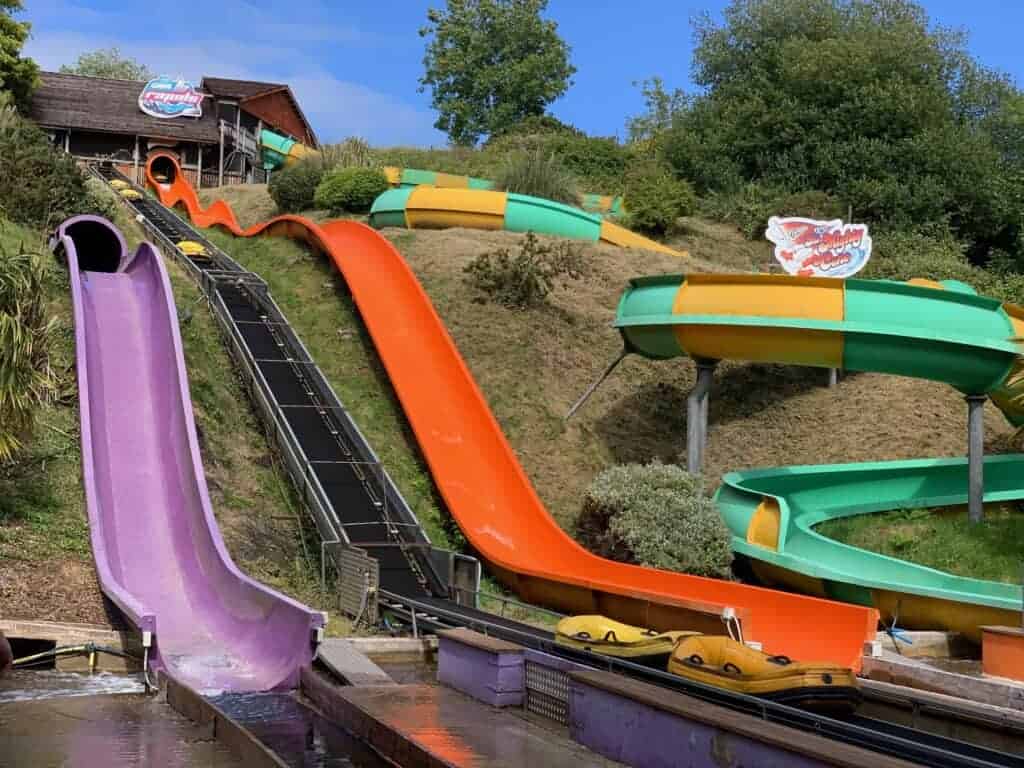 Woodlands aces indoor play with several areas dedicated to slides, soft play and ball pits. It's one of my top adventure parks in Devon and things to do on wet days in Devon.
Outdoors my girls love the tractor ride, bumper boats, bouncy cushion and toboggan run.
If adrenaline rushes are more your family's thing then check out these rides: the pirate galleon, three water coasters, the avalanche tray slides, and the Vertigo drop tower ride.
You'll not find rollercoasters here but there's plenty of rides to give you a thrill.
Here's what you need to know about visiting Woodlands Family Theme Park.
Find out more on the Woodlands Family Theme Park website.
Dartmoor Zoo
This zoo was made famous world-wide by the American film 'We Bought a Zoo' and offers animal talks, encounters and displays across its 33 acre woodland park in Dartmoor National Park.
Find out more about visiting on the zoo's website.
Dartmouth Steam Railway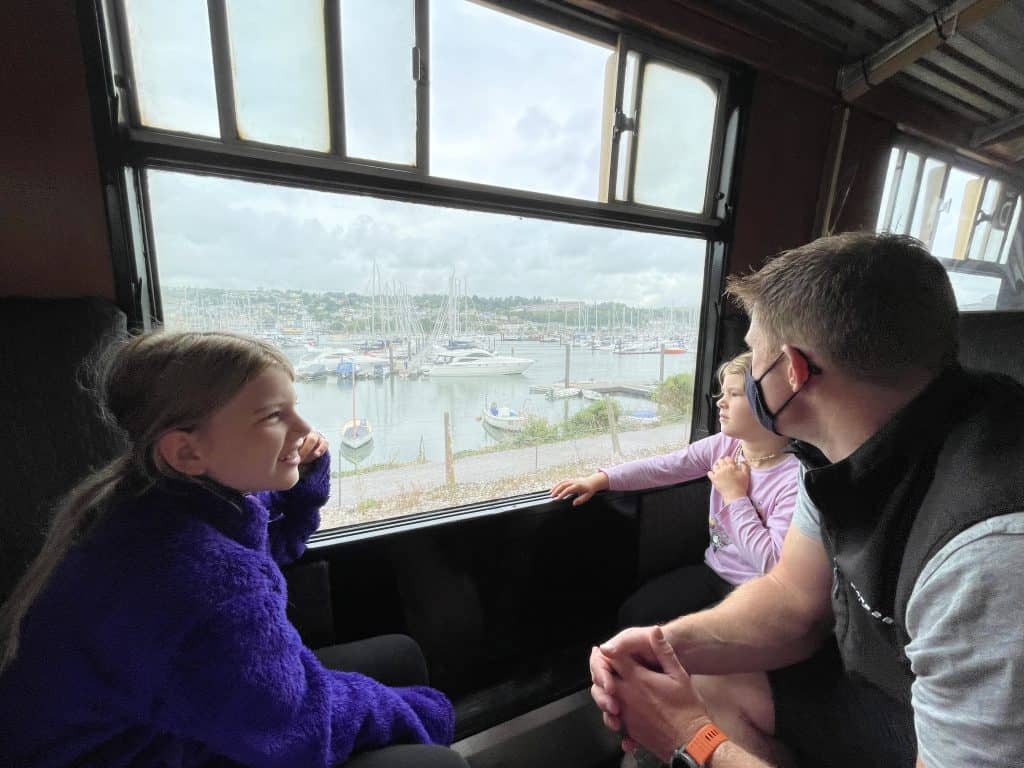 Take a tour of South Devon on Dartmouth Steam Railway's line between Paignton and Dartmouth.
You can extend your day by booking The Round Robin tour that gives you a ticket to travel a circular route by river boat, steam train and bus. You can start your trip in Dartmouth, Totnes or Paignton.
Visit in the winter and you can ride the Train of Lights. Booking in advance is essential.
Find out more on the Dartmouth Steam Railway website.
South Devon Railway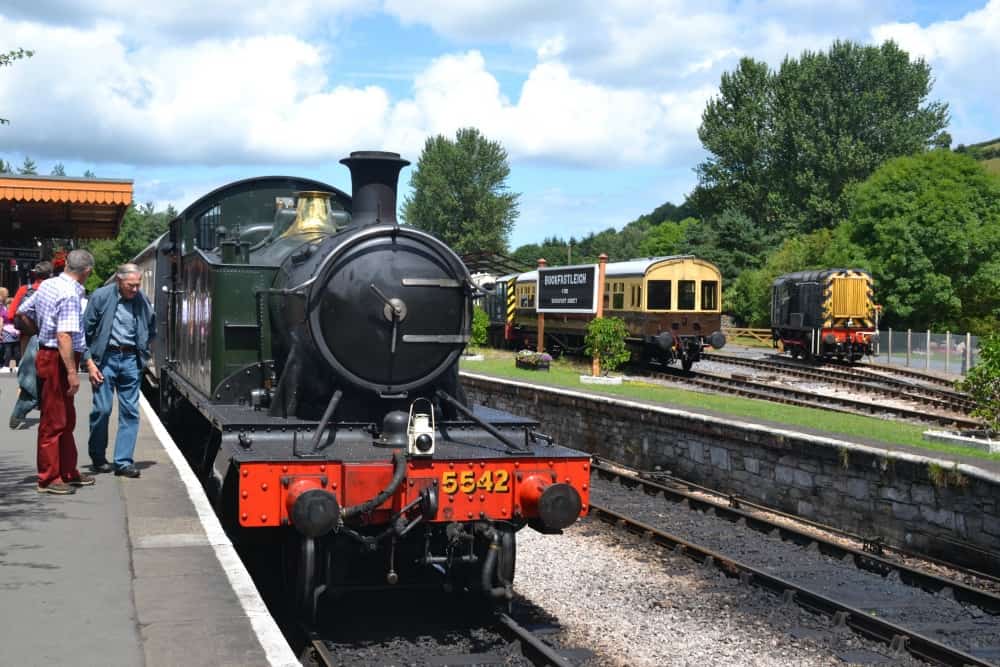 Take a scenic train ride through seven miles of the Dart Valley. Make a day of it with a visit to Totnes Rare Breeds Farm and Buckfast Butterflies and Dartmoor Otters Sanctuary at either end of the line.
Find out more by visiting the South Devon Railway website.
Totnes Rare Breeds Farm
We love this small farm where kids can get hands on feeding and petting the animals. There's donkeys, wild fowl, goats and rabbits – all rare breeds which are being nurtured at this family-run charity.
Read about our visit to Totnes Rare Breeds Farm.
If you want to make a day of it you can combine the farm with a ride on the South Devon Railway and Dartmoor Otters and Butterflies Sanctuary at the other end of the steam train line.
Find out more on the Totnes Rare Breeds Farm website.
Places to visit
As well as attractions there are plenty of beautiful, historic and interesting places to visit in the South Hams.
Here's some of the best along with you should seek them out:
Dartington Hall and Estate
This community hub has more than one thousand years of history. It was once a private home but by the 1900s the Hall had fallen into ruin.
In 1925 it was bought by the Elmhirst family who restored it as place of creativity, learning and social enterprise. It now hosts a programme of events, festivals and courses as well as welcoming visitors to its hotel, cinema, restaurant and gardens.
The estate is great for scenic walks and it's always worth checking Dartington Hall's website to see if they have any events on.
Find out more on the Dartington website.
Greenway National Trust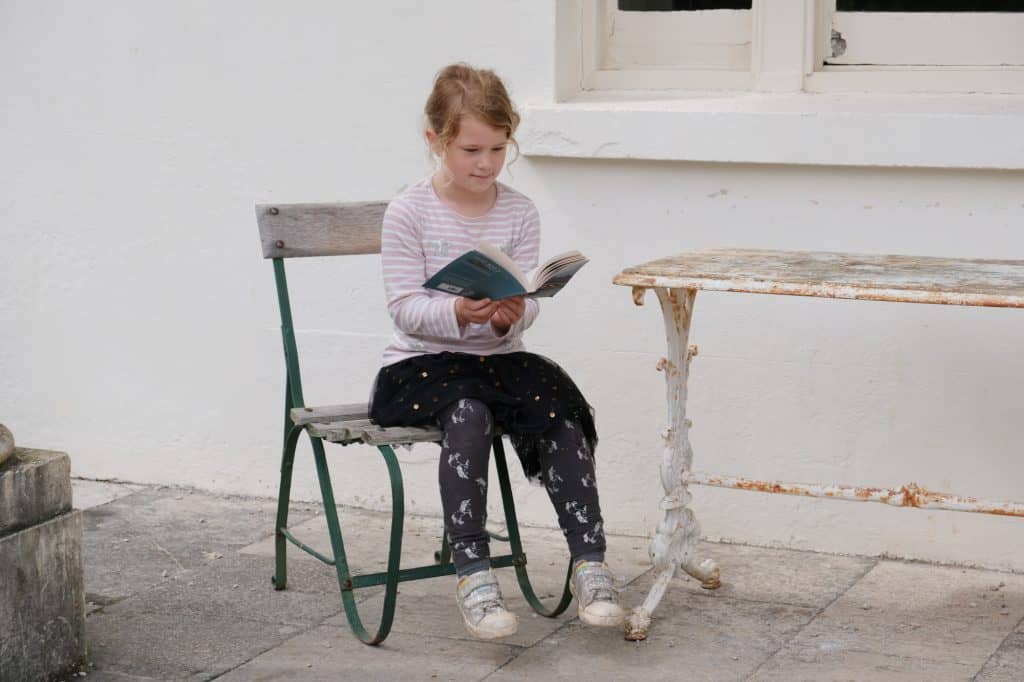 This fascinating house full of curious collectibles was once the holiday home of crime writer Agatha Christie.
Today you can explore rooms where she would regale her family with plot ideas, wander through the scenic riverside gardens and hit about some balls in the tennis court.
Fun ways to reach Greenway include catching a boat or steam train from Dartmouth.
Find out more in the Devon with Kids guide to visiting Greenway.
Be aware that parking must be pre-booked. Find out more on the National Trust website.
Britannia Royal Naval College
Dartmouth is home to the Royal Navy's officer training college, BRNC. It is steeped in history that you can discover by booking a guided tour with The Britannia Association.
The College was originally located on HMS Hinderstan and HMS Britannia both moored on the River Dart but moved into a purpose built college on the hill above when recruits started to become ill in the cramped quarters on the ships.
If your kids are interested in a military career then this is an inspiring and impressive place to visit.
Find out more from the Britannia Association.
Berry Pomeroy Castle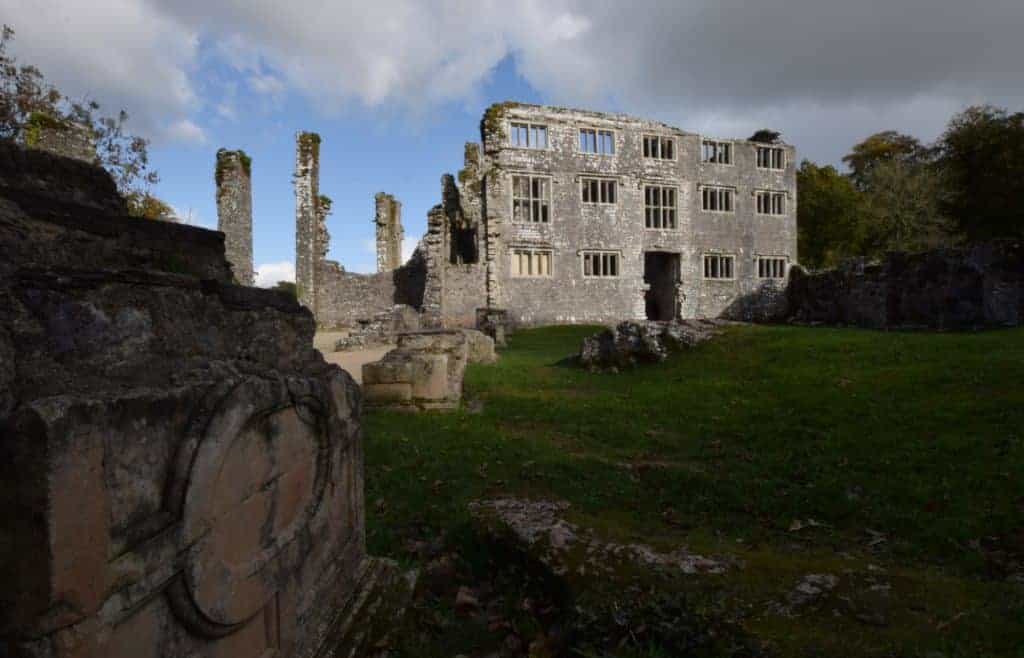 This 16th Century ruin is said to be one of Devon's most haunted places.
There's an audio tour that tells you all the ghostly tales – one for the teens in your family! You can also walk the woodlands and have a Devon cream tea in the nearby cafe.
Visiting is free for English Heritage members.
Find out more about visiting Berry Pomeroy.
Compton Castle
Explore one of the ancestral homes of the seafaring Gilbert family, which was built in the 14th Century. Among its Tudor residents was Sir Humphrey Gilbert who colonised Newfoundland in the name of Queen Elizabeth I in 1583.
There's a squirrel trail, dressing up and garden games for children. Visiting Compton Castle is free for National Trust members.
Compton Castle is not open all year round, so keep an eye on the National Trust website for opportunities to visit.
Overbecks
Visit Overbecks and you'd be forgiven for thinking you'd been transported to a tropical paradise. The South Hams' unique microclimate has allowed plants from all around the world to flourish here, making it a beautiful place to explore with children.
The house at Overbecks was built in 1913 and is now home to a collection of curiosities belonging to one of its former owners, Otto Overbeck. He was an eccentric inventor and collector.
You can also find out about the house's role as a convalescent home to courageous men and women that fought to keep spirits high during World War One.
Find out more about visiting Overbecks.
Dartmouth Castle
Dartmouth Castle was built in the 14th Century to defend what was then a very significant port.
Today you can visit the ammunition stores, find out about the lifestyle of the small group of soldiers stationed here and climb up to the roof for fabulous views of the river, town and English Channel.
If you're feeling peckish the cafe outside does awesome milkshakes and cream teas. You can walk to Dartmouth Castle from the town or catch a ferry from South Embankment.
Find out more about visiting Dartmouth Castle.
Totnes Castle
This South Hams castle dates back to the 11th Century and was built by William the Conquerer. It started off as a timber construction but this was replaced with stone at the turn of the 14th Century.
It's now one of the best preserved Norman motte and bailey castles in England.
Visiting this English Heritage site doesn't take long but is a great additional to wandering around quirky Totnes. You can climb the motte, admire the views down the River Dart and picnic in the castle walls.
Find out more about Totnes Castle.
Coleton Fishacre
Coleton Fishacre was built by the D'Oyly Carte family which owned a London theatre company of the same name. Their Devon retreat is now looked after by the National Trust and is very different to some of the much older estates and castles you might have visited.
It feels like the residents have gone away for the weekend and left their art deco home open for show.
There are some lovely walks and sea views around the estate which is nestled in a sheltered valley. Make sure you have comfortable shoes on and have plenty of energy for getting back up the hill if you venture to the beach.
Take a look at our guide to visiting Coleton Fishacre with kids.
Find out more about Coleton Fishacre on the National Trust website.
Walks in the South Hams
Fancy some fresh air? The South Hams offers lungfuls of the stuff.
Here are some of our favourite South Hams walks to do with our kids:
Got a while to stay? Here's our BIG guide to family holidays in Devon.
South Hams beaches
Craving a day beside the sea? The South Hams has some beautiful sandy and shingle beaches lapped by turquoise water you'd usually have to board a plane to enjoy.
Here's our favourite beaches to visit in the South Hams, including what3word locations to help you find them:
Blackpool Sands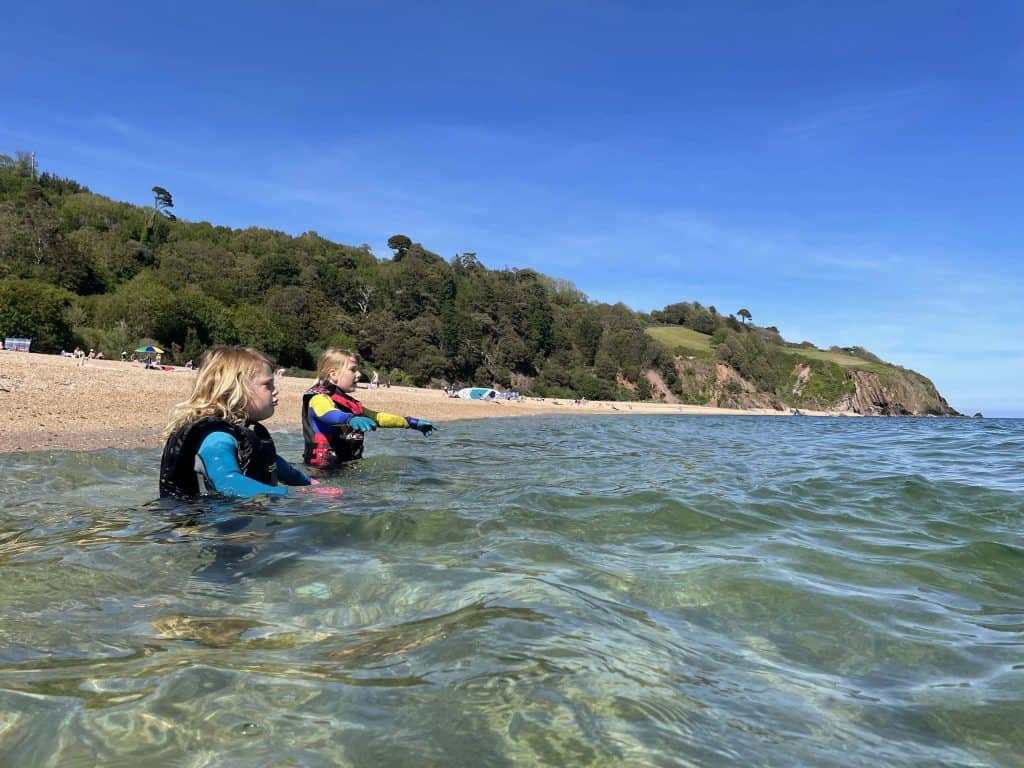 Find Blackpool Sands on what3words: ///outsize.lectures.clinking
Slapton Sands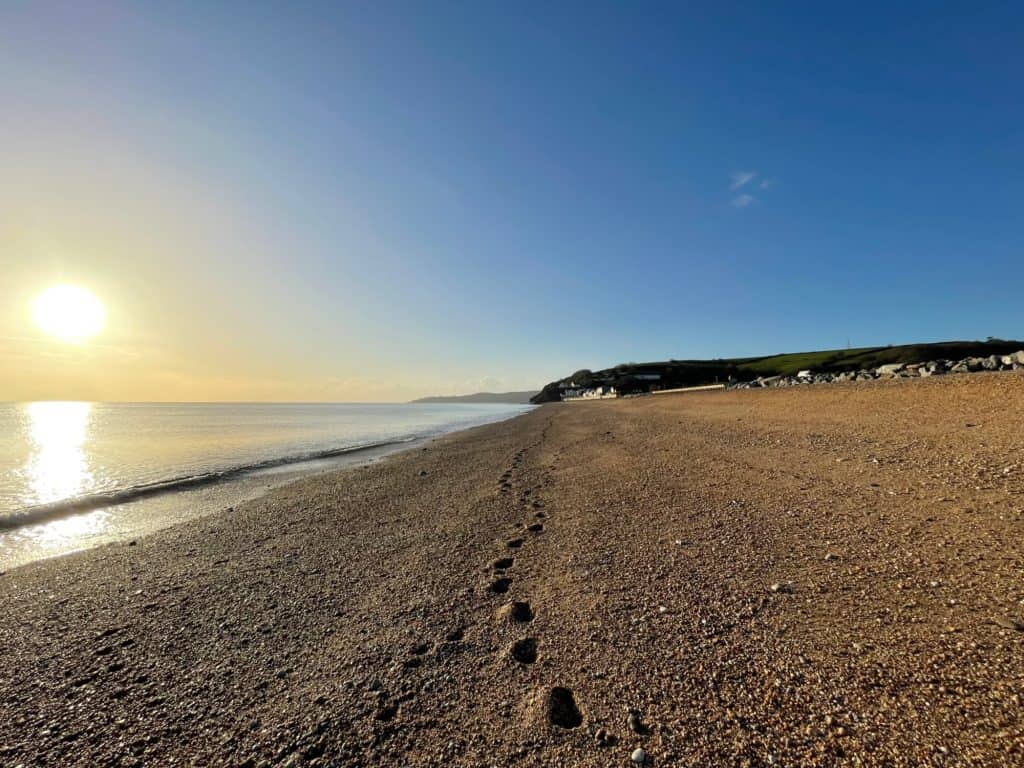 Find Slapton Sands Memorial car park on what3words: ///undercuts.resides.caskets
Bigbury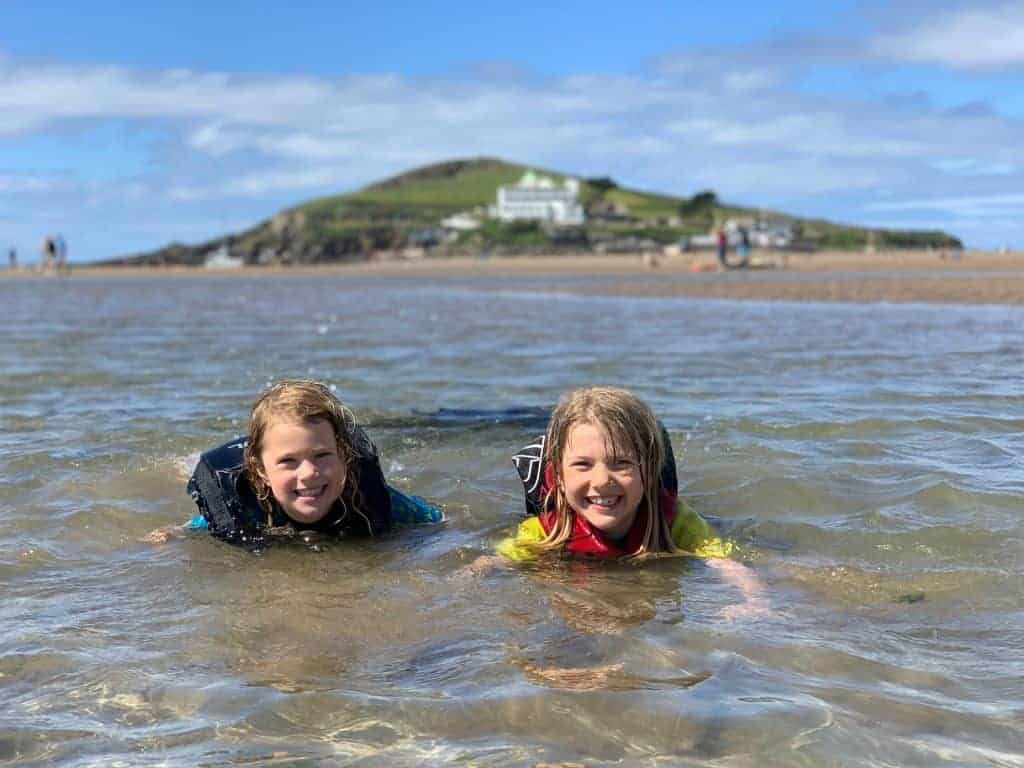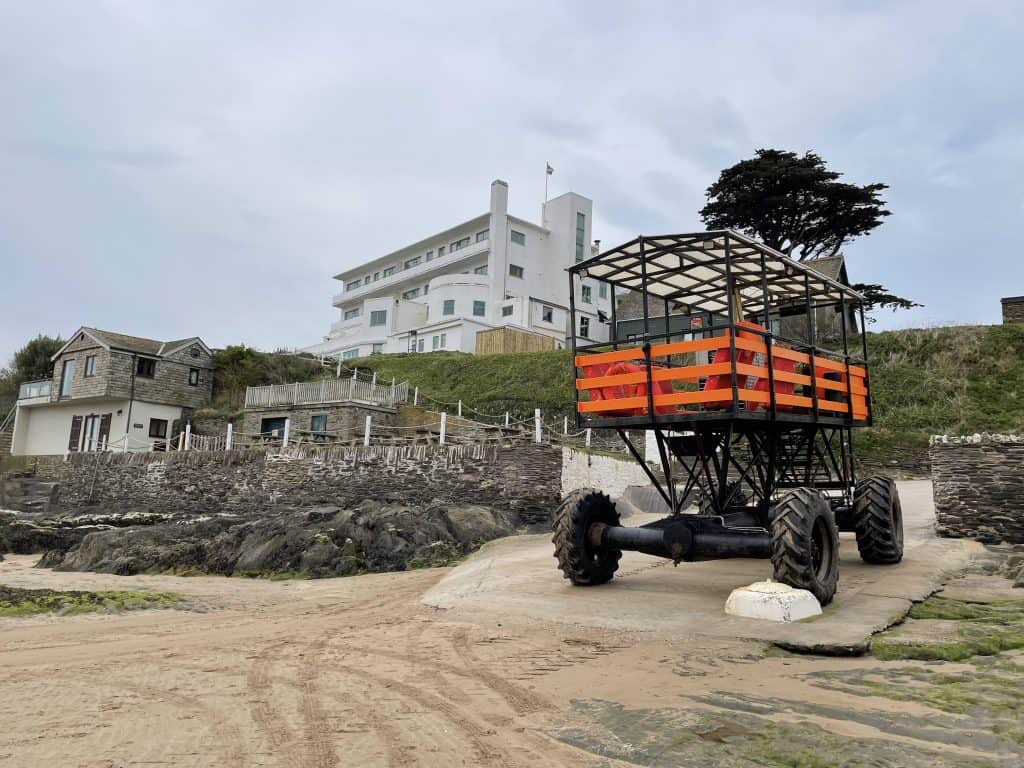 Find the car park on what3words: ///gymnasium.flux.admires
Bantham
Find the Bantham Beach car park on what3words: ///equivocal.narrowest.plantings
Salcombe North Sands
Find the North Sands car park on what3words: ///linen.conclude.modifies
Salcombe South Sands
Find Salcombe South Sands on what3words: ///cakewalk.slides.rainy
Mill Bay
Find the Mill Bay beach car park on what3words: ///developer.evenings.denim
South Milton / Thurlestone Sands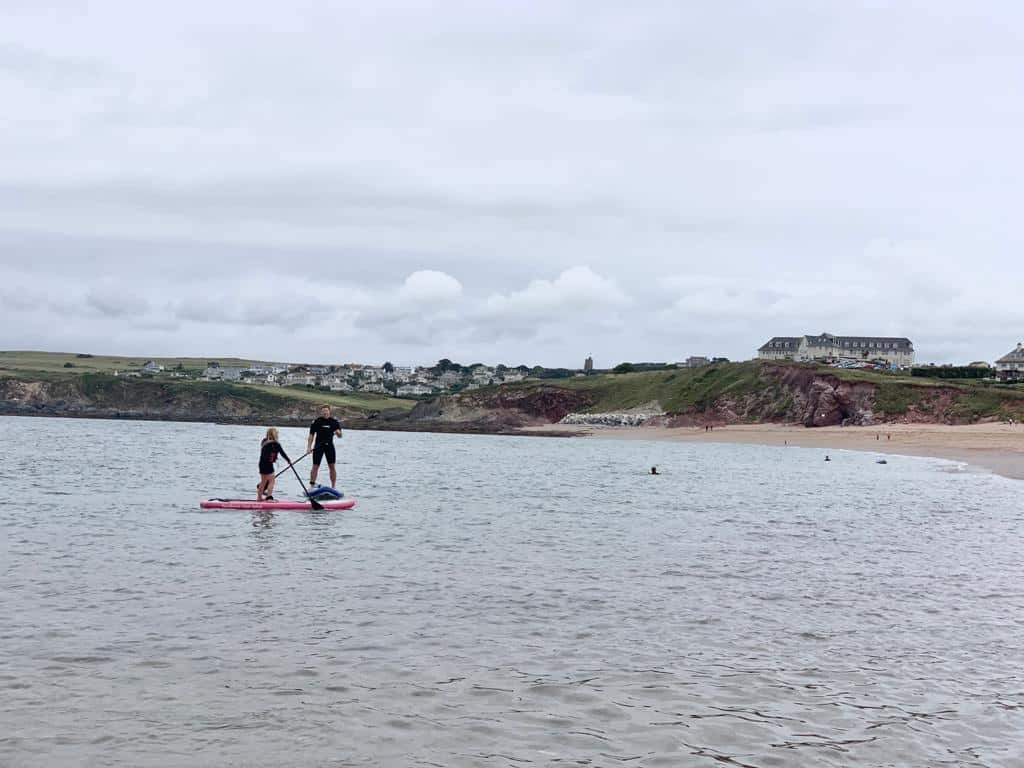 Parking is free for National Trust members. The car park is quite small so arrive early to get a space. There's also a cafe and toilets.
This beach is dog-friendly throughout the year.
Find the South Milton beach car park on what3words: ///bearable.simulator.geologist
Hope Cove
Hope Cove is a South Hams beach at the heart of this seaside village with the same name. There are plenty of cafes and shops where you can grab lunch, an ice cream and any seaside essentials you may have left at home.
You have two options for beach days here: go to the beach opposite the pay and display car park or head round to the sandy harbour.
At low tide and there are lots of rock pools to explore and as the tide comes in you can body board – just we aware of the submerged rocks – this reduces the safe boarding area. There are also rip currents in this area.
Dogs aren't allowed on Hope Cove beach from 1 May until 30 September but they are allowed on the harbour beach on a lead all year round.
Find the Hope Cove car park on what3words: ///resemble.moped.exotic
Wembury Beach
The shingle shoreline at Wembury is heaven for rock poolers. Visit at low tide for plenty of crevices to explore and find mini marine beasts.
If you want to find out more about the salty wildlife you find visit Wembury Marine Centre. This is beside the beach car park and is open from Easter to the end of September each year. The centre is free to visit.
The beach and car park are looked after by the National Trust. Dogs are allowed on this beach all year round. Wembury Old Mill Cafe is run by the National Trust. Check their website for opening information.
Find Wembury beach car park on what3words: ///puddles.brew.blesses
Map of South Hams Beaches
Here's where to find these awesome South Hams beaches: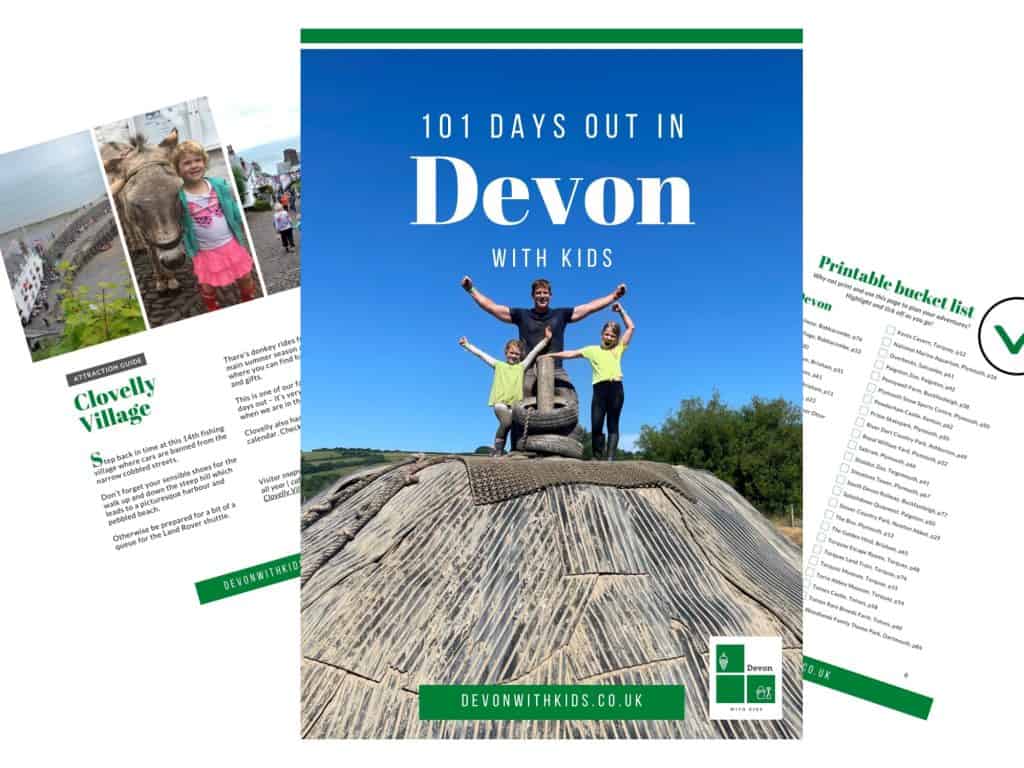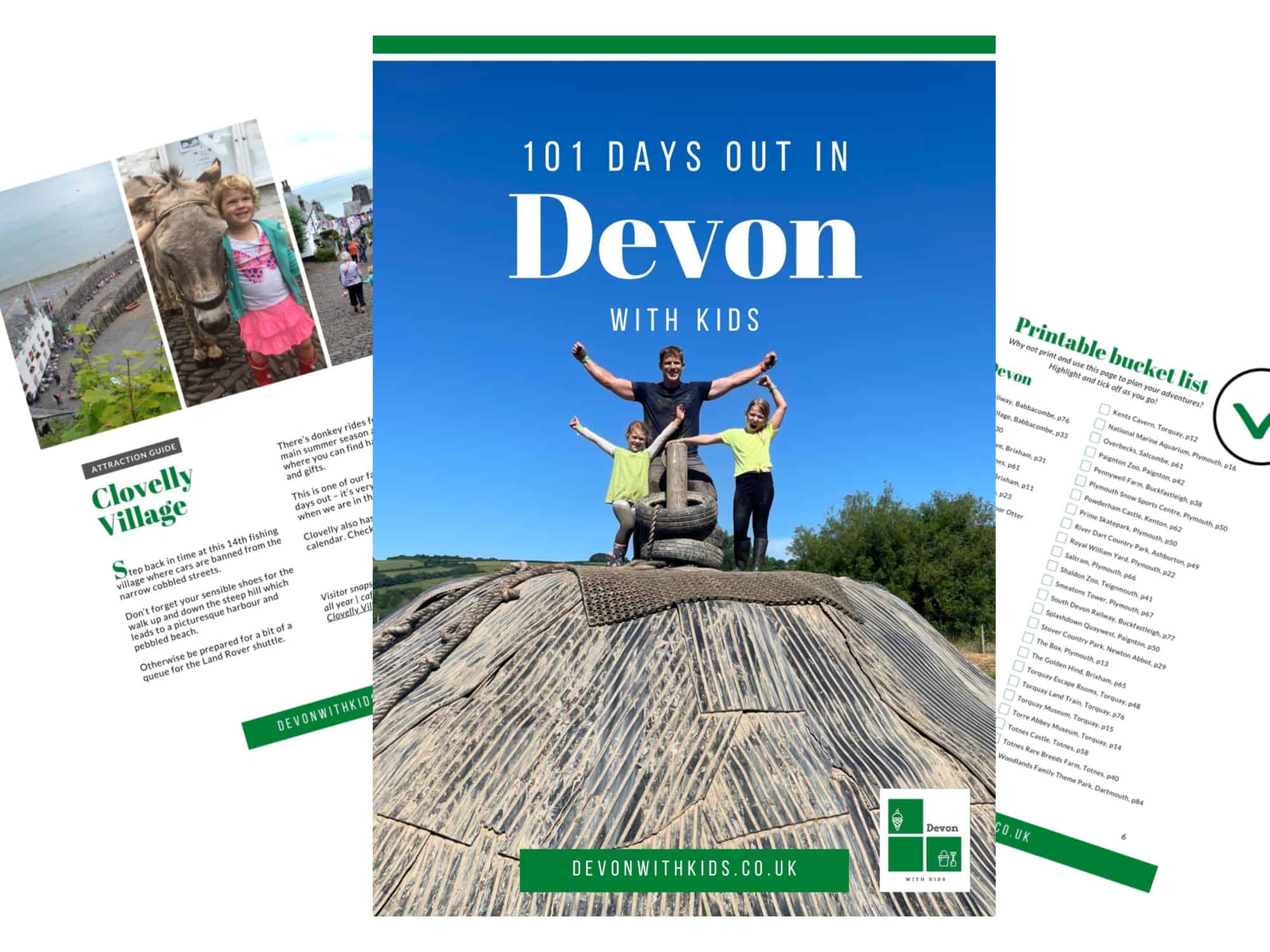 It's FREE!
Grab your copy of this guide to family-friendly things to do across the county, from coast to coast, in the cities, on the moors and whatever the weather.