If you are looking for a family-friendly place to go camping in the South Hams with eco values and stunning views then check out this Wilton Farm campsite review.
We stayed at Wilton Farm in South Devon at the beginning of August 2020 when social distancing measures were in place. Contact the site to find the most up to date information for guests.
Love Devon? Join the Devon with Kids Facebook group and subscribe to my newsletter!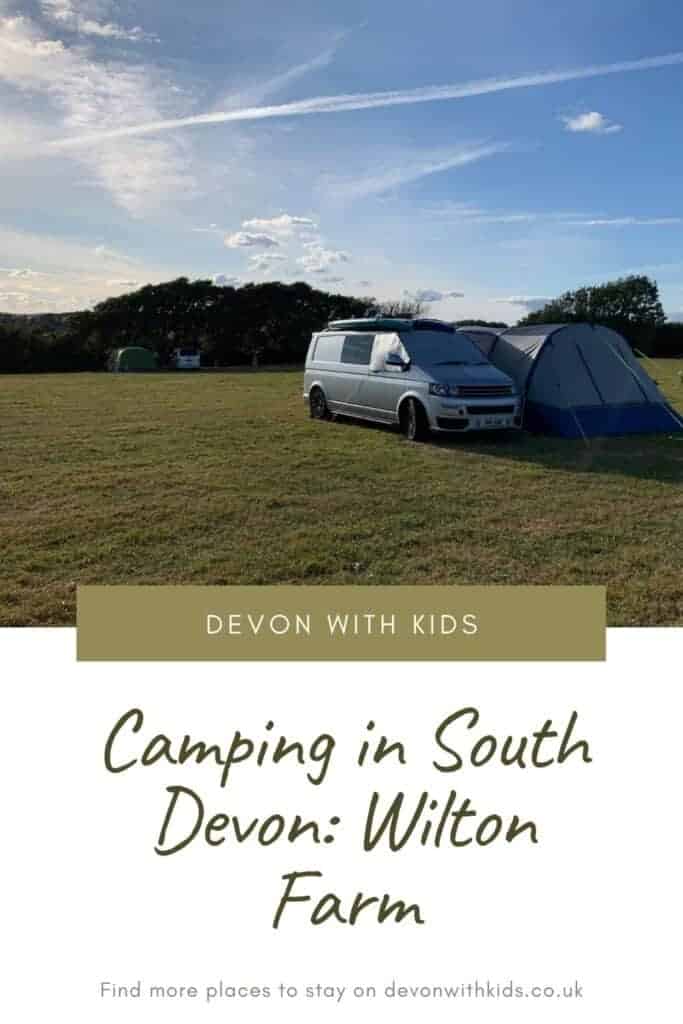 Got a while to stay? Here's our BIG guide to family holidays in Devon.
About Wilton Farm campsite in the South Hams
Wilton Farm is an eco-campsite in the South Hams overlooking the picturesque sailing town of Salcombe.
It's back to basics camping in a beautiful location with kitsch decorations around the facilities to give the site a festival vibe. Star gazing and bat watching are thrown in for good measure.
Importantly for us, it's a family-friendly and dog-friendly campsite where kids can make friends and play safely in the fields.
In normal times there's a woodland glade for campers to use and children can meet animals on the working farm. Both are unavailable during COVID-19.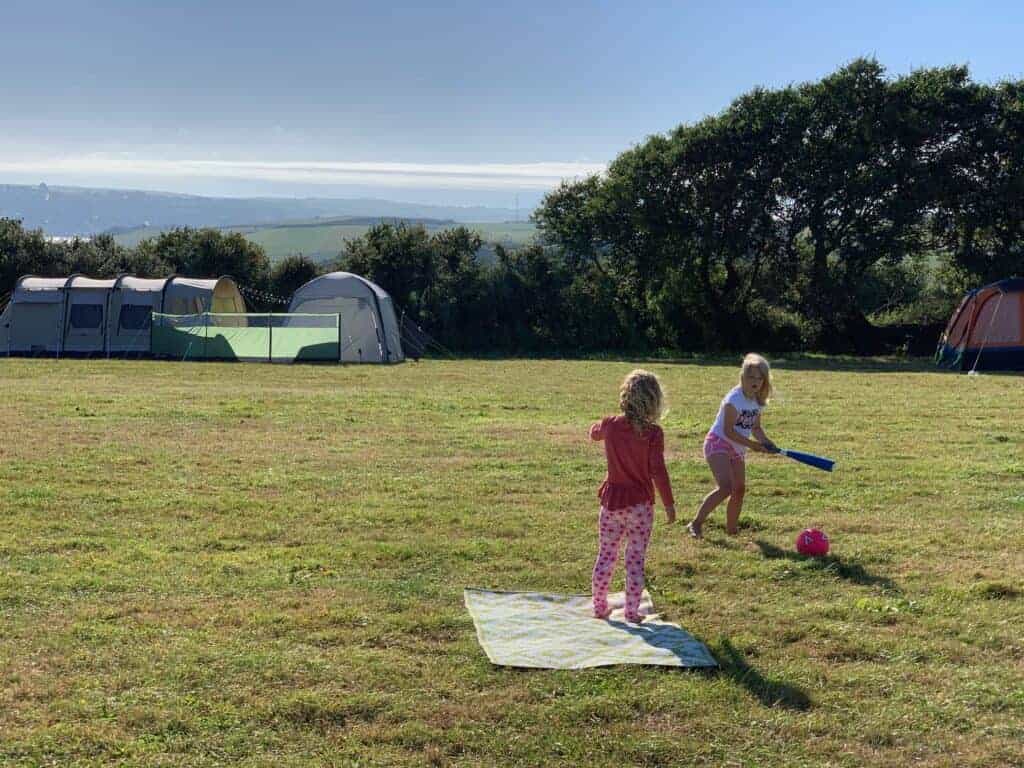 Pitches
There are three camping fields, one of which is a designated quiet camping area. This doesn't have facilities but these are easily accessed through a gate into the lower field.
We stayed in the lower field where we had the best view of Salcombe.
There are no designated pitches or electric hook ups. Just pitch 5m away from other campers and you're all set.
It's worth mentioning there were some larger groups of tents pitched close together during our stay. I'm sure this is the norm for the campsite at any other time, but social distancing rules weren't being adhered to by everyone. However, there was plenty of space for people to distance themselves from other campers and groups.
Having said that noise wasn't an issue. This is a family campsite so once the kids had been persuaded to go to bed things soon quietened down to chatter around campfires until about 11pm. And then there was just the whistling of the wind and lowing of cattle in fields nearby.
Eco campsite facilities
Wilton Farm's bathroom and washing up facilities are in huts dotted around the two main camping fields.
The loos are compost toilets – just sprinkle a handful of sawdust down the toilet when you are done.
The showers are hot and free to use.
Ladies: be aware that there are no sanitary waste bins in the toilets but the site will dispose of sanitary products for you. Bag it up and take it to the recycling/waste area.
If you bring your own chemical toilet then the cassettes can be left by the farm shop to be emptied by the site owners. Don't dispose of them in the compost toilets.
The facilities were cleaned and the toilets emptied at least three times a day. Some days when we were not out exploring we saw the team visiting four times.
The only thing that let the facilities down were people leaving empty toiletries and washing up gear behind. These were removed after a day or so.
If you'd prefer a campsite with a full shower block check out our review of California Cross campsite which is not far away near Modbury.
Onsite honesty shop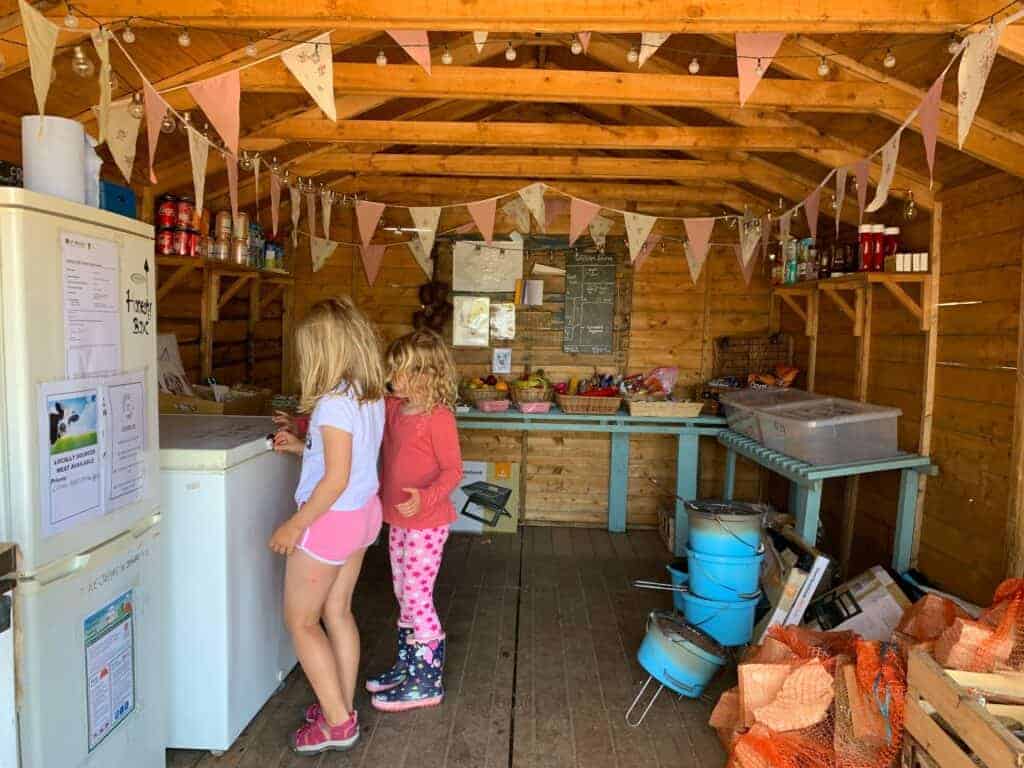 The honesty shop at the campsite entrance stocks eggs and bacon, biscuits and cakes, ice creams and fruit and veg as well as camping essentials like fire wood and matches. You can also re-freeze ice blocks and make a cuppa using the urn.
You can borrow fire pits and barbecues from outside the shop. Open fires are allowed at this South Hams campsite as long as they do not burn or scorch the ground.
Noyces at West Charleston is the closest place to pick up gas and other outdoor supplies.
Morrison's and Tesco supermarkets are in Kingsbridge. There are a couple of farm shops on the way too.
Dog-friendly camping in the South Hams
Dogs are allowed at Wilton Farm as long as they are kept under control. Dogs don't necessarily need to be kept on a lead but it's being encouraged during COVID to help with social distancing between campers.
There's a dog walk to the estuary or to South Pool through a gate at the bottom of the lower field.
Getting to Wilton Farm
Wilton Farm isn't on a main road, even by Devon standards. Expect a bit of wiggling through country lanes.
If you are arriving with a camper van or motorhome the more comfortable route is from Kingsbridge. You'll follow typical narrow Devon B roads with good passing places until you get to South Pool when the roads narrow again to a single track with fewer passing places.
Access would be difficult for caravans and larger motorhomes.
Things to do
One of the big draws of this site is its location in the rural South Hams close to lovely South Devon villages and towns like South Pool, Kingsbridge and Salcombe. These are great places to try water sports on the estuary and nearby beaches.
We had several days at the beaches to the north and south of Kingsbridge. Hope Cove, Bantham, South Milton North Sands and Bigbury are all within an hour's drive.
On one of the duller days we drove to nearby Gara Rock and did a three mile circular walk to Mill Bay on the estuary.
A bit further a field there are South Devon attractions and days out to be discovered like Woodlands Family Theme Park near Dartmouth, the National Marine Aquarium in Plymouth and Paignton Zoo.
Here's more things to do in Plymouth and in Salcombe with kids.
Access to the estuary
The site also has access to the Kingsbridge estuary. It's a 10 minute walk down a steep country lane but a 20 minute slog back up the path.
If you are thinking of carrying your own boat, kayak or paddle boards to the water then think again. The campsite can take your boat down for you for £5 each way. NB: this service has been suspended in 2020.
The estuary is extremely picturesque with stepping stones across the inlet and ruined farm buildings on the far side. Don't get too close as the walls have seen better days.
Our Wilton Farm campsite review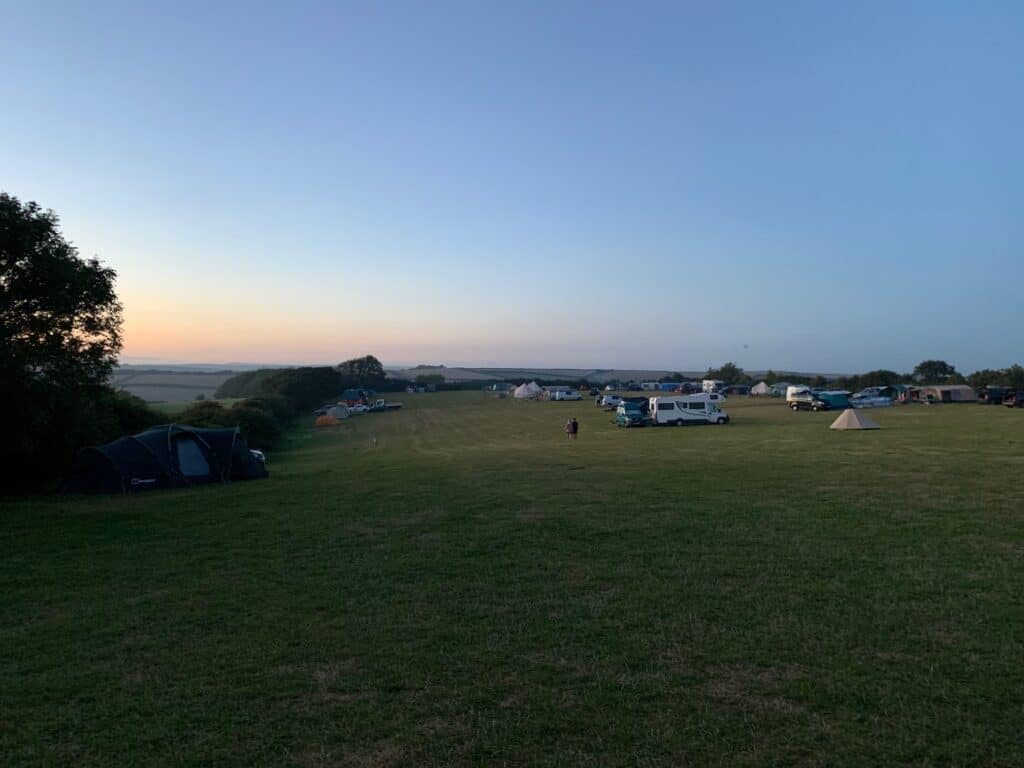 This was the first time we'd been to an eco campsite and we'd definitely do it again; compost toilets and all. The eco facilities are there to protect the land and once to have experienced this place you'll understand how important that is.
On our last night we gazed up into the heavens, spotted bats flitting around the open space and watched shooting stars careering across the sky.
Wilton Farm is somewhere families can feel comfortable knowing their children can play, fly kites and kick a ball in a safe environment. The atmosphere was very much one of a chilled out festival where no one partied hard but just enjoyed the stunning South Hams scenery.
The views are incredible and we love the location – although we are a bit biased as South Devonians ourselves.
To find out more about Wilton Farm availability and prices check its website.
Find more options for camping in Devon.
Would you like more Devon goodies delivered to your inbox? Sign up to the Devon with Kids newsletter.
Planning a camping trip to the South Hams in Devon? Why not sav this Wilton Farm Campsite review on Pinterest.