I don't know about you but the first school term of the year seems to drag by. Thank goodness for an opportunity to reenergerise on the horizon. So, what's on in Devon? Here's some ideas for things to do in Devon in February half term 2022 as well as other activities and events to enjoy throughout the month.
Love Devon? Join the Devon with Kids Facebook group and subscribe to my newsletter!
Got a while to stay? Here's our BIG guide to family holidays in Devon.
What's on in February 2022
Here's some events and activities to check out in Devon this February:
Museum of the Moon at Exeter Cathedral
Take your kids on a trip to the moon this February! Artist Luke Jerram's touring artwork, 'Museum of the Moon' is landing at Exeter Cathedral this month after visiting cathedrals and abbeys across the country.
Measuring seven metres in diameter, the replica of the moon features high resolution NASA imagery of the lunar surface. At an approximate scale of 1:500,000, each centimetre of the internally lit spherical sculpture represents 5km of the moon's surface.
The installation is a fusion of lunar imagery, moonlight and surround sound composition created by BAFTA and Ivor Novello award winning composer Dan Jones.
Tickets cost £5 for adults and children can visit for free. Book in advance.
Find out more about Museum of the Moon at Exeter Cathedral.
Super Trumps Trail at The Donkey Sanctuary
Head to The Donkey Sanctuary in Sidmouth this February half term and find out which adoption donkey has the loudest bray, the longest ears, or who is the most playful.
The Adoption Donkey Top Trumps Trail takes you around the sanctuary to find the giant Top Trumps cards and discover which adoption donkey comes out on top in each round. This exciting family activity is a great way to explore the sanctuary, combining fun, exercise and brainpower.
The Donkey Sanctuary Sidmouth is open seven days a week, from 9am to 4.30pm. Entry to the sanctuary is free, as is parking, and dogs on leads are welcome.
The Adoption Donkey Top Trumps Trail runs until 31 March. Each trail costs £5.00 and includes a prize on completion.
Find out more on the Donkey Sanctuary website.
New Superworm Trail at Haldon Forest Park
If your children loved watching Superworm at Christmas they'll be excited to know there's a new Superworm Trail at Haldon Forest Park near Exeter.
Follow this woodland heroes themed activity trail around the 1.5 mile Discovery Trail walk.
Find out more about the Superworm Trail at Haldon Forest.
Songlines: Tracking the Seven Sisters exhibition at The Box
This vibrant exhibition includes more than 300 paintings and objects by over 100 different artists telling ancient stories from the world's oldest continuing culture.
It is on tour from the National Museum of Australia.
Entry to the exhibition is free for Plymouth residents. Other visitors pay £10 for adults. All under 18s can visit for free. Book in advance.
You can also explore the rest of The Box for free.
The Box, Plymouth, exhibition on Tuesday to Sunday until 27 February 2022.
What's on in February half term in Devon?
Here's some Devon events to add to your school holiday plans:
Family Art in Nature event at Shapham Estate
Spend an inspiring morning in the beautiful, natural surroundings of the Sharpham Estate's woods and meadows creating art with foraged materials.
The Estate's resident outdoors educator Brigit-Anna McNeill will help you make your masterpiece while exploring the land, including the areas that are being rewilded.
Thanks to National Lottery Funding there are free places for children and subsidised places for adults on a low income.
This event takes place on 25 February and most be booked in advance.
Find out more and book a place for your family.
Superstars of Wrestling Show at Crealy Adventure Park
The Crealy Arena will host a team of professional wrestlers direct from the USA this half term. Entrance to this family-friendly entertainment show is included in the price of your ticket for the theme park during the school holiday.
Find out more about visiting Crealy. Please note some rides like the water coasters will not be running.
Crealy Adventure Park, near Exeter, 19 to 27 February 2022.
African drumming workshops at RAMM in Exeter
As part of a series of events celebrating African culture drumming workshops are being held at the Royal Albert Memorial Museum in Exeter.
There will be six workshops across two days costing £5 per person. Book in advance.
RAMM, Exeter, 22 and 23 February 2022.
The Story Tram at Seaton Tramway in East Devon
This magical tram ride complete with tall tales returns to Seaton Tramway this half term. This month, take ride from Seaton to Colyton and hear about all your children's favourite characters.
The Story Tram s designed to inspire big imaginations with themed stories and action songs along the way. Stories are brought to life by puppets and props, and through fun games and activities on arrival at Colyton.
Book early as places are limited.
Seaton Tramway, Seaton, East Devon, Friday 25 February 2022.
£5.95 +P&P
Grab your colouring pencils and join Ollie the Otter for a tour of some of the otterly brilliant places to see in Devon – the perfect companion for days out and holidays.
Which Devon attractions are open in February?
Opening times for Devon attractions tend to vary in the off season but you can still find some that will welcome you all week through!
Here's the options:
Visit a Devon Zoo in February
Zoos are open and welcome visitors all year round.
Here's the Devon zoos open in February 2022:
Paignton Zoo in Paignton, South Devon – open every day
Dartmoor Zoo in Sparkwell, South Devon – open Friday to Monday and half term.
Exmoor Zoo in Barnstaple, North Devon – open every day
Wildwood Escot in Ottery St Mary, East Devon – open every day
Shaldon Zoo near Teignmouth, South Devon – open every day.
Visit a Devon theme park
Here are the theme parks that are open this month. They have indoor and outdoor attractions including soft play.
Outdoor attractions to visit in February
Get some fresh air at these outdoor attractions in Devon throughout February:
National Trust places open in February
Many National Trust properties in Devon take a break at the start of the year, but here's some that are open this winter:
Historic places open in February
Here's some more historic Devon places you can visit in February:
Indoor attractions open in February
Here are some of the indoor attractions you can visit during the week in February:
Also check out my guide to things to do on rainy days in Devon for cinemas, climbing centres, soft play, pottery painting and bowling.
Outdoor places to go in February
Of course there are lots more outdoor places in Devon that you can visit over the winter months.
Devon beaches
Here's some of our favourite beaches on the south coast of Devon and the best beaches in North Devon.
Adventure playgrounds
There are lots of adventure playgrounds around Devon that you can visit for free.
Devon cycle trails
Make the most of those new bikes your kids got at Christmas and visit a Devon cycle trail.
Here's where you'll find them:
Walk the coast path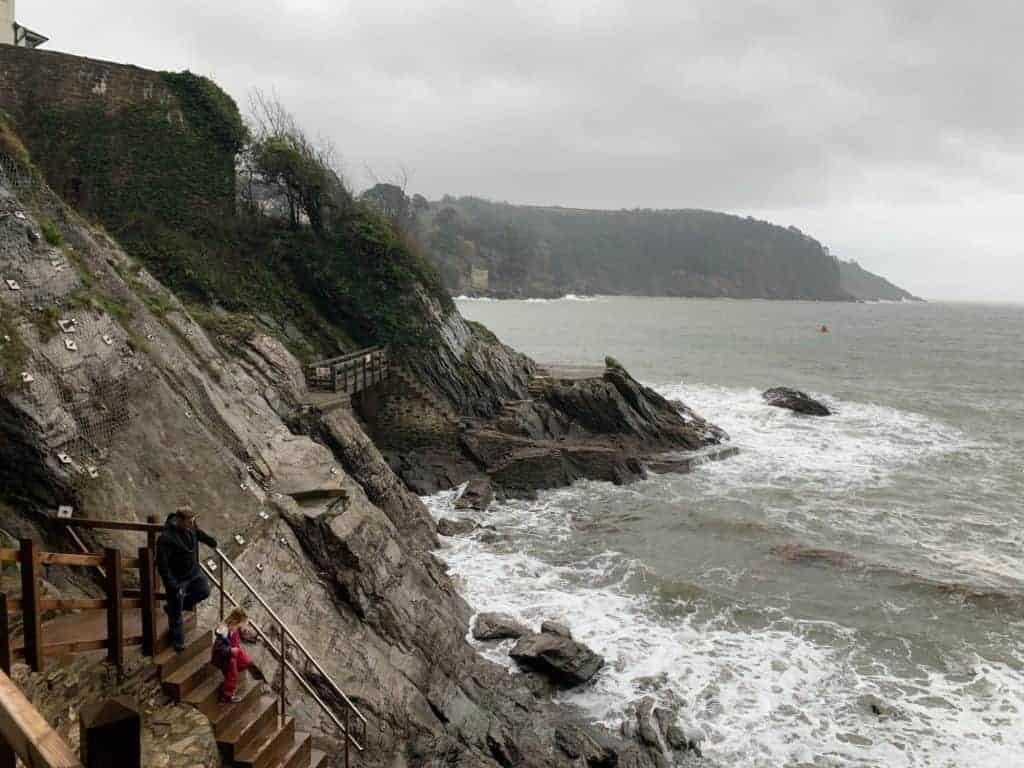 If you can access the South West Coast Path from home it's a great place for kids to let off steam and spot nature.
Here are some of our favourite coast walks in Devon:
To help you plan your February half term, why not check this out: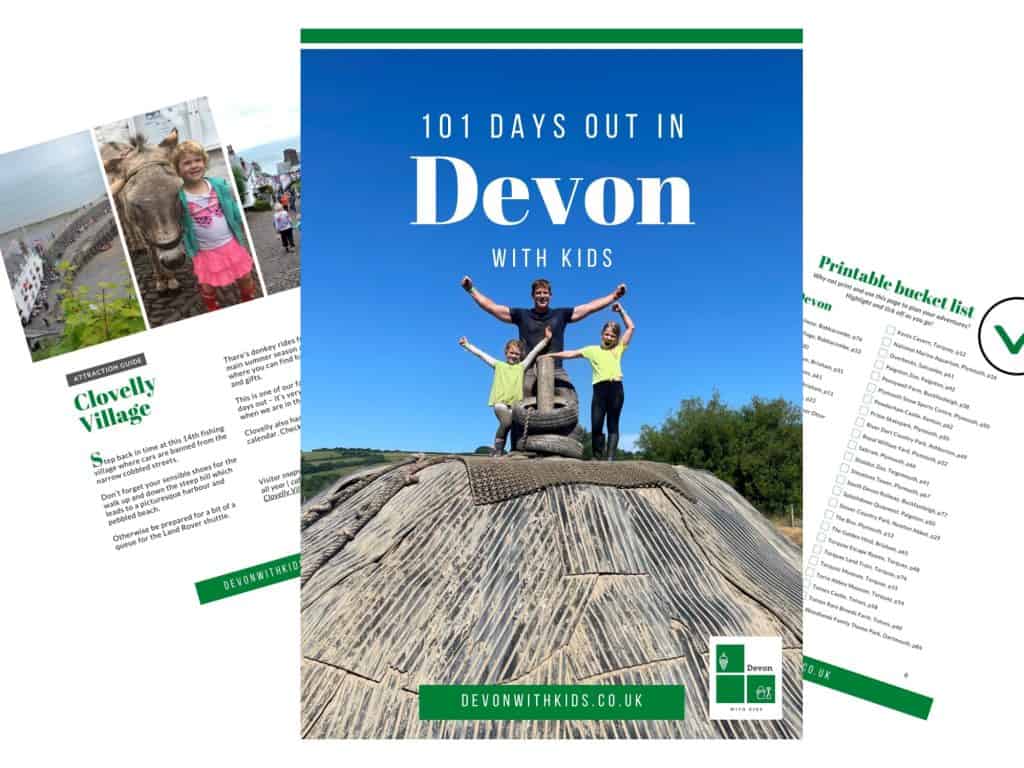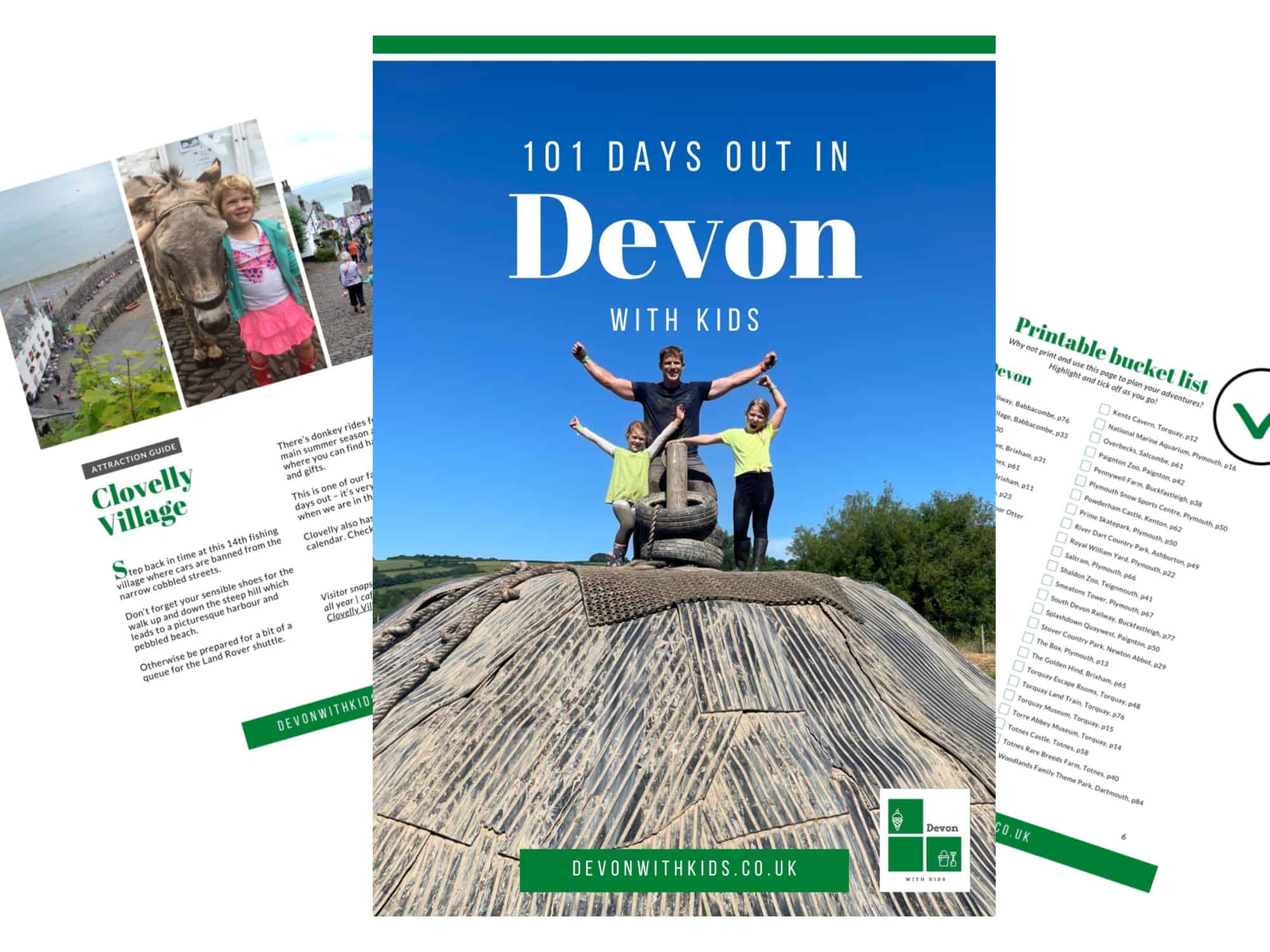 It's FREE!
Grab your copy of this guide to family-friendly things to do across the county, from coast to coast, in the cities, on the moors and whatever the weather.
Find more great places to visit in my guide to things to do in Devon in Spring.
Planning a your February half term? Why not use Pinterest to save this post about things to do in Devon in February.